Sewcial Dancer

New Jersey USA
Member since 11/10/10
Posts: 56
Skill: Beginner



Date: 11/25/12 6:06 PM

I have the Juki MO-644D Serger. I am trying to make a leotard with a snap crotch. The first one I made, a few years ago, worked like a charm, but the elastic bulked up the crotch after I turned it twice before adding the snaps, since the elastic went end to end. Now I am trying to cut the elastic only for the length of the leg opening, to decrease bulk in the crotch, but not sure how to do this after having set up the elasticator foot and feeding the elastic through. So I have about 1 1/2" on each end of the leg opening where I don't want the elastic. I practiced and was only able to serge the elastic on the whole leg opening and rip out the ends afterwards. Is there another way?

------
Singer 221, 403A, 9020 10 stitch
Brother 1250D
Juki MO-644D

beauturbo

California USA
Member since 5/2/09
Posts: 5253
Skill: Advanced



In reply to Sewcial Dancer

Date: 11/25/12 10:13 PM

I have some shapeware underware and some bodyshirts made with snap crotch but those are worn under regular clothes, so that part of it, is really not in normal view, while being worn.

But how they often do it there, is not to even turn under the flat ends of the open front and back snap crotch part, because I think that would make it way more bulky, and instead they most often just have that reinforced and sort of zig zag stitched off right there over the edge of it instead. Sometimes the elastic of the leg's is still included into that, and sometimes not. Seems to work good that way, for that kind of thing.

Not sure how that would work for a Leotard though, that you wear nothing else over it, as I have actually never had one of those with a snap crotch, and did not even know those came that way ever :)

Sewcial Dancer

New Jersey USA
Member since 11/10/10
Posts: 56
Skill: Beginner



Date: 11/26/12 7:22 AM

It's the underlayer for ballroom and latin dance dresses. The snap crotch makes it easier to use the bathroom without having to take off the entire outfit. Anyway, it's the technique to not use elastic on the whole edge, no matter the reason for it that I would like to be able to do.

------
Singer 221, 403A, 9020 10 stitch
Brother 1250D
Juki MO-644D

tourist


British Columbia CANADA
Member since 7/23/07
Posts: 6745
Skill: Intermediate



In reply to Sewcial Dancer

Date: 11/26/12 10:27 AM

Hmmm...so you want a non-elastic area at the front of the leg opening and another at the back leg opening? I can see how you might be able to finish by continuing to sew after you sew all the elastic in and just have that area with stitching and no elastic, but not sure how to do it on both ends. And I don't have an elastic foot, so not sure of how that works.

I also looked at my RTW body suits, which I use under my Standard ballroom gowns instead of making one for each gown, and they do as the other poster said. Some have elastic all the way down and some don't. The hook and eye pieces fit over the end of the crotch piece and are attached with tiny zig zags. So that could be one way to go. Make your leg openings a bit short and create a placket (? Not sure if that is what you would call it. A tab?) with your snaps on it and sew that onto the crotch piece.

Not sure of any of that makes sense. I am just on my first coffee of the day.

------
http://bgballroom.wordpress.com to follow the progress on my next ballgown.

SheBear0320


Manitoba Canada
Member since 4/8/08
Posts: 5269
Skill: Advanced



In reply to Sewcial Dancer

Date: 11/26/12 10:49 AM

When I add snaps or hooks and eyes to the crotch of leotards/bodysuits, I attach the elastic to the whole leg opening with the serger, then turn and topstitch. I then attach separate pieces (similar to a bra back assembly) over the ends and attach them with a zig zag stitch. I also seal off the edges with a satin stitch.

I basically adapted this technique by looking at the construction of bra backs and applying it to the crotch opening.

------
Sheila
"sewing very slowly to fill an empty closet"
Stash Tally: net +38.5 yds (2014)
2015 Stash Tally: 106.5 yds out/122.875 yds in (net +16.375 yds)

2016 Stash Busting:
23.5 yds sewn (as of 05/22/16)
9.75 yds purchased (as of 05/22/16)


Sewcial Dancer

New Jersey USA
Member since 11/10/10
Posts: 56
Skill: Beginner



Date: 11/26/12 1:55 PM

Some good ideas here! I just decided that the easiest thing to do would be to do the crotch opening first, then add the elastic afterwards. That should solve my problem! I'll let you know how that turns out!

Tourist, do you have pictures of your dance dresses somewhere? I'd love to see them!

------
Singer 221, 403A, 9020 10 stitch
Brother 1250D
Juki MO-644D

tourist


British Columbia CANADA
Member since 7/23/07
Posts: 6745
Skill: Intermediate



In reply to Sewcial Dancer

Date: 11/26/12 3:41 PM

Sewcial Dancer - lots of photos on my blog. Bgballroom.wordpress.com. Always happy to see more dance people around here.

------
http://bgballroom.wordpress.com to follow the progress on my next ballgown.

Sewcial Dancer

New Jersey USA
Member since 11/10/10
Posts: 56
Skill: Beginner



Date: 12/2/12 11:12 AM

Well my elasticator foot isn't working properly although I suspect it's an operator error. It worked fine on my practice leotard! It works on the spandex material fine, works on the elastic alone fine, but when I try to serge them together I get inconsistent 4 thread overlock stitch, with frequent skip areas where the lower looper works but there is no upper looper! When I remove the mess from the machine, the chain stich resumes fine. What a I doing wrong? I am wasting so much precious time trying to figure it out! I was all ready to drive to the dealer, but she's out sick today and I lost her cell #.

------
Singer 221, 403A, 9020 10 stitch
Brother 1250D
Juki MO-644D

SheBear0320


Manitoba Canada
Member since 4/8/08
Posts: 5269
Skill: Advanced



In reply to Sewcial Dancer

Date: 12/2/12 2:05 PM

I have sewn elastic on hundreds of leg openings over the past ten years (probably over a thousand by this point given I do between 50 and 75 skating dresses/leotards/swimsuits per year) and have never used an elasticator foot so can't offer any help in that department.

I use a 4 thread on my serger and apply the elastic -- 1:1 ratio for the front leg opening and then stretched through the back leg opening with particular attention paid to the "butt cheek" area to make sure it will cup the cheek. I then turn the elastic to the inside and either coverstitch in place or use a triple zigzag as topstitching. This method works perfectly 99% of the time (that 1% is usually operator error or a thread has come out of a tension disk). My clients are happy with the results and it is durable as the custom skating dresses usually get worn by the client for a year or two and then are sold and worn for several more years.

I have 2 sergers -- a Juki MO654De and a Janome My Lock 634D and a Janome CP900 for coverstitching.

------
Sheila
"sewing very slowly to fill an empty closet"
Stash Tally: net +38.5 yds (2014)
2015 Stash Tally: 106.5 yds out/122.875 yds in (net +16.375 yds)

2016 Stash Busting:
23.5 yds sewn (as of 05/22/16)
9.75 yds purchased (as of 05/22/16)


beauturbo

California USA
Member since 5/2/09
Posts: 5253
Skill: Advanced



In reply to SheBear0320

Date: 12/2/12 2:42 PM

I think I'm with SheBear on that one. That is how I would do it too. With my very own hands and not a attachable gadget. And I do have those elasticator gadget devices, both the kind that you twirl a knob on to regulate the elastic and the kind that only each one works for one width of elastic. I think they are good for somethings, but would not really be a whole lot of help for me or all that more easy or more fast for just me on the leg holes in a leotard at all.

I think they would be great if you wanted to sew a lot of something, long and stretched out though, like applying elastic to the edges of some bottom fitted sheets or something like that instead.

The reason I would not want to use them on leg holes of something, is that I would want my elastic on the front of the legs to be there to to stabilize the leg hole and not stretched out at all, and I only would want my leg holes with stretched out elastic, only more just on the part under the back butt cheeks. Even though I could do that with a attachment foot, I think it would just be more work and fuss to even do it that way, using that there, as first you would have to sew with knob twirled as to not stretch the elastic, then when getting to the under the butt cheek part, turn that knob for just where wanting stretched and just how much, then turn it back for not stretched again, and all in a kind of very small amount of space there. And if you did not like how that happened, then you got it all sewn in, and would have to try to pick it out later. I think doing it in two steps and just with your own hands instead, would give you more control and more chances to make sure you got it all on there the way you wanted, before it really got all sewed down.

However if the whole point of it, was just to find a use for using that elasticator gadget foot, right there, I'm sure it could be done that way too. But actually, it would take me, way longer and I would have to actually be thinking about it, way more when doing something like that.
-- Edited on 12/2/12 2:48 PM --
Printable Version
* Advertising and soliciting is strictly prohibited on PatternReview.com. If you find a post which is not in agreement with our Terms and Conditions, please click on the Report Post button to report it.
Online Class
Altering Jackets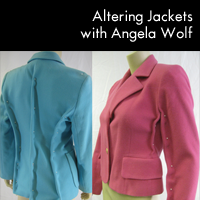 Online Class
The Contemporary Couture Jacket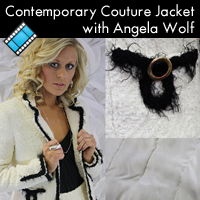 République du Chiffon Brigitte

by: la berniqu...
Review
Christine Jonson Easy Coat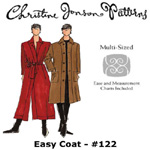 Pattern Details
Shapes Four Good Measure Pattern (Size 1-3)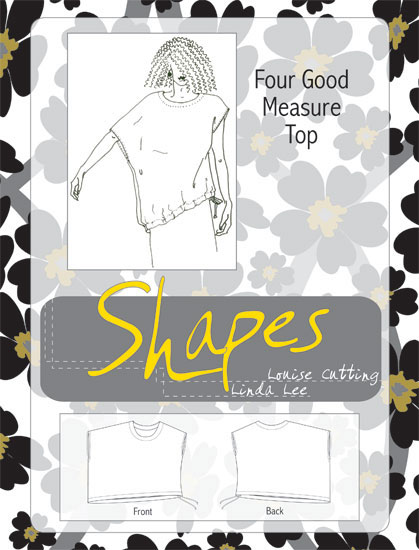 Pattern Details
Simplicity 1461

by: JTink
Review