MaggieMinnich

Intermediate
Ohio USA
Member since 7/22/11
Posts: 3

1 member likes this.




Date: 11/25/12 8:10 PM

Uggg...Ok, I'm an average-sized woman (size 14, 5'3") and a medium level sewer. I used to be a very large plus size (size 28/30) and over the past 2 1/2 years, have gotten down to a size 14 (in the stores). But I know that patterns don't use the same "sizes" as clothing stores, so I've measured myself several times and compare that to the pattern I'm purchasing and cutting out. After sewing the garment, they keep coming out too stinking big! I don't understand what I'm doing wrong, when I've measured myself and am using the sizes on the patterns. It's very frustrating! Any advice or suggestions?

Jess6691

Intermediate
Member since 11/17/12
Posts: 9



Date: 11/25/12 8:56 PM

Congratulations on your weight loss!

I just started sewing clothes again after a ten year hiatus and had the same problem. Usually I wear a 16 (although my measurements hit 18 but everything I try on in stores is too big) and the pattern said I should cut for a 22! I ended up resizing massively as I worked on a skirt. It fits, but I wish I didn't have to go to the trouble of sewing seam after seam ( and ripping) to get it right.

I always expect some adjustments, but there must be something on these forums that explains what we are missing! After having recently lost 25 pounds and pretty much hating everything I see in stores, I am pretty excited about getting to add a few pieces to my wardrobe.

Wish I had an answer for you other than to get someone to help you pin the pattern pieces on before you cut (that's my plan for the next project).

Marie367

Intermediate
Ohio USA
Member since 5/28/11
Posts: 2676





In reply to MaggieMinnich <<



Date: 11/25/12 9:30 PM

Hi Maggie! Congratulations on all the weight loss! That is quite an accomplishment. I started sewing for myself again after about a 10 yr break. I have been shocked at how poorly drafted patterns are these days. There is no simple answer to your question. Some patterns are way off in sizes (particularly the big 4). Pattern companies seem to vary alot. I use reviews on here to get some idea of sizing. I have had good luck with Jalie and Kwik Sew and Burda-they seem to be more accurate in sizing. You need to also look at the ease that the pattern includes as well as the sizes. I have found McCalls to run large with lots of ease no matter what the pattern is. Simplicity seem better to me (they were always my favorite anyway). The other thing to consider is your body shape. I measure a 22 in skirts and pants. However, if I make that size it is way too big. I need more fabric in my abdomen area and that throws off the pattern size so making an 18 in a skirt with an abdomen adjustment works better for me. How are you taking the measurements? I use upper bust as a starting point for tops. Multisize patterns help me as I am in 3 different sizes most times (bust, waist, hip). It is somewhat of a trial and error and I am doing pretty well now at least I seem to be able to make an educated guess. I don't know if all this rambling helps or not but keep asking questions. People on here will be happy to help you. I suggest getting a fit book too. The simple answer to your question is to tell you to make a smaller size; however, that might totally work either but it would give you a better starting point. If you have garments that fit well, you can compare the pattern to that garment to get an idea too. HTH

Oh I see you are also in Ohio. I am in the Cincy area.
-- Edited on 11/25/12 9:41 PM --

solosmocker


Advanced
New York USA
Member since 1/23/06
Posts: 1637

2 members like this.




Date: 11/25/12 9:52 PM

Pattern sizes have nothing whatsover to do with RTW sizing. They are based on your actual measurements not what you wear in retail. There is a huge difference between the two because they have nothing to do with each other. RTW sizing is based on the manufacturer's sizing, no standard. It can be all over the place. If I try on a pair of Calvin Klein slacks for a few hundred dollars I can get into a size 2. If I buy Jaquelin Suzanne at KMart, it is a twelve. There is no standardiztion in RTW, just luck. Patterns are based on a set of standard measurements that the Big Four all adhere to. Again, thye have nothing to do with ready to wear. Measure yourself well, compare to the pattern , pick the one closest to your real measurements, and don't have a fit when it is not the same as what you buy at the store.

I have been sewing over fifty years and have yet to find any difference in fit between the major pattern companies. I know many disagree, but that has been my experience. Within the pattern companies certain designers will use a different sloper/standard and you have to watch for that. Sandra Betzina comes to mind.
-- Edited on 11/25/12 9:52 PM --
-- Edited on 11/25/12 9:53 PM --

------
http://lasewist.blogspot.com/

idahodogs


Advanced Beginner
Idaho USA
Member since 4/22/08
Posts: 432



Date: 11/25/12 10:13 PM

Maggie - if you look around PR you will find lots of info about choosing your pattern size based on you Upper Bust vs. Full Bust, grading between sizes, flat pattern measuring, ease, etc. There is a LOT to learn!

One thing I have found useful is to measure similar garments in my closet and compare them to the pattern (remember to take off seam allowances). Of course, this only works if you HAVE similar garments in your closet. Sometimes I also measure a specific part of the pattern (like shoulder width) and compare that to my own shoulder width. It helps me decide which size to choose. This is called Flat Pattern Measuring, which just means that you measure the pattern while it's laying flat on the table, before you have wasted any time or energy making something that isn't going to fit.

Having a really accurate set of your own measurements is invaluable. You need a buddy to get them, but they are SO worth the trouble

Fitting books help a lot, too, with deciding what to do about a pattern that doesn't fit out-of-the-envelope (they mostly all don't). Different pattern companies have different quirks about how they draft/grade. And use PR for its original purpose - look up the pattern before you start! Lots of times many reviewers will have the same complain/comment about a pattern, or even warnings for future sewists.

I will bet $$ that you will have to do Petite adjustments, and you will probably also find a couple other 'usual' adjustments that you will almost always do to every pattern. HTH

SandiMacD


Intermediate
Florida USA
Member since 2/8/09
Posts: 2564



Date: 11/26/12 2:31 AM

I also sympathize. Lost 35 lbs and now in size 14 but still can't get a fit. Congrats to you! I signed up for Barbara Deckert's online Plus Size class at Craftsy.com. They are on sale for $20 through Monday and that includes the pattern!
Although I am no longer a true plus size her handouts and videos are amazing- they never expire.
http://www.craftsy.com/classes/sewing

She uses the body shape model and that determines how to alter your patterns for a fit. She details all the alterations you need to make and gives personal fitting advice to your particular questions.
She explained why the patterns don't sew out for my body shape and how I can solve it. It's so much more than the linear measurents at upper bust and waist and hips- its the shape of that circumference and far apart they are in relation to each other. She covers tops, pants and dresses. And not only how to alter for fit but also how to alter to get a different design feature.
On patterns I now start with an 18 for the best shoulder and neck fit and sometimes have to make the shoulders a tad narrower. Then I have to add to the bust and either add or subtract to other areas depending on style ease.
Patterns on today's market fit the shape of about 8% of the population! The rest of us have to alter them.
HTH, Sandi
-- Edited on 11/26/12 2:42 AM --

------
sewing brings joy and meaning to my life...

gramma b


USA
Member since 7/25/08
Posts: 3127



Date: 11/26/12 7:32 AM

So, for anyone who has worked in the industry, WHERE did all this bad measuring come from and why can't they revise it? Were Vintage patterns more accurate, when women weren't concerned about wearing a Size 2? It seems in my mom's day, it was easier for her to get a good fit right out of the envelope.


jannw


Intermediate
Washington USA
Member since 9/3/06
Posts: 8552





1 member likes this.



Date: 11/26/12 7:54 AM

I used to be able to sew right out of the envelope when they had the half sizes and junior sizes..I miss that sizing catagory still!

Check not only the body measurements on the back of the pattern envelopes, but the finished measurements on the pattern pieces. DO NOT reduce the sizing down to your exact finished measurement. There is a tricky thing called "design ease". This allows for enough extra space to sit and walk, as well as what the designer feels the item should look like. Most pattern company's vary in this part..I find it helpful to look through the pattern books for the photos and see if the majority of the patterns seem to be skin tight or loose on the models. Also, see if you can get an idea of the models shape. I find that I cannot wear New Looks...their necklines are way to low for me...Vogue tops fit perfectly, but I have to raise darts on Simplicity by 1.5". The measurements may be the same, it's where they lay on your body.

------
2009-113.25 yds
2010-115.5
2011-80.25+30+donated
2012 86.3 yds..
2013 21.0
Everyone who sews seriously has a stockpile of fabrics, because it is natural to purchase more than can be sewn in any one season" Singer, Timesaving Sewing, 1987



westmoon


Advanced Beginner
United Kingdom
Member since 9/7/11
Posts: 690





Date: 11/26/12 7:57 AM

Many vintage patterns assume that the wearer is going to be wearing heavy foundation garments, though, which is one issue -- if you're strapping yourself into a girdle or corset to get a particular waist size, then that waist size will fit!

I also tend not to believe that women in previous got a better fit out of the envelope. Like very many women, my mum sewed all her own clothing for herself in the late 50s through the 60s. She just says she never worried about "fit" the same way I do, and certainly if you look at the candid/non-special event photos of her and her friends from that period they're not exactly in the best fitting clothes around. Our exposure to those images, compared to e.g. films, television, "special occasions" like weddings, when people wore specially tailored and/or their very best clothes is relatively limited, though.

------
http://sewingnovice.blogspot.co.uk/
One woman. One sewing machine. One giant stack of fabric. What could possibly go wrong?

ryan's mom


Advanced
Member since 11/30/04
Posts: 5016



Date: 11/26/12 9:12 AM

Good luck exploring the fine art of fitting! It can be a challenge at times, but is so worth it. If you are working with a pattern that is just way too big, drop down a size or two and do a muslin. It can take trial and error to find out what works for you.

There are different theories for fitting. One is to choose high bust measurement (FFRP), another is Nancy Zieman's front width measurement (armcrease to armcrease). For pants, most sources suggest using hip measurement and alter from there. However, in Nancy Zieman's Fitting Finesse book, I think she recommends dropping down two sizes and alter up in certain circumstances or the legs become uncontrollably baggy.

There really are so many ways to go about fitting. I'll give the challenges I've faced with my 18-year old daughter. In the past year I've made a slew of garments for her. She's about a RTW size 10 in pants (likes 'em snug), but about an 8 on top. According to her hip measurement she's a size 18 in a Big 4 pattern for pants. I knew she would drown in a size 18. I made a 16. She was drowning in that too. My final decision was to choose a 14 and alter for her curvy bum and muscular thighs. It worked like a charm. Her biggest fit issue (IMO) is her curvy bum which throws off her hip measurement.

I'm a RTW size 4 and a Big 4 pattern size 12 at the waist and hip and a 10 on top. I can't remember the exact Jalie equivalent, but when I made Jalie 2908 (low-rise stretch jeans) for my daughter, I used my TNT pattern and altered for her booty and thighs. Again, complete success!

My suggestion is to keep dropping down until you have a basic fit that suits you, then alter from there. I will also note that for trouser style pants in a Big 4 pattern, I would drop down to a 10 for myself and alter the hip and waist as per Nancy Zieman's FF book, then fine-tune using Palmer/Pletsch's PFRP book.

As for fitting my daughter, it took about 3 or 4 garments to finally get things right. Practice makes perfect I guess.

------
Big 4 Pattern size 12, RTW bottom: 6, RTW jacket 8, RTW top (no size fits me well!)
Measurements: 34 HB/36 FB (34C bra)/27.5/36 (and working hard to keep it that way.)
Machines: Sewing: Elna 760, vintage Kenmore Model 33 (1967), Janome Gem Gold 3, Singer Model 99, Singer 221/Featherweight. Sergers: Babylock Imagine and Babylock Enlighten. Embroidery Only: Janome 300E. Embroidery/Sewing Combo: Brother Dream machine. Coverstitch: Babylock BLCS. Straight Stitch: Janome 1600P.

If you think your sewing is better than everyone else's around here, get out of my way b****. I hate sewing snobs.

My blog: www.phatchickdesigns.blogspot.com
Printable Version
* Advertising and soliciting is strictly prohibited on PatternReview.com. If you find a post which is not in agreement with our Terms and Conditions, please click on the Report Post button to report it.
Bust Adjustments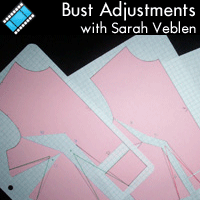 Clone Your Favorite Garment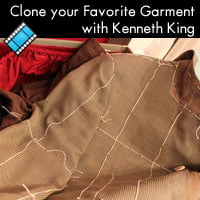 Ottobre Design Magazine 05-2006-20 Reefer Jacket

by: miho555
Review
Self Drafted Pattern 286481-1012

by: MariannaSe...
Review
You Sew Girl Kids Beret Pattern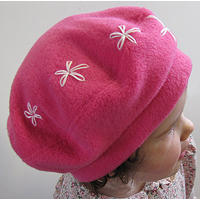 Buy Now
Victoria Jones Collection Misses' Traditional Muumuu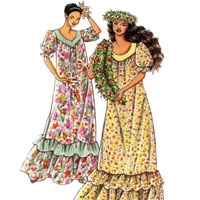 Buy Now