elfchick

Member since 7/19/08
Posts: 22



Date: 12/3/12 3:32 PM

Soooo...

I am looking to make myself a few "suede" long coats. My arms are too long for anything premade to work right on me; if I want it to look decent, I am going to have to make it myself. I know I ramble, so I am going to put arrows by the actual questions.

I've got some Alova from Joann's for one coat, and it seems nice. But it doesn't come in the right colors (that I can find) for some of the others.

--> What is the difference between synthetic suede "suitable for upholstery and home decor" and synthetic suede "suitable for apparel"? For example, this "home decor and upholstery" suede:
http://www.denverfabrics.com/p/16401/Eggplant-Purple-Microsuede
vs this "apparel, home decor, and crafts" suede:
http://www.denverfabrics.com/p/19917/Black-Doe-Suede

I am female, and I do want a coat that looks good fitted, but I also want something durable. If it says "upholstery" does that mean it's just too stiff to wear? Or does it mean something else? I'm looking at "wow, cheap synthetic suede" and wondering if it can be worn, you know?


For another coat, I want to make a copy of a coat that was originally made with unlined deerskin (http://filmjackets.com/forum/viewtopic.php?t=64). Cost is still an object, of course, but less of one; I want the right thing.

--> Would something like the "doe suede" above work for an unlined coat? Would it handle being worn without stretching, or tearing, or wearing through quickly? Is there a better synthetic suede that won't cost me $30/yd? I actually want to make two of these coats (one for me, one for The Spouse) so that's...a lot of material.

My plan is to overlap the suede and stitch or maybe even glue, like for some kinds of leatherwork; that would eliminate uncomfortable internal seams and make it possible to wear it unlined.

--> Is there a good fabric glue for synthetic suede, one that doesn't seep through/discolor/make it stiff?

--> Should I line it anyway, just to add to durability and keep it from stretching? What's a "lining fabric" anyway--would thicker be better? Satin, maybe?

Thanks, folks!
-- Edited on 12/17/12 2:14 PM --

stirwatersblue


Member since 12/13/08
Posts: 3816
Skill: Intermediate
Body Type:




Date: 12/3/12 5:14 PM

I can't answer all your questions, but I do think the Alova is too lightweight for a coat, unless you plan to seriously underline/flatline it to add a lot of body. JoAnn has nicer microsuedes, IMO--ones that more closely replicate actual suede and just generally *feel* a lot nicer to handle.

I've worked with both the apparel microsuede from JA and some from their home dec department... and there is a difference, although I'm not really able to articulate it that well. First, the home dec suedecloth is definitely heavier and looks/feels more like natural leather. I know the apparel suedecloths can be washed, but I didn't wash the home dec (for a pillow with fringe).

I've made a LOT of apparel with home dec fabrics, though, so I would say it's OK to be a rebel and experiment!

------
~Gem in the prairie

RMJ


Member since 12/14/06
Posts: 634
Skill: Intermediate





Date: 12/3/12 5:46 PM

This was made from synthetic suede from an upholstery store:
Faux suede jacket
The upholstery store had a great selection of colors (the red is much deeper than it looks in the photo). It is hard to press seams open unless you use something like Lite steam-a-seam2 double-sided tape - but I also found that to be the case with synthetic suede meant for clothing.

Ruth

elfchick

Member since 7/19/08
Posts: 22



Date: 12/3/12 6:21 PM

Thanks for the responses so far! :)

Okay, so I can make apparel with home dec suede? Cool, thanks! What should I line it with--lining fabric or something heavier?

What would be a good--hmmm, if "flatline" means what I think it does, just cut another piece and stitch it under along with the exterior fabric--what would be good for that? Twill, maybe?

Will any of the synthetic suedes stretch or disfigure themselves under wear?

NancyZL

New Jersey USA
Member since 6/18/08
Posts: 550
Skill: Intermediate





Date: 12/4/12 8:27 PM

I made a jacket out of a heavier weight fake suede which did not need any lining . It really depends on the type of coat you want and the style of the pattern. A good fake suede should not
stretch or change with wear. I'd buy the best fabric you can afford. I also used a regular sewing machine with a heavier needle and thread, not glue .

diane s


Oregon USA
Member since 8/24/02
Posts: 5038
Skill: Intermediate



Date: 12/4/12 9:46 PM

The upholostery type has no stretch or give, it is firm. Often the apparel suede has some give or slight stretch.

------
My grandmother taught me to sew when I was 10, and I've been sewing ever since.

elfchick

Member since 7/19/08
Posts: 22



Date: 12/9/12 4:04 PM

I just wanted to say "thanks" again for the various help here I found some black cotton suiting that I'm going to use to support the Alova and I'm beginning the cutting on that pattern this afternoon.

(It ended up being a lot more complicated to get the pattern to work than I anticipated--see here--http://sewing.patternreview.com/SewingDiscussions/topic/74029 plus some interesting discoveries about my body that are contrary to my lifelong assumptions, and a lot of sitting and staring and trying to figure out where THAT wrinkle was coming from, fixing, rinse repeat. I showed the mockup to The Spouse this morning and asked if this screams "Female body enclosed" despite the stiff and heavy material and loose cut to allow for heavy clothing underneath and he said yes, so I think I've gotten it worked out.)

I've got some brown upholstery pseudosuede coming in for the Browncoat and the pattern for that was finished last night. Moving right along! Thanks for all the comments.

elfchick

Member since 7/19/08
Posts: 22

1 member likes this.




Date: 12/17/12 2:12 PM

I am just dying of delight. My order from denverfabrics came and the espresso brown that was on sale is PERFECT for the Browncoat. Perfect. Oh, the squee.

Okay. It's a very, very nice synthetic suede. Both sides are sueded. It's pretty light, but heavier than the Alova (which incidentally is proceeding as well as my ADD allows, which is pretty well :). The espresso microsuede honestly feels a lot like genuine lightweight deerskin suede.

The "original" Browncoat (see the filmjackets link in my first post) was genuine deerskin with the suede to the outside, unlined. Can I use this microsuede to make an unlined long coat? Or will I need to support it somehow? (And if so, suggestions?)

Thanks folks!

Squee squee squeeeeeeeeeeee )
Printable Version
* Advertising and soliciting is strictly prohibited on PatternReview.com. If you find a post which is not in agreement with our Terms and Conditions, please click on the Report Post button to report it.
Online Class
Beginners Guide to Dyeing Fabrics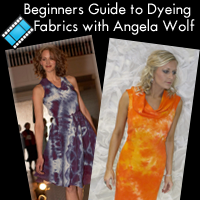 Online Class
Fun with Fitting - PANTS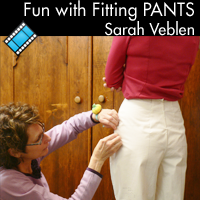 McCall's 5248

by: lbreton
Review
Sewn Square One Swing Shift Pattern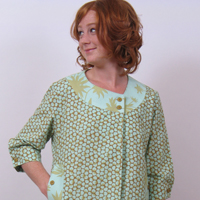 Pattern Details
Sew Chic Fantasia Dress Pattern (ln9005)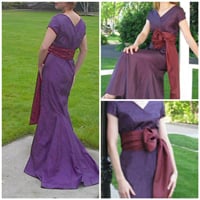 Pattern Details
Burda 3098

by: style insp...
Review