elfchick

Member since 7/19/08
Posts: 22

1 member likes this.




Date: 12/10/12 0:00 AM

I'm trying to work out if there's an easier way.

I found a fascinating page on all sorts of adjustments to patterns:

http://aces.nmsu.edu/pubs/_c/c-228.html

The thing is, I have discovered through trial and error (with about 5 or 6 WIP mockups--ADD is a harsh mistress--and a lot of staring in the mirror and re-pinning) that a lot of my assumptions about my body were just dead wrong. I don't have broad shoulders that are pulling my clothes up to my neck and binding at my armpits.

No, I have a straight, narrow back and really, really, REALLY square shoulders. And without taking in about a million miles of fabric in the back of any garment, the full bust drags the garment up and forward. I seem to be two, three, maybe four sizes larger in the front of my torso than my back, going from armpit to armpit. The full bust just makes it EXTRA exciting. So does the "curvy" shape--full bust to several sizes smaller waist, to full hips.

I'm tall. The long arms go without saying, of course, and are why I simply don't buy women's long-sleeved garments. Being tall, I also get to add in torso length to get the waistline to match up with my waist...but I am taking length OUT in back. So strange.

If I put on a new pattern--or off-the-rack garment--without adjusting it, it looks like it was made for someone 3 feet shorter than me, with a hump and droopy shoulders. It's tight around the bust and the bust is much too low. The waist is much too big even though the bust is tight, and I'm being nastily pinched in the armpits. The lower back sticks way out and it flares out where it should sit tight against the back. I had a chance to visit an upscale consignment store last week and had this problem with Every Single Thing I tried on, all the big expensive brand names in one place that just don't fit.

I get those dread square shoulder diagonal wrinkles along the shoulder that I still haven't entirely worked out...I think the solution is not just to raise the shoulder, but also to shorten the neckline, but I'm not very good at it yet.

I'm still trying to figure out how to accommodate the high/FBA while making the shoulders work. This is much harder than I had realized it would be.

No wonder nothing fits me.

Is there a method I should be using? Are there other people like me, enough to have developed a method? Or should I just start with one adjustment and work my way through them all? Is there something already designed for people with all these problems that I can just apply and be done with it?

-- Edited on

12/10/12 7:52 AM

--

AdaH


Iowa USA
Member since 11/21/09
Posts: 2508
Skill: Intermediate



Date: 12/10/12 0:22 AM

I always start at the top and work my way down.

Start with length first. Adjust the pattern so that the bust/waist/hip are in the right place for your body.

Then circumference. There has to be enough room to go around your body plus the amount of ease you want in your clothes.

Last depth (darts). If you are bigger than a B cup then you need to do an FBA.

Tackle one thing at a time, do the ateration then move on to the next. Many times one alteration will correct more than one problem.

Have you watched any of the webcast that Peggy Sagers has done on fitting?

------
Ada


beauturbo

California USA
Member since 5/2/09
Posts: 5551
Skill: Advanced



In reply to elfchick

2 members like this.



Date: 12/10/12 1:47 AM

This is every untechnical, but just my thoughts.

Maybe you are trying to just change way too many things, all at the same time. That you don't really need to. Or even way over think it? Or make it way too complicated. Tall with a small waist, straight narrow back and busty actually sounds like some fashion models to me

I don't think ADD means not getting something at all, instead I think it often means rather the opposite and a super strong ability to macro focus into something, attention wise and even notice things, and use them to your advantage, that can be hugely useful and productive most of the time or some of the time, but maybe you don't need to do it on every little tiny bit of fitting everything to your exact body just perfect and right either. Maybe use it instead there, just as more a creative tool, rather than even thinking of it at all as a harsh mistress, and for sewing,and being creative in that, I think it actually would turn into your strength and advantage there instead! Just a thought!!!

I think when people look at someone in their clothes, they really most times just sort of see the whole person visual wise at once and the total look or effect, and not all the little parts that make that up that into a whole so very much. So maybe you don't really need to make all sorts of fitting changes, all at once on all garments either?

I think since you are tall, when you cut out a pattern, you should add/do have to add a bit on the printed lines you cut through to do that, to lengthen things. On the upper body and the lower body. That way the waist would still end up at your waist, hips at your hips and you might have to add some length to sleeves, and hems. But I think you should probably buy the pattern size that just fits your shoulders good and makes the arm hole sit right on your arms. Just since most clothes hang on a body from your shoulders. If that makes it too tight across the chest, then you would have to do something there too. But, there are styles and then other styles too, and just depending on the actual clothing of something you even sew, probably lots of styles would fit much better than others with no or even less alterations. I think that is just sort of true of everyone actually. For easiest sewing, I would just tend to even identify those styles, and go with those styles even.

Then there is the other flip side of it too, as in do you want to fit your clothes to the body you got, or do you want your clothes to fit and hang in such a way, that it gives the illusion, of the body you might want instead? Tall with a small waist, straight narrow back and busty, actually sounds like to me, what a lot of women are going for, even just even illusion wise. But if for some reason you don't like part of that, or part of anything anyplace then sometimes I think just better, not to even try to fit whatever that place is (even style wise) all that very close. Also, lots of "fitting problems" sometimes do just go away, if the fabric is a stretchable knit or even sometimes woven with Lycra in it. So maybe some other things to think about too.

Other people might give you some more "technical" advice on making some particular alteration some place, but I think all the above is really kind of valid too.

elfchick

Member since 7/19/08
Posts: 22



Date: 12/10/12 7:50 AM

Hi, good morning, thank you for your comments

I ramble, especially in the morning when I'm low on sleep. Sorry if this is longish.

Oh hey, I don't have any problems with my body. I rather like what it's become. It's changed a bit in the past few years, though--having a significant bust is a new thing, and so is the fact that it's 38-40" and the underbust is 32". (Those measurements used to be more like 37-38" and 36", respectively, so I'm not sure WHAT happened. No pregnancies or kids or anything, and my disability doesn't let me exercise the way I used to.) So I thought having some clothes that actually fit me, as I am, would be nice--to try to take advantage of that nice new bust and to, well, to replace the clothes that don't fit anymore. Clothes that never really fit, but it wasn't so incredibly obvious.

...so I started trying to make my own...

...and I discovered that a lot of the things I had assumed about the reason for poor fit of ready-made clothes on me was totally, absolutely, completely off-the-wall wrong. I had assumed I had broad shoulders, and that was the reason for a lot of the poor fitting problems. They're not broad! Boy, are they non-typical, but they're not broad. I *am* rather muscular despite not being able to exercise the way I want, so I so have some interesting muscles in interesting places (pretty big biceps, etc) but my shoulders themselves are not actually broad. Just really, really square and straight.

Perhaps the simplest explanation of how clothes fit me might be to describe how I have worked out to adjust unisex T-shirts:

I do the typical "put it on inside out, pin it at the side seam, and then stitch." Except I am taking it all off the *back*, all the way up to the bottom of the sleeve, then continuing up the back seam of the sleeve to the shoulder seam. I'm pinning so that the removed part ends at the side seam or the back of the sleeve seam. (That's in comparison to the typical adjustment I've seen: taking it out equally from front and back with the midpoint at the side seam and the bottom of the sleeve.) I'm probably not explaining this very well...but it's fairly indicative of how clothes fit on me. Taking out of the back works really well.

Aside from the bust, I'm apparently not even a size large, which shocked me to my bones. I've been buying L or XL clothes for so long that I don't know how to cope with this idea. Salespersons who look at me and assume I'm huge because I'm tall and not anorexic (and my clothes don't hang in a flattering way) have not contributed positively to my ability to guess my size correctly... I might need to try making small clothes with huge FBA because they start so small, something like 5" added to waist length, and gigantic armscyes, or something, but I don't really understand armscyes yet.

The "ADD is a harsh mistress" is just me being silly

I do have pretty bad ADD, even though it's treated. But I also have some fairly severe physical problems which restrict what I can do at any given time. So I may get to a point on a project where I just CAN'T continue, so I just move on to another. The ADD sort of helps me keep track of where I am on all the WIP's.

But that's why I've gotten started on so many alterations at once, and am so confused about how much needs to be done to EVERY pattern. I've got some Simplicity, some Butterick, some Vogue, some Kwik-Sew, and all of them need so many changes. I'm definitely an amateur, so every time I make a change and there's STILL a problem I go look up what *those* wrinkles mean

and there just seems to be so much to change!

The pattern I spent all of yesterday on, that made me frustrated enough to post, is a sleeveless empire waist (

Simplicity 3673

--I love the look and it ought to be stunning on my if I can get it right). I just can't get the wrinkles out of the straps and armscyes. I'm not even going below the underbust yet! I just can't figure out how to both narrow up the back and square up the shoulders at the same time in order to make wide straps sit where they need to.

There seem to be methods out there for doing several common adjustments at once, or at least the right order to use if you have all those adjustments to do. I was wondering if there was a name for this particular set of adjustments, or any more info about it, or basically anything I can look up that might help me understand this whole set better.

I've actually been adding waist length last, because the FBA seems to affect where the waist ends up. I'll try that first next time. Thanks :)

Oh, there was a question--I really, really hate watching video, so no, I haven't watched the webcasts mentioned. I need to be able to read articles, refer to photos and graphics, etc. I do not get along well with audio elements....

-- Edited on

12/10/12 7:58 AM

--

-- Edited on

12/10/12 8:01 AM

--

LuceLu


New York USA
Member since 8/4/06
Posts: 1688
Skill: Advanced Beginner



Date: 12/10/12 9:35 AM

Start one alteration at a time and use a standard bodice (not empire waisted) with sleeve. Get the neck and shoulder line first. I would start with the size indicated by your high bust circumference or chest circumference. You may have to decrease the length from neck to shoulder point. You may need to adjust the slope of the shoulder. You may have to make a petite adjustment to the upper back (this is where you decrease the length of the upper back and back armscye. You will need to decrease the sleeve cap by the same amount--it is a small horizontal fold). You will then need to determine if you have to do the same to the front chest depending on how long your chest is relative to your bust. Make your full bust adjustment (make sure you have enough fabric to go over your bust and then increase the length below your bust. If you need to add fabric width for waist and below waist do that. The back may need a swayback adjustment if you have a high hip to waist ratio which is just taking some length out at the waistline area if it bags out there. Then adjust the sleeve pattern to add circumference for your biceps and length for your arm length. If you have a blouse that fits you, measure that one at those points (bicep, length from shoulder to elbow and from elbow to wrist) and apply them to your pattern.

You do not need a different size for back than front. The front just needs to be made larger via a FBA for depth.

------
Be true to yourself. Push your boundaries. Do everything with love in your heart and a grin in your head. Move a little, eat good food, enjoy good health. Spread sunshine.

Elona


USA
Member since 8/24/02
Posts: 10082
Skill: Advanced
Body Type:






In reply to elfchick

Date: 12/10/12 12:36 PM

For those of us with truly non-standard bodies:

I have found a custom dress form to be the quickest solution to fitting problems; I mean, you can see yourself as you really are. You can work with your 'self' right in front of you, and no standing in front of a mirror, twisting this way and that as you try to pinch in or let out and handle pins at the same time.

I saved my pennies and had a MyTwin made for me, since the company is not too far from where I live, but if that had not been the case, I would probably have made a paper-tape form as shown

here

or a papier-mache form as done

here.

Wrapped forms tend to come out a little larger than you yourself are, because of the thickness of the wrapping material, so I always counsel people to 'suck it in' and get wrapped as snugly as possible without fainting. Plaster forms can get filed down to accurate dimensions, as I did with mine.

The important thing about this kind of form is that it replicates really difficult or unusual bony and asymmetric stuff that many fitting books don't cover, and that standard forms really can not address.

------
Elona

GlButterfly


California USA
Member since 8/28/08
Posts: 4141
Skill: Intermediate



Date: 12/10/12 1:32 PM

No expert here, but I would start with a basic, simple style, not one with an empire waist and so many tucks or darts. Get the fit down first, then go for fitting other styles.

Previous posters have suggested "order of adjustments".

------
"TOL machines = Too (much) Operator Learning"--poorpigling, January, 2016

elfchick

Member since 7/19/08
Posts: 22



Date: 12/10/12 4:29 PM

Ha! You'd *think* that pattern has tucks and darts from the appearance and the pattern envelope, wouldn't you? Noooooo. It's GATHERED. (Sorry, I'm a little irritated at the pattern; I feel like it misled me.) Man, I hate gathers. But, but, but, that means that ALL I was trying to do yesterday was get the straps in the right place. That was IT. That WAS IT.

Since I wasn't going to have any idea about the rest of the fit until I could do some more serious stitching of the mockup, ALL I had to do was figure out how to get the straps in the right place. And this seems to be beyond me.

I'm doing all right, I think, with princess seams and patterns with tucks, basically anything that has a waist where my waist should be--just very, very slow going. But I really really love this empire waist pattern and I want a dress from it. I just have no idea where to go with fixing the placement of the straps.

Julia C


USA
Member since 7/1/07
Posts: 1357
Skill: Advanced Beginner
Body Type:




In reply to elfchick

Date: 12/10/12 5:31 PM

Could you just cut them off & move them over to the correct place? You would have to make the same adjustment to the facing. IMO, using the Big 4 is not worth the hastle. Buy Burda, Ottobre, Jalie or Style Arc. At least with the first 3, you can just trace off a size to fit. Good luck.

elfchick

Member since 7/19/08
Posts: 22



Date: 12/10/12 5:59 PM

Well, see, the problem I'm having is that my back is narrow AND short...my shoulders are square...and then my bust is about half my torso by volume, apparently...

I have four different tracings of this bodice where I have tried all kinds of things, including cutting the straps off and moving them over. Cutting the quarter and moving it over. Cutting it vertically and moving it over. Cutting it horizontally and tilting it. Doing combinations of all of the above (after ripping up the tape and starting over). I've tried just about everything in that link in my first post; I've tried tutorials I can find online, including ones for FBA for gathered empire bodice, I've even tried just freehanding it to approximately where I think it might need to go.

What happens is that I get gaping at the armscye. Or I get gaping at the neckline. Or the back hangs away from my body. Or or or or or. I just have SO much that needs doing, that apparently the combination is making this particular pattern really weird.

I think I may try finding a bodice with a princess seam, cutting it off at about an empire waist, and attaching the skirt

Maybe I can find something with an actual fitted empire waist, instead of a gathered one? That was what I thought this was, sadly enough.

But I think my problem with getting straps in the right place may still be a problem in other patterns too.

On a brighter note, my mockup for http://sewing.patternreview.com/Patterns/35227 is stunning and I am well along the way to finishing it in pseudosuede, so hey.
Printable Version
* Advertising and soliciting is strictly prohibited on PatternReview.com. If you find a post which is not in agreement with our Terms and Conditions, please click on the Report Post button to report it.
Online Class
Create a Jacket Muslin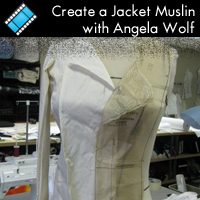 Online Class
Beyond the BoatNeck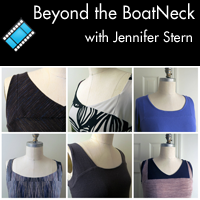 Deer&Doe D0014

by: SometimesS...
Review
No Pattern Used R's First Dress

by: Larisa
Review
Sewing Workshop Salsa Blouse Pattern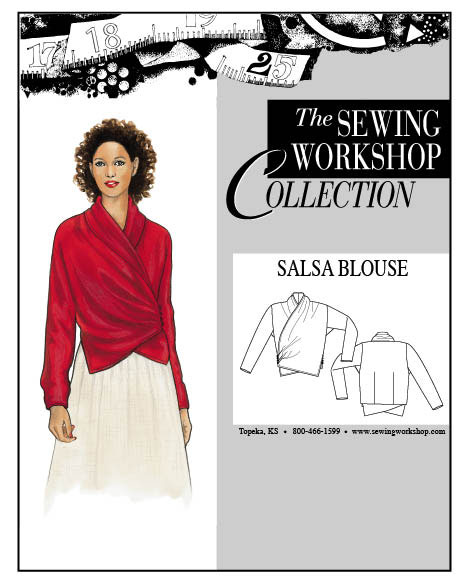 Pattern Details
Jennifer Stern The Perfectly Fitted Shirt by the Cup-Full Pattern ( Size 16-24(Cup B-DD) )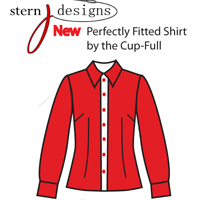 Pattern Details