Adah Kennon

Member since 12/18/12
Posts: 4



Date: 12/21/12 3:15 PM

I am looking for a pattern for a WAAC uniform (early 1940's). Suggestions? Thanks.

KiwiWendy


International AUSTRALIA
Member since 8/24/02
Posts: 3252
Skill: Advanced



In reply to Adah Kennon

1 member likes this.



Date: 12/21/12 4:51 PM

Hi, I've no idea what one looks like ... or even what WAAC stands for (different continent). Do you have any photos or links we could see to get an idea of what you're wanting?

------
Sydney, Australia

Sweetsong


Michigan USA
Member since 12/26/05
Posts: 1062
Skill: Advanced



Date: 12/21/12 7:05 PM

Think Boogey Woogey Bugle Boy from Company C...

Would a combination of several of the Simplicity vintage-look patterns work? Simplicity 3688 and Simplicity 4044.

Simplicity 3688


Simplicity 4044

You would only need the correct hat.

WAAC Uniform
-- Edited on 12/21/12 7:22 PM --

andye

Virginia USA
Member since 5/9/09
Posts: 2029
Skill: Beginner



Date: 12/21/12 7:24 PM

the woman's arm museum has several pages on Waac uniforms

------
Bernina B330
Feet: 1,2,3,3A,4,5,7,8,10,13,16,18,20, 29,32,35,37,50,64,70,71,82,85,86, 92



SandiMacD


USA
Member since 2/8/09
Posts: 2563
Skill: Intermediate



Date: 12/22/12 8:40 AM

Women's Army Auxiliary Corps. Around the time of WWII the US needed to free the Army males from desk type positions and move them into combat. So women (WAAC) were allowed to do the desk and support type jobs. Legislation took about a year or so and the women were then a part of the regular Army and the name changed to WAC (Womens Army Corps)

------
sewing brings joy and meaning to my life...

andye

Virginia USA
Member since 5/9/09
Posts: 2029
Skill: Beginner



Date: 12/22/12 11:13 AM

Quite a few of the sites comment that the wacs uniforms were designed by people who though they could adapt men's clothing; while waves uniforms were designed by real designers.

------
Bernina B330
Feet: 1,2,3,3A,4,5,7,8,10,13,16,18,20, 29,32,35,37,50,64,70,71,82,85,86, 92



nicegirl


District of Columbia USA
Member since 5/10/06
Posts: 1727
Skill: Intermediate



Date: 12/22/12 11:53 AM

From the Women's Army Museum site:



From other sources:





Modern photo, but purported to be a genuine vintage uniform:



------
http://theslapdashsewist.blogspot.com
=================
2007: purchased 115+, sewed 105+
So close to parity, yet so far

Trying again in 2008
Yards purchased: 133
Yards sewn: Somewhere around 95

2009? I give up

marjoryt

Mississippi USA
Member since 8/1/06
Posts: 289
Skill: Expert/Couture
Body Type:


1 member likes this.




Subject: YESSSSSS!!!!!!! I am sitting right in front of my mom's 1945 uniform blouse right now Date: 12/26/12 9:14 PM

My mom was a tech sergeant in the WAC (WAACs in the first part of the war, WAC in the last years). She was stationed in Washington D.C. and served in the Transportation Group as a driver and courier (she could handle everything from a bicycle to a switcher (the tiny train locomotive used to assemble a longer train). She regularly drove in the greater Washington D.C. area and surrounding states. This item is the only part of the uniform she kept; I think the jacket and skirt had to be turned in. She wore her pants and shoes out (she went to Alaska Territory after the war). I'm going to give you the best detailed description possible, so that you can find the best pattern/alterations.
Fabric: This would have been part of her summer uniform. It's a tightly woven yet lightweight cotton - about the same weight as an old really good quality cotton sheet. The only part of blouse showing wear is the collar (probably stress from the brass pins). It appears the interfacing is a thicker white woven cotton.
Colors: This is the typical lighter khaki, with the brown buttons. Her tech sergeant patches on the left and right sleeves are of slightly lighter khaki, with the stripes and capital T in the darker olive green. Thread actually seems to be a mixture - a nicely matching khaki for the major construction, with cream used for the buttonholes and to sew on the buttons.
Pattern details:
Front: Straight cut, no bust dart. The right side is a self-selvedge (turned to the reverse as a hem). The five 1/2" buttons are each 4 hole; the buttons appear to be machine sewn. The left side also has a self-selvedge, but this time it is turned to the TOP side, and sewn down to create a 1" placket, top stitched 1/4" on either side. Buttonholes are vertical (instead of the horizontal we ladies prefer). Mom used to talk about sewing up her blouses to avoid gaposis. I honestly thought the placket was cut separately and added; only the reverse side clearly shows this was an ultimate cut and press and fold job.
Each side has a breast pocket. The pockets are not lined, but do have the standard middle pleat. There is a separate pocket cover. These are all single stitched in place. Mom mentioned once that the "breast point" had to be no lower than the middle of the pocket - higher preferred. Mom was AT LEAST a D, possibly more; I think she probably had a hard time getting the blouse to work.
Back: Straight cut, no darts, no yoke.
The side seams are done in one piece from arm cuff to high waist, ending in a short small gusset where the front an back pieces divide. This is a SHORT blouse; it must have been hard to keep tucked in.
Sleeves: More than anything else, the sleeves show the factory construction! The sleeves are straight cut one piece. A detailed placket is added to one side of the wrist opening. The other side of the opening has a narrow hem. The 3 inch cuff is then sewn on. The machine made buttonhole is on the side with the placket; the button is sewn on the side with the narrow hem. The cuff is a single top stitch on all four sides (making it extra secure). The cuff would have been done when the sleeve was flat. After the shoulder seams were sewn, the sleeves were applied, enabling the sewer to work with a flat seam. Finishing is with the basic seam, then double top stitch (making this a 3 seam insertion).
Color is a standard 2 part standing color, probably exactly like the man's uniform. Since both women and men wore ties, the construction had to be the same. Single top stitching here, and there is one button with matching buttonhole in the collar stand (this buttonhole is horizontal). The hem was the basic 1/4" double turn and stitch, probably done as the last step.
The only label I can find states "Regulation Military Shirt Form Fit" - again - Mom used to baste her blouse closed in order to keep a professional appearance. This was a close fit, since she would be expected to wear a jacket over it if she stepped out of the office (driving, riding a train, delivering papers, meeting officials).
She had an assortment of brass pins to wear on the collar and over the pocket, signifying her rating, her training, and her postings.
Because of her public appearances, I know she had the summer khaki uniforms, and she also had the dark olive for the winter. She was allowed to wear pants, since her job sometimes required driving a motorcycle or working with heavy equipment. They also had mechanic overalls if working in the auto shop.
Underwear: Bra and girdle and stockings and a full slip at all times when in a skirt. She was issued nylons for dress and had cotton stockings for winter wear. I know she had some type of long johns to wear under the pants. The military issued underwear, but I know she bought her own bras and girdles (keeping the girls under maximum control).
Outerwear - she had the military equivalent of a trench coat.
She had the formal brimmed cap, but also a soft garrison cap too.

I sure hope this helps you!
I'm going to do an analysis of the photograph of the modern model next.

-- Edited on 12/26/12 9:20 PM --

marjoryt

Mississippi USA
Member since 8/1/06
Posts: 289
Skill: Expert/Couture
Body Type:




In reply to marjoryt

Subject: Review of the modern photograph Date: 12/26/12 9:33 PM

1. Hair had to be ABOVE the collar and NOT loose. My mom got written up once because her hair touched her collar; her corporal trimmed it with the only scissors available - cuticle scissors.
2. Very definitely red lipstick is accurate. That's probably too much eye makeup and not enough rouge.
3. Model got it right - no earrings.
4. Red nail polish - I think so. Many of us in the family, including mom, have sensitive skin - she didn't wear any, and I don't either. However, the nails had to be manicured and buffed.
5. Blouse - about 4 to 5 sizes too big. This girl is swimming in that! Notice how low the collar and tie are, compared to the photos from the era - that collar and tie are high and tight. The arm scythe should be very close to the arm pit, and the sleeves should be at least 1/2 the width. The cuffs should barely touch the wrist bone. We should definitely see body UNDER the bust line, never a bubble of material.
6. I would like to see a front view of that skirt; I think it is possibly too big, thus making the waistband too low. Very definitely the model is not wearing a girdle - even the skinny girls wore them to "firm up" the body and give waistline definition. Fit was considered important - it ensured EVERY man knew this was a woman and a lady.

My mom said there were VERY frequent inspections for dress, and their commanding officers (all women) were very ticky - pull those bra straps up, your stockings are the wrong size (creating wrinkles), press your skirt, polish your bag and shoes, shave your legs, get a new perm. Granted, she had a very public job, but I expect all the women dealt these issues.

marjoryt

Mississippi USA
Member since 8/1/06
Posts: 289
Skill: Expert/Couture
Body Type:




Subject: WAAC Uniform photos from the era Date: 12/26/12 9:43 PM
Printable Version
* Advertising and soliciting is strictly prohibited on PatternReview.com. If you find a post which is not in agreement with our Terms and Conditions, please click on the Report Post button to report it.
Online Class
The Technique of Underlining Garments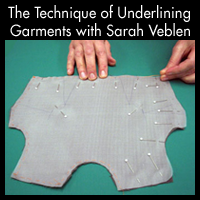 Online Class
Understanding Interfacings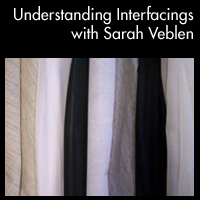 Vogue Patterns 8466

by: Bonzai
Review
McCall's 5743

by: MinaLMcGra...
Review
Shapes Six Sense Skirt Pattern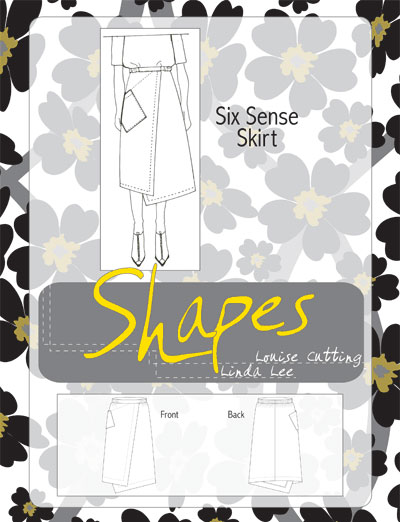 Pattern Details
Christine Jonson Fitted Jacket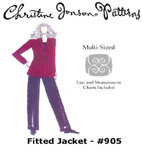 Pattern Details