sewbirdgail

Intermediate
Member since 12/21/12
Posts: 5



Date: 12/22/12 1:16 AM

Hello, Does anyone know anything about a baby lock EA-605? I just got one today. I have threaded it, works good, just not sure I understand what I am doing with it.... any advise would be great. Thank you

------
All the best, Gail

beauturbo

Advanced
California USA
Member since 5/2/09
Posts: 3514





1 member likes this.



Date: 12/22/12 3:17 AM

If it's little and old and green metal, I have sewed on some before. I think it's a good one, for just what it does. I think they are pretty indestructable, unless you pulled and tugged and actually broke a looper or something. They have to be, to have so many still even running. Probably just keep it cleaned of lint and fuzz and everything metal on metal oiled in there, and maybe it will even outlast us all!

As far as I can remember, I think it does not take regular sewing machine needles of the flat backed 1 X15 kind at all, but might take round shank more DBX1 ones instead? It probably says on the machine someplace. Does a 4 thread overlock with two needles. And no differential feed in it, I believe. Also I don't think you can do a rolled hem, unless you had an extra stitch plate with a rolled hem stitch finger on it, but I actually have never seen one of those either, but they may have came with one when new possibly?

You might be able to get a 3 thread overlock out of it, (instead of just sewing always 4 thread overlock only) by just removing the 2nd needle and needle thread, but I don't remember if I ever tried that or not.

Threading order I think would be just upper looper, then lower looper then inside needle then outside needle last I think. Have fun with it!

sewbirdgail

Intermediate
Member since 12/21/12
Posts: 5





Date: 12/22/12 10:34 AM

THANK YOU. I just got it and trying to figure it out. Seems to be very basic, thats what I wanted, tired of the plastic junk out there. I will just keep practicing on it and playing with the thing until I know what makes it tick:) ttyl, ty again

------
All the best, Gail

beauturbo

Advanced
California USA
Member since 5/2/09
Posts: 3514





Date: 12/22/12 4:28 PM

Since it does not even have #'s on the tension dials, (to reference back to later, or make notes in reference to for your own reference as to what you might like them turned to for different things) and maybe no good to even put some on yourself with anything, like a sharpie pen or sticker, as the even the dails can probably go around, twirl around several times even, I think this is how I would use it just at first:

I would just go and get and thread up with 4 different colors of serger thread to match the thread paths. Then sew on it. then for each fabric, now that I could actually see real easy, which thread was doing what a bit better, now I would know which knob to turn which way, to make tension tighter or looser on each particular thread, for whatever I just wanted, on each different kind of fabric, pretty quick and easy.

Then if you only want to sew on fabric with same kind of properties, later, you are good to go. But if switching back and forth between really lots of different kinds of fabrics, to tweak all tensions just right for each new kind of fabric, maybe just stick all 4 thread colors iback in there real quick each time, tweak it, and then put the real fabric in afterwards, with the real color threads you wanted to use each time.

After doing that a while, I don't think you would even have to do that anymore at all, and could just eye ball it each time a lot better.

But if there were any other people at my house, I would be telling them, they had better not be touching or playing with my machine and just randomly turning those unmarked dails for fun at all!

Betakin


Advanced
Arizona USA
Member since 4/22/04
Posts: 7282





Date: 12/26/12 0:47 AM

I used to sell the older Babylock sergers..way back when. Sergers can do different types of stitches including even different types of the 4 thread stitch..such as 4 thread overedge, 4 thread mock safety and 4 thread safety stitch. I think your serger does a 4 thread safety stitch and can do 2 thread stitches such as 2 thread overedge and 2 thread flatlock and even a 2 thread double chain stitch.
I had an older Babylock that did a mock 4 thread safety and 2 thread stitches and a chain stitch but did not do 3 thread stitches. My Babylock took a round shank DCX1F round shank needle. It is very important to get the right needles for these sergers..for instance a DCx1 needle would not work on my serger. It had to be the DCX1F. I think your serger takes a BLX2N needle.
My older serger did have single revlolution tension where I believe your EA-605 tensions are multiple revolution.
I don't think your serger has a stitch width adjustment but it has a wide stitch capability from 4-7mm and probably has a push button stitch length adjustment from 1-5mm.
I think your serger might lack differential feed and might not have a light. You would probably love having a book that helps with these old but good models called Know Your Babylock by Naomi Baker & Tammy Young. Once knowing the methods given in this book you can usually tackle any serger to do the jobs they are designed to do. Sergers are so much fun.
Happy Holidays and Happy New Year to all.

ETA..Forgot to mention that the book Know Your Babylock is quite an old book copywright was 1990 from Chilton Co. but I do know some have still found it on line.
-- Edited on 12/26/12 0:55 AM --

itsmebrandon

Intermediate
Member since 8/28/13
Posts: 1



Date: 8/28/13 9:16 AM

I recently bought a EA-605. I have no problem overedging but when I try to add one more strand of fabric to do some overlocking, it wont work. The manual says to remove a lever to switch it over from overedging to overlock, but I can't find the lever. Can anyone help me out with this?

thanks!
-brandon
Printable Version
* Advertising and soliciting is strictly prohibited on PatternReview.com. If you find a post which is not in agreement with our Terms and Conditions, please click on the Report Post button to report it.
Sewing with Slippery & Drapey Fabrics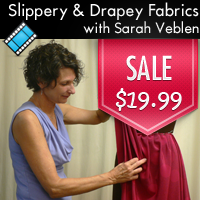 The Technique of Underlining Garments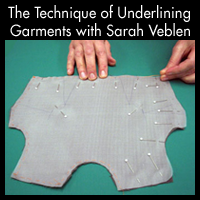 Vogue Patterns 9475 OOP

by: FreyaStark
Review
Sew Liberated Schoolhouse Tunic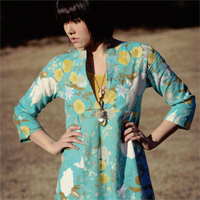 Buy Now
Victory Anouk Paper Pattern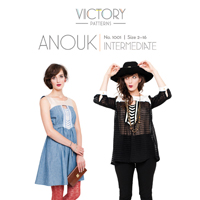 Buy Now
Simplicity 2508

by: zombieamel...
Review