I try not to buy a lot of sewing "ephemera" (printed paper stuff). Patterns have to be on sale, and books have to be PACKED with info and pictures. Love the Internet: free patterns and tutes to print. For free.
Yet, there is always the lure of Sewing Craft Magazines.
They ALL ALWAYS look great: glossy covers that feature the best projects within. They're NOT cheap, ranging from $7 - $15 US (which in my Mesolithic brain is still the price of a hard-cover college textbook…)
Still, I'd like to make my statement about Quick Stuff to Sew, a once-a-year periodical from Threads. Which I don't even BUY: I get a copy every year as a stocking gift from my sister.
Firstoff, it spells Quick with a Q.
Secondly, it seems to take all the good, quick projects from past Threads and serves them forth for $7US. (Today, 12/29/12, it's on sale for $5.24. Run.) And while I won't make every project, my feeling is: if I get 3, it's worth it, especially when I add on the inspiration and tips and reminders that I might have missed. I really do get a lot of enjoyment for the $7.
This Winter 2012 issue pointed out Kwik Sew 3916. (Kwik with a K…
) Which didn't look like much to me before UNTIL I read the editors tip about making the shawl collar in a contrasting color. THAT I could ROCK.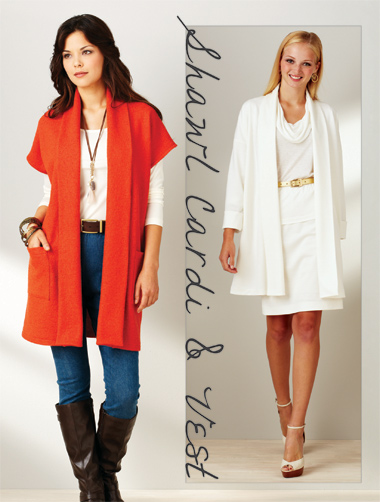 I WILL make the BOXY T-SHIRT, thanks for instructions on exactly how to draft the easy pattern for myself. And for the idea of making contrast panels on the side which will slim me even faster than my 15 point WW Plan.
I won't make the Lace Embrace skirt but I love the fabric and thanks for indicating up front that it was from Mood: an easy acquisition for me: I can swing by on my way home from the job in Harlem, to the home in Queens.
True, I didn't need this magazine to figure out a generous WRISTLET PURSE or the COLLAR NECKLACE or a thin woven COTTON SCARF but now that I see them, I want them. And the TWO-POCKET LINGERIE BAG is inspired because you can drape it on a hanger so it allows access to both pockets. And now that I think about it, I really could use a travel SHOE BAG instead of using a Shop Rite plastic shopping bag.
I have actually been looking for a MITTEN PATTERN that would work with woven quilt cotton: to make silly patchwork quilt mittens, and this issue includes a pattern for felted sweater mittens which will do it!
Your recommendations on Sewing Craft Magazines in general or an issue in particular?
j.
-- Edited on
12/29/12 12:19 PM
--