lakaribane


Haiti
Member since 7/23/07
Posts: 3135
Skill: Advanced Beginner
Body Type:


5 members like this.




Date: 12/29/12 12:56 PM

I seem to remember such a list existed but I cannot find it so I am starting a new thread.

Feel free to add to this list often, garment or crafting sewalongs are equally welcomed.

If the moderators would be so kind as to pin this, I would appreciate it.

So, I am going to join this one:

Pretty Grievances Jungle January (animal print fabric sewalong)

------
Morphology: Petite at 1m53 (5'), Burda size altered 19 or altered 38, Big 4 size 10 or 12 depending on ease;
Alterations: Petite, Narrow Shoulders, Slim Arms, Narrow waist, Increase Back Crotch Depth. Considering: Forward Neck/Rounded Upper Back, Slight Swayback;
Style: Feminine, Colorful, Fitted, Clean lines;
Favorite Garment type: Dress;
Favorite Colors: Purple, Navy, Brown, Shocking Pink, Coral, Aqua;
Favorite Fibers, Weaves or Patterns: Cotton, Linen, Cotton Silk blend, Seersucker, Swiss Dot, Lawn, Denim, Stripes, Chevron, Window pane Plaid, Bias;
Blog : http://fashionmate.blogspot.com
Pinterest : http://pinterest.com/lakaribane/

lakaribane


Haiti
Member since 7/23/07
Posts: 3135
Skill: Advanced Beginner
Body Type:




Date: 1/1/13 7:24 PM

Found another one:

My messings : Sewaholic's Hollyburn skirt sewalong (starts January 2013)

------
Morphology: Petite at 1m53 (5'), Burda size altered 19 or altered 38, Big 4 size 10 or 12 depending on ease;
Alterations: Petite, Narrow Shoulders, Slim Arms, Narrow waist, Increase Back Crotch Depth. Considering: Forward Neck/Rounded Upper Back, Slight Swayback;
Style: Feminine, Colorful, Fitted, Clean lines;
Favorite Garment type: Dress;
Favorite Colors: Purple, Navy, Brown, Shocking Pink, Coral, Aqua;
Favorite Fibers, Weaves or Patterns: Cotton, Linen, Cotton Silk blend, Seersucker, Swiss Dot, Lawn, Denim, Stripes, Chevron, Window pane Plaid, Bias;
Blog : http://fashionmate.blogspot.com
Pinterest : http://pinterest.com/lakaribane/

jannw


Washington USA
Member since 9/3/06
Posts: 8552
Skill: Intermediate



Date: 1/1/13 7:36 PM

A quilting Block of the Month

Blogger Girls BOM

------
2009-113.25 yds
2010-115.5
2011-80.25+30+donated
2012 86.3 yds..
2013 21.0
Everyone who sews seriously has a stockpile of fabrics, because it is natural to purchase more than can be sewn in any one season" Singer, Timesaving Sewing, 1987



Lynnelle


Board Moderator
Member since 4/8/07
Posts: 2646
Skill: Intermediate



Date: 1/1/13 10:22 PM

Sew Your Own Wardrobe For a Year

------
How is that still a thing?

sewmodest


Member since 2/6/04
Posts: 239
Skill: Intermediate



In reply to Lynnelle

Date: 1/2/13 12:06 PM

How do I join this one?

TIA

Sewmodest

------
secretgardenstudio.net

Lynnelle


Board Moderator
Member since 4/8/07
Posts: 2646
Skill: Intermediate



In reply to sewmodest

Date: 1/2/13 3:37 PM

Visit the blog and leave a note in the comment section along with an email address. It'll be great to sew along with you. =)

L

------
How is that still a thing?

tcusic


USA
Member since 3/5/06
Posts: 44
Skill: Advanced



Date: 1/4/13 9:19 AM

There is a bramaking sew along at ClothAddict.com

------
O magnify the Lord with me...He is worthy to be praised.

2014 fabric stats:
19 yards purchased
7 yards sewn


lakaribane


Haiti
Member since 7/23/07
Posts: 3135
Skill: Advanced Beginner
Body Type:




In reply to tcusic

Date: 1/7/13 8:27 PM

LOL, I was just coming here to post about this:

bramaking-sew-along

(link to the tag page with all the posts)

They only have about 4 posts up and are at the measuring stage. I really enjoyed reading the interview and posts by the custom bra-maker who left Wall Street to do this full time!!!

------
Morphology: Petite at 1m53 (5'), Burda size altered 19 or altered 38, Big 4 size 10 or 12 depending on ease;
Alterations: Petite, Narrow Shoulders, Slim Arms, Narrow waist, Increase Back Crotch Depth. Considering: Forward Neck/Rounded Upper Back, Slight Swayback;
Style: Feminine, Colorful, Fitted, Clean lines;
Favorite Garment type: Dress;
Favorite Colors: Purple, Navy, Brown, Shocking Pink, Coral, Aqua;
Favorite Fibers, Weaves or Patterns: Cotton, Linen, Cotton Silk blend, Seersucker, Swiss Dot, Lawn, Denim, Stripes, Chevron, Window pane Plaid, Bias;
Blog : http://fashionmate.blogspot.com
Pinterest : http://pinterest.com/lakaribane/

lakaribane


Haiti
Member since 7/23/07
Posts: 3135
Skill: Advanced Beginner
Body Type:




Date: 1/8/13 2:55 PM

Ok, so the sub-genre in sewalongs is challenges or dares and I have a few for you guys:

La Inglesita's Burda Challenge 2013

Don't worry, the blog is bilingual ES/ENG. They also have a

Burda Challenge 2013 @ Flickr

Quote:
My 2013 year resolution will be to sew one garment from every Burda issue I buy this year. Letīs see how far I get!

Crafting-a-rainbow's sewing-dares

where fellow sewing bloggers challenge you to make something from your list of sewing wishes.

Quote:
Here are the official Sewing Dare Rules:

Have fun. Stop if it is not fun.
There is no rush - Do your dare whenever you want!
Did I mention to have fun?

Karen @ didyoumakethat.wordpress.com's Sewlutions 2013

is still open, though not for the drawing.

Quote:
Iím inviting people to leave a comment below with one Sewlution for 2013. Just the one. Iíll transcribe it onto a piece of paper with your name and add it to the jar. In 12 months from now, Iíll empty out the jar and host a blog post where youíre invited to reveal Ė did you keep to your commitment or is yours the face of shame?

Edited for clarity

-- Edited on

1/8/13 2:58 PM

--

------
Morphology: Petite at 1m53 (5'), Burda size altered 19 or altered 38, Big 4 size 10 or 12 depending on ease;
Alterations: Petite, Narrow Shoulders, Slim Arms, Narrow waist, Increase Back Crotch Depth. Considering: Forward Neck/Rounded Upper Back, Slight Swayback;
Style: Feminine, Colorful, Fitted, Clean lines;
Favorite Garment type: Dress;
Favorite Colors: Purple, Navy, Brown, Shocking Pink, Coral, Aqua;
Favorite Fibers, Weaves or Patterns: Cotton, Linen, Cotton Silk blend, Seersucker, Swiss Dot, Lawn, Denim, Stripes, Chevron, Window pane Plaid, Bias;
Blog : http://fashionmate.blogspot.com
Pinterest : http://pinterest.com/lakaribane/

lakaribane


Haiti
Member since 7/23/07
Posts: 3135
Skill: Advanced Beginner
Body Type:




Date: 1/16/13 10:20 AM

Cation Design and EmSewCrazy have a

2013 Stashbusting Sewalong

------
Morphology: Petite at 1m53 (5'), Burda size altered 19 or altered 38, Big 4 size 10 or 12 depending on ease;
Alterations: Petite, Narrow Shoulders, Slim Arms, Narrow waist, Increase Back Crotch Depth. Considering: Forward Neck/Rounded Upper Back, Slight Swayback;
Style: Feminine, Colorful, Fitted, Clean lines;
Favorite Garment type: Dress;
Favorite Colors: Purple, Navy, Brown, Shocking Pink, Coral, Aqua;
Favorite Fibers, Weaves or Patterns: Cotton, Linen, Cotton Silk blend, Seersucker, Swiss Dot, Lawn, Denim, Stripes, Chevron, Window pane Plaid, Bias;
Blog : http://fashionmate.blogspot.com
Pinterest : http://pinterest.com/lakaribane/
Printable Version
* Advertising and soliciting is strictly prohibited on PatternReview.com. If you find a post which is not in agreement with our Terms and Conditions, please click on the Report Post button to report it.
Online Class
Clone Your Favorite Garment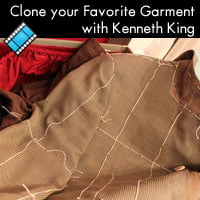 Online Class
Create a Jacket Muslin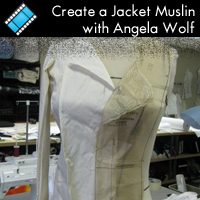 Other Free download

by: ClioBklyn
Review
HotPatterns HP 1168

by: VintageTem...
Review
PerfectFuse Sheer White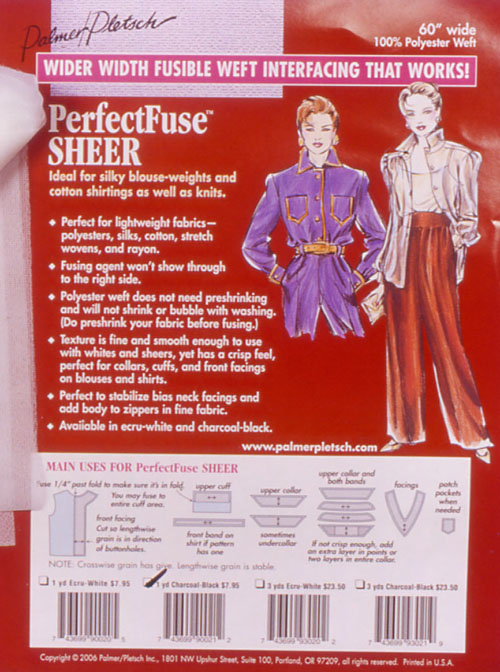 Pattern Details
Sew House Seven The Bridgetown Backless Dress & Tunic Digital Pattern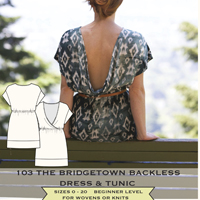 Pattern Details