Mufffet


Vermont USA
Member since 8/14/05
Posts: 12802
Skill: Intermediate

1 member likes this.




Date: 1/14/13 8:02 PM

So here I am in the middle of finishing the large heavy flannel quilt, and using Warm & Natural batting which seems quite heavily battened, and after some nice rounds of FM, I began to get shredded thread. O.K....so I also had needed high tension, and it makes sense that if you have the tension on 8 your 50 wt. Cotton may just shred because I cannot really pull it out manually if I try to test the tension with that foot down.

SO:
1. new needle - check
2. change bobbin case to FM one - check

Nope. Still breaking

1. rethread top and bottom...go through above routine three or more times

2. Try a different thread combo -

time passes, after rethreading, needle changes, thread combo tryouts - all of which work fine in FM on test sandwich of same fabric and batting.....

more time passes.....still shredding, I am tearing hair out in clumps and thinking of getting the mallet from the garage and flattening the machine to bits....stepping away.

Finally - changing to Superior Threads thread stand so King Tut can roll off the spool properly, and that actually gave me two feet of no problem stitching, then breakage again.

I am thinking it is the weight and moving around troubles with this quilt. BUT, I am also thinking of having a go at it with the old solid Pfaff and seeing if I can finish it on the Pfaff. I had good results around the edges with the King Tut/Masterpiece combo, but maybe it's the weight??!?!

Then I went and read loads of posts on the Quilting Board and here and apparently this whole FM thing is an iffy prospect because so many people have had so many issues with all this, and each factor seems to be one more variable.

Let's say that even tonight - 24 hours later - I am feeling bad and wanting to shred the quilt about now. Should I give up on the Janome for now and get out the Pfaff and let her try it? Could it be the heavy quilt? Should I sell all my machines and just read more?!

------
"Be kind whenever possible. It is always possible."
--Dalai Lama

I have sewing machines

loti


Florida USA
Member since 5/27/04
Posts: 3634
Skill: Advanced



In reply to Mufffet

Date: 1/14/13 8:09 PM

I took a class with Sue Nickels in November and she suggested lowering the tension on the top (I worked on my samples with it set between a 2-3 using the Superior Threads cotton, and a universal needle. You need more thread to get through all the layers.

But I totally understand your frustration.
Don't sell all your machines just yet.

------
"A girl should be two things: classy and fabulous."
Coco Chanel

Stash Sewn in 2011 148.5 Yds
Stash Sewn in 2012.... counting...

http://adonising.blogspot.com

SouthernStitch


USA
Member since 8/24/02
Posts: 11648
Skill: Intermediate
Body Type:




Date: 1/14/13 8:09 PM

Oh Muffett, I'm such a newbie to quilting, I can't really help, but wanted to give you a giant hug.

Did you spray baste it? Have you tried a Titanium needle? I've read that sometimes that helps with shredding, especially if you have used any sort of spray.

------
Bernina 780, and 530
Viking Opal 690Q
Babylock Evolution
Singer 403a

When life gives you green velvet curtains, make a green velvet dress.

Warbler


Member since 4/15/07
Posts: 4155
Skill: Advanced



Date: 1/14/13 8:59 PM

Muffet, I sent you are PM but I am so sorry to hear you are having such trouble!

------
Janome MC6600 Bernina 240 Juki MO735 Singer 201-2 Singer 221-1

Learn To Sew


Member since 4/12/05
Posts: 13345
Skill: Advanced Beginner



In reply to Mufffet

Date: 1/14/13 9:15 PM

------
Bernina 630, Bernina embroidery module, Pfaff 2036, Bernina 1200DA serger, Unique Sewing Cabinet 450L

Cat n Bull


North Carolina USA
Member since 2/17/06
Posts: 5327

4 members like this.




Date: 1/14/13 9:26 PM

I just had a similar problem, and it is SO FRUSTRATING!

Needles seem to have the biggest effect with my machine, no matter what thread I use. I have to use topstitch size 14 or larger needles.

I tend to do best with thinner thread, silk 100 or cotton 50, or poly 50, although in the end it's the needles for my machine that matter most. (that and having the timing set properly!) My machine does auto adjust for tension, and I have not found tension to matter much.

I am not loving fmq myself. I do find it an EXTREMELY frustrating endeavor! It seems like there has to be the perfect alignment of the stars and the planets and the moon has to be full and the FMQ fairies have to be in a festive mood to have a satisfying, problem free FMQ session!

------
Cathryn

Warbler


Member since 4/15/07
Posts: 4155
Skill: Advanced



In reply to Mufffet

Date: 1/14/13 9:27 PM

Other thoughts you haven't mentioned... What type and size needle are you testing with? 14 or 16 Topstitch? Do you have a different spool of King Tut to test? When you say weight are you talking about thread weight or the weight of the quilt? Is the quilt supported enough that it doesn't pull to much as you quilt?

------
Janome MC6600 Bernina 240 Juki MO735 Singer 201-2 Singer 221-1

Mufffet


Vermont USA
Member since 8/14/05
Posts: 12802
Skill: Intermediate



In reply to Warbler

Date: 1/14/13 11:28 PM

Weight of the quilt. Oh yes, I do have other thread. Not working with this tonight.

I use a 14 Superior Titanium Topstich needle.

No spray basting - the thing really sticks to itself and doesn't move around layer to layer at all. But the weight of the quilt is a bit much, and I don't have a really good setup for supporting this quilt - I do manage to make it better than it could be, but not as good as it should be. SO - I have done about 1/2 to a bit more of it, and so I have to preserver.

I appreciate all the huggies and good wishes and hints - I have read the quilting board until my eyeballs are numb and apparently this problem is more than common - it is very common, and Cat n Bull tells it like it is!!!! I need that moon phase or something. Plus a good vacuum out of my machine and etc. SO perhaps Saturday I will give this thing another try. Or maybe tomorrow night - who knows. I feel like doing nothing else BUT trying to resolve this, but I have to sleep, work and eat instead and then I only have a few hours left but YES, this must be one of the major pains in all quilters minds. Everything must be perfect I guess.

Thanks for letting me vent!!

------
"Be kind whenever possible. It is always possible."
--Dalai Lama

I have sewing machines

Mufffet


Vermont USA
Member since 8/14/05
Posts: 12802
Skill: Intermediate



In reply to loti

4 members like this.



Date: 1/14/13 11:33 PM

Loti - yes, the tension - well, it's OK for these people to say lower the tension on top, and that makes perfect sense, but not if then you have all sort of nice eyelashes on the back! That is the thing. AND of course, I did loosen the tension on that blue dot bobbin case last night in the last bout, and that enabled me to loosen top tension, and that really did help some. I am now working on the idea of the spool needing to roll the thread off directly sideways, and there was a nifty idea that someone posted to QB but it was from the Janome forums about a lady's 6600. She takes a large spool cap or even a spool and puts it on one of the thread holders on her 6600, then she skips the antennae and goes for the first thread look thingie on the top of the machine, and then threads the rest as normal and uses her spool threads like that and she says that solved her problems with King Tut breakage. Oddly, the Janome P machines do not come with a way to roll thread off horizontally so you do have to figure something out - I want to try this next time around.

My question is - why sometimes is it working for hours and sometimes not for three minutes.....

.....OK - I won't pound the machines to dust - I will be patient and endure....

Thank goodness for the great folks here on PR in the Quilters Corner where a person is safe and can rant and rave about all this - let me tell you the family isn't all that amenable to look diatribes about this sort of thing. DH is tolerant and tells me it will all work out.
-- Edited on 1/14/13 11:36 PM --

------
"Be kind whenever possible. It is always possible."
--Dalai Lama

I have sewing machines

iSewQuiltArt


Australian Capital Territory Australia
Member since 4/4/08
Posts: 3708
Skill: Advanced

3 members like this.




Date: 1/15/13 2:05 AM

I'm just going to write my thoughts here and bear with me as my brain is like porridge right now, mushy with a head cold.
Breakage with King Tut is unusual because that thread is quite thick and strong. I would check your needle and change that as the one you have could have microscopic burrs inside the eye that could cause shredding. Change for a needle from another pack incase the entire pack is shot. Occasionally I have come across this...and I go through a tonne of needles every year. Its rare to have a whole pack shot but it happens. Its more common to have one needle in every few packs that are bad.
Are you using a quality needle?
I find Schmetz make the nicest needles followed by Superior Topstitch with titanium coating just as they do last longer. Klasse needles aren't so great quality and I see the difference when I use one of that type compared to a Schmetz in the same project with the same thread. I tested them out once out of curiousity...

Other thought that occurs is when you change direction, are you letting the machine stitch away for a few stitches on top of itself because if you are you can actually split/ cut the thread that can then break. Any brand of thread can do this. Try to get in and out of directional changes as soon as you can and if you have to, slow down so you aren't madly stitching on one place for too long. You'll tell if you have done this sometimes if you look on the back as there will be a little knobbly knot like bump at the change of direction in the quilting design.

Are you keeping the quilt nice and loose so it can move freely under the needle? Bunch it up in a volcano like shape with a nice loose wobbly puddle in the middle, near the needle. Think wobbly like a bowl of jelly. If it moves that much in the middle of the volcano, you have arranged the quilt about right. You shouldn't be pulling the weight of the quilt around under the needle. Stop and rearrange often so that you are not.
This is so important for nice stitching and easy quilting. When you arrange a quilt right, there is no drag to fight against.

Other things come to mind, how long since you cleaned out your machine? Maybe there is some lint in there causing the tension problems. Clean under the bobbin case and between tension disks and see what happens. Lint can wreak all kinds of havoc in ways you would no imagine. Clean machine is a happy machine...

The need to lower tension setting with King Tut has always been my experience even on a range of brands. Thicker threads and plumper quilts need lower tensions in general. Sue Nickel's advice is spot on.

If you machine is making a mess on the bottom side, is it eye lashes or loops of excess thread? If it is eye lashing you may be sewing too slowly and moving your hands too fast, when they are out of sync to eachother eye lashes can occur especially with top loaders. Try the old Pfaff and see if this problem evaporates. I'm a fan of vertical bobbins for beginners especially because of how the thread spools off the bobbin. There's more tension on the lower thread as it makes a 90 degree bend off the side of the bobbin and then goes up through the machine. This can cause uneven tension and eyelashes more easily in the hands of a beginner on a top loader machine. The Magic Genie Bobbin washers were developed to stop back lash of thread as well that can cause eyelashes, when the bobbin spins too fast and spools off extra thread and its under tension...so try a magic genie bobbin washer underneath the bobbin in your top loader and see if this helps. I've seen eye lashes vaporise for students when they stuck that little bit of teflon into their machines that were Janome top loaders.
When it comes to vertical bobbins, like you get in some old Pfaff machines and Berninas, and a few other machines, the thread just comes right off the side of the bobbin without that bend in the thread- less stress on the thread = happier stitch formation and no eye lashing.

Is the bobbin case otherwise working ok for general sewing? have you ever adjusted it and forgot to return the screw to the default position?
Just thoughts running through my brain here...

You are working on a top loader right? Is the qulting going OK and then after a few inches you get sudden resistance and then snapping thread? It might be getting caught around some part of the thread part near the bobbin so use a thread stand. Failing that it may be getting caught inside or a thread guide inside might have developed a burr or become bent over time, esp. if you have ever yanked on your quilt to get it out of the machine in frustration...
I'd set the machine up for normal sewing and see how the same threads run through it on straight stitch at full speed. Half speed. Watch and listen to get a feel for what's going on inside the machine.
The one time I had major shredding in a machine that I owned before I made the switch to Bernina it was that a thread guides that should have been put into the machine at the factory had not been attached and the thread was carving a hole in the plastic inside the machine where I couldn't see. But I could hear a subtle shredding sound, it would sew for a few inches and then thread snapped. All thread did this so it took a while to figure out it wasn't the needle or thread causing problems.
Don't rule out the problem being something you cannot easily see yourself from the outside when you have eliminated the usual suspects.

And most of all, don't give up on FMQ. Call your dealership for some support if you can't solve these problems yourself and take the machine in with what you are working on with so they can earn their keep and help you out!
I'd suggest taking a break, flipping to the other machine and use King Tut and a Topstitch 90 needle and see how you go with it. Compare stitches and that may be the proof of whether the problem is user related or machine related. Goodluck!


------
Quilting up a storm
Bernina Girl, in possession of a small herd.


Printable Version
* Advertising and soliciting is strictly prohibited on PatternReview.com. If you find a post which is not in agreement with our Terms and Conditions, please click on the Report Post button to report it.
Online Class
Pattern Work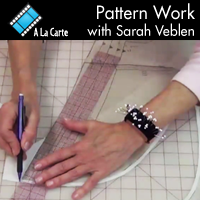 Online Class
10 Clever Techniques To Help You Sew Like a Pro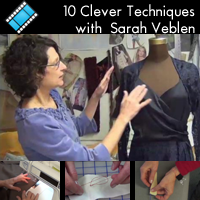 No Pattern Used Self Drafted skirt

by: lbreton
Review
Tessuti Camilla

by: Dilliander
Review
De-Mystifying Fit - A CD Book

Pattern Details
Victoria Jones Collection Misses' Traditional Muumuu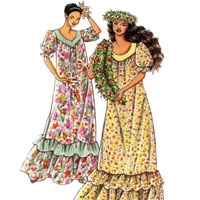 Pattern Details