Holmar


Advanced Beginner
Ontario CANADA
Member since 10/11/09
Posts: 29



Date: 1/19/13 2:54 PM

Hi everyone,
My sister is giving me an old treadle machine she bought for $50.00 from her neighbour..it is a Singer # 96K40. I have never used a treadle machine, can anyone give me information on using a treadle machine...are they easy to operate and maintain? I have looked online and there doesn't seen to be alot of info on this particular model...I'm really looking forward to finding out all I can about treadle machines, I'm very grateful for any information I hopefully receive...thanks so much....Holly

Jennifer Hill


Advanced
Alberta CANADA
Member since 4/11/02
Posts: 1507





1 member likes this.



Date: 1/19/13 4:07 PM

A Singer 96 is an industrial machine. Are you sure it is in a treadle table??? Many early power tables sort of look like treadles in that they have the graceful shaped cast iron Singer side pieces, and iron pedal. But that pedal is often connected to a clutch motor bolted to the underside of the table top. If it is a real treadle base, the pedal (treadle) will be connected by a pitman rod to a large bandwheel to the right of the treadle, and that wheel is connected by a belt to the handwheel of the machine. These industrial treadle bases are not so easy to find anymore, and are considered quite desirable by us treadling types (one former Yahoo list owner used to call us PPWs - People Powered Weirdos).

Anyway, the Singer 96 is a high speed rotary machine for light/med weight garment fabrics. I couldn't find your particular sub-model listed, but there are manuals available for other subs here. While this model is considered to be rather obsolete, I'm pretty sure most important parts and consumables are still available from full service industrial dealers. The first step in getting it back into service is to clean and lubricate the machine head, then to do the same for the treadle base. There are fine instructions for doing both jobs on the Treadle On main site here.

I just wish my neighbours offered me a $50 industrial treadle...

Jennifer in Calgary

Al Johnson


Beginner
Minnesota USA
Member since 2/17/07
Posts: 1556





1 member likes this.



Date: 1/19/13 9:14 PM

What she said.

And, I might add, NICE SCORE!!



------
A sewing machine is just a welder for textiles.

Holmar


Advanced Beginner
Ontario CANADA
Member since 10/11/09
Posts: 29





In reply to Jennifer Hill <<



Date: 1/19/13 9:21 PM

Hi Jennifer,

Thank you so much for letting me know about this machine. I only have a very fuzzy picture of it...my sister lives in Montreal and used her cell phone to take the picture...not very clear. It does look like a treadle...but I'm not sure.I wish I had a better picture to show you. I'm trying to locate a shop in Montreal and have the machine looked at...I am hoping it will be able to function well again. My sister has never tried it out because a part...I think where the belt goes on broke. I've never used an industrial machine before and I'm a bit intimidated...lol. In my online search I did find a store in Quebec that has 2 of these machines for sale, I sent them an email today and will follow up with a phone call on Monday...hopefully they can tell me where I can get it serviced. My sister did tell me the machine and table is very heavy! Thank you so much for letting me know about Treadle On. I love old sewing machines, my husbands grandmother had an old Singer treadle machine. I'd love to know the history of this one...alas the neighbour my sister bought the machine from has since moved away. Once again, thank you very much for your info!


Jennifer Hill


Advanced
Alberta CANADA
Member since 4/11/02
Posts: 1507

1 member likes this.




Date: 1/19/13 10:22 PM

Last summer I visited an industrial machine shop in Montreal, up at the top of St Lawrence Blvd. I couldn't believe all the machines in there - all types for a variety of manufacturing purposes, new and old. Many very old. But, considering I was the only customer in there that day, and the staff were Anglos, they were extremely unhelpful, even though I had brought along a shopping list, complete with part #s. Oh well.... The only remaining indy shop in Calgary is worse..... That's why it's so nice to be able to service one's own machines.

Yes, industrial machines and their tables tend to be very heavy. If powered by clutch motors, they handle much differently than home machines. Many of us are more comfortable spending a few more $$ and replacing the clutch motors with servo ones. These respond more like home machines, and are much quieter. However, if you are lucky enough to have a real indy treadle, it is even easier to control a machine like this, although you likely won't be able to kick it up to quite its rated speed. I have a Singer indy treadle base under a Willcox & Gibbs high speed lockstitch, and the fastest I've driven her is about 750 spm, although she is rated for 3500spm under factory power conditions. Mind you, this machine is closing on 100 years, so it might not want to go that fast ever again. Many home machines top out around 700spm, and few home seamsters use their machines at max speed anyway.

When the time comes to collect this machine, or have it shipped to you, be sure to take it out of the table before transporting it. Pack it in a box, and don't let it slide around, or get launched in the case of sudden braking. I would probably transport the table upside down, particularly if there is a motor on it. Secure everything well so nothing slides around or tips.

Jennifer in Calgary

Holmar


Advanced Beginner
Ontario CANADA
Member since 10/11/09
Posts: 29





In reply to Jennifer Hill <<



Date: 1/20/13 11:03 AM

Hi Jennifer,

Sorry you had to deal with terrible sales people when you were in Montreal, no excuse considering the shop was not busy at the time of your visit. I sure wish I knew more about the machine, my sister does not sew at all, and she cannot really describe the motor...etc to me. As far as the speed capabilities, I am so not a speed demon...It will take some getting used to for sure. I'm really hoping for a really nice straight stitch...I heard that the Singer Feather Weight machines are great...I'd love to have one for quilting! I already own 4 Janome machines...but can always make room for a few more great machines
Printable Version
* Advertising and soliciting is strictly prohibited on PatternReview.com. If you find a post which is not in agreement with our Terms and Conditions, please click on the Report Post button to report it.
Online Class
Sewing with Slippery & Drapey Fabrics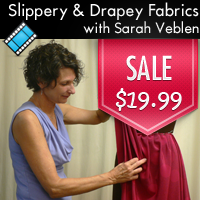 Online Class
Leather 101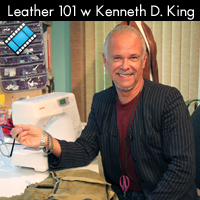 McCall's 2145

by: Larisa
Review
Checkbook Cover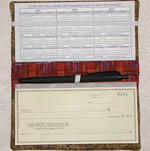 Pattern Details
Favorite Things Hope Skirts Pattern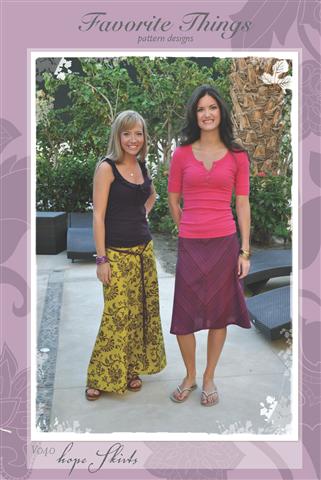 Pattern Details
Fishsticks Designs Undercover Boxer Briefs

by: galadriel4...
Review