Sewcial Dancer

Beginner
New Jersey USA
Member since 11/10/10
Posts: 56



Date: 1/27/13 6:56 PM

I am doing a 16,000 stitch Anita GooDesign free standing lace design on 2 layers of hooped wash-away stabilizer. Every once in a while I have to cut a bunch of upper threads from underneath to remove the hoop in order to change the bobbin thread. The stabilizer is puckering at certain points in the design, so I'm wondering if that can be helped, and if that is causing the problem. I had it in there pretty tight, so I don't know what I can do differently. It is a new needle an I am using Mettler #40 thread. Anyone ever have similar issues?

------
Singer 221, 403A, 9020 10 stitch
Brother 1250D
Juki MO-644D

quiltingwolf


Intermediate
Member since 12/15/02
Posts: 6649





Date: 1/27/13 7:18 PM

Just a few questions

Why are you changing the bobbin. Usually lace is one color and at 16K stitches one bobbin should handle that.

When doing lace you don't want to cut any of threads so it will stay together. The stabilizer if doing lace would be wash away so what does it matter if it puckers?

I've done lots of lace and never had the issues you are having.

------
quiltingwolf.blogspot.com

Sewcial Dancer

Beginner
New Jersey USA
Member since 11/10/10
Posts: 56





In reply to quiltingwolf <<



Date: 1/27/13 8:52 PM

Well, firstly, I am using my sidewinder, which doesn't make a full bobbin, plus I am making multiple lace pieces, so I have been getting 3 prepared and and one runs out, I use the sidewinder to make a new bobbin. The prewound bobbins have a lot more thread on them, but I am using the same color for the bobbin as the top thread, so I need to make my own. The bottom of the stabilizer is making nests of the upper thread when I am having this issue, BTW, so I assume it is an upper thread problem. When it nests, it gets stuck in the bobbin so I have had to snip the threads. Some of the lace I can still use, but some I'm having to throw out. When there are threads that I have to snip, I can use a little tac glue so it doesn't unravel. The lace pieces are going to be sewn onto a ballroom dance gown, and then I will place stones on them for sparkle, so even though it is free standing lace, the underside won't show.

Quiltingwolf, I'm sure there must be others out there that this has happened to and hopefully they will share some insight. I had done some of these over the past month without any significant issues.

------
Singer 221, 403A, 9020 10 stitch
Brother 1250D
Juki MO-644D

quiltingwolf


Intermediate
Member since 12/15/02
Posts: 6649





Date: 1/27/13 9:54 PM

You could have a tiny thread caught in your tension that could cause this as it sounds like a tension problem if you are getting nesting.

------
quiltingwolf.blogspot.com

beauturbo

Advanced
California USA
Member since 5/2/09
Posts: 3443





Date: 1/27/13 10:20 PM

Maybe it depends on what kind of Mettler #40 thread you are using, 2ply bends better in tight places made on purpose for machine embroidery thread or more 3 ply does not as well at all, more garment sewing or quilting thread.

But when you get all those thread loopies underneath there like that, most often it is because something has kind of gone wrong with your top thread path instead. One thing that could always make that happen though, if if embroidering along, and your top thread take up has a slit in it, and not just a hole like a older kind of machine, and something happens and the thread suddenly gets out of the slit there. Because then you suddenly got about no top tension on the thread right then, and you would always get a loopy mess on the back of the work. I might suspect that, particular if you got bored while everything was sewing out and left the room and not even watching as then you might not even be there to see it if that happened and might more just return to the room later and find it that way. If you think it might be that, stay and watch it and maybe you can catch that happening even. The sound would be changing when that kind of thing happened too.

Also more and better stabilizer never hurts anything. Particular if you got a whole lot of stitches in something real close together, which is I think the nature of free standing lace designs even. I think the kind of it,and layers of it, that looks more like white paper or cloth works a lot better for that, than the see though kind that looks more like clear plastic at all. Also maybe more layers of it no matter what, might not hurt at all either. Also use the smallest size hoop it can fit into if any having problems, as just more support then, kind of a bummer to do that if making a bunch of multiples of something and trying to jam in as many designs into a hoop as possible, but sometimes works out a lot better too.

beauturbo

Advanced
California USA
Member since 5/2/09
Posts: 3443





Date: 1/27/13 10:35 PM

You might be doing a whole ton of them, if for on a long lace trimmed gown. There are so many stitches in lace designs to hold them together afterwards, I do think you also have to change your needle out way more often and just clean out the machine more way often too.

Also if something happens and there is a "blooper" on one, and it does not really look all that bad, but you are afraid it might fall apart later after stabilizer is gone, I think most times you can just save and fix that with the sewing machine. Maybe set those ones aside with the stabilizer still in them for later. Then later go back with regular sewing straight stitch on top of them there a few times, and then on top of that, a rather tight zig zag or satin stitch in those places and bring thread to the back and tie off by hand. Then afterwards when you get the stabilizer out, they may still even look fine and hold together fine too. You could try that.

Sewcial Dancer

Beginner
New Jersey USA
Member since 11/10/10
Posts: 56





Date: 1/28/13 1:22 AM

It's specifically for embroidery, so I think it is 2 ply thread that I am using. I am in the room the whole time, and am starting to anticipate the problem as I notice the sound of the machine changing, but I am not seeing the thread come out of the upper tension slit. Yes, I get bored, but I bring something to do in the same room. The stabilizer I am using is the white fiber wash away - not the clear kind. I did move from a multipositional jumbo hoop, to do more designs on, to a 5" x 7" hoop, but still having the same problem. But thanks for the suggestions Beaut!!

------
Singer 221, 403A, 9020 10 stitch
Brother 1250D
Juki MO-644D

Sewcial Dancer

Beginner
New Jersey USA
Member since 11/10/10
Posts: 56





In reply to quiltingwolf <<



Date: 1/28/13 1:24 AM

I suppose I will have to perform a little exploratory surgery!!! Good suggestion! (I always have trouble putting back in one of the screws though - it is short and set in very deep.)

------
Singer 221, 403A, 9020 10 stitch
Brother 1250D
Juki MO-644D

Sewcial Dancer

Beginner
New Jersey USA
Member since 11/10/10
Posts: 56





Date: 1/28/13 1:26 AM

Beaut, when I start back up the design, I always backtrack 10 stitches as I was taught in my embroidery class.

------
Singer 221, 403A, 9020 10 stitch
Brother 1250D
Juki MO-644D

Sewcial Dancer

Beginner
New Jersey USA
Member since 11/10/10
Posts: 56



Date: 1/28/13 1:33 AM

I'm a little embarrassed to admit this, but I did drop a machine needle below the foot into the machine and was unable to get it out when using my magnet wand, which usually does the trick. My screwdrivers are too short to remove the throat plate and get better access to it, and unable to even see it anymore when removing the bobbin pieces. Since it does seem to be an upper tension issue, I didn't think this was the culprit, but maybe it is. I did a search in the archives and couldn't find one mention of this problem. I seem to be having problems no one else has ever encountered. Sigh.

------
Singer 221, 403A, 9020 10 stitch
Brother 1250D
Juki MO-644D
Printable Version
* Advertising and soliciting is strictly prohibited on PatternReview.com. If you find a post which is not in agreement with our Terms and Conditions, please click on the Report Post button to report it.
Understanding Interfacings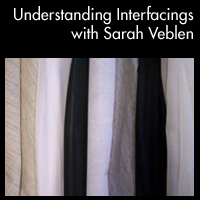 Blueprints to Blue Jeans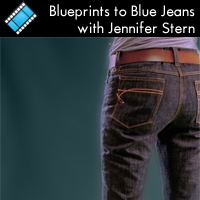 McCall's 6519

by: froggiegir...
Review
TAILORED JACKET - A CD Book by Kenneth King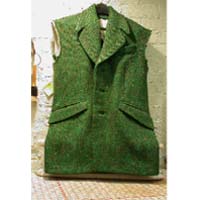 Buy Now
Christine Jonson Bell Sleeve Wrap & A-Line Skirt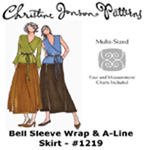 Buy Now
No Pattern Used 8819

by: Sew Passio...
Review