snoopmurph

Member since 10/12/09
Posts: 17



Date: 2/3/13 11:27 AM

Hi! I am a lurker here and love all the great ideas. I have a Brother CS6000i sewing machine. I got it from as a present two Christmases ago and it is a great machine to learn on. It was a clunky on thicker fabrics, but it always worked well. Just after Christmas this year, it started jamming in the bobbin area. Then, if I sewed with any thick fabric, it would have an E6 error. Finally, it made a huge grinding sound and stopped. I took it in for service and just got it back last week.

My first project was hemming some pants. It sewed the hem fine...except over the thicker parts of the seam. It kept doing the E6 error. Got one pair of pants done and stopped. I checked it for dust, thread and gave it a good brushing out, opening up the bobbin case and metal plate and also looking at the upper thread. I tried new thread, needle, feet. I figured I was probably doing something wrong, but honestly, I use good quality thread and I have been doing projects like hemming pants for a long time and the machine always worked fine with the choice of needle and thread.

Yesterday, it wouldn't sew over anything. I was zigzagging and it was clunky and then it went back to jamming every few minutes.

It is obviously under repair warranty and I do plan to call and see if they can look at it again. My husband thinks I should be prepared to maybe consider getting a new machine..especially one that can handle jeans and projects with thicker fabrics. I definitely got the best use of the Brother...I really learned to sew on it.

I wonder if anyone else has had this trouble before and could offer thoughts on whether it is time to consider a new machine or continue to try and get this one fixed. I appreciate any thoughts or ideas! Thank you!

GothDom


Member since 3/24/10
Posts: 1949
Skill: Advanced



Date: 2/3/13 11:42 AM

Hi!

Sorry to hear about your difficulties!

I've seen machines that display the same problems you're talking about(from the repair side) and the prognosis is usually not good.

But, you got two good years of use out of that machine. So, for what it costs, you didn't do badly.

Take it in, but be aware that with this level of machine, once things start breaking internally you start chasing your own tail.

x breaks, which leads to y weakening, when x is repaired, the strain breaks y which damages z...etc.

There are plenty of awesome machines out there.

Go you then, and find yours!

------
http://www.acdc-vintage.com
This one, that one, and a bunch of other ones!
(though the herd is getting more streamlined)


PattiAnnJ


Ohio USA
Member since 12/3/06
Posts: 9203
Skill: Advanced



Date: 2/3/13 1:49 PM

Check your warranty. Parts may be covered and you pay the labor.

Somehow when going over the seams, the presser foot was raised to a level that release the tension and caused the thread jam. Presser foot up opens the tension.

Do you use the foot release button when hemming the jeans? See page 30 - 31 of your manual.

The button releases the foot so it will not be in a tipped position.

-- Edited on

2/3/13 2:05 PM

--

------
OLD CHINESE PROVERB: I HEAR & I FORGET; I SEE & I REMEMBER; I DO & I UNDERSTAND.


beauturbo

California USA
Member since 5/2/09
Posts: 5507
Skill: Advanced



In reply to snoopmurph

1 member likes this.



Date: 2/3/13 5:29 PM

I believe the E6 just means machine can't turn, and motor realizes it. The E6 would not be random and cause that at all, instead it's just more reporting it.

Reason machine can't turn for you each time, sounds like you got thread jammed into it, in the bobbin area. Over and over again maybe. The reason that happens, if sewing on very thick fabric, like you say you are doing, is then because you probably got your pressure foot lifted up so high, and high enough machine thinks you want to take fabric out of the machine. At that point does not matter what your top thread tension is set at, it would be about like setting it at zero, or just lifting up your pressure foot.

Anytime you have no top thread tension, you get a bunch of thread loopies on the back of your work, and if enough, probably a big thread jam. On any machine, not just that one. Even if it was a year 1900 treadle one.

So I don't know if getting a new machine would keep that from happening to you or not, even on a different one, because in a lot of ways, it's more a "operator use" problem than just only a problem with your one sewing machine in any way. I don't think warranty could do anything to fix that, (unless you still got a stuck piece of thread in there) because they already know if you put too much fabric, too tall under a pressure foot in any machine, and try to sew that way, all that stuff happens. So they would not do that, and for not doing that, it would probably sew O.K. for them. So that is what you are most likley dealing with.

You could get 10 new machines in a row, and if still trying to be sewing in the same way, on any of them, t really might happen on all of them. So first thing to do, is to change the way you are sewing, because of what you know now. If you want to sew on anything well, it has to be done with the pressure foot not lifted up so high or all the way.

Things like pounding down your jeans hems with a hammer in thicker places might help and using a plastic jean a ma jag to keep the pressure foot level might help too. Also grading seams and just order of construction and stuff like that. So I think everyone on any machine can have that kind of problem, and often does actually. Once you learn why happening though, hopefully it happens a lot less.

I don't know if you want a new or different machine at all, but I have lots of machines, and I actually like all of them I have, at least a bit more than I would like that one, but that is just me. Everyone likes different things for different reasons though. I think the most important thing is not to go through 10 or 12 machines though, and not understand why that kind of stuff keeps happening on all of them in a row though.


sewsally


Washington USA
Member since 8/18/02
Posts: 1428
Skill: Intermediate



Date: 2/3/13 10:08 PM

What kind of needle do you use for jeans? Should use a big on or the needle can't pierce the fabric.

To avoid the problem going over humps use a "humper jumper" or roll of fabric behind the foot to keep the foot level.

crankyoldlady

Member since 11/14/08
Posts: 186
Skill: Intermediate



Date: 2/3/13 10:48 PM

Before sewing hems, I give the thick seamed areas a good whack or two with a hammer.
Printable Version
* Advertising and soliciting is strictly prohibited on PatternReview.com. If you find a post which is not in agreement with our Terms and Conditions, please click on the Report Post button to report it.
Online Class
Altering Pants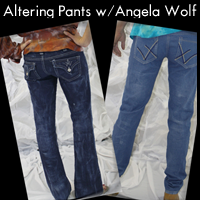 Online Class
Beginners Guide to Sewing Jackets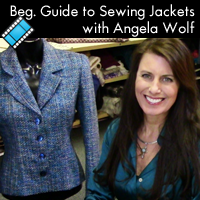 No Pattern Used Lily Skirt

by: ryan's mom
Review
Fit For Art Tabula Rasa Tee and Tunic
Pattern Details
Sew Chic Ginseng Paper Pattern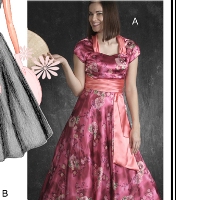 Pattern Details
Simplicity 8523

by: creatarian
Review