Kim12469


Montana USA
Member since 3/27/08
Posts: 2801
Skill: Intermediate
Body Type:




Date: 2/13/13 10:30 AM

So I had a major life change in the past year, divorced, quit my job, moved across country. I got a new job working remotely for a company that sells web conferencing services. I was hired to do customer service/sales, warm sales that is. I'm not a salesperson so I knew it would be a stretch. At first I didn't like it, but got in the swing of it. Add to that the company is the most dysfunctional company I've ever worked for and I've been around the block.

So they decided to revamp the whole structure and now I have moved to 100% sales both cold and warm. I am not a sales person and find no satisfaction in it, plus I suck at it. I dread working, by Sunday afternoon I have a stomach ache.

The money is decent but a third of my pay is commission and that is not going well since I suck at this job. Add again, the fact that no one has a clue what they are doing in the company or who is doing what, etc. I have a very green manager who has no clue.

I have been looking like crazy, every day, all the boards. There is nothing here in what I used to do. The decent jobs have 300 applicants each. There is work, but it's lower paying.

I was offered a job at a small accounting firm yesterday as a part time office admin paying very little. I think that the job has potential and it would be one of those you get what you put in type jobs. They have lots of ideas but no time and want to grow. I liked the manager a lot, we had similar life experiences, and I think we would understand each other well. Plus, it would be awesome to have flexibility for my son who was recently diagnosed with dyslexia.

But, the money is crap, I'd be even more dependent on my fiance which I hate, having had really great jobs in my life and able to support myself very nicely. My income has already dropped 50% and this job would be a tenth of what I was making before I moved.

I'm not sure why I'm writing this but guess I wondered if others had gone through this and how it worked out. Did you stay with the job you hate or go with the less pay option to be happier? I have considered going back to school to get an accounting certificate, I already have a BS in Math. There are a ton of accounting jobs around here.

------
http://kimsewsilly.blogspot.com/

Learn To Sew


Member since 4/12/05
Posts: 14203
Skill: Advanced Beginner



In reply to Kim12469

1 member likes this.



Date: 2/13/13 10:44 AM

School sounds like a good idea--if you like the job you would be doing. You hate the current one and it is causing you health issues in just a few months. You can't go on like this.

Going down do much in salary in a year is hard. Very hard. Could you work at the potential job and go to school at the same time?

I have not worked in almost 25 years, so I am no help in the job area. I am concerned about your health. Talk to your financee and get his perspective on things and if he is agreeable to helping you financially for a while, change jobs and take the one you interviewed for. If you want it, take it.

------
Bernina 630, Bernina embroidery module, Pfaff 2036, Bernina 1200DA serger, Unique Sewing Cabinet 450L

M.S.


Ohio USA
Member since 3/6/09
Posts: 1303
Skill: Intermediate
Body Type:


1 member likes this.




Date: 2/13/13 10:52 AM

Do what you need to do for happiness! Life is too short to have a cruddy job. You can't help but take out your misery on the family.

------
Janome Skyline S5
Brother PQ1500S
Necchi 4795 Royal Series
Singer 201-2
Pfaff 138-6
Janome Coverpro 1000
Kenmore 16644 Overlock 2/3/4D
US Blindstitch 718-9


Valerie Jo


Missouri USA
Member since 8/2/09
Posts: 755
Skill: Advanced Beginner



Date: 2/13/13 11:00 AM

Get your certificate! Even the step in that direction will make you feel better.

Most likely you will eventually leave. Doing something you're terrible at (or don't like) is a nightmare. I remember driving home from work with tears running down my face. Boredom is another drainer. Then there can be a negative atmosphere. I believe that some people enjoy making others miserable. But, what goes around, comes around.

Your company sounds pretty disorganized which is scary in this economy. I wish you the best.

Kim12469


Montana USA
Member since 3/27/08
Posts: 2801
Skill: Intermediate
Body Type:




Date: 2/13/13 11:06 AM

Thank you for the replies! When I first was planning the move, I thought I was going to get a nice buyout at work, but long story short it fell through. I was going to go back and get a nursing degree with the money. Come to find out though, the nursing school here lost it's accreditation, so you can only work in Montana with a degree from there. For the time and money, that's too limiting.

I didn't even think about accounting until recently. I started looking at the largest employers in Montana (Billings is where I am) and lots of them are finance related or need accountants. I have a Math degree and love numbers so maybe it would be a good fit. I can't start til the Fall though because of residency.

And yes, I am miserable, been to doctor and living on Prilosec because I'm so stressed out. I diet and exercise and cannot lose weight either. I think it's stress! I didn't like a lot about my current job already but was tolerating it, and now it got exponentially worse!

------
http://kimsewsilly.blogspot.com/

SouthernStitch


USA
Member since 8/24/02
Posts: 12042
Skill: Intermediate
Body Type:




Date: 2/13/13 11:38 AM

Being a good fit for the job is so important, as seen by your health issues. Our company is dysfunctional as well.

They hired a temp 5 months ago that within 2 weeks I could see, after handling this dangerous goods account for over 15 years, was not going to be a good fit. I thought this was the reason we do temp to hire??

Well, our new management and HR person wouldn't let her go, no matter how many mistakes she was making -- all due to not paying attention. My manager called it *training issues*, yet they never asked me to re-train her, or said anything directly to me about it at all. As a matter of fact, when they brought her in to discuss some serious issues, they told me that they thought she was lying about most of what she told them. I've been training people on this account for a loooong time. She was unable to learn or pay attention was the bottom line. But no, we should keep people like that, right?

Apparently she felt she wasn't a good fit either. I get here today to find she's texted my co-worker (not me or any of the big bosses) to say she found a job with great benefits, starts today, bye bye.

My co-worker is livid, as she had vacation planned soon with her young daughter, whom she only gets to see a few times a year. Now, they are going to tell her she can't take off.

This is what can happen with people who don't fit the job and are desperate to leave.

Now, this is NOT the problem with you at all. You have adapted, and are doing the job you were hired to do, and I'm sure you are an exemplary employee. You just aren't fitting with it, and you need to do something now. Your fiance should understand and support you in this.

If he is supportive and understanding now, then he will be that way once ya'll are married. I'm glad to hear you have him there for you during this time!!

------
Bernina 780, and 530
Babylock Evolution
Singer 403a

When life gives you green velvet curtains, make a green velvet dress.

purplebouquet


Arkansas USA
Member since 11/16/05
Posts: 1417
Skill: Advanced

2 members like this.




Date: 2/13/13 11:42 AM

Your current situation might fall into the category of "grit your teeth and bear it" for the time being. I, too, hated my previous job and almost despaired when my intensive search for another position didn't lead to another position for three long years. But I stuck it out until finally something came up, and I am glad I did.

A few things you want to keep in mind:

You are in a much better position to apply for another job if you are currently employed. A full-time position is better than a part-time position, unless you are looking for part-time.

You can train yourself to become a better sales person even if you don't like the activity. It's not an impossible task and it might be your best option for the time being. Look at it in terms of making the best of a lousy situation. If nothing else, you have a new skill for your resume. It makes you more marketable. There will come a day when you can pick and choose again.

The current job offer for the part-time job is attractive to you because you hate your current position. If you didn't, you wouldn't give it much thought. If you take it, before long, you will become resentful that you are making so little money and it will show in your work. Either make them pay what you are worth or keep looking. Does either job provide health insurance?

Hang in there!!! Things will get better. All the best.

Claudia

Kim12469


Montana USA
Member since 3/27/08
Posts: 2801
Skill: Intermediate
Body Type:




In reply to purplebouquet

Date: 2/13/13 12:32 PM

So many good points! I think this is what has me so stressed about the choice is that am I choosing the part time job just to get away from the other one???

------
http://kimsewsilly.blogspot.com/

Learn To Sew


Member since 4/12/05
Posts: 14203
Skill: Advanced Beginner



In reply to Kim12469

Date: 2/13/13 12:47 PM

Sounds like you are trying to get away from the stress. Claudia made some good points in her reply.

Could you talk to the interviewer again and see how many hours you would be working if you took the job? You said it would be part time, but not how many hours this part time job was. If on the high end of part time, that is good. If at the low end of part time, not so good. If you want to go to school, then it might work for you.

So many "if's" here...

------
Bernina 630, Bernina embroidery module, Pfaff 2036, Bernina 1200DA serger, Unique Sewing Cabinet 450L

Julia C


USA
Member since 7/1/07
Posts: 1357
Skill: Advanced Beginner
Body Type:




In reply to Kim12469

Date: 2/13/13 12:51 PM

We have a local business show on the radio here. They are big proponents of hiring temp/low wage to see how they work in the job & increasing hours/wages from there. I understand having a job you don't like & wanting to leave but you need to do it for the right reasons. You are definitely in a better place with a job to job hunt as people around here really look for that. By all means go back to school. That also shows you are willing to do what is needed to get ahead.
Also, even if the nursing school is no longer accredited if you want to become a nurse, get your prerequisites done.I would think that even if the school is not accredited, once you pass the Boards, you could move anywhere & get a job. Also, check out LPN/CNA programs to get your foot in the door. There are now a lot of online degrees with limited clinical requirements. Check with the Board of Nursing to see who is accredited.
Printable Version
* Advertising and soliciting is strictly prohibited on PatternReview.com. If you find a post which is not in agreement with our Terms and Conditions, please click on the Report Post button to report it.
Online Class
Fun with Fitting - PANTS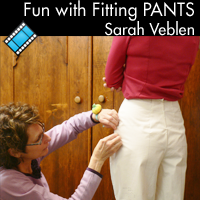 Online Class
Beyond the BoatNeck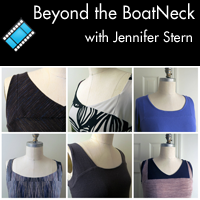 Ottobre Design 04-2004-4

by: kellyhogab...
Review
McCall's 6279

by: SewWil
Review
You Sew Girl 300mm Square Snap PATTERN ONLY Pattern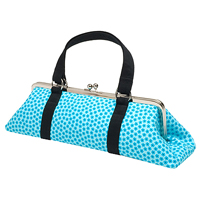 Pattern Details
J Stern Designs Khaki Pants Pattern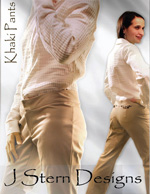 Pattern Details