solveg


Minnesota USA
Member since 2/16/12
Posts: 366
Skill: Beginner



Date: 2/13/13 6:24 PM

I know I'm a slow sewist. I'm OK with that. But I'm really wondering how people sew as fast as I think they do... especially people who can make a "1 hour pattern" in an hour.

I have been paying attention to how long each step takes for me and thought I would start a discussion by sharing it.

Washing/drying fabric: Not counting this time.

Pulling the little thread out to straighten fabric: 40 minutes. (20 minutes per thread). It breaks on me constantly. I find this a very tedious job and wish I could just tear it like I did when I was a kid.

Ironing fabric: 20 minutes. I can only fit half the width on my ironing board at a time. At this time I pin the selvedges together to make sure everything is straight and on grain.

Trace Pattern on to Swedish Tracing Paper: 1 hour, on average?

Make fit adjustments to pattern: 1-2 hours.

Cut out and mark Muslin (no facings): 1 hour

Assemble muslin: For these very easy patterns, about 1 hour.

Fitting and resewing muslins: This usually happens 2-3 times and take a couple hours.

Then I cut out the fashion fabric and assemble the garment. This time varies, but I find that I spend hours at the ironing board. It always seems to take longer to press the seam than to sew it, and much of what I've been sewing has requires you to press the seam in some way before you sew it. So it's an Iron/pin-Sew-Iron kind of thing.

I would say I spend 30 minutes in each project clipping off tiny threads. I also spend about 1hour per garment doing fitting as I sew.

If I'm going gung-ho on a project, I spend one evening prepping the fabric, tracing the pattern, and making my first fit adjustments.

The second day I read all the instructions, make my muslin, fit and research things on the internet. I test my seam finishes and make sure the thread and stitch length are working well.

Third day might be a continuation, or I may start on the garment. The garment takes way longer than the muslin, because I only did the major seams on the muslin. So far my projects have been so simple that I only need 2 days to make the actual garment.

I always seem to need a partial day at the end to finish it.... I hand sew things, I wash and dry it to get all threads loose and then spend an hour or two cleaning up my seams.

Sooooo.... how does this compare to normal? How do fast sewists skip any of these steps successfully?



-- Edited on 2/13/13 6:25 PM --

tourist


British Columbia CANADA
Member since 7/23/07
Posts: 6591
Skill: Intermediate

2 members like this.




Date: 2/13/13 7:08 PM

I am not what you would call fast, either. But I do have one tip. For pulling a thread (assuming it is necessary - it isn't always!) where they break all the time, I pull until it breaks, cut up to the break and pull the next thread beside the one that just broke. I figure if there is anything that requires precision to be within a thread's breadth, it isn't a task I should be attempting!

Oh - here is another one. Re: snipping threads. If I know I am going to trim, serge over or otherwise remove, encase or finish the seam, I don't bother snipping. They will be gone long before the garment is finished and often without any actual work on my part.

OTOH, I would be over the moon if I could get away with only one hour of fitting time!

------
http://bgballroom.wordpress.com to follow the progress on my next ballgown.

JJane


Canada
Member since 10/30/10
Posts: 2862
Skill: Advanced Beginner



In reply to solveg

2 members like this.



Date: 2/13/13 7:53 PM

Well, I know longer trust what the pattern says. An "easy" pattern is only "easy" if you don't have to make any adjustments. Being short and "well endowed" - I am going to be making several adjustments.

A one hour pattern. If you ask me that is strictly sewing time - clipping, finishing, pressing, fitting, cutting of pattern, marking of said same and so on. If you want a decent product you have to do most of the things you describe and there is no way anyone can do that in an hour. Well, IMHO anyway.

------
Canadian Jane, now Jjane, much shorter and easier to use.

simplystitches

Member since 2/12/06
Posts: 2103
Skill: Intermediate

2 members like this.




Date: 2/13/13 10:48 PM

If you read the fine print on the one hour patterns they now say "one hour actual SEWING time." They're not accounting for all the other steps involved.

Debbie

Maia B


Illinois USA
Member since 10/27/10
Posts: 5120
Skill: Advanced Beginner



In reply to solveg

2 members like this.



Date: 2/13/13 10:57 PM

You're not alone. I'm slow, too.

------
🌸 Plenty of machines, mostly Berninas 🌸

Judy Kski


USA
Member since 10/26/08
Posts: 1878
Skill: Intermediate
Body Type:






In reply to solveg

1 member likes this.



Date: 2/13/13 11:55 PM

Here is a thread you might be interested in:

The SLOW sewers/sewists sew-along

------
Judy

jacquiJB

DENMARK
Member since 5/5/06
Posts: 418
Skill: Advanced Beginner

1 member likes this.




Date: 2/14/13 1:07 AM

Count me in as slow, too (in myriad ways! LOL). I'm not helped in this because I hand-baste pretty much everything. I find that if I pin, I don't get as good a result, plus having to start and stop the machine to remove pins (because sewing over them is risky: broken needle and/or throwing off the timing) makes me CRAZY*. Mind you, I do rather like the zen of hand-basting; I feel like I'm more involved in the whole process.

Of course, that doesn't begin to address the whole slow-to-start projects issue (aka PROCRASTINATION), which is what really takes up my time. I have great intentions (not to mention great aspirations), but ...

*I so miss my Mom's old Singer, which was set into a cabinet. While I love my machine (a Janome/New Home Combi 10, which sews on one side and serges on the other -- really, you just flip the lever, the machine lifts up and you swivel it around -- it's pretty nifty), it doesn't have a particularly large sewing bed and that makes controlling the fabric more troublesome. *Someday*, I hope to have another machine set flat into a large work surface.

ChickenFreak

Oregon USA
Member since 12/10/11
Posts: 145
Skill: Advanced Beginner

3 members like this.




Date: 2/14/13 1:20 AM

> Washing/drying fabric

I'm trying to develop a habit of washing, drying, and pressing the fabric as part of my standard laundry routine, so that the whole stash is ready to go and each project doesn't have to wait for fabric prep time and each new cut is all prepped within a couple of days of arriving at the house. I'm not succeeding yet, but it seems like a good plan.

> Pulling the little thread

I tear, most of the time. The store where I buy much of my best fabric usually tears, so I figure if it's good enough for them, it's good enough for me.

> Trace Pattern on to Swedish Tracing Paper: 1 hour, on average?
> Make fit adjustments to pattern: 1-2 hours.

I generally make fit adjustments while tracing. (Because my fit adjustments are mostly blending up to larger sizes as I go down my body, rather than, say, an FBA.) This takes me forever.

> Cut out and mark Muslin (no facings): 1 hour
> Assemble muslin: For these very easy patterns, about 1 hour.
> Fitting and resewing muslins: This usually happens 2-3 times and take
> a couple hours.

This also takes me forever. I've started to think of fitting a pattern, and making a garment, as entirely separate operations. The theory is that I'll use the pattern many times after it's fitted, so all that time is an investment spread out over several garments.

> Then I cut out the fashion fabric and assemble the garment. This time
> varies, but I find that I spend hours at the ironing board. It always
> seems to take longer to press the seam than to sew it, and much of
> what I've been sewing has requires you to press the seam in some way
> before you sew it. So it's an Iron/pin-Sew-Iron kind of thing.

Yep. I do have a little tabletop ironing board so that I can sew and press at the same table, but I still have to stand up to press, so it's not all that useful. If I had a bigger room and could have a pressing station down at chair height, so I could twirl around in a chair, that would be great.

> I would say I spend 30 minutes in each project clipping off tiny
> threads.

I'm trying extra extra hard to clip the threads on each end of each seam as I finish the seam - but it sounds later like you're talking about cleaning up rough edges?

> I also spend about 1hour per garment doing fitting as I sew.

In theory, this is part of the muslin investment. In practice, different fabric weights can require different amounts of ease, so, yeah.

> I always seem to need a partial day at the end to finish it.... I hand
> sew things, I wash and dry it to get all threads loose and then spend
> an hour or two cleaning up my seams.

My guy got me a serger for my birthday last year. Oh my oh my oh my. Effortless cleanly finished seams. I spent years wondering if I had any use for a serger; it's clear now that I absolutely do.

I'd say that in general, sewing speed is all about the second to nth time that I use a pattern. The first time takes forever.
-- Edited on 2/14/13 1:23 AM --

------
ChickenFreak
Blogness: http://chickenfreaksobsessions.blogspot.com/

beauturbo

California USA
Member since 5/2/09
Posts: 4585
Skill: Advanced



In reply to solveg

2 members like this.



Date: 2/14/13 3:15 AM

I think most people don't make a 1 hour pattern in one hour, if they count cutting it out too. I think that 1 hour thing, sometimes seen on a pattern envelope front, is even just supposed to be sewing time only instead. And does not count changing anything about the pattern either. Also maybe just a marketing ploy, one hour sounds better than several.

Pulling thread outs to straighten fabric 40 minutes? That seems to be a huge time sink for you maybe. I bet most people not spending 40 min on that, most times. I think most people not doing that at all.

I actually do that occasionally if it's very expensive nice fabric, like cotton Liberty lawn or linen and I'm using that edge as the hem or such, but if you make sure your fabric is folded straight first when ironing and cutting out, then I think you can skip that most times.
That would save you a whole 40 min right there. Also pulling one thread almost always breaks. If really wanting to do that, cut a little bit, then pull two or three threads at once, when it breaks, hold up to light, so you can see that empty of thread area, and cut on your pulled thread area, till place they broke, pull some more, do again, and repeat, and if done that way (if you really want to) I think pulling some threads on even both ends of fabric piece would be down to like maybe 7 to 8 min instead. That's a saving of 30 min right there!

I cut the real patterns, then you don't need to trace onto anything. Of course you need a real store bought pattern to do that too, but if you had one, sounds like it would save you 1 hour tracing time?

I fold fabric in half at ironing board and smooth in middle of piece of fabric and iron from center to cut end, and then from center to cut end going in other direction, but I can tell I"m on straight grain. I don't bother to pin at salvage at all for ironing, I iron in direction from doubled salvages to center fold instead actually.

I don't make muslins, but have been sewing for a long time too, would maybe make a muslin, if fabric very expensive or rare though. Not saying making a muslin is good or bad, but just that not everyone always does it at all.

I think you are just stuck on the sew a seam and iron thing, as if sewing not ironed while constructing something, you will be sorry later, but you could sew several different parts of something, then iron all those several parts in a row maybe. I do that sometimes. So less trips to ironing board.

Clipping threads I do pretty much just as I go along. Not at the end at all, works better for me. Most times use sissors, but if I wanted to speed it up, I would use thread clippers that you just push on, like tweezer style ones,.that you don't even need to get your fingers into.

Are you really sewing item, not finishing seams, then washing/drying and then clipping threads and ravels and cleaning up seams? I don't know anyone who does that? That would create a huge amount of extra work for yourself I think. As things ravel away even more doing that. Clip threads, finish seams, and don't wash until all done, or even after you have worn a few times.

So I do think some stuff you are doing that is taking you a long time, other people are not doing. But whatever works for you, of course is fine.

Sometimes "done" is actually better than perfect, and but not done and unfinished instead. Of course depends on item and if and where and how much "something not up to your best standards" is, and if it even shows when wearing or not too, but a sense of getting something done, and the sense of accomplishment, when you put it on and wear it, I think is a lot the reward that spurs you on to the next item sewed. Sometimes if too much of a perfectionist, and things take way too long, you get kind of lacking in that, and you need more immediate or sooner positive feedback instead. So not everything you sew has to be perfect in every way, not most stuff out of any store ever is either actually. So striving for perfection is an admirable goal, but it can even sometimes kind of backfire, and make things not get done too.







-- Edited on 2/14/13 3:41 AM --

Fictionfan


Vermont USA
Member since 5/19/06
Posts: 1322
Skill: Advanced
Body Type:


2 members like this.




Date: 2/14/13 4:14 AM

The real speed demon of PR is Sandi S. She has 756 pattern reviews as of this moment, joined in Jan 2007, so that's more than 10 patterns per month on average that she's reviewed, though who knows how many she sews that she doesn't review. If anyone has more reviews, I haven't seen it. That doesn't take into account the non-pattern reviews she's written.

If you look at her reviews, you see that she has a large FBA to do for everything she sews for herself, and may need other adjustments. She gets the garments to fit, as they are designed to look, seems like every time. She sews for her kids, her husband, her Mom, her house, and I don't know what or who else. Someone wrote in an older thread that she also works and goes to school and has young children.

Granted that some of those patterns are easy and quick, but some of those are not at all easy or quick, especially for fitting. I am working on V1089, among other items, right now. She's sewn two of them and I am still trying to get my FBA and length adjustments made so that the midriff bands on the dress will look right. She made two! with length and large FBA and challenging fabric and in a short period of time!

My point is that maybe instead of talking about how we sew slowly, perhaps the speedy, proficient, prolific sewers could help us out, especially someone who can fit and sew items that for most of us would be challenging to fit if we were in her shoes. I figure that she must be someone who can exist without ever sleeping at all, because I really have no idea how anyone with a job and young children could alter, cut, and sew 10 garments per month, and take photos, and write the reviews, too!

Does anyone know Sandi S? Or any other speed demons we could pester for how-to's?

------
Fictionfan
Printable Version
* Advertising and soliciting is strictly prohibited on PatternReview.com. If you find a post which is not in agreement with our Terms and Conditions, please click on the Report Post button to report it.
Online Class
Fit the Tee to a T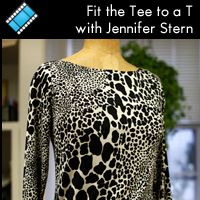 Online Class
Beginners Guide to Dyeing Fabrics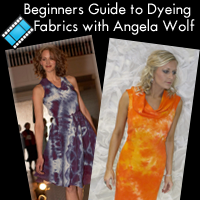 New Look 6755

by: Sheila457
Review
J Stern Designs The Tee Paper Pattern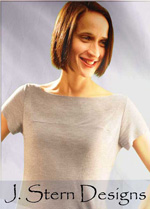 Pattern Details
Sew Chic Valentine Slip Pattern (ln1207)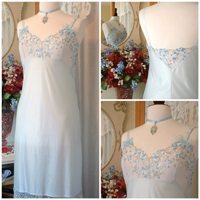 Pattern Details
McCall's 6540

by: ashleyjewe...
Review