StitchyMama

Intermediate
Minnesota USA
Member since 1/16/13
Posts: 177



Date: 3/1/13 8:49 AM

I'm kind of attached to my "hand me down" sewing machine, but it's 36 years old and it's functions are somewhat limited. I was at a Janome dealer yesterday and was amazed at the differences, ranging from fairly basic to ones that practically do everything for you except cut the pattern pieces. I've never really looked for a sewing machine because I've always used this one, so I'm wondering what I should expect to pay for a middle of the road machine and what to look for. Model suggestions would be great too.

------
Brenda
My blog: Stitch 1 Stitch 2
Knitting/Sewing/Life in general
http://stitch1stitch2.blogspot.com/

SouthernStitch


Intermediate
Member since 8/24/02
Posts: 10445



Date: 3/1/13 9:45 AM

What is your price range to spend? What features do you want? What type of sewing do you do? Garment, kids/babies, quilting, mostly crafting, home dec? Are you wanting modern computerized, or another vintage machine? Is second hand okay? There are so many questions we'd need answered first.

But most important, is your budget. You said middle of the road I'm seeing, sorry. Does that mean around $500 or $1,000. To me, middle of the road for sewing only is about $1500 - $2,000, and high end sewing only is around $3500.
-- Edited on 3/1/13 9:47 AM --

------
Bernina 780, and 530
Juki TL2010
Babylock Evolution
Singer 403a

When life gives you green velvet curtains, make a green velvet dress.

Cat n Bull


North Carolina USA
Member since 2/17/06
Posts: 4787



Date: 3/1/13 9:57 AM

I agree with SS, need more info from you!

I suggest you find a dealer you are comfortable with, and go sew on some machines to get an idea of what features you really like.

And decide on a budget.

------
Cathryn

Mufffet


Intermediate
Vermont USA
Member since 8/14/05
Posts: 11419

2 members like this.




Date: 3/1/13 10:11 AM

I see you have a nice old Kenmore! Whatever you do, keep that machine even after you find a new one you like. I usually say fix on a budget, but I think I am going to change that advice to: look around first. If there are other dealers in your area, go see many machines. When you are ready, pick a few to try out and bring along a small "kit" of stuff you would like to sew on a machine you buy. If a dealer isn't good with that, don't buy in that store.There are several good brands, so it isn't always "which is better" - rather it is "which one do I feel good sitting at and sewing."If you are used to a solid machine, the machines now may seem rather less solid, but shop around and get a feel for different brands and dealers.

Keep us updated. The chase is part of the fun. :)

------
"Be kind whenever possible. It is always possible."
--Dalai Lama

I have sewing machines

StitchyMama

Intermediate
Minnesota USA
Member since 1/16/13
Posts: 177



Date: 3/1/13 11:30 AM

I don't know anything about the computerized ones. Is it like a computer, needing software updates and stuff like that? Having more choice in different stitches would be nice, although I mostly only use the straight stitch, but having a choice in fancier top stitches would be nice.

I do mostly garment sewing, but I also like making bags. I really hadn't thought about a price range, maybe $200 to $300 I might be able to go a little higher if needed. Used is fine, the one I have now was used, my mom sewed on it for years and then gave it to me when she bought a new one.; and now she wished she had kept it. She's not to happy with her new one.

I guess I'm just going to have to go test drive some different machines, because I really don't know what I'm looking for. But one of the concerns I have is this one is pretty solid and that's why my mom doesn't like her new one; it seems flimsy compared to what she's used to. Would it make sense to keep my Kenmore to use for most of my sewing needs and maybe go with a new cheaper machine just for the fancy stitches?

------
Brenda
My blog: Stitch 1 Stitch 2
Knitting/Sewing/Life in general
http://stitch1stitch2.blogspot.com/

Maia B


Advanced Beginner
Illinois USA
Member since 10/27/10
Posts: 4798





In reply to StitchyMama <<



Date: 3/1/13 11:46 AM

Welcome to PR! I love your screen name!

I agree with Mufffet (as usual ). Go looking and learning what's out there. Take your time, test sew, reflect. When I upgraded from a very basic, and coincidently not very good, sewing machine I bought as a teen in 1990, I read reviews, set a budget (kinda), narrowed my choices based on budget, a few parameters, and reviews, and bought a Baby Lock Quest Plus (new version is the Serenade, which is now being discontinued, but still available, for around $1000). I still love that QP, and think its a fabulous machine, especially for the price.

I ruled out Berninas based on small harp size and price, but later bought a 930 (made in 1982 or 1983). Something about it really enchanted me, so I bought a used 440, a modern model, when my dealer offered me one. The rest is history, as they say, and I now have several vintage and modern Berninas and I've come out as a multiple machine lover.

There's just "something" (many somethings actually), about Berninas that I prefer to other machines, with Pfaffs a very close second.

The 820, which I now own, was available when I bought my Quest Plus, but I said, "That's worth more than my car!" I could have saved a lot of money, if I had just sewn on a Bernina first. Now, I'm not pushing Bernina at ALL, maybe your perfect sewing partner is a Pfaff or a Janome or a Juki.

Since it's been so long since you shopped for machines, keep an open mind, take your time, test drive several brands, sleep on it many times, and keep your old machine, if it has served you well.

Once you've found your sewing soulmate, if you don't want to end up with *many* machines, stay off this topic, or you may catch SMAD. I have a virulent strain

------
🌸 Plenty of machines, mostly Berninas 🌸

Maia B


Advanced Beginner
Illinois USA
Member since 10/27/10
Posts: 4798



Date: 3/1/13 12:25 PM

Oh! You were posting your budget and details as I was writing...

For $200 or so, used or Janome come to my mind. Janome makes good machines at all price points. Older Kenmores are supposed to be super. Maybe treat yours to a tune-up. If it's working well, then you can buy a machine with convenience features and additional stitches, and rely on the Kenmore for heavy duty.

------
🌸 Plenty of machines, mostly Berninas 🌸

NM gal

Beginner
Member since 5/27/09
Posts: 1175

4 members like this.




Date: 3/1/13 12:39 PM

And don't give in to the hype that this brand is better than that brand.
Sit & sew on each & find one that is most comfortable
Yes keep the Kenmore. It's a world of fun to sew on computerized machines, but good to have a solid backup.

beauturbo

Advanced
California USA
Member since 5/2/09
Posts: 3733



Date: 3/1/13 1:08 PM

Since you got the nice old Kenmore, I would for sure keep that, no matter what else new you get. I think I would get new though, with for sure, having some stuff that might not be in the Kenmore. Then you got the best of both, and can pick and choose when you sew. Things that might not be in old Kenmore, might be stuff like more automatic button holes that you just pull down with the button even sitting in it, (even though my Mom's old Kenmore with the attachment that goes ratcheting all around is actually really great too) some extra stitches like maybe blanket or pin stitches for applique, and even just more needle up and down on a button on a machine is sometimes really handy, when you want to stop and pivot.

Did read your blog, will say for the record, I'm with you on the cracking ice sounds if I was on ice. Not that I have ever even been ice fishing at all, but just the sound, would for sure get my attention, and get me wondering each time too. As in self preservation instinct kicking in. I think that would even be an instinctive response, built into all humans, that somehow tells you time to get off and out of there! Even if it did not actually indicate danger each time, and even if good and used to it, ice fishing people must just learn to check it out and I guess weigh the situation each time maybe. But I don't think it strange and unusual that it would at least bother you at all either! I have pretty good feeling, that ice fishing and the cracking ice sounds, just would really not be the sport for me either!

-- Edited on 3/1/13 1:12 PM --

Karen31


Advanced
USA
Member since 1/25/09
Posts: 1303



Date: 3/1/13 1:28 PM

I think the most important thing is that it sews what YOU want to sew. That's why I broke up with my Singer Swearomatic and got a new machine in 96. I had virtually stopped sewing because I was limited to what the machine was willing to sew.

Bells and whistles and budgets don't mean a thing if it won't do that.
I'm not ignorimg budgets but $200 or $8000 is money badly spent if the machine doesn't let you sew what you want. I can give up bells and whistles and features, cut my own threads, check for low bobbins, set my needle up/down or raise and lower my presser foot th eold fashioned way etc. etc. - but if I can't make what I want in the fabrics I want those features will not make it happen.

I always suggest bringing samples of what YOU want to sew on to test different machines to see how they handle it and how they feel. Some may well feel flimsy compared to a classic Kenmore tank. I used to loooove sewing on my roommate's in college. Keep it as someone said! But if a newer model in your current budget won't sew what you want, do you really want to spend what you have now just for some decorative stitches and keep doing your mainstream sewing on the oldie but goodie? You're fortunate to have a well working machine, perhaps if you find something that has more stitches AND makes your sewing experience easier and more pleasureable but is out of $ range now you decide to keep sewing on the Kenmore and just save up more. Just a thought

------
Karen
Printable Version
* Advertising and soliciting is strictly prohibited on PatternReview.com. If you find a post which is not in agreement with our Terms and Conditions, please click on the Report Post button to report it.
Blueprints to Blue Jeans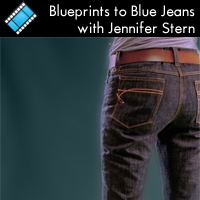 Fit the Tee to a T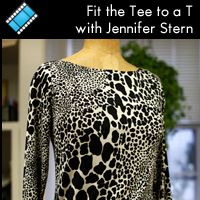 Butterick 4877

by: twotoast
Review
Newport Tote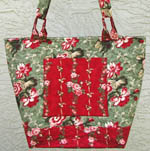 Buy Now
Jennifer Stern The Perfectly Fitted Shirt by the Cup-Full Pattern ( Size 16-24(Cup B-DD) )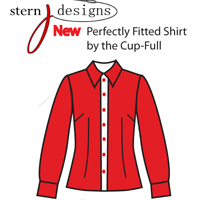 Buy Now
Megan Nielsen MN2102

by: laurajanef...
Review