Sewcial Dancer

New Jersey USA
Member since 11/10/10
Posts: 56
Skill: Beginner



Date: 3/6/13 8:28 PM

I made 4 sets of free standing lace earrings as gifts, 9 free standing lace appliques for a ballroom dance dress - each about 16,000 stitches, and 9 smaller designs - wasted A LOT of thread and stabilizer with all of the upper thread breaks and A LOT of time (I'm talking weeks here). I have now moved on to coasters (my first project with color changes BTW) from Embroidery Library, for a gift. I can't even get past the first step after stitching the dyeline because of all the upper thread breakages!!

I have changed needles (usually this is the problem), cleaned the bobbin area, opened the upper thread route cover to clean THAT out (although I haven't found any stray threads there lately), I've cleaned out under the throat plate (although nothing seems to be awry there either). I have changed the direction the thread goes, changed the spool cover. I AM SO FRUSTRATED!!!! Shouldn't this be easier? I am ready to bring it in for servicing - which I'm not thrilled about, since the dealer is 45 minutes away. BTW, it's the Brother Innovis 1250D. Isn't embroidery supposed to be fun?????

------
Singer 221, 403A, 9020 10 stitch
Brother 1250D
Juki MO-644D

rag doll


Australia
Member since 1/31/06
Posts: 738
Skill: Intermediate
Body Type:




In reply to Sewcial Dancer

3 members like this.



Date: 3/6/13 9:01 PM

oooh I feel your pain!

Are you using your normal embroidery thread or something new? It could be that brand of thread. A couple of other things I would look at are -

It sounds like you have the thread laid down on the spool. I find this can cause thread issues with machine embroidery. If you have a thread stand put the thread upright on the stand just behind the machine on the right and then proceed to thread as normal. This tends to stop the thread sort of tugging off the reel. If you don't have a stand you can use a coffee cup or jar to sit the thread in and then tape a safety pin on the edge of the machine to act as a thread guide. Then thread as usual. This can make all the difference. Even if you have an upright spool on the machine the stand seems to be better and delivers the thread through the machine more smothly.

Also, if you have had the odd needle breakage your plate could have a little burr on it around where the needle goes in or on the bobbin case. Feel for anything ever so slightly rough that could literally be cutting your threads. If you find something rough get some really superfine sand paper and give it GENTLE rub.

I think you know about needles but I use a long eyed embroidery or metallic needle. This can stop the thread rubbing against the needle eye and breaking.

What do you have your upper tension set on? I usually turn the upper tension down to 2 or even 3 lower numbers. A good way to check if the tension is ok is that you should be able to turn your design over to see a little bit of the upper thread colour "peeping" through to the back of the design.

Without seeing your set up it's hard to know what's wrong but my best guess is that the thread needs to be upright.

I hope you find the problem as the Brother embroidery machines are so good they don't really cause much trouble if any.

Cheers

Sue

------
Brother QC1000, Brother PQ1500, Pfaff 7570 x 2, Pfaff (old), Babylock BLCS, Bernette 1100D, Bernette 334DS

beauturbo

California USA
Member since 5/2/09
Posts: 5551
Skill: Advanced



In reply to Sewcial Dancer

Date: 3/7/13 2:05 AM

As just a test, if you have a software way, to enlarge one of those designs a bit, lets say 5 or 10 % larger, so there is a bit more space between all the stitches, and you try to sew out that way instead, and actually almost all those thread breaks suddenly go away, maybe it has something to do with small tight stitches in a embroidery design? I think it would just be a test though, because on free standing lace if you re-size stuff, then often it might not hold together later.

Or just sew out a bunch of other embroidery designs, like some ones in the machine and see what happens then. Because the thing is, if for some reason it's only a stitching problem on just some embroidery design (like lots of really small stitches jammed together breaking thread) or your thread or your needles, then servicing the machine, and then going back to sewing the same thing in the same way, might even net the same results, all over again. So maybe even depends on if anything is wrong with machine at all, or something else. But at least make a big deal of and show them what you are having a problem sewing on if you do, and make them test sew on the same designs, because if you don't, then as soon as you get machine back, the same stuff could even be happening again.

Sewcial Dancer

New Jersey USA
Member since 11/10/10
Posts: 56
Skill: Beginner



In reply to beauturbo

Date: 3/7/13 7:28 AM

Beauturbo, I didn't even get more than 80 stitches in without the breakage - the first part is just a wide zig zag in a circular shape - it kept breaking after about 30 stitches. Absolutely plenty of room for the stitches. This was with a brand new embroidery needle. And my free standing lace pieces were definitely tighter designs, although my very last one went off without a hitch!! That was 2 weeks ago.

------
Singer 221, 403A, 9020 10 stitch
Brother 1250D
Juki MO-644D

Sewcial Dancer

New Jersey USA
Member since 11/10/10
Posts: 56
Skill: Beginner



In reply to rag doll

Date: 3/7/13 7:31 AM

Ragdoll,

Thanks so much for the suggestion to use a thread stand - this is the only thing I didn't try yet - and I have one to use. I will have to wait ti after work today to try it, but I am hoping that this is the answer. I did use the metallic needles, btw, to no avail on this particular design. I don't know how to change the tension on a computerized machine. I will have to explore that. I have a feeling that may be the real issue. The last part of the threading route always seems too tight to me. You offered a bunch of ideas I hadn't heard before! Let's hope one of them is it!

------
Singer 221, 403A, 9020 10 stitch
Brother 1250D
Juki MO-644D

mssewcrazy


Mississippi USA
Member since 3/4/03
Posts: 2621
Skill: Advanced



Date: 3/7/13 7:42 AM

Been there done that. Despite filing down burrs and needle and thread changing I had to take it in where it was adjusted and a new needle plate and bobbin race was put in. My needle plate and the race had a huge non smoothable gouge from a needle disaster and probably others. I think some of my trouble early on was from too much spray adhesive and the thread getting hung up a few times. After I started using very little spray adhesive or a tiny bit of glue stick (only enough to tack down a little to machine baste) a lot of my troubles with the needle breaks,etc. quit. Some of those overly dense or bullet proof designs will cause misery/broken needles also. If cleaning and the usual fixes don't work I figure a service is better than ruining projects and pulling your hair out or feeding new needles constantly. I have very little problems with thread brands like arc , marathon, isocord, madeira etc but am having issues running metro thread. Others have machines that run it fine. One of my machines seems to have a decided preference for neb type prewounds so those are the only type bobbin I feed it. Try all the usual fixes but if those don't work ,it may need repair. Embroidery is a lot more fun if the machine is working as it should-only misery if the needle breaks and screw ups are happening. It is not normal for a lot of needle breaks to happen and continuing to feed it needles without finding out what is the cause may cost repair of needle bar and things in upper tension area and replacing the needle plate and bobbin race plus a service call. Don't ask how I know as this was how I was introduced to machine embroidery. I know how to do all the little fixes like filing a burr and cleaning, rethreading now but repeated needle breaks that are constant need attention as that is not normal.

Steffie


Michigan USA
Member since 11/6/04
Posts: 903
Skill: Intermediate



In reply to Sewcial Dancer

Date: 3/7/13 8:16 AM

I had the same problem and it was the bobbin race. If you have broken any needles, you will have a burr or in my case a hole in the race. Sometimes they can be filed, sometimes they can't. In my case, two holes and a burr from a project with a lot of metallic thread that resulted in multiple needle breakages. Once the race was replaced, I had no more issues.

My machine is a Babylock Ellisimo.

Sewcial Dancer

New Jersey USA
Member since 11/10/10
Posts: 56
Skill: Beginner



In reply to mssewcrazy

Date: 3/7/13 10:51 AM

MSSEWCRAZY,

Some other ideas - thank you! I am not having needle breaks so much as thread breaks - but have broken a needle here and there. I'm not sure what the race is? I'm probably going to bring it in to the dealer tomorrow once and for all and let them fix whatever the heck is wrong with it. I no longer think it is operator error - that's for sure!!!

------
Singer 221, 403A, 9020 10 stitch
Brother 1250D
Juki MO-644D

Sewcial Dancer

New Jersey USA
Member since 11/10/10
Posts: 56
Skill: Beginner



In reply to Steffie

Date: 3/7/13 10:53 AM

Steffie,

What is the bobbin race? the piece that comes out, or the piece that doesn't? Would the burr be something I can see or feel? Well, I guess it's best if the dealer takes a look at it. I have so many projects that I want to complete within the next few weeks that were meant to be quick but impressive house gifts, birthday gifts, even a wedding gift. ARGHHHH!!!!

------
Singer 221, 403A, 9020 10 stitch
Brother 1250D
Juki MO-644D

diane s


Oregon USA
Member since 8/24/02
Posts: 5226
Skill: Intermediate



Date: 3/7/13 1:31 PM

To see if the problem is consistant, I would try differnt thread. If you're using rayon, try poly, or a different brand. Some machines are touchy about thread. Use your mistake pieces to test.

Besides the loosening the tension a little, I would try a slower speed.

------
My grandmother taught me to sew when I was 10, and I've been sewing ever since.
Printable Version
* Advertising and soliciting is strictly prohibited on PatternReview.com. If you find a post which is not in agreement with our Terms and Conditions, please click on the Report Post button to report it.
Online Class
Sew a Designer Unlined Jacket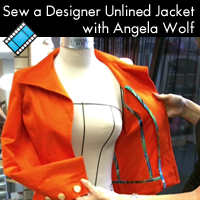 Online Class
Altering Pants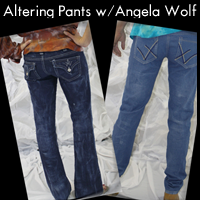 Simplicity 7546

by: La Bobine
Review
Other 1210

by: SouthernSt...
Review
Christine Jonson Swing Jacket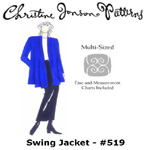 Pattern Details
SewBaby Comfy-Alls and Knit Shirt Pattern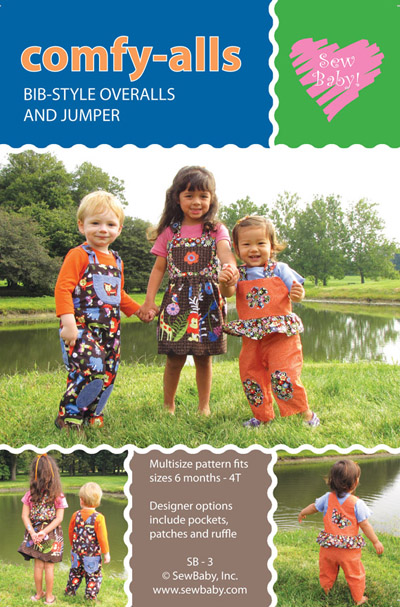 Pattern Details