dontknow

Texas USA
Member since 11/25/11
Posts: 36
Skill: Advanced Beginner
Body Type:




Date: 3/13/13 8:08 PM

I am a beginning sewer. Also, I found out the I am a petite. I have been working on several different muslins and know that I need to raise the waist as well slash the shoulder. What other alterations are common among petites?

Thank you.

lakaribane


Haiti
Member since 7/23/07
Posts: 2982
Skill: Advanced Beginner
Body Type:




Date: 3/13/13 9:27 PM

I am Petite at 1m53 or 5'05" and I find that I need, specifically because I am short throughout my body, to shorten LENGTHS mostly between:

- Shoulder at Neck and Bust

- Bust and Waist

- Waist and Hips

In addition I have narrow shoulders and thin arms, which are not specific to the Petite issue but help tone down the Poor Little Orphan look, especially in US patterns. I also have a low, wide butt but that's just the Caribbean in me, LOL!

So my advice is to, first and foremost, take ALL POSSIBLE measurements of yourself. Back length is a big one as well as hip depth(?) ie from your waist to the widest point at or around your hips.

Then figure out what is specific to you.

YOu don't mention which patterns you use but I know that Vogue has a fitting shell/basic dress and pants fitting shell. This would be a good idea if you plan to use that brand and/or US patterns frequently.

------
Morphology: Petite at 1m53 (5'), Burda size altered 19 or altered 38, Big 4 size 10 or 12 depending on ease;
Alterations: Petite, Narrow Shoulders, Slim Arms, Narrow waist, Increase Back Crotch Depth. Considering: Forward Neck/Rounded Upper Back, Slight Swayback;
Style: Feminine, Colorful, Fitted, Clean lines;
Favorite Garment type: Dress;
Favorite Colors: Purple, Navy, Brown, Shocking Pink, Coral, Aqua;
Favorite Fibers, Weaves or Patterns: Cotton, Linen, Cotton Silk blend, Seersucker, Swiss Dot, Lawn, Denim, Stripes, Chevron, Window pane Plaid, Bias;
Blog : http://fashionmate.blogspot.com
Pinterest : http://pinterest.com/lakaribane/

halleyscomet


Pennsylvania USA
Member since 3/27/07
Posts: 1706
Skill: Intermediate



In reply to dontknow

Date: 3/14/13 4:24 PM

Definitely have someone take some precise measurements and compare to the measurements of the pattern. I would also suggest doing a muslim. I am only about 5'1" but I don't require the usual petite adjustments. I have narrow shoulders but wide through the back by the armholes, short legs and short arms but large biceps. I also have to lengthen the back crotch length when doing pants.

Which pattern are you looking at?

mymehigan


Massachusetts USA
Member since 7/13/04
Posts: 3
Skill: Advanced



Date: 3/14/13 9:27 PM

Even though i am petite, my body proportions are long legged and short waisted so I take a tuck in the flat pattern in the upper bodice portion. Your measurements will help you determine your adjustments. I also take a tuck in the sleeve length.

------
Monica from Maynard, MA

solosmocker


Member since 1/23/06
Posts: 2159
Skill: Advanced



In reply to dontknow

Date: 3/17/13 9:35 PM

We are all built differently even if we are petite. One thing to be cognizant of is where the bust point is on your bodice pattern. It is marked by a circle with some crossed lines within. Put the bodice pattern piece on yourself and see where that lands. You may have to move that up or down depending on your figure. I also like to reduce some of the details, particularly if they are a bit exaggerated. By that I mean reducing the length of welts, pockets, widths of collars, etc. Usually for me this is just by a quarter inch but it puts the details more in proportion with a petite frame.

If you want more info on petiting a pattern, at least the way that works for me, try here:

Petiting a pattern

------
http://lasewist.blogspot.com/

petitepoire

Member since 1/18/13
Posts: 2



Date: 3/20/13 8:08 AM

Hello- I'm another petite beginner sewer (and this is my first post on PR!!)

Despite my enthusiasm, my first attempts at tops and dresses have faltered at the muslin stages. So after weeks of googling and reading PR I decided to tackle a basic fitting shell (as suggested above- I used mccalls 2718). The idea of at working out the general alterations I needed to make, rather than starting from scratch with every new pattern seemed sensible.

So.. its been a tough process, and I haven't made anything wearable yet- but I think I am NEARLY there with my shell, and I have learnt loads in the process. Anyhow, my point is that there are a few things that took me a while to work out- which I wish I knew about before I started- so perhaps they may help you!

*Even when doing a dodgy self measure, my back neck to waist length is 2 inches shorter than a full size pattern- and there are some standard ways of dealing with this (as mentioned above- take out length above and below bust)

*I actually needed a full bust adjustment (amazing as I am a standard B cup in my bras, but seem to fit the C cup rule when comparing high bust to full bust)

*Just taking out length above the bust wasn't right for me- it created gaping armholes, even after the FBA. It seems I'm kind of short but have a relatively low bust- so stumbling upon this solution was amazing

Sewing tip- reduce armhole size

So, as another newbie- I think my conclusion is that petites seem to come in all sorts of shapes and sizes too...but there is heaps of info hidden away in threads here on PR and elsewhere on the web. Good luck working out what you need!

tourist


British Columbia CANADA
Member since 7/23/07
Posts: 6682
Skill: Intermediate



In reply to petitepoire

Date: 3/20/13 9:54 AM

Welcome petitepoire! Learning that I need a FBA with only a B cup was also a big surprise to me, but it made a massive improvement in fit. The next best thing was making a duct tape double for fitting assistance. Amazing what can be learned online these days!

------
http://bgballroom.wordpress.com to follow the progress on my next ballgown.

petitepoire

Member since 1/18/13
Posts: 2



In reply to tourist

Date: 3/20/13 8:51 PM

Thanks so much... ooh I have heard about the duct tape double. Maybe I'll be brave enough one day when my sewing space is more than a tiny corner of our living room!!

pfaffkj


Tennessee USA
Member since 7/28/05
Posts: 643
Skill: Intermediate
Body Type:




Date: 3/21/13 10:44 AM

Partly because of my 5 foot frame, and partly because of my wide hips, I reduce the fullness of full skirts, especially ones that are gathered. In the last shirtwaist dress I made, I took 8 inches out of the width of the skirt.

Reducing the size of some collars and ruffles is also a good idea -- and something that I frequently forget until too late!

------
Karen

Yards in stash: I don't want to know, but I estimate 300.
2016 goals:
3.5 hours per week doing sewing related things
4 yards of stash fabric used for every yard purchased.

2016 Purchased: 0
2016 Used: 10.33



lakaribane


Haiti
Member since 7/23/07
Posts: 2982
Skill: Advanced Beginner
Body Type:




In reply to pfaffkj

Date: 3/22/13 9:58 AM

Quote: pfaffkj
Reducing the size of some collars and ruffles is also a good idea [...]

I agree, scale has a big impact. I have some fabric in my stash that I have not sewn because the print is beautiful but just TOO BIG. Same thing with collars and ruffles.

------
Morphology: Petite at 1m53 (5'), Burda size altered 19 or altered 38, Big 4 size 10 or 12 depending on ease;
Alterations: Petite, Narrow Shoulders, Slim Arms, Narrow waist, Increase Back Crotch Depth. Considering: Forward Neck/Rounded Upper Back, Slight Swayback;
Style: Feminine, Colorful, Fitted, Clean lines;
Favorite Garment type: Dress;
Favorite Colors: Purple, Navy, Brown, Shocking Pink, Coral, Aqua;
Favorite Fibers, Weaves or Patterns: Cotton, Linen, Cotton Silk blend, Seersucker, Swiss Dot, Lawn, Denim, Stripes, Chevron, Window pane Plaid, Bias;
Blog : http://fashionmate.blogspot.com
Pinterest : http://pinterest.com/lakaribane/
Printable Version
* Advertising and soliciting is strictly prohibited on PatternReview.com. If you find a post which is not in agreement with our Terms and Conditions, please click on the Report Post button to report it.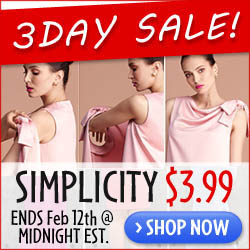 Online Class
Pattern Work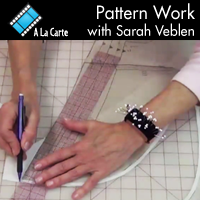 Online Class
Perfectly Fitted Shirt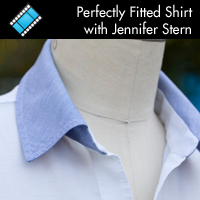 Vogue Patterns 6032

by: sati5000
Review
Victory Madeleine Paper Pattern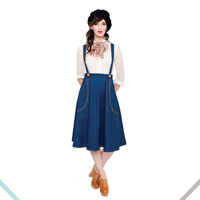 Pattern Details
Christine Jonson BaseWear Two - Straight Skirt, Taper Skirt, & Top with Options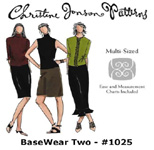 Pattern Details
Bluegingerdoll The Winifred Dress

by: guineveres...
Review