scruplek

Member since 3/15/13
Posts: 1
Skill: Beginner



Date: 3/19/13 1:13 AM

Based on location, the top manufacturers available to me are Janome and Viking. Went and did about an hour sit down with VERY basic practice mixed with demo. Was counting on there being a top forerunner and a purchase today. No go. Cannot decide.
HELP!!! Love 875 instant pivot and presser foot lifting automatically as well as instant sticth selection etc on the Viking, just have to select type of fabric and stitch you want to do using touch buttons. Did not like the European plate that was standard and that the seam guide is close to the needle and further away from me as opposed to closer to the sewer and near the bobbin box. Does not come with an extension table. On the 7700 loved the extra room at the front of the machine even without extension table in place. Felt like I had a "mini desk" in front of the bobbin case. Also liked the English stitch plate with ruler to the right and the acrylic guide that comes with the included extension table. TONS of feet included, a couple with guides too. Not really fond of the dial and it appeared that you have to already know exactly what stitch you need for the material you have in order to select it. (I need a D1 for what I am about to do...) Liked the knee presser foot lifter. Missed no auto lift/lower of the presser foot and having to remember to do it manually. How do I decide what to give up? If I could mix the two I would have the perfect machine! How much of a bonus is that knee lifter? How much of a bonus is having auto presser foor lifting/lowering? Both machines seemed to sew fine. I did not get to do free motion on either and would love to know the differences. Does the AccuFeed make the Janome the better buy and give up both the Stitch Advisor and the auto lift/lower foot on the Viking? Or go with the walking foot Viking and get the stitch advisor and auto presser foot lift/lower? In a real jam! Price is about 400 dollars lower for Horison and it is the Ruby front 7700 that I hear may be an older model? I am a beginner sewer with high hopes and dreams. Oh and the viking was 18lbs versus 25lbs for the steel chasis casing Janome is known for but only provides soft cover. Have to go test some more. Any advice from users would be a lot of help. Thanks for reading

Kiamose

Member since 10/18/12
Posts: 1

3 members like this.




Date: 3/19/13 2:55 AM

Hiya, I had the same problem you did a while back, I went for the 875Q, you can get a different stitch plate with markings, I did, and the large extention table (ask the dealer if he will throw one in for you, mine did) is fantastic, I had a machine with the knee lift, hated it, love the sensor system, I hardly ever need the dual walking foot, as the senser system is ace.
There is so much to this machine that I love, I love the way you select a stitch on the 875Q but I didn't like the jog dial on the Janome
There is so many fantastic qualtys to the 875Q that I could be here all day, but I'm sure there will be Janome lovers as well (I do like Janome, just not the horizon)
-- Edited on 3/19/13 2:57 AM --

HDWen


Arizona USA
Member since 12/26/11
Posts: 2387
Skill: Advanced Beginner

1 member likes this.




Date: 3/19/13 5:06 AM

Me too! Did my search in January and also bought the Viking 875Q! I wouldn't give up the lift and pivot for any other machine! And the auto tension by fabric, Amazing! I was just quilting on it minutes ago... Love the 10" harp - yes it will feel at 1st the needle is further away, but that was easy to get used to compared to all the other terrific features. I went cheap and bought fat styrofoam to sit next to my machine during quilting to lift it up level. If you buy from a dealer ask for it!

They also have a SID foot that goes on the Walking foot that really keeps it in line, and omg forgot the name of it.. but another foot that will fit the walking foot I love! You can tell I am thrilled with mine, have made about 7 quilts since January!!

<-----You can check out the Sewing Machine Reviews over there and search for just those two -- I'm sure what ever people have is what they Love - Think about what you will use it most for, and get those features and Good luck and Happy Shopping!

:-Debbie

------
I have a great enthusium for sewing, but lack talent to be great.

2013

karen149


California USA
Member since 3/4/05
Posts: 4189
Skill: Intermediate

1 member likes this.




Date: 3/19/13 12:58 PM

I just bought a Sapphire 875Q a couple of weeks ago and I stayed local, too. My choices were Janome(however, my local dealer is not noted on Janome's website to be able to sell the 8200 and 8900), BabyLock and Viking. I have an Elna dealer nearby but they were more vacuums and in-house long-arm quilter. There's a guy who sells Pfaff but he is mostly vacuums, too and kind of shady and there would be not much in the way of support. Not like I could go sit and chat with him. I was considering the new Janomes, maybe a 7700 or 8200. I ruled out the 8200 as I had just sold a Bernina that I did not bond with and did not want to drive or spend that amount of money again. I wasn't sure about that dial on the 7700, either, and having to jog through menus. I'm not crazy about Janome feet and the Accu-feed seemed cumbersome. In the end I never did try one. I considered a Juki, too but didn't care to drive and I'm not fond of shiny plastic. Love the stitch selection on the Juki, though!

I love the features that were noted by above posters...especially no knee lift. The machine simply raises and lowers the presser foot and I can tap the foot pedal to raise or lower the needle. Just what I wanted. The 875Q has a one-piece aluminum frame and it does have box feed, which is why it's so easy to sew. No wrangling the fabric to make sure it sews straight and it does sew knits without need of the presser foot. I do have the interchangeable walking foot but haven't used it yet. It's so easy to select a stitch, fabric type and function and the machine sets everything up for you. The feet stay solidly in place like the Bernina and they are well made. I did buy the extension table but am considering getting a height-adjustable desk so I can stand and it doubles as a cutting table. I can't sit for long periods of time. It really affects my back and shoulders and I work at home, too, so all that sitting does get to me.(I'd rather be sewing!) The Viking dealer sells one made by Inspira(which is actually made by Horn as the model 2500) I will note that I was drawn to the Viking as I

can

sit for periods of time with it because of the ergonomics of the machine itself. I have a clear, well-lit view of the needle and it's not on the back side of the machine so I'm not having to extend my arms much.

So there's my input

-- Edited on

3/19/13 7:29 PM

--

Mittskitt


West Virginia USA
Member since 5/1/06
Posts: 186
Skill: Intermediate



In reply to scruplek

1 member likes this.



Date: 3/19/13 7:06 PM

I would suggest that you check out how well the machine can feed fabric. Not the piercing power...but the feeding power. Unthread the machine, remove the needle and feed fabric through that has different thicknesses. Like where seam allowances meet. Use old garments, jean seams, etc. That will show you which one feeds better. HTH

------
Brother DreamweaverXE
Juki f600
Janome 1600P
Babylock Imagine

zanna456

Member since 6/12/10
Posts: 6



Date: 3/20/13 8:34 PM

I have a 5-year-old Viking Sapphire 870Q (not the 875Q). It sews beautifully except for machine quilting. The tension problems simply cannot be resolved. It's not noticeable if the top and bobbin threads are the same, but if I'm using one colour in the top and another in the bobbin, it'll show. In fact, in a single run of quilting, the bottom thread shows on top and the top thread shows on the bottom (not in the same stitch, of course). Perhaps this has been resolved in this newer model, but if machine quilting is important to you you may want to test some quilt sandwiches.

Artsewer

New York USA
Member since 3/2/11
Posts: 2603
Skill: Advanced Beginner

1 member likes this.




Date: 3/20/13 9:08 PM

I tried out an 875 and really liked the feel and feed on that machine.

However I had a Pfaff and the only way to uptrade on that was to go though the dealer that I bought it from.

Any way I ended up with a Janome 7700. Things I liked about this machine were, great for Free Motion sewing. Did not like the Accufeed at all. Nor the bobbin system, this is hard to explain, but the bobbin would pull up and out of the case and cause damage to the the bobbin case on the few occassions that I had a thread jam. I had to replace it twice in a few months time.

I also did not like the way the Janome fed over intersecting seams.

It would just stop and sew in place. A simple task for such a robust machine. People say that the feed dogs needed to be leveled. I never did that. I sold it and bought a different machine that fits my needs better. I did really like a lot of things about the 7700 machine. It had a great array of stitches and many ones that I would use. An auto darning stitch that was great. You can adjust the inside bead of a button hole to suit the fabric you are sewing on. The stitch quality was excellent and the lighting was really good. The 11 inch harp space was amazing to have.

The Viking I tried also had excellent stitch quality, was very quiet, had the hover feature which I love for applique and lots of other things. I really did not like the Accufeed and prefer a seperate walking foot or an intergraded duel feed system like on the Pfaffs, and now upper series Berninas.

Dont rush and spend time sewing on both, try to mimic situations of real sewing, like a buttonhole that has different thicknesses. A rolled or tiny hem. Intersecting seams like you find when quilting and pieceing triangluar bias cut pieces in blocks. (Like in an octangle shaped block.) If you like the Janome, make sure the feed dogs have been leveled and try the intersecting seams sewing before accepting the machine.

Look at the feet available for both brands and if you like them.

All of these things make a difference in the end of how you will enjoy and work with your machine for years to come. They are both very nice machines.

------
Bernina 790, 635E, Juki 2010
Babylock Evolve Babylock Sashiko2

SewPerfect


North Carolina USA
Member since 1/6/04
Posts: 217
Skill: Advanced
Body Type:


2 members like this.




Date: 3/21/13 10:23 AM

In early 2012 I went on the quest for a machine to replace my aging sewing/embroidery machine, a Viking Designer SE. I didn't do much embroidery anymore and was looking for a machine mainly for quilting, home dec and the occasional clothing project.

______________________

Since I already was familiar with Viking I went to check out the 875Q first thing. I really liked it alot but decided to go to the Pfaff and Janome dealers before making up my mind. I wasn't impressed with the Pfaffs which was a bummer as I'd had a Pfaff 1475 in the past and it was a lovely machine. I still have my old Pfaff 6122 as I need the IDT when sewing some fabrics that are finicky.

______________________

After visiting with the Janome store and testing the 7700 I still held off thinking I'd check the PR boards to see what everyone else was buying at the time. The Juki's and Brothers were all over the boards, and the newer Elna's too. I cannot afford the Berninas so didn't even consider those. I did try the Juki 600, two of them in fact, both duds out of the box so that cured me of Juki.

______________________

I ended up buying the Janome 7700 in April '12. I love it! It is an awesome machine. The jog dial was odd at first but it works fine and you can speed dial to whatever stitch in a second. It sews perfectly on most any fabric I've tried so far, still use the Pfaff for fine knits, silks etc. I don't know why so many had an issue with the cover plate and it's screws, I mean really, it's not that hard to take the plate off when you need to, it's not like you're changing it out multi times an hour! The big Accufeed feet also took some getting use to but they work just as they were intended, I've had no issue at all when using them.

_____________________

To answer some of your specific questions re the features and which to give up...at first I did miss the 'hover' and auto-lift of the Viking I'd previously had - it took a while for my right leg to realize it had to engage the knee bar but didn't take too long. The 'stitch advisor' was OK on my Viking but I usually overrode the built in settings to my liking to tell the truth. I do not miss not having a manual presser foot lifter bar as on the Viking - that is the one feature that made me batty for all the years I had the Viking. The auto tension of the Viking was so-so, it sometimes had a hard time with certain fabrics and I'd have to try to override it to make the stitches look good. The weight of the 7700 is a plus in my book, that baby doesn't budge on the table no matter how fast I'm sewing, I love that! I do not take my Janome to classes, I take my older Pfaff, the 7700 is too big n bulky to be toting around and I'd be afraid of damaging it on a trolly.

______________________

My long standing mantra that I'll repeat till I'm 6 ft under is: use the correct needle/thread/tension/stitch length etc for the project you are working on at any given time! Take the time to make up small samples with the fabric/thread you are intending to use - see what doesn't work before you start on an entire project - saves lots of headaches! READ THE ENTIRE MANUAL before touching the machine! Give yourself time to bond and learn your machine, it irks me to no end to read reviews where the person has had the machine less than 2 months and gives the machine crummy reviews (except in the case of a true lemon machine) when in most cases it is user error and/or impatience.

_______________________

Now that I've written a small book I'll end with - I truly hope that whichever machine becomes yours that you have many many happy hours sewing on it!!

Best,

Ani in NC

-- Edited on

3/21/13 10:24 AM

--

-- Edited on

3/21/13 10:35 AM

--

------
Happy Seams to you....until we meet again!
In the corral: Pfaff Quilt Expression 4.2, Bernina 930 Record, Brother PQ1500S, Brother XR1355, Singer 15-91, Pfaff serger

sewnewtothis2

Florida USA
Member since 3/22/13
Posts: 11
Skill: Beginner



In reply to scruplek

Date: 3/22/13 4:53 PM

I am scruplek under a new name. The site would not let me post. Kept saying I had to be a member 7 days. Thank you all for helping me out.

Karen149 What is a box fed machine?

ArtSewer: What did you not like about AcuFeed and how was intersecting seams an issue? Is it true that AcuFeed limits being able to change out your feet?

Mittskitt: LOVE the idea of feeding fabric without needle to see the difference.

Not sure I understand what you all mean by the "hovering" function on the Viking.

What is difference in a 7700 that has auto converting plate for the straight stitch (APC) versus the upper numbers 8200 and 8900 where you have to remember to change the plate out?


I am being told that the ruby Janome is being discontiued and only cream is available and that I do not want because it is an online model only and has plastic gears and no extension table for free. I do have a dealer willing to sell me a gently used cruise ship machine for 1799 with a Ruby face... maybe has 8 hours on it.

I clearly need to spend some more time with both machines. I did not realize this was so much like buying a car. Different dealers say different things and you have to decide what you really want on the machine the most because they all do not have everything!

SouthernStitch


USA
Member since 8/24/02
Posts: 12042
Skill: Intermediate
Body Type:




In reply to sewnewtothis2

Date: 3/22/13 6:12 PM

I'll answer a couple of your questions.

Box feed is where the feed dogs travel in a box shape, as opposed to in an oval manner. It's supposed to be superior to them traveling in an oval shape. Go to the Juki website, and it'll show you in more detail about box feed.

Hovering function is where the machine to automatically lifts the presser foot when you are done with a seam. The features of it vary by brand, but on most, say you choose to end the seam with needle down, then the presser foot will *hover*, or lift just enough for you to pivot your work. It goes back down to the cloth when you start sewing again. Sometimes, say on needle up, it will lift the presser foot high enough for you to remove the work.

These machines typically do not have the manual presser foot lift bar behind or on the side of the presser foot. You have to use the hover feature, or knee lift, if it's available. The Pfaff PCP has the knee lift too, as do the Berninas. I'm thinking Viking does not offer a knee lift on their machines.

You are so right that none of them come with everything! If they do, the price is out of my range for sure! Stellar price on that 7700. I think I could still get one of those from my dealer, but I would be thinking I'm missing out on the improvements of the new 8200 and 8900!

------
Bernina 780, and 530
Babylock Evolution
Singer 403a

When life gives you green velvet curtains, make a green velvet dress.
Printable Version
* Advertising and soliciting is strictly prohibited on PatternReview.com. If you find a post which is not in agreement with our Terms and Conditions, please click on the Report Post button to report it.
Online Class
Blueprints to Blue Jeans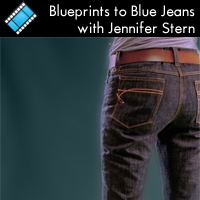 Online Class
Altering Pants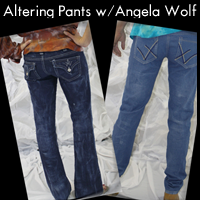 Simplicity 2591

by: lsaspacey
Review
Pants Sewing DVD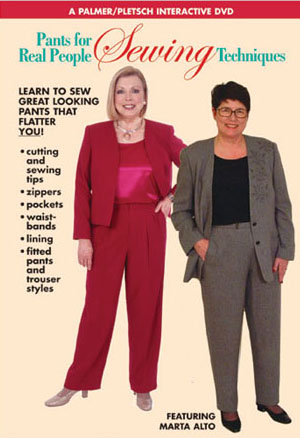 Pattern Details
Jeans for Real People DVD Set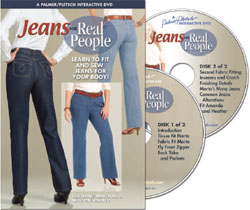 Pattern Details
No Pattern Used No Pattern Used

by: akpancak3
Review