tgm and Kittys


Wisconsin USA
Member since 3/8/10
Posts: 8569
Skill: Advanced Beginner

1 member likes this.




Date: 4/4/13 11:15 PM

We were so surprised to stop in at JoAnn's for a zipper & see what in the world has happened to it! Only one wall of fabric, very little thread, zippers or notions. Only 2 Singer type of sm available for sale. All sewing things pushed way over to the far wall & rear left corner. ... in it's place all manner of entertaining junk, toys, artificial flowers , paper goods... WHAT happened?

I asked a clerk after DH trying unsuccessfully to help me find zippers. She said it is a corporate directive to change the stores to be more modern. ...

But it is suppose to be a fabric sewing store right? ! AGH! I think I have no desire to go there again.

Is this going on all over? I don't get it.

Poor DH I talked him into wheeling me in there to that mess....

------
Remembering The Babykins ..11/2/03 - 3/7/16
I love you oh Baby I do, I love you oh Baby I do I do.
She's my Baby & I'll love her if I want to, love her if I want to.... you would love her too she's the Baby ...
I miss you an awful lot my Babykins...
Lord I believe, Please help my unbelief. +



Tall Mary


Nevada USA
Member since 12/7/04
Posts: 627
Skill: Advanced Beginner
Body Type:


3 members like this.




Date: 4/4/13 11:48 PM

I went into JoAnn's Fabrics yesterday and was surprised to see all of the educational toys and games for teachers or parents to buy for their children. I was pretty shocked, too. Our store is very large and still contains lots of fabric and notions but about half is devoted to arts, crafts and school supplies. About ten years ago plastic flowers and craft supplies were brought in and now school supplies have arrived. It is disturbing.

Kathy C.

------
Sewing and reading about sewing are daily pleasures.
I hope to use up lots of stash in 2015.
2011-Sewing from Stash-SABLE


Irina Grace


Arizona USA
Member since 7/18/11
Posts: 323
Skill: Advanced
Body Type:




In reply to tgm and Kittys

2 members like this.



Date: 4/5/13 1:20 AM

It seems they are converting (slowly but surely)to a craft store. At least that what I can see in our new JoAnn's. They just opened this new store in my area....It is huge and more then half filled with a craft and jewelry making supplies... In my opinion, there have never had a fancy selections of anything and but now it is even worse.... How are they trying to be MODERN ? I went there to buy a 24in metal zipper for a back seam of my MODERN dress...All metal zippers there are just the lowest quality imaginable. I do not know, - how much do you have to hate your customers to sell quality like this? 1/2 inch non-stretch black lace? Good luck with this too... Again, I am stuck with looking and buying simple things like a decent zipper and NON-stretch lace on-line. And the sad part of this - there is no competition around the corner...

------
Irina Grace
English is my Second Language

tgm and Kittys


Wisconsin USA
Member since 3/8/10
Posts: 8569
Skill: Advanced Beginner

1 member likes this.




Date: 4/5/13 4:17 AM

Oh our store has a large area for framing too. That was never there before. My sister plans to go to her JF next week in Michigan she will let me know if it also has changed big time. .... it just seems odd these big changes.

------
Remembering The Babykins ..11/2/03 - 3/7/16
I love you oh Baby I do, I love you oh Baby I do I do.
She's my Baby & I'll love her if I want to, love her if I want to.... you would love her too she's the Baby ...
I miss you an awful lot my Babykins...
Lord I believe, Please help my unbelief. +



quiltingwolf


Member since 12/15/02
Posts: 7375
Skill: Intermediate



In reply to tgm and Kittys

3 members like this.



Date: 4/5/13 9:03 AM

One of the reasons for this is the internet, more and more people have access to other, better, cheaper things. I only hit Joanns now for certain sales namely for 50% notions, storage, blades, etc. I rarely buy fabric. Ours still has a pretty decent supply of fabric. But not as much as they used to. They will customize sales for what sells in that particular area. If fabric isn't a big seller they won't stock as much of it. I remember early 2000 when quilting took off again they doubled the size of the quilting department. Now it's getting smaller again.Brick and mortar stores are going to have to learn how to compete with online shopping if they want to survive. First hint more selection. For ex. Aurifil thread, stock it. Even if only 5 people are buying it a month, those 5 people are coming into the store and chances are they won't just leave with just the thread. Joanns became a publicly held company a few years ago that's probably why all the changes.

-- Edited on

4/5/13 9:04 AM

--

------
quiltingwolf.blogspot.com

JTink


Member since 4/20/08
Posts: 6691
Skill: Intermediate
Body Type:


2 members like this.




Date: 4/5/13 9:20 AM

Kitty I'm so sorry that your store has gone sour. Ours is still pretty "new". One half is material/sewing notions/home dec, etc. The other half is crafts and the Viking dealer.

I think the only way Joann corporate is going to get the message, is though customers writing to them. If they don't hear the complaints, they will think what they are doing is acceptable. Only fly in the ointment, when corporate gets a complaint, they throw it back to the manager of the "offending" store. Most of what is going on now is not store level, it's corporate. I understand my Local Hancocks has reconsidered all the furniture and do dads they had sitting around. They have cleared it out to make space for ....ready for this...sewing classes!

We are lucky enough to have a lot of competition around here. I don't think Joann's Corporate understands that yet. We have Hancock's, Quilting Adventures, Bernina(they have fabric), 3 other independent fabric stores in the area as well. Some of these places also offer sewing classes. And we have more craft stores than anyone needs.

We are having an awful time with the classroom situation. As of March 1, we were told we had to cancel any classes that didn't have at least 3 people signed up. This is an outrage. For starters, our classroom is so tiny, more than two people cutting out and making a garment/item is almost impossible. I love teaching only one or two at a time and most of my students are repeat customers. Not anymore. My education coordinator said it's sad to see the classroom sitting empty day after day. If you don't hold classes, you aren't selling product. Corporate is shooting itself in the foot.

gramma b


USA
Member since 7/25/08
Posts: 3863

1 member likes this.




Date: 4/5/13 10:02 AM

Also WM took it out, put it back, took it out again.
They carry 80% cottons, not good for apparel. Some nice batiks were $8, more than fabric stores when on sale. I used to find nice hidden knits when they had their racks of "Contents Unkown" bolts.
I was picking up a piece of one of only 4 knits in the store for GD's sundress, one bolt was marked $2 less than the other. Told the clerk, this shade should be too, the timid lady said, "Ohh, I don't know. I'll have to call mgmt." (Make a decision!) Called mgmt, never came after 3 calls, so I said forget it. Also didn't buy makeup there as the racks were quite empty of new spring mdse., stories say they cut so much help they can't re-stock. Had an immigrant friend working stocking nites, they made them give a couple extra hours without pay.
I don't think customer feedback to Corporate gets results anywhere, except maybe from local businesses.


HanPanda


USA
Member since 4/27/08
Posts: 1339
Skill: Intermediate
Body Type:




In reply to JTink

2 members like this.



Date: 4/5/13 10:54 AM

Quote: JTink
We are lucky enough to have a lot of competition around here. I don't think Joann's Corporate understands that yet. We have Hancock's, Quilting Adventures, Bernina(they have fabric), 3 other independent fabric stores in the area as well. Some of these places also offer sewing classes. And we have more craft stores than anyone needs.

Where do YOU live?!! I want to move there!!!

------
2015 In: 36 yards
2015 Sewn: 25.5 yards
2014 In: 99.75 yards
2014 Sewn: 80.5 yards

I'll try anything once :)

Please excuse my typos...sometimes it is harder to go back and edit on mobile than it is worth!

tgm and Kittys


Wisconsin USA
Member since 3/8/10
Posts: 8569
Skill: Advanced Beginner



In reply to HanPanda

Date: 4/5/13 11:01 AM

Yes I think she should prepare rooms for all of us to come visit for a giant sewing shopathon...

------
Remembering The Babykins ..11/2/03 - 3/7/16
I love you oh Baby I do, I love you oh Baby I do I do.
She's my Baby & I'll love her if I want to, love her if I want to.... you would love her too she's the Baby ...
I miss you an awful lot my Babykins...
Lord I believe, Please help my unbelief. +



Annie- oh


Colorado USA
Member since 2/7/04
Posts: 1732
Skill: Intermediate

4 members like this.




Subject: What in the world happened to our JoAnns Fabrics?! Date: 4/5/13 11:04 AM

Oddly enough, my local JoAnn's has had a makeover!!!!

I was in last Saturday, and not only was it clean, neat, and organized, but it also had a FULL RANGE OF FABRICS FOR CLOTHES in the FRONT.

I touched everything (y'all understand that).

When I complimented the manager, she was pleased to say they are changing over.

This is in Farmington, NM., and I think their only competition is 2 Walmarts.

------
I try all things. I achieve what I can. "Moby Dick"

We stand here confronted by insurmountable opportinities. Pogo
Printable Version
* Advertising and soliciting is strictly prohibited on PatternReview.com. If you find a post which is not in agreement with our Terms and Conditions, please click on the Report Post button to report it.
Online Class
Perfectly Fitted Shirt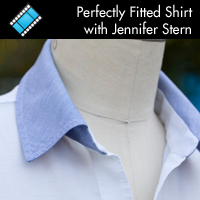 Online Class
Blueprints to Blue Jeans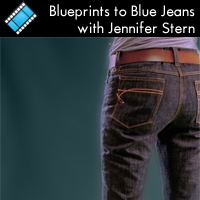 Other Design Your own Romper

by: Meretta
Review
Butterick 5880

by: Sue Parrot...
Review
SewBaby "I Can Do It" Cloth Activity Book Pattern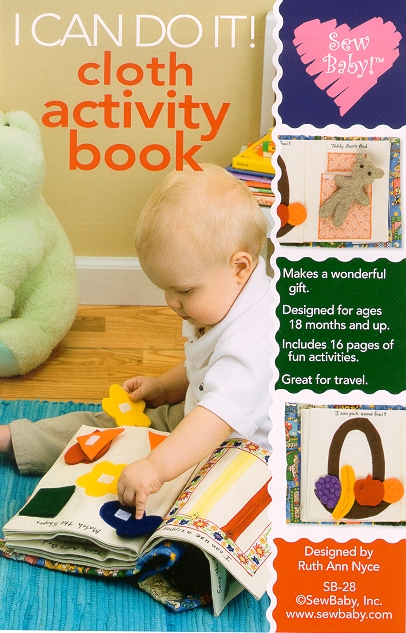 Pattern Details
Islander Sewing Systems Every Bodies Shirt (VS-XL)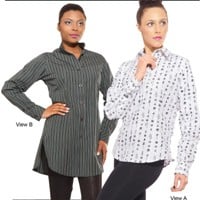 Pattern Details