Clareew


UNITED KINGDOM
Member since 5/10/06
Posts: 1264
Skill: Intermediate

4 members like this.




Date: 4/11/13 4:45 PM

Hello Everyone

I am Clare and I will be managing this Challenge Contest. This is my first go at managing a contest, I am excited and nervous about it.

This is a new contest, it is called Accessory Inspiration, I can see you all looking thoughtful, wondering what it involves, here goes:

Although we often purchase accessories to complement a particular outfit, sometimes the reverse happens - we find the PERFECT accessory and purchase or make a garment / ensemble around it. This challenge focuses on the latter and will challenge participants to sew an article of clothing or accessory to coordinate with the predetermined accessory.

I will post a photo of the accessory on Wednesday April 17th. You will have two weeks to plan your entry and purchase supplies.

If this is your first contest, here is a link to a Tutorial on how to enter a contest on PR

Here are the rules:

1. Contest will run from May 1 to May 15, 2013.

2. Each entry may only include one item.

3. Entry may be an article of clothing (pants, shorts, dress, top, jacket, etc.) or accessory (e.g. hat, gloves, bag, scarf, etc.)

4. Entry must be sewn. No knitting, crocheting, or other fiber arts allowed.

5. Multiple entries are allowed.

6. Entries will be judged on (1) how well the item coordinates with / highlights the accessory and (2) creativity of the entry.

7. The gallery entry must include photo of the article of clothing / accessory. Items do not need to be on live model.

8. First and second place winners will be selected through a vote open to members of PR.

9. All cutting of the fabric and sewing can only be done from May 1 - May 15th. You may, however, pre-wash fabric, work on muslins, and cut pattern pieces before May 1st.

10. Commercial or self drafted patterns allowed.

11. Voting will begin on May 18 and close on May 27.

General Rules for all Contests

1. All reviews must be entered for submission by 11:59 PM Eastern Time on the last day of the contest. It is suggested to start your review as a Work In Progress (private or public) so that you can get any bugs ironed out prior to the deadline. Although Contest Managers and Contest Committee will help with technical issues, they may not be available at the end of the contest so be sure to allow adequate time to post your entry before the contest ends.

2. Fabric may be pretreated before the start of the contest.

3. Patterns MAY be muslined prior to the start of this contest however; fabric for contest garment may NOT be cut prior to the start of the contest.

4. Items intended for sale, or for which you were or will be paid to make, do not qualify for any contest, but items made for charity are welcome.

5. Unless otherwise stated in the rules, all reviews written for a contest entry must include a picture of the entry, preferably on a live model.

6. Interpretation of rules is subject to the discretion of the contest manager and the contest committee.

Contest Eligibility:

***Rule #1 is changed for 2013
1. Any member of Pattern Review, either paying (FoPR) or non-paying, who is a registered member on the site before the contest begins is eligible to enter.

2. Any member of Pattern Review, either paying (FoPR) or non-paying, who's been a registered member on the site for 90 days prior to the end of a contest is eligible to vote in a contest.

3. Any member won first place in a contest on Pattern Review that ended in the previous four-month period is ineligible to win another contest (during that four-month period). For this contest, first-place winners from the following contests are NOT eligible to win:
* One Pattern Many Looks
* Handbag
* Pinterest Home Dec Challenge
* RTW / Designer Knockoff
* Fitted Blouse
* Pattern Stash
* 2013 Pantone Colors

Voting Guidelines:

1. The first, second and third place winners will be decided by member vote. Prizes will be awarded to the first and second place winners.

2. Each member can vote on up to five entries.

3. Voting will begin 2 days after contest closes and will close 7 days after voting starts.

4. Because of the high quality of the garments we're seeing entered in PR Contests, we're setting forth some guidelines that may help you choose when voting. Consider how well the entry fulfills each of the following criteria in order to narrow down your votes:
* Does the garment clearly reflect the pattern's line drawing?
* How well does the garment fit the criteria stated in the contest rules? How well does it fit the spirit of the rules?
* Are the construction methods, including but not limited to seam finishes, lining techniques, etc, well suited to the design? To the fabric?
* Is the fabric choice well suited to the design? Are the lining and interfacing choices appropriate?
* Is the review complete and well written?
* Taking into account the stated ability level of the entrant, how well does the garment fit?
* Creative points. You may choose to give extra credit here for an entry that reflects additional creativity (embellishment, fabric choice, etc.) while staying within the nature of the original pattern.
* Complexity of the project. Relate this to the skill level of the participant. If a participant is a beginner then a princess seam may get the same complexity level as an underarm gusset gets for an advanced sewer. This is purely subjective, but a complex garment might garner more points than a simple one if a tie-breaker is needed

The prizes haven't yet been decided yet. I will post the details as soon as they have been agreed upon.

As the second message in this thread, I will organise it in a question and answer format. This is so that members don't have to scroll through numerous pages for answers.
-- Edited on 4/11/13 4:53 PM --

Here is the awaited photo:



Before you panic or decide this is not for you, please have a browse through the following.

You do not have to wear these if they are not your style or colour. This contest is about making an item which could be used to coordinate with them. Here are a few ideas:

Use the colours red or gold and make yourself an item you love in one or both of them. This can be an accessory or an item of clothing.

Use the latest trending fashions which show the gladiator sandal or Roman fashion.


or for the man in your life - how about the latest catwalk exhibit -Versace's Gladiator-Inspired Spring 2013 Menswear Collection
-- Edited on 4/17/13 7:01 AM --
You can use the fact that the sandals are Roman, and use a Roman theme.

Roman influence on modern fashion Click Here
From Marie Claire Click Here

From runway to real way
A few ideas of how celebrities wear gladiator sandals


Fearne Cotton
Jennifer Lopez
From PR
-- Edited on 4/17/13 7:14 AM --

-- Edited on 4/17/13 5:31 PM --

------
Clare

Machines: Juki F600, Juki 654 serger, Bernina 550 for art work, Janome Coverpro 1000cp barely used
A Singer Featherweight Centennial and an old Necci in the loft waiting for TLC

http://art-by-clare.blogspot.co.uk/

Clareew


UNITED KINGDOM
Member since 5/10/06
Posts: 1264
Skill: Intermediate





Date: 4/11/13 4:46 PM

Whenever questions come up during the course of this contest, I'll be posting and updating them here with the answers. You won't have to scroll through a bunch of pages to try to find where your question was answered. Newcomers can also see at a glance if a question has already been asked.



Quote:
I understand we have to make an outfit around an accessory that is not our own?



Next Wednesday I will post a picture of the accessory in question - I am having to be very good because I already know what it is. Although you may not wear this exact accessory, don't let that put you off. A teaser - it contains more than one colour. You will be able to work around one of colours.
-- Edited on 4/12/13 5:45 PM --

Quote:
That is what I understand too. I think that is difficult, as why should I want to sew around an accessory I don't even own (or like, not knowing yet what it will be).
It won't be possible to take a photo with the accessory and the garment(s).


I will provide the photo and a link to it so you can create a composite picture showing the chosen accessory with your items. For those unsure how to do this, I will post a link to the tutorial (when I find it)


-- Edited on 4/14/13 9:50 AM --
Thank you DonnaH for this useful observation


Quote:
People wear brightly colored shoes (red, yellow, turquoise, jade, whatever) that are NOT the color of the outfit all the time. These shoes would look amazing with a khaki shirtdress (knee length safari shirt w/ a belt) for example. Any neutral, and the shoe becomes the focus. Heck, you could limit the red (or gold) to a touch of trim if you feel there MUST be a bit of the shoe in the thing you make.

But red (especially for shoes) is almost as neutral as a metallic - doesn't go with everything, but close enough. So think in terms of what you would pair w/ a strappy flat of any color. Capris and a flowy top, sun dress, wild (clubbing) top w/ leggings, jeans and a tee, avant guarde runway fashion. Maybe not a tailored suit or bridal/prom. But just about everything else!

I can see this shoe going with (whatever the style) - any print that has even a touch of red (and if only a touch anything from tomato to cranberry), color blocked cool (aqua/royal/emerald) or warm (orange/red/pink) tones, or a neutral/mix of neutrals (navy w/ a white pin dot, chocolate w/ beige piping, beige and ? ticking stripe).



I have been reading around about how red can be a neutral, here are a few interesting articles
How to wear red shoes
Pictures of red shoes looking stunning
Dos and don'ts of wearing red shoes
-- Edited on 4/25/13 4:49 PM --

------
Clare

Machines: Juki F600, Juki 654 serger, Bernina 550 for art work, Janome Coverpro 1000cp barely used
A Singer Featherweight Centennial and an old Necci in the loft waiting for TLC

http://art-by-clare.blogspot.co.uk/

VivianZ


Member since 12/8/04
Posts: 675
Skill: Intermediate
Body Type:


1 member likes this.




Date: 4/12/13 8:41 AM

This sounds like a fun contest. Last year I bought a fuchsia leather purse at TJ Maxx. The work was beautiful and the price too good to pass up. I then proceeded to make garments, so I would have something to wear with it.. So I totally understand this contest. Unfortunately May is a bad month for me......too many obligations, and not enough all together sewing time. I do have a gifted orange purse that is requiring something as well as a pair of red sandals. Darn!


------
height 5'2" bust 36, waist 31, hip 39.
I have way too many yards to count, and I will never use them up, but I will die trying!

Clareew


UNITED KINGDOM
Member since 5/10/06
Posts: 1264
Skill: Intermediate





2 members like this.



Date: 4/12/13 11:13 AM

TK Maxx is such a temptation isn't it. In my local one they always have the bags just inside the door - they call out to me as I walk past. I bought a wonderful bright green leather bag there, which is coveted by my friends - I have to frisk them on the way out.

------
Clare

Machines: Juki F600, Juki 654 serger, Bernina 550 for art work, Janome Coverpro 1000cp barely used
A Singer Featherweight Centennial and an old Necci in the loft waiting for TLC

http://art-by-clare.blogspot.co.uk/

Sigrid.


Netherlands
Member since 11/14/06
Posts: 694
Skill: Advanced
Body Type:




Date: 4/12/13 12:18 PM

Looks like a fun contest. Looking forward to the accessory. I understand we have to make an outfit around an accessory that is not our own?

------
http://sigridsewingprojects.blogspot.com/

nancy2001


Member since 12/3/05
Posts: 6441
Skill: Advanced



Date: 4/13/13 1:42 PM

So, the accessory we're to be inspired by isn't one we've made or one we've bought but one chosen by PR.
-- Edited on 4/13/13 1:56 PM --

------
No sewing project is ever a complete success nor a total failure.

Sigrid.


Netherlands
Member since 11/14/06
Posts: 694
Skill: Advanced
Body Type:






Date: 4/13/13 4:29 PM

Somehow I managed to get a double post.
-- Edited on 4/13/13 4:31 PM --

------
http://sigridsewingprojects.blogspot.com/

Sigrid.


Netherlands
Member since 11/14/06
Posts: 694
Skill: Advanced
Body Type:






1 member likes this.



Date: 4/13/13 4:29 PM

That is what I understand too. I think that is difficult, as why should I want to sew around an accessory I don't even own (or like, not knowing yet what it will be).
It won't be possible to take a photo with the accessory and the garment(s).
-- Edited on 4/13/13 4:30 PM --

------
http://sigridsewingprojects.blogspot.com/

arianamaniacs


Austria
Member since 6/11/04
Posts: 1623
Skill: Advanced
Body Type:






Date: 4/15/13 3:18 AM

Quote:
why should I want to sew around an accessory I don't even own...


I was thinking the same thing. Perhaps it will become clearer once the accessory is posted. Or maybe the accessory is the PR tote - Anything would go with that! :)

------
Please excuse any typos, ipad keyboards are hard for me.

Aroura


Oregon USA
Member since 7/30/09
Posts: 1505
Skill: Intermediate



Date: 4/15/13 12:22 PM

I think this is a wait and see what the whole deal is kind of thing. We'll find out in only 2 days!

I agree a PR tote would be fun, then it could be the prize as well. Other than that, I also agree sewing around an accessory that is not mine and maybe that I do not even like is kind of odd. But as I said, we'll see in 2 days!


------
Sewing is more than my hobby, it is my art.
My new Blog: http://itssewcreative.blogspot.com/
Printable Version
* Advertising and soliciting is strictly prohibited on PatternReview.com. If you find a post which is not in agreement with our Terms and Conditions, please click on the Report Post button to report it.
Online Class
Sewing with Slippery & Drapey Fabrics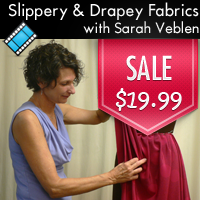 Online Class
The Contemporary Couture Jacket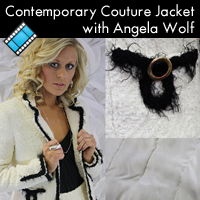 Butterick 5182

by: Kendrasews...
Review
8 1/2 inch Dressmaking Shears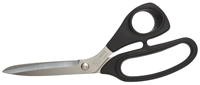 Pattern Details
Sewn Square One Triple Play Top Pattern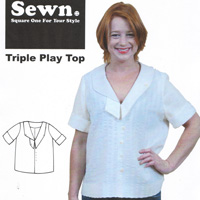 Pattern Details
StyleArc Barb's Stretch Pant

by: clothingen...
Review