bessiemae

Member since 4/15/06
Posts: 275
Skill: Intermediate

20 members like this.




Date: 4/14/13 4:55 PM

Dear Joann Fabrics,

Though our relationship spans more than thirty years, from humble beginnings in the strip mall to indoor shopping mall and now the jumbo free standing head quarters store. We've weathered a lot, together, you and I.

However, no longer can I tolerate the bad behavior and deceptions. Twice, this week, items clearly on sale were not rung up as such. This afternoon, during the mad Daffodil Dash, my items were not credited coupons as appropriate. I've chosen to ignore your decline in fabric quality...the missing Kwik Sew patterns...the unknowledgable and poorly trained staff. I can no longer turn a blind eye to your deceptive pricing and inaccurate signage. An occasional lapse may be an accident. Twice in one week is a pattern. And not a Kwik Sew. My concern is that if this pattern of behavior is occurring at the corporate head quarter store, it is , in fact, a corporate sanctioned policy.

With a heavy heart and lighter wallet, I am leaving you. I will be purchasing my fabrics, patterns, and notions predominately on line from other vendors, as you have squashed all local competition, except a few quilt shops. There are better options.

Respectfully,

Bessiemae~

------
Bernina B380; Bernina 800DL Brother Nouvelle 1500; Janome 1000CPX

GwenH

Member since 8/26/09
Posts: 979
Skill: Advanced Beginner

2 members like this.




Date: 4/14/13 5:07 PM

Sorry you have such a dud Joanne's near you. If they aren't performing you are doing the right thing to take your business elsewhere.

I have to say my experience is much better. Just a couple of days ago I was able to buy the latest McCall's patterns during their $1 McCall's sale.

I've rarely had something not ring up correctly and when that happened, the sales person worked to solve the problem.

I'll agree not all the sales people know their stuff, but my local store has clerks who do try to help and are nice.

EDIT: reading the original post along with the subsequent posts, it's clear not all Joanne's are run the same.
-- Edited on 4/14/13 11:07 PM --

gramma b


USA
Member since 7/25/08
Posts: 4094

3 members like this.




Date: 4/14/13 5:27 PM

If he treats you badly, it's time to say Get Lost, Loser.
And inform his future girlfriends to be wary.....

Ad far as writing to Corporate, it seems they come down on local mgrs. if you complain (which makes them more surly), but not on themselves as far as stupid policies, merchandise selection, coupons, non-sewing help, etc. I suspect the coupon mess is local mgrs. being able to report more profits by not accepting all?

The last time I ever argued was when Remnants were advertised additional 50% off and Mgr. insisted that was same as them being marked half-off original. And clerks taught to streeeetch that fabric when cutting. Not worth my stress. Meanwhile I have seen my Hancock ladies cutting less than 1/8" if a customer just needs a little trim or to finish quilt binding.

-- Edited on 4/15/13 11:00 AM --

bessiemae

Member since 4/15/06
Posts: 275
Skill: Intermediate



In reply to GwenH

2 members like this.



Date: 4/14/13 6:14 PM

Ohh...how I wish for those days! So glad, really, that your stores are pleasant and well staffed. Perhaps it is a regional difference?

When I have politely tried to dispute the incorrectly rung up prices, there is no discussion or assistance. Today, there were six clerks at registers, and price disputes at four of those. The ones I could follow ( eavesdrop

), the story is the same, " Take it or leave it" to elderly customers after standing 20 minutes at the cutting counter and another 10 minutes in line, at least.

Not cool.

I'm not advocating that retail should " give" preferential pricing to certain age groups, but please honor coupons as printed. Buying fabric should not be harder than buying a car, nor require a JD to parse the legalese.

------
Bernina B380; Bernina 800DL Brother Nouvelle 1500; Janome 1000CPX

JTink


Member since 4/20/08
Posts: 6777
Skill: Intermediate
Body Type:




In reply to bessiemae

Date: 4/14/13 6:16 PM

Bessiemae, I hope you sent a copy of that to Joann Corporate. They need to hear everything you had to say. There seems to be a lot of dissatisfied folks, where Joann's is concerned. It's sad. I have a great manager in my Joann's, nice employees, but corporate is making life tough for all involved.

Karla Kizer


Member since 4/8/02
Posts: 8380
Skill: Advanced

4 members like this.




Subject: Dear John....er Joann Date: 4/14/13 6:26 PM

I live in the Dead Zone - 30 minutes in any of 4 directions to 4 different Joann's. But wouldn't you know it...the easiest one to get to is the worst of the pack - the least apparel fabric, the spottiest notions stock and the longest lines. My daughter was amazed to learn that up until about the time she was born, Joann's was a very nice fabric store, usually located in a mall, and stocked with fabrics that were top-notch. I have lived too long...

------
"Never try to teach a pig to sing; it wastes your time and it annoys the pig." -Robert Heinlein and Ann's father. Thanks for the reminder, Ann.

Where are we going, and what am I doing in this handbasket?

Matthew 25:40 (New International Version)
The King will reply, 'I tell you the truth, whatever you did for one of the least of these brothers of mine, you did for me.'





GwenH

Member since 8/26/09
Posts: 979
Skill: Advanced Beginner



In reply to bessiemae

3 members like this.



Date: 4/14/13 7:15 PM

I'm with JTink - you should think about writing corporate. Your Joanne's sounds horribly run.

Karla, your daughter might also be amazed to know that department stores used to have fabric departments! I distinctly remember Broadway having a fabric department when I was a kid!
-- Edited on 4/14/13 7:21 PM --

threaddy


Wyoming USA
Member since 4/22/09
Posts: 2945
Skill: Advanced

3 members like this.




Date: 4/14/13 9:33 PM

I thought it was just me!!! I constantly have sale items rung up full price...have to check my receipt and then go back ...and they have to re-ring my whole sale...last time it took an extra HOUR because the sales girl kept making mistakes. My problem is I live in the back water and have no choice...captive audience/ sorta like being married...no chance to "slip out the back Jack, make a new plan Stan, you don't need to be coy Roy,just get yourself free, hop on the bus Gus, you don't need to discuss much, just drop off the key Lee and get yourself FREE!"

But then where would I be if there weren't the half price notions sales?

Maybe the problem is we have computerized robots that look like human sales people but really are brain dead avatars.

------
"The problem is not that there are problems. The problem is expecting otherwise and thinking that having problems is a problem." Theodore Rubin
"Life isn't about finding yourself. Life's about creating yourself." George Bernard Shaw
Dan 9:24-27

Bernina vintage and computerized, Bernina and BL sergers , BLcoverstitch (a stray Pfaff and Viking followed me home too)

Amy-may


PR Weekend '16 Volunteer
Member since 6/7/05
Posts: 1298
Skill: Intermediate
Body Type:


1 member likes this.




Subject: Dear John....er Joann Date: 4/14/13 10:26 PM

I've made them fix prices so many times, I bet they hate to see me coming. For a while, I would make them fix 34 cents just to make a point. (After the fact at the return desk.) Here lately, I haven't had as much trouble with having things not ring up at the sale price.

DH said I should just quit shopping there if they made me mad.....I do shop there less - but I don't think DH was that concerned about my happiness! He was watching out for our savings account!

Rhey

Member since 6/26/11
Posts: 60
Skill: Intermediate

2 members like this.




Date: 4/14/13 10:29 PM

I, too, am getting fed up with my local Joanns. As recently as a few weeks ago, I could walk in, go right up to the needle rack, select them all by myself, pay, and leave. Today I entered with my 50% notions coupon expecting to stock up on needles only to find them behind shoplifting locks. You honestly expect me to find a free salesperson to come over and unlock each of those locks for me? During your "biggest sale of the season"? If you choose to treat every customer like a potential criminal, I will simply take my money elsewhere. I stopped shopping at one Joann because they took away the needle packs and replaced them with printed pictures of the needles. Yes, because the untrained, underpayed, overworked, but very nice people you employ are going to reliably bring me over the needles in the size and point I want from wherever you have stashed them and the people waiting in line behind me will be ever so thrilled as I send this person back yet again to get the needles I actually wanted.
At least I can still paw through your massively unorganized pattern drawers all by myself, the only reason I still go to a Joann is for the pattern and thread sales. I can't wait until someone working there realizes how easy it would be to steal thread and they lock that up behind glass, at least it would keep the dust off. The real question is what will come first: mandatory purse check at the door or putting the zippers and bias tape behind lock and key?
Printable Version
* Advertising and soliciting is strictly prohibited on PatternReview.com. If you find a post which is not in agreement with our Terms and Conditions, please click on the Report Post button to report it.
Online Class
Break your Serger Out of the Box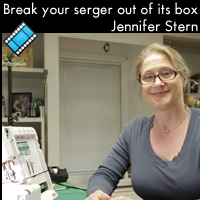 Online Class
Sewing Basics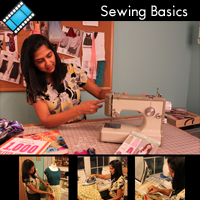 Ottobre Design Magazine 06-2012-30

by: sunnysewin...
Review
Kwik Sew 0188

by: AZKITTY
Review
Islander Sewing Systems Apron Chic Express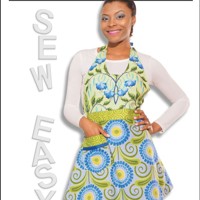 Pattern Details
Fit For Art Sporty Details Expansion Pattern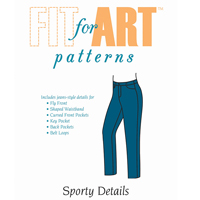 Pattern Details