ahrizel


Member since 4/22/12
Posts: 300
Skill: Beginner



Date: 4/20/13 11:52 PM

We are in the process of moving. After packing up my,ahem 6 or so(okay maybe 8) large rubbermaids of fabric, the hubby is not happy. He is insisting on a fabric fast. I most certainly do have a lot of fabric, no arguments. And he is amenable to certain things. For instance I got a gift certificate to Fashion Fabrics club, no problem with using that. It may add to my stash, but it is free. And I specific plans for that order. And I'm going to start a little Etsy shop, so supplies I need for it that I don't already have are acceptable. But other then that I think I'm stuck. Now he is an enabler, so I may get lucky. But a run to Fabric Mart the next time they have a store sale-I doubt it. Worse yet, he packed most of the fabric. So I'm going to spend hours in the cellar sorting out the fabric so I can find it. He just put stuff randomly in a tote! Large totes, lots of them. It gives me twitches just thinking about it. I also think he threw out most of my scraps, makes me cry thinking about it. I know I'm complaining alot about this. And I'm lucky to have a nice fabric stash and a husband who will probably relent in the future. But right now my sewing has gone topsy turvy and I'm a little freaked about it. One of those days
Mary

Geejay

Australia
Member since 1/7/13
Posts: 483
Skill: Intermediate





2 members like this.



Date: 4/21/13 1:26 AM

Dont be to hard on hubby,he's probably just noticed for the first time how much stuff you have and sees it as excess.Go through your fabric when your unpacking and seriously look at what you have and what is usable. If you don't love it,sell it or donate it. Start planning your wardrobe if your a garment sewer,or craft projects if that's your thing.

It's not a crime to have a bit of a stash( I have one myself). But I get more enjoyment from only having the fabric I have projects for. I recently had a huge clean out dozens of books,mags,patterns along with boxes of fabric that I wasn't feeling the love for. I still have a way to go until empty,but now I'm looking forward to sewing my way to the bottom of the pile.. Now I only buy what I need when I need it. Not because
There's a sale. If I don't LOVE it at full price I still won't love it at half price.

------
If in doubt,throw it out!

Geejay

Australia
Member since 1/7/13
Posts: 483
Skill: Intermediate





Date: 4/21/13 1:26 AM

Dont be to hard on hubby,he's probably just noticed for the first time how much stuff you have and sees it as excess.Go through your fabric when your unpacking and seriously look at what you have and what is usable. If you don't love it,sell it or donate it. Start planning your wardrobe if your a garment sewer,or craft projects if that's your thing.

It's not a crime to have a bit of a stash( I have one myself). But I get more enjoyment from only having the fabric I have projects for. I recently had a huge clean out dozens of books,mags,patterns along with boxes of fabric that I wasn't feeling the love for. I still have a way to go until empty,but now I'm looking forward to sewing my way to the bottom of the pile.. Now I only buy what I need when I need it. Not because
There's a sale. If I don't LOVE it at full price I still won't love it at half price.

------
If in doubt,throw it out!

lyndle


Member since 3/19/06
Posts: 379
Skill: Advanced Beginner
Body Type:


4 members like this.




Date: 4/21/13 5:54 AM

it's awful having your stash messed with! I think that's upsetting you more than the fabric fast - is that right? I feel your pain. I don't have any thing helpful to say, except (this might be helpful but more likely just annoying!) when you're sorting it might be a chance to catalog it, with swatches on cards, or photos on your phone, or whatever, so you know what's where and so your hubby can see there is an intended use for everything.
When he deserves it again, can you make him something easy and sweeten him up? Then you need to tell him you'll sort your stuff if you need to but that having him throw your stuff out upsets your balance in the world!
Anyway - Just wanted to say I understand and sympathise!

MrsCharisma


Member of the Year
Member since 2/1/13
Posts: 3972
Skill: Intermediate
Body Type:


3 members like this.




Subject: Help, Ive been put on a forced fabric fast! Date: 4/21/13 8:08 AM

I got a good laugh! This sounds like my husband. Except he'd be too frightened to throw anything away! Trust me, he'll give in! :)

Good luck on the move. We're moving this summer too. Blah. Except I might get a craft room! Yay!

------
Nakisha
www.sewcraftychemist.blogspot.com
Singer Talent 3321 | Kenmore 1503 | Brother 1034D

My Big 4 Sizing: Medium | Tops 14/16 | Pants 18 | Skirts 16/18.

My Measurements: 36 HB | 39.5 FB | 34 W | 44 Hip



Miss Fairchild


USA
Member since 8/24/02
Posts: 7936
Skill: Advanced





3 members like this.



Date: 4/21/13 8:21 AM

I had a good friend who used to give stress management seminars. He said there are three things in life that will put your stress level in the highest of places--Divorce, death and moving. And that's what you and hubby are going through. I can suggest that you look at this as a time of renewal and you will probably forget about the scraps you lost and will be much happier with a new set.

Also, like the previous poster, this will be a good time to catalog your fabric and replace it into organized totes, if you are physically able to do so. Men don't think--they just "do". And I'm convinced that for every 1000 miles of a move, the stress level raises 100%. Try moving across the country, coast to coast, and you'd be lucky if you even got to your destination--together.

Hang in there. This will pass.


------
"Play the cards you are dealt, but choose who is sitting at the table"..AARP magazine

SEE MY ETSY SHOP HERE: http://www.etsy.com/shop/AuntMaymesAttic
My blog: http://auntmaymesattic.wordpress.com/

JTink


Member since 4/20/08
Posts: 6492
Skill: Intermediate
Body Type:






10 members like this.



Date: 4/21/13 8:29 AM

OK, number one: never and I mean Never, allow your husband to go near or touch your stash! It's sacred to those of us who have them.

Number two: Your fabric stash keeps you happy. When you are happy he is happy.

Number three: As prices rise on material, you have the wardrobe of tomorrow already at hand

tgm and Kittys


Wisconsin USA
Member since 3/8/10
Posts: 8272
Skill: Advanced Beginner
Body Type:






3 members like this.



Date: 4/21/13 9:09 AM

Yup been there gone through that last winter. The yarn & fabrics I had to give up .... now I am still looking for something & realize oh yeah that was donated or pitched.... Fortunately the sm were safe! Also anything that I said oh I was going to make such & such for you with that ..... Or boy that was an expensive fabric..safe... .... You will get through this ....
Now he sees things but says little when I bring up how much was lost in the big move!

------
The Girls... Baby & Mittee girl >^,,^
It's all about The Baby , about the Baby, about The Babe ....Big Smile! (sung off key ..la la la )

Here comes the big 60! OH MY!

The sewing workers:
Hello Kitty Kate (green), Hello Kitty Valerie, Dottie Kenmore, Bubba Kenmore the traveler,has case does travel.

Christ Is Risen from the dead, trampling down death by death & to those in the tombs bestowing life ..+



Elona


Member since 8/24/02
Posts: 8870
Skill: Advanced
Body Type:






8 members like this.



Date: 4/21/13 11:41 AM

My dh has several stashes: skin diving equipment, fishing and camping gear, power tools, and a large--and I mean large hat collection. Most of these things were expensive to buy and are seldom used. They take up enough space in the garage that sometimes it is hard to get around.

dh is now and then bemused by the size of my pattern and fabric collection, but he would never think of ordering me to stop buying these things, any more than I would think of trying to tell him not to buy more toys.

As long as the purchases of either partner do not endanger the family's finances or pose an actual fire hazard (and pathological hoarding is something that we should be aware of), I think it is presumptuous for one partner to try to "impose a moratorium" on the other's collection.

ahrizel


Member since 4/22/12
Posts: 300
Skill: Beginner

1 member likes this.




Date: 4/21/13 11:41 AM

Thanks for the sympathy ladies. Having it all a mixed up is making me nuts the most. Once we're moved I will take some serious hours to swatch and organize the bins. I don't mind having it stored in the containers in the cellar-cellar is old but dry and safe. But having it randomly put in containers with no regard to what it is-that is making me nuts. He didn't throw out any decent cuts of fabric, nor any notions. I really do want to make a swatch book anyway, since I seldom remember to bring a swatch with me when I go to the store to match thread or other fabrics. It's just the fact that I have to essentially pull all the fabric out of all the bins to organize it. The good thing will be is the fabric will be in order and I will have a swatch book from my efforts. I would do the packing my self but the hubby has already done most of it. And since we need to be out by the end of April, time is of the essence. I've been cleaning the new apartment with my Mom. At least we have access to a large dry basement for storage, and I really don't mind storing excess fabric down there. My sewing will be in the spare bedroom, with fabric for the current projects in there, with notions and thread stored in there also. The stress of moving is really jacking up my stress and reaction to all of this in a big way.And I know the husband will probably relent, at least somewhat in the next few months. He will at least be okay if I'm buying fabric for a specific project. For example I need to get fabric for a new ren faire outfit this summer-we always go to the ren faire so that will be okay. And once we are settled in we will both relax. I hope. I'll have to make some things for the new place and for him. I have some nice Penn State fabric, enough out it for lounge pants and shorts. Think that needs to be once of my first projects
Printable Version
* Advertising and soliciting is strictly prohibited on PatternReview.com. If you find a post which is not in agreement with our Terms and Conditions, please click on the Report Post button to report it.
Online Class
The Contemporary Couture Jacket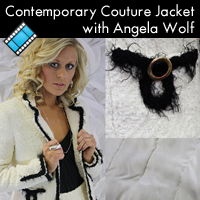 Online Class
Altering Jackets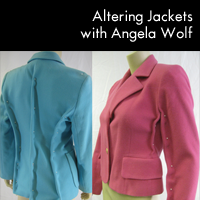 No Pattern Used Dress Reconstruction

by: julliams
Review
You Sew Girl Mod Bag Pattern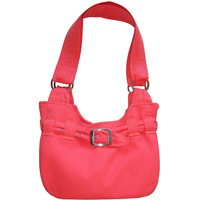 Pattern Details
Claire Handbag Paper Pattern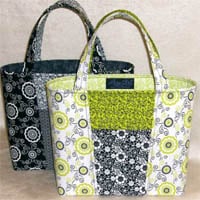 Pattern Details
Other GNBBS: Shirtwaist Dress

by: froggiegir...
Review