Lisa30

Member since 12/21/12
Posts: 26
Skill: Advanced Beginner
Body Type:




Date: 4/21/13 2:15 AM

How does one build a stash? In my rebirth as a sewist, I've only bought fabric for specific projects - that may be because my sense of what's possible isn't yet developed enough, but when I see fabric I like, I can't buy it without an idea of what I'm making because I feel I've no clue about how much to buy!

It kills not to buy a beautiful fabric when it's a good price - so how much do you buy if you don't have a particular project in mind?

------
Lisa from Brisbane, Australia

lelliebunny


Member since 12/24/12
Posts: 1143
Skill: Intermediate





Date: 4/21/13 3:11 AM

What kind of projects are you doing? Quilting? Bags? Garments?

------
it doesn't matter what type of sewing you do. you are sewing, and sewing is good.

Geejay

Australia
Member since 1/7/13
Posts: 483
Skill: Intermediate





1 member likes this.



Date: 4/21/13 4:37 AM

If your doing fine buying and sewing one project at a time then keep it up.
If your a quilter you may need to build a stash as apparently every year they concentrate on different colours so I've been told by friends who quilt.

If your a garment sewer,have a bit of a wardrobe plan and check your patterns so that if you do see a fabric that 1..you love. 2.. It's the right
Type of fabric for that pattern. 3.. It will fit in with your plan. Then go for it.

I've made too many impulse buys of fabric that I thought I loved only to find it later to be a "what was I thinking when I bought this".. It turned out to be money wasted. I only want to sew what I love and need and not something I have to think of something to suit the fabric. But that's just me. Everybody has a different way and thought pattern as it should be.

Good luck with working out what suits you

------
If in doubt,throw it out!

lyndle


Member since 3/19/06
Posts: 432
Skill: Advanced Beginner
Body Type:


2 members like this.




Date: 4/21/13 5:45 AM

Hi lisa
For sewing garments, there are a few ways to work out how much fabric you might need. You can look in a pattern catalogue, if the store has them, find the sort of thing you might make with the fabric, and see how much fabric is recommended. It's a good way also to check out whether the fabric you're fondling is suitable for that type of garment. If you're at a shop with knowledgeable staff, ask them. Would this work for trousers/ a blouse/ a dress? How much do you think I'd need? Would i need to line it? Would it be tricky to sew?
And thirdly, you will get to know how much it takes to make your favourite types of garments. Twice the length is a good guide; with wide fabrics (1.5 m) one length might be enough for a simple straight skirt or sleeveless top or dress. Remember to add 5 to 10% for shrinkage with cotton and viscose.
You might want to start keeping a record of what you've made and how much fabric it actually took (i'm short so always need less than patterns say).
Warning - It's nice to have a small stash but the thing can grow alarmingly if you ave lots of fabric shopping opportunity!

-- Edited on 4/21/13 5:46 AM --

Lisa30

Member since 12/21/12
Posts: 26
Skill: Advanced Beginner
Body Type:




Date: 4/21/13 6:35 AM

It's for sewing garments, and all those tips are very helpful, thanks so much. I do generally have an idea of the type of thing I like sewing at one time or another, whether it's dresses, tops or skirts. I'll keep a note what I need to think about on my phone so I've always got it with me if I happen upon some great fabric!

------
Lisa from Brisbane, Australia

MrsCharisma


Member of the Year
Member since 2/1/13
Posts: 4067
Skill: Intermediate
Body Type:






Date: 4/21/13 7:36 AM

I have gotten caught up in buying fabric that looks too pretty to pass up without knowing what I'm going to make! :)

I usually go with 2 yards. With many patterns that's more than enough for tops or skirts (obviously the fuller or longer the item, that changes), and many dresses too. I've even eeked out pants from <2 yards of fabric! If I really, really love it and its well priced then I go for 3-4 yards.

------
www.sewcraftychemist.blogspot.com
Singer Talent 3321 | Kenmore 1503 | Brother 1034D

My Big 4 Sizing: Medium | Tops 14/16 | Pants 18 | Skirts 16/18.

My Measurements: 36 HB | 39.5 FB | 34 W | 44 Hip



SecondHandRogue


Rhode Island USA
Member since 12/28/05
Posts: 660
Skill: Advanced Beginner

1 member likes this.




Date: 4/21/13 8:05 AM

This is an interesting question. I'm relatively new to apparel sewing, and while I want to have a bit of a stash, I'm trying to keep if fairly minimal. My protocol is this: I buy only fabrics that I love, only high quality if they aren't meant for muslining, and 80% of the time, I buy them on sale.

Since I'm not a brilliant seamstress, using nice fabric goes a long way. I made three Mission Maxi dresses last summer; the two made with cheap rayon knit look shoddy and I will only wear them to sleep, while the one made with a French milled knit looks RTW, even with my limited skill set. So even though I'm relentlessly frugal, I will only stash fabrics that I know will end up on my body and not in the goodwill pile. It's not a bargain if it ends up a wadder.

So I only stash when there is some sort of big sale on, 25-50% off. I like to buy in bulk to save on shipping and to make sure I choose a variety of fabric types; when I buy one piece at a time, I end up with nothing but novelty cotton voile and lawn, which doesn't work for every project.

My stash is limited to 4 piles of fashion fabric. This doesn't count a few pieces of denim and corduroy, some thrift store cheapies, or my linings, which hide in a chest. One stack each of small cut knits, large cut knits, small cut wovens, large cut wovens. If I can't fit it on the shelf, I can't buy more.

When I'm buying just to stash I'm super conservative. I buy 1.5 cuts of most knits, which will make a tee or a skirt easily, and 1.5-2 yards of a woven, which will make most shirts and dresses. 3 yards only in a special case, and usually if I have a pattern in mind.

Is that at all useful? I think I'm even boring myself here....


ETA: I don't think I'm using the word "stash" correctly here. Does "to stash" really mean "to collect for the sake of having a collection"? My intention when buying a pile of fabric is to sew up 80% of it within 6-9 months, and if there are some pretty bits leftover, that's ok. So there is a bit of build up, but I'm not in the business of great accumulation.
-- Edited on 4/23/13 11:56 AM --

Miss Fairchild


USA
Member since 8/24/02
Posts: 7936
Skill: Advanced





1 member likes this.



Date: 4/21/13 8:07 AM

When I saw this post, I thought of posting something funny, but then realized back in the day, (of no stash) I had this same question!

Stash sort of seems to stick to you. Like that proverbial sock on the back of your blouse when you pull it out of the dryer and put it on, you will slowly build your stash up either by looking at fabrics or through good friends (of which I've found here on PR), until one day you have to stop buying fabric. Until that day arrives, here's what I suggest, because it's what I do.

Find a pattern for a simple top you know you will like and will go with things in your wardrobe. Find a pattern for a simple pair of slacks, skirt, and jacket as well. Then, on a 3x5 card, write down the garments and their yardage. Write the yardage for the different fabric widths. Slip this card into your handbag (checkbook, calendar, or phone cover) to keep when you go fabric shopping. Then when you see something you really like while shopping, you have it with you. Also, make a card to set next to your computer (to shop online) and one to keep in your sewing room (for additional reference). Threads magazine, a long while back, put out a card you can slip into your wallet with respective yardages for items, much like what I suggest.

Then you will need to organize your stash. Under the Tips section, Deepika has devised a sheet to slip into a notebook. This sheet has a place for a fabric swatch, where you purchased the fabric, yardage, content, etc. (I use 3x5 cards in a small photo album because I can pull the cards out when I go shopping for zippers and thread)

I cut a little piece of fabric from each of my stash pieces and staple it to the outside of the pattern envelope, as an idea of what to make. Then I pin a note to the yardage to remind me.

But there are many other ideas here on PR as to how to manage your stash.

Happy shopping!

------
"Play the cards you are dealt, but choose who is sitting at the table"..AARP magazine

SEE MY ETSY SHOP HERE: http://www.etsy.com/shop/AuntMaymesAttic
My blog: http://auntmaymesattic.wordpress.com/

wendyrb

California USA
Member since 12/30/11
Posts: 3728
Skill: Advanced
Body Type:






2 members like this.



Date: 4/21/13 11:22 AM

I'm with Miss Fairchild, I had to exercise control not to be humorous on this conundrum. See also the Stash Sewalong Thread that is nearing 1,700 posts!

I have the Gwyn Hug reference cards that I keep in my purse. She calls them The Original "How Much Fabric?" Reference Cards. I have the one for women. I did a quick google and didn't get her website. She's on facebook, but this blog post will show you what the cards look like.
Blog about Gwyn Hug yardage cards

With or without a stash, it makes good sense to only buy what is useful- either for sampling fit, styling, color, fabric type, technique and so on. Try to avoid impulse buying because it's on sale. I used to buy just shy of what a pattern said and took pride in using less yardage than called for. However, it took me a long time to cut and I had a few hair-raising near misses. Actually none to date. I've now got more modern machines with more potential to do things differently- various serger methods and finishes, an array of deco stitches and also embroidery. So I want to go on the fat side of what I need, rather than lean. It too me about 4 decades of sewing to get to this point! And I love my stash, so I'm in favor of having one. Plus, I urge you to buy with the commitment to periodically take an honest look at your fabric library. It's better to give away to a school or worthy organization than to have fabric lay fallow a long time.

**** I strongly suggest you take your new fabric and experiment right away with how you want to clean your garment. Do wash trials for shrinkage and potential changes to your fabric- color, hand, surface condition- did it pill, felt and you like or don't like the result. If washing is a no go, heavily steam it to watch the behavior and determine if dry cleaning is the way to go.

I recently tallied up and gave away 40 yards. I still have 200, but I know and love what's here. I've made a very simple swatch set. There is a loose-leaf page for each kind of fabric- solid jersey, print jersey, double knits, for wovens- top and bottom weight, wool and silk and so on. It helps me to keep them in categories rather than individual cards. I like seeing what colors I have in a type of fabric so I don't duplicate- again! It's easy to see what's not there too and to pull things together for coordination. I only note the yardage.

I've got about 6 pages, so very light and portable. I have my swatch set when I shop- mostly in our great local San Francisco stores, but some online and when I travel. I just made a stash skirt and am so very happy. On to the next one!

I'm sure you'll have loads of fun!

------
Always keep your words soft and sweet, just in case you have to eat them. Andy Rooney

Pfonzie- my honey Pfaff Creative Performance and Pfaff Passport, Bernina 930 and 830, Evolution and Enlighten sergers

Sewliz


Colorado USA
Member since 6/22/04
Posts: 4460

1 member likes this.




Date: 4/21/13 1:40 PM

When I find a good basic fabric in a favorite color I tend to buy three yards at 50 to 60 inches wide. That will give me four short sleeved simple tops or two pairs of pants. I would probably buy 1 1/2 yard cuts more often but so many online places sell in whole yard increments and 2 yards always leaves me with a large remnant that is too small for a garment. I wear a size small to medium in RTW and of course the size one is sewing will make a difference in how much fabric one needs.

Linings and notions are stash too and are very nice to have on hand. Interfacing is something I never think to buy with fabric so it is essential for me to have a stash of that in various weights. Anything you use a lot of is good to buy in bulk. I buy my most used elastic in 25 yard rolls, for example. It eliminates the frustration of running out of something in the middle of a project.

------
Liz

thefittinglife.blogspot.com
Printable Version
* Advertising and soliciting is strictly prohibited on PatternReview.com. If you find a post which is not in agreement with our Terms and Conditions, please click on the Report Post button to report it.
Online Class
Expert Sewing Techniques for Jackets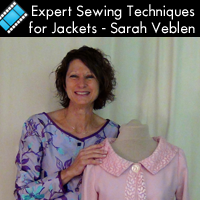 Online Class
Altering Pants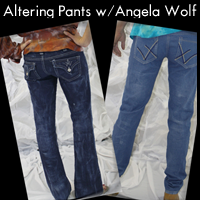 Self Drafted Pattern 321359-1001

by: Dellia45
Review
Christine Haynes Emery

by: rosiewedne...
Review
Sewing Workshop Oasis Skirt Pattern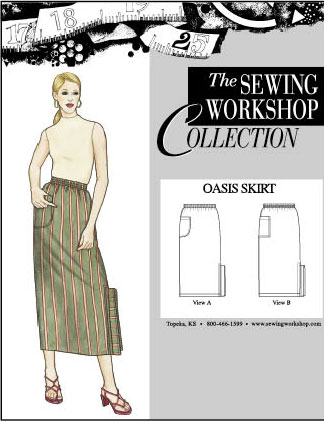 Pattern Details
You Sew Girl 90mm Barrel Purse Pattern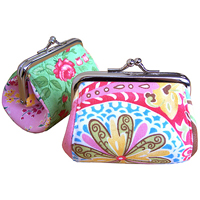 Pattern Details