sews4kids

Member since 5/5/13
Posts: 21



Date: 5/12/13 10:09 AM

I gave up my high stress job with the birth of my second child, and a trip to a fabric store inspired me to take up sewing as an outlet for my creativity (last time this happened I taught myself to knit, which has brought me a ton of joy). I borrowed my MIL's awful Costco special Brother XR1300, and despite all of the issues I have had with it I have found that I really love to sew. My husband wants to get me my own machine for Mother's Day/my birthday. Because we are not good at planning ahead, we finally went to 2 dealers yesterday to check out machines. I told them that I wanted to pay $500-1000 but would be willing to go higher for the right machine. I have only sewed clothing and a bag so far, but I have a feeling I'll end up trying other types of projects before losing interest. Their advice was as follows:

a) HV Opal - the first store was really pushing this machine ($699 or $899 model), but for some reason I found it clunky and ugly.
b) Babylock Elizabeth - eh...not for me
I liked that the person respected my price range and seemed quite knowledgable.

I went to another store which really did NOT listen to me. First they were pushing hard on embroidery software, which I expressly said I was not interested in. Then they only talked about much more expensive machines. They were having a closeout on the Pfaff 4.0. I was seriously considering it until a quick google search turned out lots of negative reviews. I also thought the stitch quality wasn't great, but I don't know if that was just me. The store wouldn't even talk about the other (less expensive) machines it sold.

Then there's the Bernina 530/550QE. So much more than I wanted to spend. But SUCH a nice machine. I love how sleek and smooth it is. It was a joy to sew on. I like how the closest quilting store to me sells it (although they are not particularly competitive on pricing), whereas these other stores are about an hour and a half subway/bus ride away.

I have have only been sewing for a month, and it seems like quite a spurge to spend $2400 (530) or $3500 (550) for a new hobby. Should I consider something lesser? I want something that I can grow/experiment with, and I don't want to feel like a year from now (if I am still sewing) like I sold myself short.

Thank you for your advice.

Doctor Sister


Minnesota USA
Member since 11/5/06
Posts: 509
Skill: Advanced Beginner
Body Type:


3 members like this.




Date: 5/12/13 10:20 AM

I don't know how annoying the problems with your current machine are, so keep that in mind. Also I don't know you family's financial situation and whether spending $1000 on a machine would mean giving up medical care or giving up an evening out. Both of those things really make a difference.
Any machine is annoying until you are used to working with it. But if it is a machine that, after you know how it works and know how to sew, just has a tone of problems, that will make you hate sewing and should be replaced. However, I don't think you need to replace it with a really expensive machine. I'd not buy anything until you read reviews and investigate it. Also I'd not recommend buying more machine than you need and will use.
They sewed couture garments on basic mechanical sewing machines for decades.
Maybe look for a used machine if money is tight. (from one of those people who thought they'd like sewing but found out they didn't!) I've seen some good deals on older machines on Craig's list lately. But a friend of mine just bought a really expensive machine because she thought she might like sewing. I'm not sure if she's used it. But she had fun buying it.
It really depends on your own personal situation.
Sis


SouthernStitch


USA
Member since 8/24/02
Posts: 12042
Skill: Intermediate
Body Type:


3 members like this.




Date: 5/12/13 10:25 AM

Oh my, you are going to get a multitude of answers - everything from don't buy a Bernina, there are other great machines out there for half the price, to buy a Bernina it's the best.

I own three Berninas, and do own the 530. I wouldn't recommend a 3 series unless it's just going to be a travel machine. It's more in your price range, but doesn't have presser foot pressure adjust, which IMO is important for garment sewing.

I LOVE my 530 - to me it's just perfect. Others prefer the Pfaffs with the IDT. (Dual feed). Pfaff is coming out with the Performance 5, which will retail for about the same as the Bernina 530. What I like about my Berninas are the feet, the power, and the smoothness. The feet are expensive, but so are Pfaff and Viking feet.

However, most of the Pfaffs have a larger bed, which is a big draw to quilters.

Brother is a good brand that may offer you more bells and whistles for your buck. Me? I don't like the feet or the left needle default of most of the machines. But, both they and Juki are reasonably priced. The Juki F600 has been a popular machine here, as well as some Janomes.

I think you should buy a machine that you LOVED sewing on when testing. A machine that you can also grow into. It's good to see you knew which machines you liked and which you didn't after just a month of sewing.

That said, all of the brands offer good machines. It's just to find one in your price range that makes you smile, that again, you can grow into.

Happy Mothers Day and good luck! Let us know what you decide on.

------
Bernina 780, and 530
Babylock Evolution
Singer 403a

When life gives you green velvet curtains, make a green velvet dress.

sews4kids

Member since 5/5/13
Posts: 21



In reply to Doctor Sister

Date: 5/12/13 10:42 AM

Buying a sewing machine isn't going to break the budget, so as long as I don't go crazy it is more about the principle of spending a lot of money on something I don't know if I am going to use long-term more than the actual cash outlay. My husband actually said to buy what was going to make me happy and didn't blink at all when I told him about the prices.

I don't know enough about sewing machines to feel comfortable buying a used one.

sews4kids

Member since 5/5/13
Posts: 21



In reply to SouthernStitch

Date: 5/12/13 10:44 AM

Are you able to quilt on your Bernina 530? I was thinking about trying a quilt as you go kind of project (maybe a bag). I don't think I'll ever be a big-time quilter.

poorpigling


Texas USA
Member since 12/28/07
Posts: 11074
Skill: Advanced



In reply to sews4kids

Date: 5/12/13 10:45 AM


Test them all.. as many different ones that you can.. Avoid dealers who make you uncomfortable in any way if possible.. as if you do buy a machine from them you will want to use their services again for maintenance.. maybe even take classes.
If you try enough models.. you will find one that you like and you will know its the one..

Bobbinnoli

Maryland USA
Member since 7/13/10
Posts: 175
Skill: Intermediate

1 member likes this.




Date: 5/12/13 10:51 AM

Here's another viewpoint. Since you have small children to sew for, why not check out a combo machine that can sew and embroider? I've seen some good, used machines that are less than the Bernina you've mentioned, that might suit you well. Check out the Brother machines, like the Innovis 2500D. Most of the time they will warranty the machine.

You might find that once you get more into sewing, you would like to add a little something to your children's clothes. And the Brother machines have Disney designs built into them.

Congratulations on quitting your job (I did the same 13 yrs. ago and have never had one regret) and on discovering this wonderful new hobby! Good Luck.

Stephanie


sews4kids

Member since 5/5/13
Posts: 21



In reply to Bobbinnoli

2 members like this.



Date: 5/12/13 10:55 AM

I have never tried embroidery. What kinds of things do you do with your machine?

I think my husband might start to object if my sewing machine costs more than my brother's car. :)

Learn To Sew


Member since 4/12/05
Posts: 14203
Skill: Advanced Beginner

5 members like this.




Date: 5/12/13 11:01 AM

Any machine that is "not you", ignore it and move on. You will hate the machine if you buy it. If you do not completely love it at the dealership, then look until you find one that you do love. We always tell people who ask to find one that Sings to you. It makes your heart happy. That is the machine you want. If it does not make your heart happy, keep looking.

I have a Bernina 630 and love it. I tested the 530 and it was my 2nd choice. I am a Bernina gal. I also have a Pfaff 2036 with IDT and like it, but it does not sing to me like my Bernina. The B630 is such a joy to sew with. We "create" together, and not just sew. I believe you know what I mean when I say that.

Dealers are either good or bad. Some are ignorant of their products. I have been to dealers like that and I walked out, as I knew more about the machines than they did. If they don't know more than I do Before the sale, they will be terrible to work with After the sale!

If you do not want to do embroidery, don't buy those machines. Mine can do it, but I did not buy the module. I don't want to spend that $1000 right now. I might never buy it. Who knows. It is not what I want to do right now. I want to sew some clothes and some quilts. I can do all I want with my Bernina.

What I like about the Bernina is the piercing power it has. It goes though seams easily. So far I have only sewn a few things with it other than quilts. I will test it out today on a thick jeans hem. I expect it will go though it with no problems. I just need a larger needle than my size 12's. On a thin demin, it was just fine with the size 12 needle. That will not work on the heavier demin, so a larger needle is needed to do the job.

When you find the machine that you love, the price could well suprise you. It could be less than expected or much more. You never know until you sew. Always take when testing a machine the heaviest fabrics you have to sew on. Never use the crap the dealers have to test on. That stuff is so starched any crappy machine will sew on them. Take a heavy demin and double it and sew a row. Then double that and sew, and then again. A Bernina should easily handle 6-8 layers of heavy demin. Some other brands will balk at 2 layers---or worse, get the shakes so bad from the stress of sewing them. Or break a needle. I have tried Viking, Janome, Babylock, and Pfaff. I did the tests again and again with them. Of all the models I tried, not one of them sang to me. I went back to Bernina and Loved it.

Pfaff also has a new model out. I think it is the Passport. Not sure about how it sews, but should be less expensive than Bernina. However, it sounds like you bonded with the 530. It is a wonderful machine and you would love it dearly. Remember, it is all about what sings to you.

------
Bernina 630, Bernina embroidery module, Pfaff 2036, Bernina 1200DA serger, Unique Sewing Cabinet 450L

retiredpagirl


Arizona USA
Member since 12/14/03
Posts: 99
Skill: Intermediate

7 members like this.




Subject: Ive been sewing for a month Date: 5/12/13 11:04 AM

I don't see where you tried a Janome. They are wonderful machines (as you can read on all the reviews and the Janome forum) and don't cost an arm and a leg like Bernina's.

I was in the market recently for a new machine and after going to a local Bernina dealer, who tried her darndest to sell me a 550 or a 710 (which wasn't in my price range and I can't honestly say I was too impressed with the 550 I tried!!...I was looking for a used one to try) I left and went to the Janome dealer. I tried the 6600 and LOVED it from the minute I sat down. So smooth and quiet and a beautiful stitch. I ordered one and have been so glad I bought this machine instead of a Bernina.

Another one you might want to consider is the Singer Quantum 9960 Stylist. Just last week Amazon had these on special for $249. I didn't need another machine since I had just bought the Janome but I'm so glad I did. What a great machine this Singer is for the money!! It's one of the best they've built according to reviews and I agree.

I had a Brother ULT2003D machine for 8 years and did a lot of embroidery with it. I'm sorry I sold it. Brother makes a good combo machine and you might want to think about getting one if you have small children.

Good luck. Machine shopping is almost like buying a car...it has to be the right price and it has to "fit" your needs.
Printable Version
* Advertising and soliciting is strictly prohibited on PatternReview.com. If you find a post which is not in agreement with our Terms and Conditions, please click on the Report Post button to report it.
Online Class
Fit the Tee to a T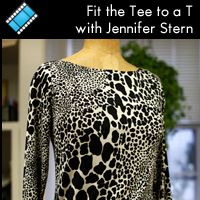 Online Class
Altering Jackets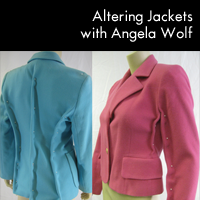 StyleArc Stephanie Woven Blouse

by: Polycotton
Review
McCall's 6745

by: sewtofit
Review
Jamie Christina Hooded Scarf Pattern (JC307HS)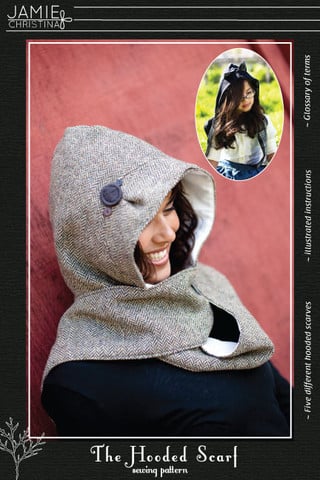 Pattern Details
Victoria Jones Collection Pattern 101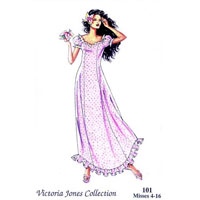 Pattern Details