Dawnabbey


Expert/Couture
Member since 12/18/10
Posts: 349

4 members like this.




Date: 5/30/13 12:23 PM

I posted this on the Purple Haze thread but when my buddy was asking about it I realized it was kinda buried on page four hundred and something. So here it is again for those interested in using a chain stitch for basting.


Mock Chain Stitch Video

I have tested this on Bernina, Pfaff and Brother so it should
work on pretty much any sewing machine.

Just bear in mind that I am still learning the whole video thing. I hope this helps and happy sewing!


------
Stitching, sharing every day, makes life sweet in every way, just add a friend and a family and the days drift by so merrily!

Scrappy Gram

Advanced
NY USA
Member since 12/27/03
Posts: 293





Date: 5/30/13 12:54 PM

I tried it on my Janome and all I got was a row of regular straight stitching, no chain stitch ...

Deb

sewingsilly


Expert/Couture
FL USA
Member since 1/29/10
Posts: 922





Date: 5/30/13 1:12 PM

When you rethreaded the machine in reverse, did you use the bobbin thread? I was unclear where the thread was coming from. Thanks.

Never mind. I went back and watched your video again and you said, "bobbin only" when you pulled the fabric out of the machine.
-- Edited on 5/30/13 1:16 PM --

------
strikesmyfancy-2013.blogspot.com

What's Meant for You Won't Pass You By.

lgrande


Advanced Beginner
Member since 1/18/12
Posts: 1914





In reply to sewingsilly <<



Date: 5/30/13 1:21 PM

I didn't get that either. When she was cutting the tails, she was cutting two threads; looked like one from the needle and one from the bobbin to me.

------
Linda

Bernina 830LE - Brother Dreamweaver VQ3000 - Bernina B530 - Janome 6600P - Pfaff 1209 - Babylock Evolution - Janome 644 - Babylock Sashiko2 - Babylock BLCS-2

PattiAnnJ


Advanced
OH USA
Member since 12/3/06
Posts: 7261

1 member likes this.




Date: 5/30/13 1:53 PM

It is the bobbin thread and you thread it through the needle from the back instead of the front.

Ron Collins has a demo on Power Sewing, but you have to pay for it.

I saw his demo a few years ago when Power Sewing was first offered as an online program. The site has many ala carte videos or you can enroll for the entire series.

------
"I don't give them Hell, I just tell the truth about them and they think it's Hell." — Harry Truman

"Improvise, adapt and overcome." - Clint Eastwood/Heartbreak Ridge

sewfrequent


Intermediate
TX USA
Member since 6/27/03
Posts: 3207

1 member likes this.




Date: 5/30/13 2:42 PM

Dawnabbey, this is very cool!!! thanks so much for sharing and what a time-saver it is !!

Jennifer Hill


Advanced
AB CANADA
Member since 4/11/02
Posts: 1507

4 members like this.




Date: 5/30/13 2:56 PM

I don't get why she calls it a "mock chain stitch" as it is NOTHING at all like a chain stitch. It is a lock stitch, plain and simple, as that is the only type of stitch her machine is capable of forming.

Jennifer in Calgary

beauturbo

Advanced
CA USA
Member since 5/2/09
Posts: 3327

1 member likes this.




Date: 5/30/13 3:06 PM

I think people have been doing that for maybe a hundred years, or more, but all the other times when I have seen or heard, or read about it, and in all old sewing books from all those decades very much passed that I have seen it in, and in that kind of threading, no one there called it a chain stitch or a mock chain stitch at all. Instead, they just called it sewing a dart with one thread most times. So maybe it's a new (internet kind of) name or purpose for an old thing?

There I had not never seen it with the purpose of it, to be removed easy later. Instead I always thought, or the plan seemed to be, it was for people whom wished to sew a dart into something, and start sewing right on the outer point of the dart, and not have to start at the seam allowance side of the dart, end at the point of it instead, and then manually tie off the end of the dart stitches later.

I'm not so sure it would work equally good with all newish machines, just any place now though. No matter what kind of automatic thread tension they had, and no matter what kind of bobbin system, or bobbin, or what kind of sensors in the thread paths. Or no matter how sealed up they were and hard to get into later if you got a thread tangle in the upper thread path possibly. Just because so many machines now, have thread paths with sensors in them, you might have to trick them at some point to even let that happen. Also if you got no thread spool on the top of the machine, and you are not holding that loose thread end taut in your hand in the air above the machine on lots of computerized ones, you might have lost some of your thread tension on that upper thread, just since even the weight of the upper thread spool and all the thread guides even most times give you some thread tension too.

I can think of a few machines, I actually would not want to do it on, just myself, and some of them being any newer Singer Futura machine and a whole bunch of very cheap computerized Brother machines. Just because of the sort of unusual way the Singer Futura computerized machines already have their top tension device, and also all those very cheap Brother computerized machines that are made only two piece clam shell construction there, that it is going to be pretty hard to get out any thread stuck in the top thread take up later maybe, just because all that is so locked down in there, behind all the machine panels.

My thoughts are if you don't have exposed thread paths, at least keep the end of that loose and dangling thread firmly in your hand, don't let it get sucked in past a sealed up cover kind of machine and into the thread take up, and also if using a real long piece of thread, don't let it, dangle loose near the fly wheel either, so it can't get sucked in there either, if it would be too hard to get to it and unwind it, from the inside of a fly wheel later either.

Also on a old machine when you did that, if you got a thread snarl in your top thread path, most times it only involved getting out the sissors to cut it out. Now on some machines, with very locked down construction and a lot less covers to take off easy, if you got a thread snarl in your upper thread take up, it might involve actually getting out the screw drivers and really taking off panels of a bunch of computerized machines to even remove that thread snarl, just because your upper thread paths are not always so very easy accessable and all exposed at all times either.



Dawnabbey


Expert/Couture
Member since 12/18/10
Posts: 349





In reply to Scrappy Gram <<

2 members like this.



Date: 5/30/13 3:42 PM

It looks like regular straight stitching and you may need to loosen the tension depending on the model but it rips out like a chain stitch which is why I call it a "mock" chain stitch.

I hope this helps!

------
Stitching, sharing every day, makes life sweet in every way, just add a friend and a family and the days drift by so merrily!

Dawnabbey


Expert/Couture
Member since 12/18/10
Posts: 349

6 members like this.




Date: 5/30/13 3:51 PM

I call it a mock chain stitch because when I was learning garment construction, that is what my teacher called it.

For your information this is the definition of a lockstitch:

The lockstitch uses two threads, an upper and a lower. Lockstitch is so named because the two threads, upper and lower, "lock" (entwine) together in the hole in the fabric which they pass through. The upper thread runs from a spool kept on a spindle on top of or next to the machine, through a tension mechanism, through the take-up arm, and finally through the hole in the needle. Meanwhile the lower thread is wound onto a bobbin, which is inserted into a case in the lower section of the machine below the material.
To make one stitch, the machine lowers the threaded needle through the cloth into the bobbin area, where a rotating hook (or other hooking mechanism) catches the upper thread at the point just after it goes through the needle. The hook mechanism carries the upper thread entirely around the bobbin case, so that it has made one wrap of the bobbin thread. Then the take-up arm pulls the excess upper thread (from the bobbin area) back to the top, forming the lockstitch. Then the feed dogs pull the material along one stitch length, and the cycle repeats.


Thread tension correct and incorrect
Ideally, the lockstitch is formed in the center of the thickness of the material—that is to say: ideally the upper thread entwines the lower thread in the middle of the material. The thread tension mechanisms, one for the upper thread and one for the lower thread, prevent either thread from pulling the entwine point from out of the middle of the material.

From Wikipedia.

Since this techinique uses only ONE THREAD it is therefore technically a type of chain stitch as it is made with only one thread looping together thus forming a chain.

I does not look like a chain stitch, it is true but it rips out easily, especially if the tension is adjusted properly.

I paid a fortune to attend Fashion Design School and spent many years in the industry in Canada - Calgary and Toronto and I am merely trying to share some of the cool techniques that I picked up along the way. I know there are a lot of sites that charge money for these kind of tutorials as PattiAnn has noted but I wanted to give back to the site as others have been so kind to me here on PR.


-- Edited on 5/30/13 4:04 PM --

------
Stitching, sharing every day, makes life sweet in every way, just add a friend and a family and the days drift by so merrily!
Printable Version
* Advertising and soliciting is strictly prohibited on PatternReview.com. If you find a post which is not in agreement with our Terms and Conditions, please click on the Report Post button to report it.
Restyling with Exposed Zippers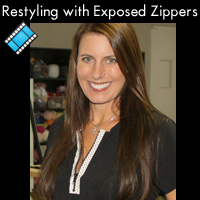 Beginners Guide to Sewing Jackets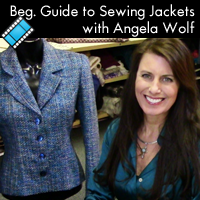 Simplicity 2520

by: pigsinpaja...
Review
McCall's 6030

by: thi3
Review
HANDBAG CONSTRUCTION - A CD Book By Kenneth King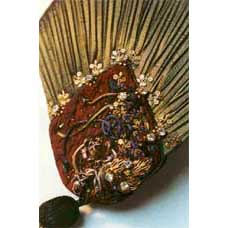 Buy Now
Victoria Jones Collection Happi Coat & Hanten (230)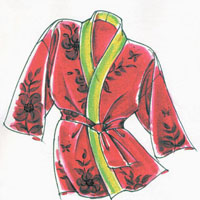 Buy Now