maja56

Pennsylvania USA
Member since 1/30/05
Posts: 19
Skill: Intermediate



Date: 5/30/13 4:12 PM

I think the machine manufacturers and dealers are missing out on a lot of money by restricting their sales to walk in only.

For instance, the only dealer in my area is a Viking dealer. I bought my first Viking there about 27 years ago. Since then they have changed hands several times and they are not what I would consider customer friendly. They were actually down right rude when I wanted to spend my money there.

Ten years ago I wanted to get a Brother ULT 2001, but there were no Brother dealers within 250 miles. I ended up ordering a used one on the internet. I liked it so much that I ordered a second one. I did the same with my Pfaff. I was in the market for a Babylock serger, but again, no Babylock dealers. Now I would like to get a Coverstitch Machine, and I will again have to go on the internet.

Don't they realize that people living in the country also have money to spend and would like some of the top line machines instead of going to Walmart and buying the cheap ones.

I'm sure there are many other people like me and they should make an exception if there are no dealers in the area, but they won't, because before I bought on the internet I called some dealers and explained the situation, but they said their hands were tied and they couldn't sell to me. Too bad for them and also us who can't get the machines we want.

------
Brother ULT 2001
Pfaff 2046
Viking Prisma 990
Janome Jem Gold
White Superlock 2000ATS
Brother 2340CV

SueC56


Iowa USA
Member since 7/28/09
Posts: 179
Skill: Intermediate
Body Type:




Date: 5/30/13 5:05 PM

Someone somewhere said that if you are more than ?? miles from a (Brother in this case) dealer, then they can work with you over the phone and give you prices. Sorry to hear that hasn't worked out for you.

SueC

------
Babylock Crescendo (2016), Brother NX650, Brother 1034D serger, Janome Coverpro 1000cpx (coverstitch), and Sailrite LSZ-1 for heavy jobs, including top-stitching denim jeans.

2015 Fabric in stash at beginning of year: 198 yds
Purchased: 73 yds, Sewn: 46, Net: +27

SouthernStitch


USA
Member since 8/24/02
Posts: 11776
Skill: Intermediate
Body Type:




Date: 5/30/13 6:35 PM

I would think any manufacturer would be willing to make an exception for that.

I understand your dillema. I would be hard pressed to purchase anything without having tested it first.

Too bad the one Viking dealer is like that. Don't they realize if they are the only dealer around there how much business they could glean??? You are wise to stay away from a rude dealer. Or maybe it was just a rude store clerk and the owners don't know how she/he is acting? Such a shame, as Vikings are such nice machines.

Good luck to you!

------
Bernina 780, and 530
Viking Opal 690Q
Babylock Evolution
Singer 403a

When life gives you green velvet curtains, make a green velvet dress.

maja56

Pennsylvania USA
Member since 1/30/05
Posts: 19
Skill: Intermediate



In reply to SouthernStitch

2 members like this.



Date: 5/30/13 8:04 PM

No Southern Stitch, it wasn't a clerk it was the owner. I went there with cash and was interested in one of the Designer Series and she treated me like I didn't know anything about sewing. She flat out told me unless I signed up for classes she wouldn't sell me a machine. Of course those classes were during the daytime when I had to be at work.

Even though I told her I had been sewing since I was a teenager, she wouldn't budge. So I told her what she could do with her machines and left. The only way I would ever set foot in that place again is when the ownership changes.

------
Brother ULT 2001
Pfaff 2046
Viking Prisma 990
Janome Jem Gold
White Superlock 2000ATS
Brother 2340CV

Miss Fairchild


USA
Member since 8/24/02
Posts: 7936
Skill: Advanced



In reply to maja56

Date: 5/30/13 8:21 PM

Quote:
Don't they realize that people living in the country also have money to spend and would like some of the top line machines instead of going to Walmart and buying the cheap ones.

I'm so standing up and shouting, "Yeah!" because I have this same dilemma. I'm 50 miles one way from a Viking dealer (I'm in PA too), and then get treated like I'm a dummy. And if I want a Janome, it's another 50 miles, or a vintage Singer, it's 100 miles. When to think I was not more that five blocks from an independent dealer where I used to live...

That being said, the problem is we ARE forced to go to Walmart (although I don't buy there), and then the dealers won't service the machine because it's a Walmart variety. I understand the whole scenario--sewing machine manufacturers make different models just for Walmart, and I totally hate going into that store. It's dirty, small and poorly staffed. Thankfully, I bite the bullet and drive the distance.

There was a sewing machine dealer in my town; a Viking dealer who also worked on various model machines--my Singers being one. But he was into farming more than he was into repairing machines. It would take me about six to eight weeks to have a machine back from repair. After the last episode, I "fired" him. Now his building has been torn down to make parking space for our local hospital.

I would so love to have a store that had Pfaffs on one aisle, Brothers on another, Janomes on another, Babylocks in the back, and a few others (maybe vintage) tossed in along the way to entice me. And a person behind the counter to assist me in my whims. Much like the last sewing machine dealer in my old home town.

So I too am forced to buy on the Internet. If you read my review of my Singer serger, you can get an idea of what I had to go through (and thankfully that dealer was patient) to get my machine fixed. I would have given up if I had to pay the repeated return shipping fees.

I think they (dealers) do realize our "country-fied" dilemma, but there has to be a demand and unfortunately, there isn't enough of one to justify the opening of another shop. You and me aren't enough to get something started.

------
"Play the cards you are dealt, but choose who is sitting at the table"..AARP magazine

SEE MY ETSY SHOP HERE: http://www.etsy.com/shop/AuntMaymesAttic
My blog: http://auntmaymesattic.wordpress.com/

JanyceR


Colorado USA
Member since 2/3/07
Posts: 1967
Skill: Beginner



In reply to maja56

Date: 5/30/13 8:57 PM

I went through a similar situation when I wanted to buy a Janome 350 embroidery only machine for my daughter six years ago. The store owner would not sell me the machine unless my daughter traveled 170 miles one way to take classes from her. I asked if I could take the classes and then teach my daughter and she said no. I truly don't understand those attitudes. I bought a different brand machine for my daughter at a dealer 300 miles away. Seemed like a really dumb move to me on the part of the dealer, just like your Viking dealer.

------
Bernina 880, Bernina 630, Bernina350SE,



SouthernStitch


USA
Member since 8/24/02
Posts: 11776
Skill: Intermediate
Body Type:




In reply to maja56

Date: 5/30/13 9:00 PM

Oh that is AWFUL!! She probably feels justified from getting burned on people coming in demanding machines be serviced and it's user error. Still, no excuse. She should offer you a few classes when it's convenient for you to come. I'm sure you are not the only one who works. What an idiot. Even if you have never done embroidery, it isn't rocket science. I bought my Brother Innovis 1200 and didn't even need lessons. The manual was great and I figured it out.

Miss Fairchild, that's what A##brands used to be for us here. They sold 7 major brands at one time. But, they got all those assocaiations pulled except Brother and Janome, because you guessed it - they sold the machines online, or, they did unauthorized phone sales.

Then we had a great place called Sewing Station, that sold 4 major brands. I had chosen a Viking (Freesia maybe?) and the day before I was going to go pick it up, my son wrecked my car, deflating my budget by half. Two years later I went to look again, and they were closed.

------
Bernina 780, and 530
Viking Opal 690Q
Babylock Evolution
Singer 403a

When life gives you green velvet curtains, make a green velvet dress.

SandiMacD


USA
Member since 2/8/09
Posts: 2563
Skill: Intermediate



Date: 5/31/13 5:47 AM

I feel your pain. When I lived in rural MT I had the same problems. Made 3 overnight trips to dealers in WA, ID and UT to try out BL. The MT dealers- still 6+ hours from me- had none in stock and would be ordering sight unseen for me. I did this once when ordering the new Evolution and had to drive back and stay overnight to get the lessons. And when I needed an attachment or foot I had to phone and get it UPS.

A closer local Janome dealer in a Vacumn Shop carried no stock and ordered my 350e for me. I picked up the box, no help opening or explaining, no tech in house service. I learned it off the Janome Forum on my computer.

Before both of those, I went to the MT Bernina dealer. Most unhelpful, acted like I was an ignorant annoyance as I had never owned a Bernina. I had only sewn on my Singer 301. Guess she thought I would never understand the value of Bernina- turned out she was correct but that may have been because of her attitude. Its not an easy machine to learn without dealer support. I struggled to learn with Yahoo Groups.

Found a wonderful BL CA dealer during a trip to LA and because I am a customer now, he can sell to me over the phone and ship. But now I don't need it. We longed for fresh produce and seafood so moved to FL.

So left MT. Some very nice dealers around here. I am just sorry they have to work under such restrictions.

I understand why brick and mortars are important but it does cause such despair to those of us in rural areas.

I would say combine a trip or vacation to an area in the US with some good dealers and have fun trying them out over the course of your vacation. I am in a travel club (ATC) and stay with club members so its very affordable.

There are some wonderful dealers that don't mind selling to folks traveling from rural areas.

The BL dealer in CA (Mels) gave me personal hands on time for 3 straight days in his classroom. For life, if I ever go back on another vacation, I can take classes. And I can call him up and order anything by mail now because I'm a customer. And he threw in the Gold Standard Plan so I could take it to the closest BL dealer for cleaning. It was a lifeline for me when in MT

In FL lots of dealers sell to snowbirds so sweeten out of state deals. I found a local BL dealer who offers an Adopt Program. So for $400 I am now starting my lifetime BL classes. And I'm registered in her system just the same as if I bought it from her- customer good deals/discounts.

At first glance $400 sounds outrageous, but its the cost of only 3 nights in a vacation resort and its for life! I get first options for her workshops and am greeted so warmly. I love just walking into her store. I wish I needed to buy another machine almost!

So those are some ideas that I hope may you.

-- Edited on

5/31/13 6:04 AM

--

------
sewing brings joy and meaning to my life...

KPM


Hawaii USA
Member since 1/18/07
Posts: 2163
Skill: Advanced

1 member likes this.




Date: 5/31/13 9:24 AM

I feel all your pain! Living on a remote island, I am forced to pay island prices, so I often opt for used machines and buy a local service contract, which are pretty steep. As to the dealer forcing you to take classes, perhaps the manufacturer is requiring that of dealers to reach a certain level with their dealership. But wouldn't it be great if the manufacturers opened a Craftsy style website where you could take lessons on your machine at your own convenience? The learning dvds that have come with my most recent Berninas are so basic as to bore me to tears. I'd would have really loved a great tutorial using the machine and a real teacher, one who can show you all the tricks and tips that aren't in the manual. And since common user errors occur in threading, the demo of threading and bobbin insertion should have very slow steps with automatic pauses and feedback questions so everyone gets off to a good start. For example, they could ask, "Did you notice that final thread guide just above the needle?" They could even show the bird nests and other examples of problems that result from doing one of the steps incorrectly to emphasize just how important each little step is.

------
Let's just say all modern sms are well represented in my studio.

Sewliz


Colorado USA
Member since 6/22/04
Posts: 4500



Date: 5/31/13 10:00 AM

You have to have lessons to buy a sewing machine? Seriously? Do they think customers are too dumb to figure out the machine or do they think/know their machine is too fragile to handle experimenting by a user?

Imagine having to have lessons to buy a car.

------
Liz

thefittinglife.blogspot.com
Printable Version
* Advertising and soliciting is strictly prohibited on PatternReview.com. If you find a post which is not in agreement with our Terms and Conditions, please click on the Report Post button to report it.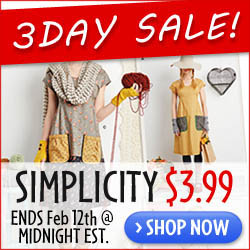 Online Class
The Technique of Underlining Garments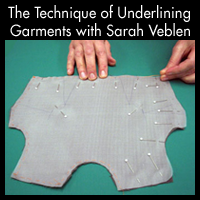 Online Class
All About Buttons and Buttonholes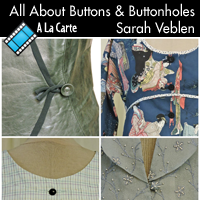 Simplicity 2447

by: Nana27
Review
Christine Jonson BaseWear Two - Straight Skirt, Taper Skirt, & Top with Options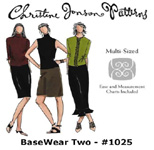 Pattern Details
Sewing Workshop San Francisco Coat Pattern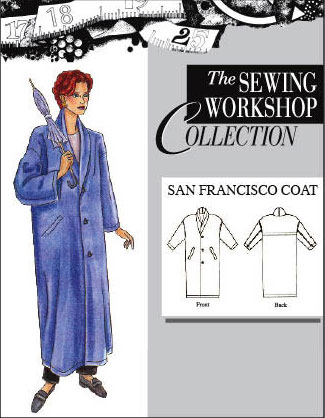 Pattern Details
Kwik Sew 3036

by: Speech gir...
Review