Magdalenaone

Member since 11/9/12
Posts: 2



Date: 6/2/13 9:37 PM

I've been sewing on an industrial straight stitch only machine for years...
I'm moving to a studio where the noise may be a problem, and considering switching to a singer quatro or a brother or Viking home sewing machine...
I do lots of dressmaking and wonder if anyone has made this switch and been happy with it?

Yarndiva


Advanced
California USA
Member since 3/28/06
Posts: 391

2 members like this.




Date: 6/2/13 10:11 PM

I use a Juki industrial at work in a shop and a home machine at home. Once you get used to the speed and power of an industrial, there no turing back. That said, I like my home machine because it has everything in one spot, like zig zag and blind hem stitch.
I suggest that if noise is an issue, and you have a clutch motor then perhaps you an replace it with a machine with a servo motor or change your motor to one if possible. They are much more quiet.

------
http://silkmothsewing.blogspot.com/

Magdalenaone

Member since 11/9/12
Posts: 2





Date: 6/2/13 10:27 PM

Thank you for your reply. I do sue several home machines and I like them, but they are markedly s l o w... And I don't know if I can adjust to that. I didn't know about the servo motor...that may be the answer. Thanks again.

Vellela


Advanced
International AUSTRALIA
Member since 5/14/09
Posts: 77

1 member likes this.




Date: 6/3/13 3:42 AM

Maybe try a Jukie Lockstitch. I used an industrial quite a bit and struggled when I returned to my old Janome. The Jukie Lockstitch is semi portable, cast iron case and purrs like a kitten

Not quite an industrial but I think it's about as close as you will get in a domestic sewing machine

------
Paula - Melbourne, Australia

Risk...the chance that something great might happen...

lamx

Intermediate
Maryland USA
Member since 10/4/04
Posts: 50



Date: 6/3/13 9:18 AM

If your sewing involves only straight stitch, as on your industrial Juki, a vintage straight stitch machine might be an option. The Singer 201 has a relatively large throat area for a home machine, is smooth and quiet and forms a nice straight stitch. The Japanese 15 Class machines of the 1950's also perform well. If you would like to add zig zag and a couple of utility stitches to your repertoire, the European or Japanese machines of the 60's (Brother, Kenmore, Signature, Necchi, Bernina, Pfaff, etc.) can add those features. Many of these possibilities can be found under $100, or even under $50, so it would be a way to experiment without spending lots of money.

I routinely switch between home machines and industrials with no problem. Just yesterday, I was sewing on my Singer 31-15 industrial straight stitcher and switched to my domestic Necchi 515 for a zig zag stitch and then back to the 31-15 to finish. A well-lubricated domestic machine goes faster than I want to sew and often I find a domestic machine better suited for the task at hand.

Ed
http://sewing-machines.blogspot.com/
-- Edited on 6/3/13 9:20 AM --

------
Sewing-machines.blogspot.com

Tee Jones Actie


Intermediate
Maryland USA
Member since 1/30/07
Posts: 19





Date: 6/3/13 9:59 AM

I have a Juki 600 Exceed and I love it. It's pretty fast for a home model.

------
Ivalyn "Tee" Jones-Actie
"FEAR" False Evidence Appearing Real

sew2006


Advanced
Ontario CANADA
Member since 6/24/06
Posts: 2070





1 member likes this.



Date: 6/3/13 10:25 AM

The servo motor was a good suggestion as it's silent when machine is on and very quiet when actually sewing compared to the constant hum of regular industrials. The othe option would be a semi industrial, this class of machine sews 1400-1500 spm, use industrial feet and have a solid feel to the machine. Janome 1600P, Brother PQ1500s, Juki TL2010 and Pfaff, Husqvarna and Babylock had had them not too long ago. I live in an apartment so space for an industrial was an issue not just the noise. I love how strong my PQ1500s feels, runs faster than a domestic machine with multiple stitches and does a perfect straight stitch. The lenght on these is 7mm rather than the 4mm standard.

------
Janome10001, Babylock ESG3, Brother ULT 2001, White 634D serger, Pfaff 1472, Singer featherweight, Singer 14T957Dc, Bernina FunLock 009DCC coverlock, Brother PQ1500S, Janome CP900.

sew2006


Advanced
Ontario CANADA
Member since 6/24/06
Posts: 2070





Date: 6/3/13 10:25 AM

The servo motor was a good suggestion as it's silent when machine is on and very quiet when actually sewing compared to the constant hum of regular industrials. The othe option would be a semi industrial, this class of machine sews 1400-1500 spm, use industrial feet and have a solid feel to the machine. Janome 1600P, Brother PQ1500s, Juki TL2010 and Pfaff, Husqvarna and Babylock had had them not too long ago. I live in an apartment so space for an industrial was an issue not just the noise. I love how strong my PQ1500s feels, runs faster than a domestic machine with multiple stitches and does a perfect straight stitch. The lenght on these is 7mm rather than the 4mm standard.

------
Janome10001, Babylock ESG3, Brother ULT 2001, White 634D serger, Pfaff 1472, Singer featherweight, Singer 14T957Dc, Bernina FunLock 009DCC coverlock, Brother PQ1500S, Janome CP900.

Mrs. East

Intermediate
Alberta CANADA
Member since 5/23/13
Posts: 6





In reply to Tee Jones Actie <<



Date: 6/4/13 0:43 AM

I'm just debating on purchasing A new machine for home and wondering if anyone has thoughts on the Juki G201 ... I was leaning towards Juki 300,400 or 600 . Trying to see what Main differences are.
Lots of info on the F series but nothing on the newer G series.
I have just purchased the Juki 735 serger to replace my old Pfaff hobby lock workhorse and thinking Juki is the way to go.


Dawnabbey


Expert/Couture
Member since 12/18/10
Posts: 382





Date: 6/4/13 5:43 PM

I made the switch with a lot of help from people here. I have a Bernina 932 Record machine which sews slowly but with near silent operation and had great piercing power. It is solid steel and sits in a desk that my Dad and I cut a hole out of and made a shelf to put it on. I also have a Pfaff Creative Performance which I love for the IDT, super long basting stitch and about a zillion other things.

Am I completely happy? No, not really. I miss the power and speed of industrial machines especially the sergers. I miss the perfection of a machine designed to do one thing and do it flawlessly. I am happy with the machines I have within the confines of what they do but that doesn't mean that industrials are off my horizon. Not by a long shot. So, IMHO if noise and space are a problem, as others have suggested go semi industrial. They are quiet and sturdy. Happy sewing!

------
Stitching, sharing every day, makes life sweet in every way, just add a friend and a family and the days drift by so merrily!

www.sewistclub.com
Printable Version
* Advertising and soliciting is strictly prohibited on PatternReview.com. If you find a post which is not in agreement with our Terms and Conditions, please click on the Report Post button to report it.
The Contemporary Couture Jacket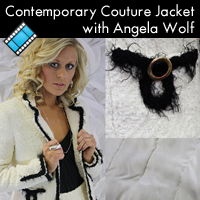 The Technique of Underlining Garments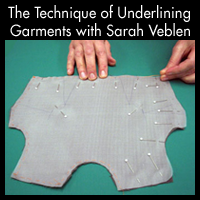 Japanese Pattern Books Pattern Magic Stretch

by: MariannaSe...
Review
Beginner Sewing Lab 104 - A downloadable Book by Shannon Gifford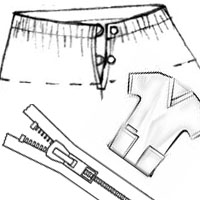 Buy Now
Take-Along Bags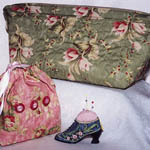 Buy Now
Vogue Patterns 8886

by: Clareew
Review