avatrx


Member since 12/16/05
Posts: 604
Skill: Advanced Beginner
Body Type:




Date: 6/6/13 8:19 AM

I recently watched a webcast - Silhouette patterns - and that provoked a question for me.

I had inquired into doing a FBA a while back, and in doing as directed the overall circumference around the entire shirt - increased. I assumed that is why they suggest you use a smaller size and then do the FBA to adjust for bust sizing.

According to Peggy Sagers - having cup sizing on a pattern does NOT increase the overall circumference and that although pattern makers have tried to copy what she is doing - they are doing it wrong. She went on to say that it increases the length in the front, but does not increase the distance around.

I have only done 1 FBA and that did increase the circumference. It also did increase the length and I had to adjust for that. Did I do it wrong? logic would dictate to me that any time you ADD something that would result in an increase, but then I don't claim to know alot about all this - that's why I'm here!. :confused:

Does anyone have any thoughts on this based on experience?

PS isn't very good at replying to emailed questions so I don't bother any more to try........ I realize her methods are somewhat controversial.

JTink


Member since 4/20/08
Posts: 6691
Skill: Intermediate
Body Type:




In reply to avatrx

2 members like this.



Date: 6/6/13 8:36 AM

Avatrx, I've never been too impressed with the stuff I've seen Peggy do(I've only watched a few of her videos). Her method seems to be unrealistic to me. It all starts with a person standing there with a garment on...Peggy starts pinning. How is this going to help me...I don't have the luxury of a fitting buddy. I'm not familiar with her version of an FBA. An FBA does add circumference as well as length. Your bust needs both. If you tissue fit your pattern and find the center front doesn't meet your center front, you have to add to the circumference. If you don't add to the length, the "girls" will grab the material they need and your blouse will look higher in the front. Next time you are at a store or public area, notice some of the larger busted ladies. See how their blouses are hiked up in the front. I have found that even with the larger cups included in the patterns, I still have to use my original size. I've always used a 12 around the bust and below(10 at the neck and shoulders). I did try using a 10 once, but found out I needed that extra the 12 gives me.

avatrx


Member since 12/16/05
Posts: 604
Skill: Advanced Beginner
Body Type:




In reply to JTink

Date: 6/6/13 10:26 AM

Quote:
I don't have the luxury of a fitting buddy.

I don't have anyone to help me either. My hubby thinks saggy pants in the back are pretty much the norm.

Quote:
An FBA does add circumference as well as length. Your bust needs both.

I kinda thought that but according to PS - that is not correct. I've never measured one of the big 4 patterns to see if the length in the front changes with the cup sizing. I"m really not sure how PS factors all that in? I can see that 'the girls' could pull fabric in from somewhere if there wasn't enough, but to just pull up from the bottom and not in from the sides would just shorten the front but still pull across the bust.

I had another question that I'd like to ask her, but she doesn't return emails so I guess I'll have to figure it out myself. Since her patterns are based on something you own that fits you well and you base her pattern sizing on that - what happens when you DON'T have something that fits you well? Someone asked about her sizing once and she got rather indignant and responded that the ease was factored into the sizing. So what is the ease? I have her 1900 blazer pattern which doesn't give a back waist length. Mine is typically longer than most patterns and wanted to know how to adjust for it. That question was asked last fall. I never did get an answer.

I like the blazer pattern and I may still try to make it, but I'm not sure which size to use and I would like to at least be close with a trial garment. I just don't know where to start? What is the standard bust ease on a blazer? Do I measure and then add that?

I think I need a D cup. I can't tissue fit by myself to save my soul..... I have narrow shoulders, but I'm quite tall. I always add length to sleeves whether I think I need it or not. I can always shorten them, but the waist is a different story. I would like it to be where my waist is. I can't lengthen or shorten it after I cut it.........

frustrating................ glad I'm not alone in this.......

avatrx


Member since 12/16/05
Posts: 604
Skill: Advanced Beginner
Body Type:




In reply to JTink

Date: 6/6/13 12:21 PM

Quote:
(10 at the neck and shoulders).

in order to do that - what is that procedure? A size smaller would give me the narrower shoulders, but does that affect the sleeve and armhole?

JeanM


Virginia USA
Member since 6/25/05
Posts: 210
Skill: Intermediate



In reply to avatrx

1 member likes this.



Date: 6/6/13 7:20 PM

You can google for ease allowance chart, or standard ease for garments - there are several, but here's Vogue's

Vogue's ease chart

- which gives you a starting point for ease.

I have tried a couple of PS patterns - had some luck with Dana's top (knit tee with french darts) and the yoga pants, but not with the blouse pattern I tried.

On other patterns (big 4 and the occasional indie designer) I morph between sizes, I need extra circumference for full bust, waist and hips - bust and waist mostly in the front, and hips at high hip level - and extra length in front to go over bust and tummy.

I usually start with a size 16 for the shoulders/neck and armscye. On most patterns, I do an FBA (which adds circumference and length), plus gradually shift out a size or two by waist and hip levels (which I need, anyway ;-)...). Sometimes, I shift over at the bottom of the armscye by extending the armhole to the larger size.

I do like some of the big 4 patterns that come with different cup sizes - and I still morph between sizes.

I do a lot of flat pattern measuring to check against my measurements, at bust, waist and hip levels. Then I pin the main pieces together and try it on (works best with wovens, the knits I usually end up going to fabric); I almost always trace my patterns, so I still have the original pattern to retrace as needed. No fitting buddy, so sometimes the pin fitting is a longish process. Then I will try fabric - just not my most fabulous final choice!

I've thought that I'd like to try a duct tape or paper dummy - so I have something "my" shape to use for fitting - as I haven't found other garment sewists locally (more craft and quilting)...in person classes are just out of reach financially at the moment.

diane s


Oregon USA
Member since 8/24/02
Posts: 5149
Skill: Intermediate

1 member likes this.




Date: 6/7/13 0:18 AM

I haven't found her patterns to be any longer with a larger cup size, and that's been a problem.

Peggy came to my sewing guild, and my understanding is, she basically

drapes a deeper dart for a larger bust.

For me, her methods work well for pants, but not someone with a narrow chest and a large cup size.

As for the Big 4 cup sizing, I have a Simplicity dress pattern in my stash with cup sizing and the finished garment measurement of the D cup is 1/2" larger than the finished garment measurement of the B Cup. I don't think that's very realistic.

I've had better luck with Butterick's Connie Crawford patterns. She has several blouses with cup sizes and uses a different sizing chart that's more realistic.

------
My grandmother taught me to sew when I was 10, and I've been sewing ever since.

Miss Fairchild


USA
Member since 8/24/02
Posts: 7936
Skill: Advanced



In reply to avatrx

1 member likes this.



Date: 6/7/13 1:29 AM

Quote:
Does anyone have any thoughts on this based on experience?

Here's my experience. I cut out a PS pattern, in a B and a C cup. The C cup was fuller, just under the bustline--where the dart was--but nowhere else. It looked very baggy on me, so I went with the B. Her patterns go up to a D cup, and you do an FBA if you have a cup size larger than a D.

As to ease, standard ease in the bustline is 3-1/2" and you go up from there if you want more. That being said, Peggy's patterns don't have that--they're not meant to. If you are the kind of person who wants a little less ease in your pattern, you choose the smaller size, without worrying about the amount of ease. Let's say you want to make a knit top. You don't figure out on the back of the pattern by the amount of your bust plus ease; you figure what you want by wrapping the desired fabric around you comfortably and measuring that. If you want to make a woven, and the suggested fabric is a woven, you do the same, but leave it a little looser.

It took me a long time to wrap my head around this method, albeit controversial. But Peggy cuts a lot of her patterns in the same way as Liz Claiborne, whom I love. She has brought this up many times in her webcasts. And as to "finding a size/measurement you love", well yes, you're right--I too had that battle. Why on earth would I be sewing if I already owned something that fit me well? But the truth is, you need to find your "happy measurements" in RTW. If you find a sleeve that fits you well, measure it, although the rest of garment might not. Then find other garments that fit in other areas and take their measurements. Take a nice tote bag with you when you go shopping, and put into it a French curve, a measuring tape, straight pins, a notepad and a pencil. Write down those measurements and remember them when you are working with her patterns.

I'd like to add that Peggy drafts her patterns for a person who is 5'8", so you would have to add 2" to your length, which also includes your sleeves (I believe you said you were 5'10"). A 17" back waist length might be broken up between a 16" true back waist length and a 1" high round back, which will be evidenced in the muslining process, and won't always show on the initial fitting. And if this is the case, you choose the 16" and add the adjustment. So the 17" back waist measurement on a Big 4 pattern can vary from person to person, simply by how much of a high round back a person has, if at all. I not only have a 16" BW measurement, but I also have a 1/2" to 3/4" HRB, and I could never figure out why the overall length froom a pattern was so long on me--about an inch and was especially noticeable at the side seams. (I was choosing the size for the 17"). Here I was going along, changing the length at the side seams by choosing the longer size, when the length at the side seams was fine; it was the middle of my back that was the problem.

-- Edited on

6/7/13 1:44 AM

--

------
"Play the cards you are dealt, but choose who is sitting at the table"..AARP magazine

SEE MY ETSY SHOP HERE: http://www.etsy.com/shop/AuntMaymesAttic
My blog: http://auntmaymesattic.wordpress.com/

Sew Confused


Member since 7/13/07
Posts: 2720
Skill: Intermediate



Date: 6/7/13 1:33 AM

So are you saying her patterns have more or less ease than standard?

------
Paula

"In Seattle you haven't had enough coffee until you can thread a sewing machine while it's running."
- Jeff Bezos, Amazon.com founder

Visit my blog at www.sewconfused.blogspot.com
Pinterest: https://www.pinterest.com/paulag1955/sewing-inspiration/

Miss Fairchild


USA
Member since 8/24/02
Posts: 7936
Skill: Advanced



In reply to Sew Confused

Date: 6/7/13 1:57 AM

It depends on what you consider to be "ease". If I want to make a knit top, then I want something a little more tightly fitting, so I would need less ease. If I want to turn that knit top into a tunic, I wouldn't use the less ease, but make the top fuller.

But the woven shirt I made

in this review

was what you would probably consider to be "standard" because I didn't have to change any circumference. In looking at that photo, do you think the shirt is about 4" bigger than me? (3.5" of ease is the minimum and 4" is about what I would want for a shirt; maybe a little more. And I'm not sure what this measurement is because I didn't measure me nor did I measure the pattern). If you do, then her ease is what you would consider to be "standard". When I measured for this woven, I wrapped the fabric around me at my bustline, and then let it go a little looser, and then picked the size that related to the measurement. I didn't think about ease, or standards--I was in a "No guts, no glory" mode and pressed on with what she said to do.

------
"Play the cards you are dealt, but choose who is sitting at the table"..AARP magazine

SEE MY ETSY SHOP HERE: http://www.etsy.com/shop/AuntMaymesAttic
My blog: http://auntmaymesattic.wordpress.com/

SandiMacD


USA
Member since 2/8/09
Posts: 2563
Skill: Intermediate



Date: 6/7/13 5:24 AM

You can walk out her pattern to see hpw it compares. Take your measurements neckline to waist in front and back. Now take a measuring tape and measure her pattern pieces neck to waist. Adjust the pattern.

Same for circumference. You need to measure from underarm seam to underarm seam and subtract that from entire upper bust circumference. You can then adjust the pattern so you have that measurement in back. You will need to have the correct measurement in front. Plus you will need about 2 inches of ease for a woven to allow for breathing.

Same with length on front and back. Measure those to hemline, not waistline.

Hope this makes sense.

I watched Peggy on a few TV shows but discounted her technique as I cant find a good fit in RTW to have a starting point. Also for sleeves she said to cut front and back the same. I have forward, dropped and narrow shoulders and it only fits if my sleeve pattern is cut for larger volume in back. For me the front and back need a different curve and seam length. But she does get me to thinking.

Sarah Veblen put out a great pattern fitting book on Amazon that you might find more useful.

------
sewing brings joy and meaning to my life...
Printable Version
* Advertising and soliciting is strictly prohibited on PatternReview.com. If you find a post which is not in agreement with our Terms and Conditions, please click on the Report Post button to report it.
Online Class
Fun with Fitting - BODICE w Darts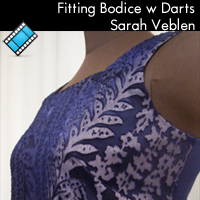 Online Class
Expert Sewing Techniques for Jackets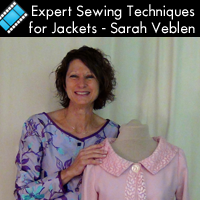 McCall's 6887

by: Danvillegi...
Review
New Look 6078

by: Helen near...
Review
You Sew Girl 150mm Purse Frame Purse Pattern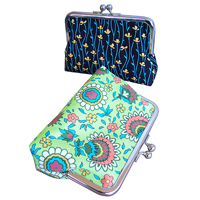 Pattern Details
Pamela's Patterns Softly Pleated Dress Pattern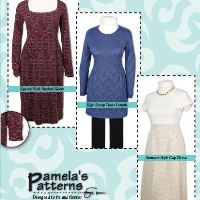 Pattern Details