LynnRowe


Advanced
British Columbia CANADA
Member since 3/9/09
Posts: 9288

1 member likes this.




Date: 6/7/13 12:21 PM

Panzy is the FMQer around my place, this is NOT something I want to even try for myself.

So after I sew back together all the bits of perfectly good fabric that I cut into little bits, and get the top blocks done, I would like to hoop each of the blocks with batting and have Panzy FMQ them via FMQ embroidery designs.

But the blocks will only have the 1/4" seam allowances, so cannot be actually put into the hoop; I have sticky stabilizer or can get the adhesive spray if necessary (I'm allergic to sprays).

Do I cut backing fabric large enough to be put into the hoop, then sticky the top block and (basted together) batting on top and let Panzy have at it? Or use muslin for the backing? Or just hoop up the sticky and embroider on the block and batting only?

Or...???

And no, I am not going to try any FMQ on my own; Panzy is much better at it than I could ever be.

------
I heart Panzy, Pfaff Creative Performance, the sewing machine love of my life!
And Baby (Enlighten serger), Victor (BLCS), Rupert (Pfaff 2023-knits expert) Ash (B350SE-Artwork), Kee (B750QEE-Panzy's BFF), Georgie (B560-Kee's baby sister) and the Feather-Flock!

Most of all, I heart Woo (HimmyCat). Until we meet again, my beautiful little boy. I love you.

PattiAnnJ


Advanced
USA
Member since 12/3/06
Posts: 7437



Date: 6/7/13 12:36 PM

You do know the block will be a bit smaller after it has been quilted.

You can baste extra fabric to the block and this will enable the block to be hooped.

Or, complete the quilt top and then baste the back, batting and top together before doing the quilting.

Ask Pansy what she would prefer.



------
"Improvise, adapt and overcome." - Clint Eastwood/Heartbreak Ridge

LynnRowe


Advanced
British Columbia CANADA
Member since 3/9/09
Posts: 9288





Date: 6/7/13 12:45 PM

I had considered basting the batting to the block, adding muslin strips of fabric around each block edge and then hooping. But then I'd have to unsew each muslin strip off each block edge after the FMQ-embroidery was done...I was hoping for a quicker (lazier) way.

My Pfaff dealer does embroidery FMQ often, but I think she does the entire top first, then uses an endless hoop for the FMQ embroidery. I'll check with her to find out how she does it, as she does gorgeous work.

PS: Panzy's a "he".

------
I heart Panzy, Pfaff Creative Performance, the sewing machine love of my life!
And Baby (Enlighten serger), Victor (BLCS), Rupert (Pfaff 2023-knits expert) Ash (B350SE-Artwork), Kee (B750QEE-Panzy's BFF), Georgie (B560-Kee's baby sister) and the Feather-Flock!

Most of all, I heart Woo (HimmyCat). Until we meet again, my beautiful little boy. I love you.

Cat n Bull


North Carolina USA
Member since 2/17/06
Posts: 4524





2 members like this.



Date: 6/7/13 1:02 PM

I think it would be MUCH easier to complete the entire top first, then baste batting and backing to it then quilt as a whole in sections.

If you only quilt one block at a time, you have the challenging and time consuming process of joining them so it looks good on the front AND the back.

Also, quilting one block at a time is STILL going to give you the same overall effect of quilting once section of the completed quilt at a time. There won't be any 'continuous' quilting unless you go back in after the fact and do more quilting to fill in the spaces between the blocks.

------
Cathryn

LynnRowe


Advanced
British Columbia CANADA
Member since 3/9/09
Posts: 9288





In reply to Cat n Bull <<



Date: 6/7/13 1:34 PM

I don't want continuous FMQ, as I'm planning to use patterns...this kinda thing...





So completed top first, then quilt in the hoop a block at a time? What's the best thread to use top & bobbin so it fades into the background? I'm not keen on the clear nylon stuff...

------
I heart Panzy, Pfaff Creative Performance, the sewing machine love of my life!
And Baby (Enlighten serger), Victor (BLCS), Rupert (Pfaff 2023-knits expert) Ash (B350SE-Artwork), Kee (B750QEE-Panzy's BFF), Georgie (B560-Kee's baby sister) and the Feather-Flock!

Most of all, I heart Woo (HimmyCat). Until we meet again, my beautiful little boy. I love you.

Cat n Bull


North Carolina USA
Member since 2/17/06
Posts: 4524





Date: 6/7/13 1:51 PM

This is what I thought you were talking about, using the patterns for quilting. So there really is no benefit to quilting first, then trying to put your blocks together.

I have found that silk size 100 blends into cotton wonderfully, but I have never used it in the bobbin because I always use fleece on my quilt backs. I have never even thought of embroidering with silk, it is so expensive! Now I am curious......I wonder if the #100 is too thin to use for embroidery.

Since you'll be using the embroidery machine to quilt, I'd try Isacord in the top. I am no help with cotton quilt backs because I haven't made one with cotton on the back yet! I would think the Isacord would be fine in the bobbin, but hopefully someone who knows will answer.

------
Cathryn

quiltingwolf


Intermediate
Member since 12/15/02
Posts: 6666



Date: 6/7/13 2:08 PM

I'm doing quilting in the hoop now on Sprouts. I usually use either cotton or rayon on top and cotton underneath. Something 50# 2 or 3 ply, 3 ply if you want it seen better. And Cat is right you put whole quilt together, top, batting and backing and then quilt in the hoop. You won't need a stabilizer. Do a test first as you may need to adjust the tension a little.

------
quiltingwolf.blogspot.com

PattiAnnJ


Advanced
USA
Member since 12/3/06
Posts: 7437

1 member likes this.




Date: 6/7/13 2:14 PM

There is also clear polyester stuff (thread) in clear and dark.

------
"Improvise, adapt and overcome." - Clint Eastwood/Heartbreak Ridge

Franksdottir


Advanced Beginner
Member since 4/25/08
Posts: 3253





1 member likes this.



Date: 6/7/13 2:14 PM

Lynn, I have never done this technique, but I have a few suggestions.

First, if I were you, I would do a practice block on plain fabric. That alone will answer a LOT of questions. Make sure you measure each piece of fabric, front and back, and measure them again when you are done.

If you are using different designs (and I liked both of yours), I would make a practice block for each.

Isacord is FABULOUS thread. My embroidery machine hates it, but it comes in the most glorious colors and is excellent quality. Leah Day, the famous fmq'er, always uses Isacord.

If you don't want to use nylon monofilament, there is also a polyester version of the same size. Polyester has a number of advantages over nylon.

Like Cat, I adore using #100 silk for quilting. To help it catch, and to save money, I use #50 cotton thread in the bobbin, but I always use a cotton back, so this works well for me.

------
Barb

HDWen


Advanced Beginner
Arizona USA
Member since 12/26/11
Posts: 2273





Date: 6/8/13 3:19 AM

Quote: LynnRowe

Panzy is the FMQer around my place, this is NOT something I want to even try for myself.

So after I sew back together all the bits of perfectly good fabric that I cut into little bits, and get the top blocks done, I would like to hoop each of the blocks with batting and have Panzy FMQ them via FMQ embroidery designs.

But the blocks will only have the 1/4" seam allowances, so cannot be actually put into the hoop; I have sticky stabilizer or can get the adhesive spray if necessary (I'm allergic to sprays).

Do I cut backing fabric large enough to be put into the hoop, then sticky the top block and (basted together) batting on top and let Panzy have at it? Or use muslin for the backing? Or just hoop up the sticky and embroider on the block and batting only?

Or...???

And no, I am not going to try any FMQ on my own; Panzy is much better at it than I could ever be.


I agree you need to complete the whole top then let Panzy have a go. I love using spray basting, but do take a flat sheet and lay it on my drive way outside. Then lay my cotton backing, and arrange the batting so I can spray that in sections. Make sure I've no wrinkles then arrange the top and spray the batting again in sections. After it is sandwiched, then it comes back inside.

This may help with allergies if you spray outside. And only spray the batting, not the fabric directly.

What I'm wondering is how you will fill in between the hooped sections you quilt? I love BOTH designs but see the bottom one perhaps would be easier to get tight next to the next block you hoop? Since that extends more to each tip, it maybe easier to hoop very close and almost have those tips touching, but not... only about 1" apart.

I'm a lazy quilter and can't find the ditch to stay in for STID methods. Recently I just sewed around in circles on a quilt and Love the way it looked. Now I am doing the same with one big square lol Resisting learning FMQ!!!

So far 2 of my sewing machines are doing good with horrible inexpensive serger cone threads in lovely colors. I can use cotton thread in the bobbins, but my machines don't like all the fluff through the threaders.

I hope you are having Fun putting all those tiny pieces you cut from perfectly good fabric back together hehehe that is exactly what I said too as a previous garment sewer - NO I don't want to learn quilting!!! How silly to cut whole fabric into pieces only to have to sew them back together!!

Now I am in LOVE with quilting!

Good luck and can't wait to see how these designs work for you!

:-Debbie

------
I have a great enthusium for sewing, but lack talent to be great.

2013
Printable Version
* Advertising and soliciting is strictly prohibited on PatternReview.com. If you find a post which is not in agreement with our Terms and Conditions, please click on the Report Post button to report it.
Break your Serger Out of the Box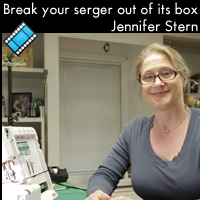 Serging Ahead with your 5 Thread Serger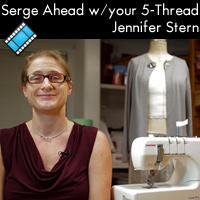 Vogue Patterns 1087

by: Kim12469
Review
Vogue Patterns 8333

by: Carol Wism...
Review
Islander Sewing Systems - MyStyle Greetings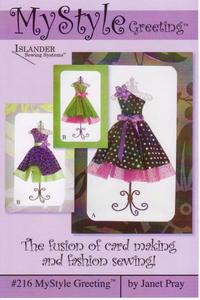 Buy Now
BRIDAL COUTURE, a CD book by Susan Khalje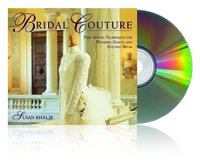 Buy Now