katlew03


Advanced
Florida USA
Member since 1/4/08
Posts: 4102



Date: 6/8/13 1:23 PM

I have been having problems using my serger to finish edges on satin fabric. I have changed to a microtex needle (suggested by dealer), a stretch needle, new all-purpose universal needle, etc. I have tried to move the fabric over so more is cut off and even placed strips of pattern tracing paper either on top of or beneath the fabric. I finally had to use a rolled hem stitch which ended up looking like a satin stitch and then zigzag the stitches to the fabric where it did not attach.

I was shortening a bridesmaid's dress made out of a thin costume weight satin with two thin poly layers underneath. The satin did fairly OK with a narrow O/L but I was not really happy with it but the other two layers looked like they had a satin edge. Thank goodness they were underlayers and did not show. The satin did have a few sections that pulled away but I was able to zigzag them back. I did not have time to do a narrow hem completely on the SM. The original hem was a narrow hem that was turned under and topstitched.

I have encountered this problem with lycra swimsuit type fabric and some other very light sheer fabrics. Otherwise my serger stitches perfectly. My dealer just says my machine doesn't like really lightweight fabrics and to use a microtex needle.

------
Sewn in 2012: 176.212 yds.
2013 Goal: 400 yds (again)
Total sewn in 2013 -- 225.848 yds.
Total yards in inventory 1/1/14 -- 1752.5
Goal for 2014 -- 400 yards (for the third time)

Machines: Designer Diamond, #1+, H Class 100Q, and Viking 400 Serger: 936

beauturbo

Advanced
California USA
Member since 5/2/09
Posts: 3618



Date: 6/8/13 5:54 PM

Some fabric is stinky to sew on or into, some fabric is just never going to roll hem good too, sometimes by just it's properties, no matter what kind of needle you use, what kind of thread, stitch or cutting length or even starching it, or wrapping clear wash away stabilizer over the edge first either, or anything else sometimes. Not saying you got one of those, but you could have. If and when that kind of thing happens to me, then if rolled hem was plan A, and after exhausting all tries and efforts of all combinations of everything on that, then I got to go to plan B instead, as you got to do something. For me, plan be would to be 3 thread overlocking it instead of rolled hemming it and just hope that would be working out O.K. and better than the first plan. A slightly different look, but it's still an edge finish. Plan C for me would probably be straight stitching the whole bottom of it, cut it close and fold it and then try to straight stitch up the hem.

I can most times roll hem very nice silk satin. Not sure I could that much looser woven and cheapie costume stuff made of maybe acetate or polyester sometimes. I don't think thicker swim suit kind of lycra would always roll hem good for me either actually, but I could probably stretch it out, and make a lettuce ruffly looking hem on it sort of instead if I had to.

I think you got some false expectations that everything is going to work just like you want, no matter what fabric you got and no matter what you are trying to do to it. Sometimes it does, but not always at all either. I think you should go to the Library or book store, and get a bunch of serger books maybe (good ones with lots of photo's in them) and just read them all. Lots of tips for working with lots of different fabric in those, plus all sorts of work arounds, and things to try if first attempt at something, is not going so well. There are an awful lot of fabrics out there, and just different ones behave differently and sometimes even just from each other even, even if sort of the same kind of fabrics.


-- Edited on 6/8/13 6:07 PM --
-- Edited on 6/8/13 6:10 PM --

sew2006


Advanced
Ontario CANADA
Member since 6/24/06
Posts: 2084







1 member likes this.



Date: 6/9/13 11:14 AM

Thin wash away stabilizer used for machine embroidery, leave cutting width at maximum so more fabric is in the hem, slightly increase the stitch lenght. Light fabrics also behave differently on cross grain/bias/lenght of fabric. Slower consistant speed and wolly nylon if you find matching color.

------
Janome10001, Babylock ESG3, Brother ULT 2001, White 634D serger, Pfaff 1472, Singer featherweight, Singer 14T957Dc, Bernina FunLock 009DCC coverlock, Brother PQ1500S, Janome CP900.

PattiAnnJ


Advanced
USA
Member since 12/3/06
Posts: 7514

1 member likes this.




Date: 6/9/13 11:44 AM

Test with scraps to see if the wash away will work for you and then not leave a water spot when washed away.

Tissue paper is also an option.

It is almost like the foot has no grip. Have you adjusted the presser foot pressure to see if this has any affect on the feed of the cloth?


-- Edited on 6/9/13 11:45 AM --

------
"Improvise, adapt and overcome." - Clint Eastwood/Heartbreak Ridge

tourist


Intermediate
British Columbia CANADA
Member since 7/23/07
Posts: 6402



Date: 6/9/13 12:56 PM

Ugh! I have been there. I didn't have washaway stabilizer so I eventually used washable paper glue (Elmer's school glue type), watered it down a bit and painted it onto the edge to be sewed. Let it dry, then sewed my hem. A lot of it just flaked off during the sewing part and the rest came off while handling the dress later. And it managed to hang on to the stitches very well. I also used a "shell hem" rather than a true rolled hem - same thing except a longer stitch length. Good luck!

------
http://bgballroom.wordpress.com to follow the progress on my next ballgown.

Sewmissy2

Intermediate
Missouri USA
Member since 12/5/10
Posts: 124



Date: 6/9/13 1:00 PM

One more thing to add: some satin fabrics need the differential feed up (to draw it in so it doesn't stretch out) and some need it down (to stretch it out more so it doesn't pucker). I did all kinds of satin rolled hems for ruffles for a children's boutique so have done a lot of different satins. Cheap thin satins are not a great idea..they get thin and holey where the needles penetrate no matter what you do.

I always widened the stitch width on my rolled hems and sampled it to check which way to set the differential feed lever.

Good luck!



------
Designer 1, bought in 2000
Simplicity 350 serger, bought about 1997
3 Tajima Neo single head embroidery machines
Digitizer by profession
Embroidery software: Tajima DGML by Pulse (commercial) also know Designer's Gallery and Floriani for home use.

diane s


Intermediate
Oregon USA
Member since 8/24/02
Posts: 4888





Date: 6/9/13 6:21 PM

Often the thread pulls away because it's heavier than the the fabric. Using a longer stitch can help, even with a rolled hem. A 2 thread over is a nice alternative when the fabric is lightweight. I serge a lot of silk gauze and silk chiffon, and asked a serger DVD author and she gave me these tips.

------
My grandmother taught me to sew when I was 10, and I've been sewing ever since.

katlew03


Advanced
Florida USA
Member since 1/4/08
Posts: 4102



Date: 6/9/13 8:02 PM

Thanks everybody for the tips. This was a junior bridesmaid's dress and the mother and daughter were waiting for it with an appointment in a couple of hours, so I was kind of rushed for time and afraid to use wash-away stabilizer because I didn't want to fabric to water spot. I have used a narrow hem in the past where you sew, turn, sew, trim and turn again that worked out really well but just didn't have the time to do so. I am going to be tied up all week and the mom is leaving on a trip Friday and the wedding is Saturday (dad taking her). I tried a 3 thread narrow O/L and all the stitches pulled away, a rolled hem, a narrow finished edge (can't remember what it is called). I originally serged because we weren't sure of the length and kept having to shorten it more. The child is only 8 and needed an adult 16, which is why it was about 6 inches too long. I am a perfectionist and this was not my best work but everybody seemed OK with it. I will practice with the scrap fabric to see what would have worked better. Each layer was a different fabric. Don't usually have this kind of problem but when you are in a hurry, it always seems to happen.

------
Sewn in 2012: 176.212 yds.
2013 Goal: 400 yds (again)
Total sewn in 2013 -- 225.848 yds.
Total yards in inventory 1/1/14 -- 1752.5
Goal for 2014 -- 400 yards (for the third time)

Machines: Designer Diamond, #1+, H Class 100Q, and Viking 400 Serger: 936
Printable Version
* Advertising and soliciting is strictly prohibited on PatternReview.com. If you find a post which is not in agreement with our Terms and Conditions, please click on the Report Post button to report it.
Online Class
Clone Your Favorite Garment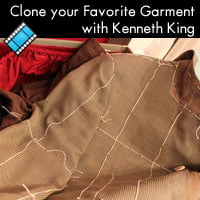 Online Class
Create a Jacket Muslin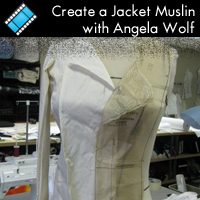 Past Patterns 038

by: StephiLuna
Review
Favorite Things The Frayed Jacket Pattern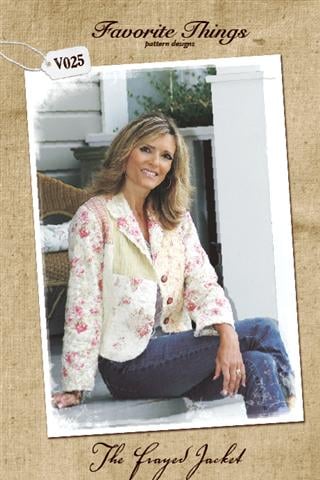 More Info
Beginner Sewing Lab 103 - A downloadable Book by Shannon Gifford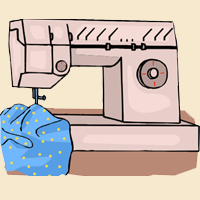 More Info
McCall's 6547

by: sunnysewin...
Review