demoiselle


Member since 6/21/11
Posts: 572
Skill: Advanced Beginner



Date: 6/23/13 11:14 AM

I've been working on the muslin for my third sewing project and my first top (so, first dart, first neckline and sleeve interfacing, etc). Now that I've tried it on, I'm having plenty of woes. This is the pattern:

And a link to the

pattern page

.

Basically, it's a box with a v-neck and darts. I cut the smallest pattern to fit my bust. Now I have way too much fabric at the back-waist and too little around the hips and derriere. I think that the armholes are also too small (they certainly would be if I were to put in sleeves).

Here are the hubby-assisted photos:

Front

Side

Back

Closeup of dart. The pattern on the fabric disguises where the dart falls, so I drew a line in. Lying flat, the darts are perfectly straight.

I was discouraged before I saw the photos. Now I'm downright depressed. I'm not at all sure how to fix this (or if the pattern just doesn't suit me). And the pictures show all my flaws (mild scoliosis leading to rounded shoulders).

------
Yes, I started a blog.
http://demoiselledesigns.wordpress.com/

demoiselle


Member since 6/21/11
Posts: 572
Skill: Advanced Beginner



Date: 6/23/13 11:19 AM

BTW: the shoulders (on the shirt) are equally wide. Hubby and I checked. The pattern on the cotton (which worked fine for muslins of skirts) makes it look like one side of the v-neck is narrower than the other.

My first thought for fixing this was to lift the shirt at the waistband, just making the whole thing shorter and hopefully helping with the bunching at the back because it would not quite reach my hips. I shortened the shirt by pinning in an inch-and-a-half fold (which I'd have to reduce to leave room for hemming), but that didn't seem to help much. I have pictures of the pinned up muslin, also, if they'd be useful.

Is this just a wadder? A top that isn't suitable for my body? Or not as bad as it seems to my own self-critical eye?

------
Yes, I started a blog.
http://demoiselledesigns.wordpress.com/

JTink


Member since 4/20/08
Posts: 6722
Skill: Intermediate
Body Type:




In reply to demoiselle

2 members like this.



Date: 6/23/13 11:30 AM

Oh My, you are being far to hard on yourself. You have done a wonderful job with this. Nice clean V on the neck line(not easy to do for some

)

I'll jump in and see if I can answer some of the questions and I know others will help out too

The bunching in the back could be from a couple of things, you will have to fiddle with them to find out which ones work. Open your side seams and pull the blouse down in the back. If you like the length, but the back is still bunching, a sway back adjustment will take out some of the extra. Once you relax the back, some of the extra in the front might ease up too.

I have this pattern and it really never worked for me either, but have a large bust and most things like this make me look like I'm wearing a tent. One option for making the front look more fitted is to make vertical darts. If your bust dart is making a pointy thing, you might want to bring it back and inch or so. I can't tell in the picture. It actually looks OK to me.

If you find the entire blouse is too long for your liking, take up the desired amount in the lengthening/shortening area.

Julia C


USA
Member since 7/1/07
Posts: 1326
Skill: Advanced Beginner
Body Type:


2 members like this.




Date: 6/23/13 11:44 AM

I agree with JTink. You are WAY too hard on yourself. It looks really good for your first top. I can tell you have pressed as you have sewn it.

I think in addition to the sway back adjustment, you need to merge to a larger size for your hips as you appear to be a pear. This will give you more room where you need it. You may need to add a little more after that for more room in the rear. Use really cheap fabric for muslins.

Learning to sew is fairly easy. Learning how to do the alterations you need to make it fit well is a bit more difficult & always a challenge.

demoiselle


Member since 6/21/11
Posts: 572
Skill: Advanced Beginner



In reply to JTink

Date: 6/23/13 11:47 AM

The bust darts are not making points--the dart ends about 3/4" from the apex. There is a slight pucker on one side, but I think that can be fixed by pressing or tying off a bit better next time.

So, you're suggesting that the first thing to try would be open up the sides (all the way to the armhole? or just below the interfacing?) and pull the back down . . . wouldn't that mean that I'd have to ease the front onto the back?

Please forgive the question. I'm not used to thinking from flat to 3-D yet.

I always struggle with tops--even when buying--because I am tiny and small-busted but with wider hips. I need things to be fairly fitted (at the bust and below, too) or else I vanish/start to look blocky).

I'm looking up the sway back adjustment. I've never done anything like that. I guess it's no wonder, since this is garment #3 since I learned to operate a sewing machine as a teen 15 years ago . . .

------
Yes, I started a blog.
http://demoiselledesigns.wordpress.com/

demoiselle


Member since 6/21/11
Posts: 572
Skill: Advanced Beginner



In reply to Julia C

Date: 6/23/13 11:53 AM

Quote: Julia C

I agree with JTink. You are WAY too hard on yourself. It looks really good for your first top. I can tell you have pressed as you have sewn it.

I think in addition to the sway back adjustment, you need to merge to a larger size for your hips as you appear to be a pear. This will give you more room where you need it. You may need to add a little more after that for more room in the rear. Use really cheap fabric for muslins.

Learning to sew is fairly easy. Learning how to do the alterations you need to make it fit well is a bit more difficult & always a challenge.

I am a triangle: 32A, 28, 38.

I tried to figure out how to grade this pattern to a larger size (grr--now I've cut out the smallest) but I wasn't sure from where to start grading outward, or whether to do a curved line or a straight. Fortunately there is another back pattern for this shirt which is, I believe, identical, so I might be able to use it to help me add tissue if needed to get a bit more hip room. I don't need the top to be this long, though. I'll post the pictures of the top pinned up to be 3" shorter (after I reduce and upload them).

ETA: I always press every seam as I sew . . . my goal for sewing my own clothes is to do better than I can get at the store. Since clothes at the store are so awful, I expect it shouldn't be that hard, so then when I get something like this, I'm a bit over-hard on myself, I guess.

-- Edited on

6/23/13 12:04 PM

--

------
Yes, I started a blog.
http://demoiselledesigns.wordpress.com/

JTink


Member since 4/20/08
Posts: 6722
Skill: Intermediate
Body Type:




In reply to demoiselle

2 members like this.



Date: 6/23/13 12:25 PM

Just open the seams up to your about your waist line. You want the blouse to hang loose, so you can see what needs to be done. Since you want it to be shorter all around, I would do that first. It will bring it up higher, to a smaller hip area. You may still need to do a swayback adjustment(doesn't mean you are swayback, but it's an adjustment quite a few of us need to rid that bulk in the back). I'm a 36 and a half hip and like my stuff cut on the 12 by the time I get there. I cut a 10 in my shoulders and neck, a 12 at the bust(with a Full Bust Adjustment) and from under the bust, I start to morph a little more for a 29 waist. I cut between the 12 and 14 line on the multi size patterns for my waist.

Since you are an A, you may want to look in to Small Bust Adjustments in the future. That is if you find you have too much material in the bust area. Do you have a copy of Fit For Real People? It's a good reference for bodice fitting and not overly complicated(Or I wouldn't be able to follow it

) I know all this sounds terribly involved, but after you have done it a few times, piece of cake.

I think Hancock's is putting Simplicity on sale in a week or so. Next time you find this pattern at $1.99 or so, pick up another one. It's been in the book for years, so I doubt they will discontinue it anytime soon. It's a good basic blouse and one that will help you visualize that 3-D thing.

As far as how and where to start morphing out, you do so gradually. In your case you could start gradually adding out just below the waist that way, by the time you reached the hip area, you would have the extra you need. It's all about practice and getting to know your body. It takes time and lots of muslins

I've been sewing for almost 40 years and I still make muslins for every new pattern I do...and I still have a lot of Wadders that end up in the trash can. You have made a good start...keep going

demoiselle


Member since 6/21/11
Posts: 572
Skill: Advanced Beginner

1 member likes this.




Date: 6/23/13 12:30 PM

Conversing with hubby, I think we've concluded that the sway-back adjustment is probably the best direction to go. I found

this tutorial

and also looked up the instructions in

Fit for Real People

.

I'm going to have him try pinning up the back (and just the back) now, to see if that gets rid of the extra room. If it works, then I think that adding darts to the front under-bosom might be the best way to give the shirt the necessary shape. Assuming I can get it over my head then. ;-)

I'd also love to be able to lower the v-neck, which is pretty high, but I think that is something that will have to wait for a future iteration.

Thank you for the feedback so far. You've given me courage.

------
Yes, I started a blog.
http://demoiselledesigns.wordpress.com/

Karla Kizer


Member since 4/8/02
Posts: 8295
Skill: Advanced

6 members like this.




Date: 6/23/13 12:51 PM

Many years ago, a new sewist posted a similar tale of woe on a now-defunct website, saying she was so discouraged about a woven top she was working on that she was considering giving up sewing completely. She was convinced to stick with it by lots of responses, and told that the Big4 blouse patterns in general were problematic. She moved on to other patterns and other sizes and hung in there until she was sewing things she loved. That's how PatternReview started; her name was/is Deepika.

------
"Never try to teach a pig to sing; it wastes your time and it annoys the pig." -Robert Heinlein and Ann's father. Thanks for the reminder, Ann.

Where are we going, and what am I doing in this handbasket?

Matthew 25:40 (New International Version)
The King will reply, 'I tell you the truth, whatever you did for one of the least of these brothers of mine, you did for me.'





demoiselle


Member since 6/21/11
Posts: 572
Skill: Advanced Beginner



Date: 6/23/13 1:08 PM

Hubby got worried about trying to pin the swayback adjustment on me, so I had to do it on the table, but this is the result of putting a 1.5" fold in the center back and tapering out to the waistline:

Back: Much better, I think. I have a feeling that this is the way to go, and that I will be making this adjustment on a LOT of garments.

Side.

Front. I know my pinning is imperfect, but I'm thinking that for this to have shape it will need front darts . . .

Thoughts?

ETA: Photos are brutal, aren't they? This is really going to make me think about going back to swimming at the Y regularly. I miss when I had access to a rowing machine. I had such good posture then . . .

-- Edited on

6/23/13 1:09 PM

--

-- Edited on

6/23/13 1:11 PM

--

------
Yes, I started a blog.
http://demoiselledesigns.wordpress.com/
Printable Version
* Advertising and soliciting is strictly prohibited on PatternReview.com. If you find a post which is not in agreement with our Terms and Conditions, please click on the Report Post button to report it.
Online Class
Bust Adjustments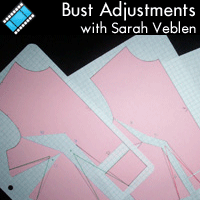 Online Class
Fun with Fitting - SKIRTS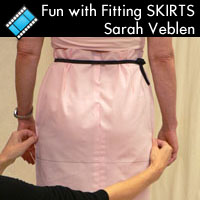 BurdaStyle Magazine 04-2012-101

by: grays08
Review
Self Drafted Pattern 235030-1000

by: Saint Nolt...
Review
Christine Jonson Slit Skirt & Pencil Skirt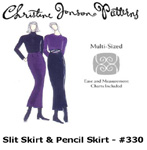 Pattern Details
Sew Chic Knapsack Pattern (ln100)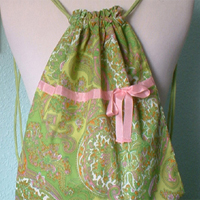 Pattern Details