wendyrb

Advanced
Member since 12/30/11
Posts: 3386

1 member likes this.




Date: 6/26/13 1:16 AM

I have just 2 1/2 days in NYC- definitely visiting Mood, Mr. Kashi at Metro Fabrics and Tender Buttons. At Eliot Berman, they have shelves of swatches and I didn't love that; likely to pass on them. Maybe a place like Spandex World? Will definitely go to the Met's Punk/Couture show and to My Intimacy for bras.

Last summer, I shopped for fabric in NYC with abandon! I love my haul and have used some. This time, I want to be more focused and selective knowing I have some all-time-greats at home. I'm glad I sewed as much as I did considering the year had some twists and turns.

What are your fave places? Trim especially. Haven't been to B and H in forever.

My dates are Thursday, July 11th, Friday the 12th and part of Saturday. Best bets are probably some of Thursday and Friday. Also saving time for a very favorite PR friend. Would love to say hi to the NY contingent of PR. Possible for anyone? TIA,

~Wendy~
-- Edited on 6/26/13 1:23 AM --

------
Always keep your words soft and sweet, just in case you have to eat them. Andy Rooney

Pfonzie- my honey Pfaff Creative Performance, Bernina 930 and 830, Evolution serger.

loti


Advanced
Florida USA
Member since 5/27/04
Posts: 3634





1 member likes this.



Date: 6/26/13 1:32 AM

Pacific Trimming for Riri zippers (look for projects before you go, they have separating zippers in different metalics). This is the one I ended up getting (below), they also have buttons and buckles in case you are making a trench.

Paron Fabrics West (the discounted Paron's).

I did a run two years ago for the McQueen exhibit, it was great!

Tender buttons is a pretty far from the garment district if you are pressed for time. The last time I went I took a jacket I had finished, and found the buttons I wanted, so much more fun when you have a plan.

Here is the riri zipper

------
"A girl should be two things: classy and fabulous."
Coco Chanel

Stash Sewn in 2011 148.5 Yds
Stash Sewn in 2012.... counting...

http://adonising.blogspot.com

Changma


Advanced Beginner
New York USA
Member since 2/20/12
Posts: 839





Date: 6/26/13 5:14 AM

I pm'd you a few days ago.

ryan's mom


Advanced
Member since 11/30/04
Posts: 5006

1 member likes this.




Date: 6/26/13 7:25 AM

Might be possible for me. Depends on my daughter's schedule but she is begging for a trip to NYC for fabric shopping next month.


------
Big 4 Pattern size 12, RTW bottom: 6, RTW jacket 8, RTW top (no size fits me well!)
Measurements: 34 HB/36 FB (34C bra)/27.5/36 (and working hard to keep it that way.)
Machines: Sewing: Elna 760, vintage Kenmore Model 33 (1967), Janome Gem Gold 3, Singer Model 99, Singer 221/Featherweight. Sergers: Babylock Imagine and Babylock Enlighten. Embroidery Only: Janome 300E. Embroidery/Sewing Combo: Brother Dream machine. Coverstitch: Babylock BLCS. Straight Stitch: Janome 1600P.

If you think your sewing is better than everyone else's around here, get out of my way b****. I hate sewing snobs.

My blog: www.phatchickdesigns.blogspot.com

Karla Kizer


Advanced
Member since 4/8/02
Posts: 7857

1 member likes this.




Date: 6/26/13 7:27 AM

My order of priorities: Paron - always, or it's not a trip to NYC. Go in with an open mind and let your imagination do the work. Pacific Trims, preferably with a list of projects I need stuff for, or I'll leave with too many interesting things I don't need. Daytona Trims, the only place I can find some of the lightweight mesh-like elastic that's so handy to have. SIL thread, to grab a handful of my favorite (and too often missing) tape measures from the jar on the counter - the kind that have both inches and cm, reversible, with markings starting from both ends. MJ Trims and Mood Fabrics, when I'm looking for something specific. Otherwise, both are too overwhelming. If time permits: LouLou Buttons, Elegant Fabrics (because they have just about every kind of fabric. Prices are high, but it costs nothing to look). Spandex House, occasionally, if there's a particular kind of fabric I'm looking for. After that, if I'm still conscious, I'll drop into whatever little shop presents itself.
-- Edited on 6/26/13 7:29 AM --

------
"Never try to teach a pig to sing; it wastes your time and it annoys the pig." -Robert Heinlein and Ann's father. Thanks for the reminder, Ann.

Where are we going, and what am I doing in this handbasket?

Matthew 25:40 (New International Version)
The King will reply, 'I tell you the truth, whatever you did for one of the least of these brothers of mine, you did for me.'





sarah in nyc


Advanced
New York USA
Member since 1/8/05
Posts: 1799





Date: 6/26/13 10:37 AM

The Paron half price store is no more. They moved to 39th street about a year ago. They have a shelf of half priced bolts in the back of the store.

If you are llooking for the best prices in the garment district, I would walk two doors west of Paron to the store with the ugly but enthusiastic signage. I call the store Kaballa. Man, because the shop keeper studies the mystical texts when business is slow. The stock is all over the map quality -wise but tends to be the least expensive on the street.

Tender buttons is a pretty store. The reality is though that you can do far better in the various button stores in the garment district. If you want beautiful vintage trims go to Tinsel trading, they are now on 5th avenue.
. Butoni has a large selection of buttons and hardware. I am not that impressed with the quality of their goods though. I prefer Pacific. Butoni is a prettier store though.M=J has a great deep stock. if you want one stop button and ribbons I would go there. for a less pretty experience go to Pacific.
-- Edited on 6/26/13 10:49 AM --

------
sarah in nyc
www.sewnewyork.blogspot.com

Nancy K


Advanced
New York USA
Member since 12/28/04
Posts: 8410





In reply to Karla Kizer <<



Date: 6/26/13 8:24 PM

I stock up on zippers, both regular and invisible at SIL. They don't come in a package and the price for YKK zippers is great. I get them in basic colors.
I second Pacific trimming for Riri zippers. They will cut them to the size you want and you can get fancier pulls put on as well if you want.
They also have the largest selection of decorative elastic anywhere in all widths and colors. They carry real petersham ribbon, which is in the East room and they call it rayon grosgrain ribbon.

------
www.nancyksews.blogspot.com

wendyrb

Advanced
Member since 12/30/11
Posts: 3386



Date: 6/26/13 8:58 PM

Thanks all for your great recommendations. I have been at a teacher conference in Austin and a little out of the loop. Can't wait to get home, go thru patterns and think trim. A few things I remember from various posts (will reread carefully after I've done my homework,)

* Maria(Changma) oooops, in my mind I answered your PM, but didn't. Will reply, so check.

* Sarah- Tender Buttons is like a museum for buttons. Last visit an elderly lady brought in her Chanel jacket, also old. Lost a button and they went through their stock diligently searching for a match with me peering over their shoulders. Finally had to call the Paris boutique to solve it. I usually buy singles of 2 or 3 buttons. Then I go to My Intimacy sorta near by. I like that you distinguished between the different shopping experiences for the stores- very helpful

* Nancy- Britex has Petersham in tons of colors and will check price, but guessing Pacific will be better. Good to know.

* Ryan's mom- let me know.
Again, thanks to all.

------
Always keep your words soft and sweet, just in case you have to eat them. Andy Rooney

Pfonzie- my honey Pfaff Creative Performance, Bernina 930 and 830, Evolution serger.

sarah in nyc


Advanced
New York USA
Member since 1/8/05
Posts: 1799



Date: 6/26/13 9:45 PM

I assume that my Intimacy is a bra store...the best place hands down for fitting is on the UWS, The Towne Shoppe. ( it's just a few subways stops uptown from the garment district)

be a bit more specific about what you are looking for and I can probably point you in the right direction.

I was just taken to a new for me fabric store called fabric & fabric it's on I think 38th and 8th on the second floor. They have lovely stock including all of the stock from lace star. It's tidy and organized , unlike some of the bargain stores. I'm really fond of Paron, but a fair amount of their stock is ooooooolllllld. I love new york elegant. I don't buy there often but they have some special goods you won't find elsewhere.


If you are going to the Upper east side then you probably ought to stop into the fancy consignment shops so you can look at top of the line clothing more easil;y than you can in the boutiques. i would also strongly suggest a visit to julie artisan gallery to see truly high end art to wear...

------
sarah in nyc
www.sewnewyork.blogspot.com
Printable Version
* Advertising and soliciting is strictly prohibited on PatternReview.com. If you find a post which is not in agreement with our Terms and Conditions, please click on the Report Post button to report it.
Sew a Designer Unlined Jacket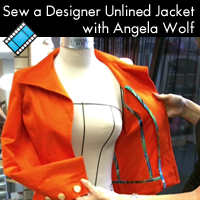 Fun with Fitting - PANTS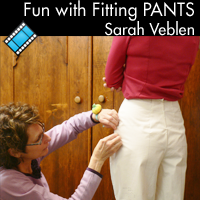 Jalie 2795

by: meggipeg
Review
SewBaby Fleece-Easy Hats Pattern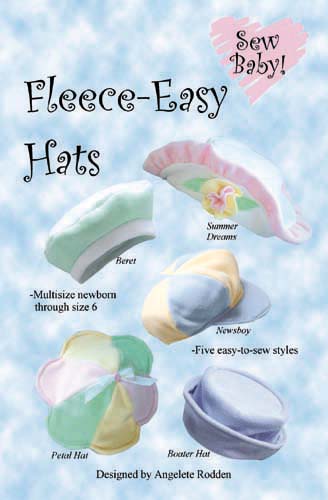 Buy Now
BIRTH OF A BUSTIER - A CD Book by Kenneth King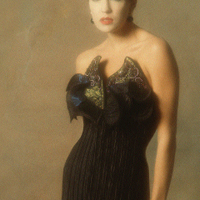 Buy Now
New Look 6910

by: blessedtos...
Review