demoiselle


Member since 6/21/11
Posts: 572
Skill: Advanced Beginner



Date: 6/30/13 10:32 PM

I'm curious--I see "Beginner" and "Advanced Beginner" and "Intermediate" levels, as well as "Advanced." I do not know, however, at what point people consider themselves to have crossed the threshold from one place to another.

When did you upgrade? Why? Or if you haven't, why have you not?

------
Yes, I started a blog.
http://demoiselledesigns.wordpress.com/

Mufffet


Vermont USA
Member since 8/14/05
Posts: 13439
Skill: Intermediate



In reply to demoiselle

6 members like this.



Date: 6/30/13 11:17 PM

This has been asked and discussed so many times on the boards. - it is a self-applied level and probably shouldn't even be in the profile as it seems people have a problem from time to time thinking they must be categorized in some more ritualized manner. You are what you think you are.

What are the criteria? There are none - some people have tried to list the criteria as they themselves applied them, and others have other priorities in the whole area, so give yourself the appellation you think you should have. Used to be we could choose not to fill that in, but now the profile makes you, so you can pretty much fill it in any way you like.

EDITED TO ADD: After sewing for over 50 years you would think I could be advanced, and sometimes I am, but sometimes I am not and is it because i don't chose to make some things which are advanced?! I don't know!

I don't make couture and have no need nor desire for couture, but some have that as a routine! I guess I am an advanced-intermediate-lifelong-learner.

To me, beginner is pretty limited. If you have made a dress and a shirt you are now Advanced-Beginner - that beginner stuff does not last long.

-- Edited on

6/30/13 11:20 PM

--

------
"Be kind whenever possible. It is always possible."
--Dalai Lama

I have sewing machines

GlButterfly


California USA
Member since 8/28/08
Posts: 4031
Skill: Intermediate



In reply to demoiselle

2 members like this.



Date: 7/1/13 0:33 AM

There is also Expert/Couture.

Mufffet and I disagree a bit on this. I don't think a person is at the level where she thinks she is; there are some guidelines (which I mentioned several on PR so won't do so again.) However, the lines are blurred.

We do agree that a person doesn't stay a Beginning for long.

Many have wondered what the original idea was for the categories. Is it so when advice is given or a question answered by two persons, one rated Advanced and one Beginner and their comments are totally different, do we determine the more correct answer by the person's rating? I don't know.

This is one way I put it: Beginner is absolute newbie; Expert/Couture is someone who knows almost everything that there is to know about sewing. I would say that most members are Intermediate. I've been sewing for decades and am at the Intermediate level and will never advance beyond that, because I don't sew tailored jackets or coats, evening gowns, or work with difficult fabric. Even if I conquer the welt pocket, I'll still be an Intermediate.

There will probably be other answers by members, but is my take on the subject.

------
"TOL machines = Too (much) Operator Learning"--poorpigling, January, 2016

wendyrb

California USA
Member since 12/30/11
Posts: 4129
Skill: Advanced
Body Type:




In reply to Mufffet

8 members like this.



Date: 7/1/13 0:49 AM

Quote:

lifelong-learner.

Note to Deepika- we must have a new category as noted above and it must include the laughing icon.

My DH was helping me prep my bio photo for the PR weekend here in SF. He was messing around and inserted that I was advanced. I let it be since most likely I am, but please note- he's my greatest admirer.

I learned how to hand tailor from a European tailor, studied with 2 European women who worked in couture houses there, have worked with difficult fabrics, made evening wear, menswear, childrenswear and know how to make patterns for all of that. I know millinery and leather working- shoes, sandals, bags, luggage and garments. I worked professionally in the garment industry for 2 decades and in professional theater. And still I get stumped, have to noodle around and love PR. At my age, I'm in the Advanced Stages of Life-Long Learning.

------
Always keep your words soft and sweet, just in case you have to eat them. Andy Rooney

Pfonzie- my honey Pfaff Creative Performance and Pfaff Passport, Bernina 930 and 830, Evolution and Enlighten sergers

tinflutterby

California USA
Member since 8/9/11
Posts: 328
Skill: Advanced

4 members like this.




Date: 7/1/13 0:52 AM

I think the wording is bad. No one stays a beginner for long and advanced is an intimidating word. I think confident might be a better choice after intermediate. Intermediate to my mind means you have made enough things that you don't have to always read the instructions. You have a sense of how sewing is done. I can do couture sewing. I can do anything if I'm willing to slow down enough. I am a confident sewist.

Sharon48


Washington USA
Member since 5/17/12
Posts: 340
Skill: Intermediate
Body Type:


3 members like this.




Date: 7/1/13 1:43 AM

I have been sewing since I was 8 and have made evening wear, done a little tailoring, taken pattern drafting courses, made just about everything at one time or another, but totally agree with Mufffet - love the advanced-intermediate-lifelong learner catch phrase. Truly, I don't like labels:( Just love to sew!!!!

------
Sewing is a passion, so calming and rewarding

Janome Horizon MC15000
Baby Lock Ovation
Baby Lock Melody (travel machine)
Baby Lock Embellisher
Viking Husqvarna 190 Electronic
Singer 401A



SandiMacD


USA
Member since 2/8/09
Posts: 2563
Skill: Intermediate

2 members like this.




Date: 7/1/13 6:15 AM

Pretty much same here. I know quite a bit about couture and have done aspects of it but I don't actually do it so I would not use that.

And I have done jackets, vests, suits and other complex garments from difficult materials. But I am past that part of my life and on to simpler things. Don't think I will ever have a reason to do or even want to do that again- I in my 60's. But then I might try a wedding dress for my great niece when she grows up.

Right now I do or am interested in doing dresses, lingerie,Ts, tops and pants so I figured Intermediate covers it.

I am most comfortable using a label based on my experience, knowledge and current application to garment sewing. Now if I was into quilting...a whole 'nother thing altogether!

-- Edited on

7/1/13 6:31 AM

--

------
sewing brings joy and meaning to my life...

Vintage Joan


Ontario Canada
Member since 7/16/07
Posts: 12891
Skill: Intermediate



In reply to demoiselle

Date: 7/1/13 6:40 AM

There were some guidelines posted on a Beginner and Advanced Beginner contest a few years ago -- here's the

thread

. And here's the list that was posted in that thread:

Quote:
If you think you truly are a Beginner, then you probably have no doubt about your categorization as such, and you should choose the Beginner Contest. However, if you think you may fall somewhere between Advanced Beginner and Intermediate and aren't sure whether you qualify to enter the Advanced Beginner Contest, the following list of skills will aid you in making your decision. If you've attempted and are proficient with more than 5 of the following techniques, then you're ready to bump yourself up to the Intermediate level. (Congratulations!)

A. Zippers (lapped, slot, fly, invisible)
B. Buttonholes
C. Facing
D. Lining
E. Curved seams (such as princess seams)
F. Collars
G. Set-in sleeves
H. Welt pockets
I. Sewing with knits
J. Various hand stitches, including but not limited to: hemstitch, fell stitch, hand rolled hem, catch stitch.


I learned to sew decades ago, but left sewing completely for about a decade and came back to it, so I wasn't sure what category I fit into. I went with "Advanced Beginner" for a long time. But after seeing that list of guidelines, I changed my level to Intermediate, since the only things on that list I can't do comfortably yet are welt pockets and a few hand stitches.

Advanced Beginner is sometimes used by people who learned to sew thirty or forty years ago and are re-learning now how to fit for their older bodies. I don't think it fits them/us very well -- many people returning to sewing already have at least a pretty good handle on most skills in that list.

And quite a few people even keep using "Beginner" even after they've become really competent sewers, because they've only been sewing for a certain period of time.

-- Edited on

7/1/13 10:11 AM

--

------
my shield and my very great reward ~ Gen. 15:1
~ ~ ~ ~ ~ ~ ~ ~ ~ ~ ~ ~ ~ ~
"Some people are so poor, the only thing they have is money." ~ Seen on a t-shirt worn by a young missionary in India

PattiAnnJ


Ohio USA
Member since 12/3/06
Posts: 9083
Skill: Advanced

5 members like this.




Date: 7/1/13 10:39 AM

I also think these self proclaimed titles should be dropped...I don't even look at them.

We should be able to make a statement, or ask a question without having a label.

------
OLD CHINESE PROVERB: I HEAR & I FORGET; I SEE & I REMEMBER; I DO & I UNDERSTAND.


marec


Arizona USA
Member since 5/11/08
Posts: 5589
Skill: Intermediate
Body Type:


1 member likes this.




Date: 7/1/13 11:20 AM

Yes, I think the labels are self defeating sometimes. If you start to compare to another, you may lose some sense of accomplishment in your own learning. It's important for any learner to clarify between working to become better because it is important to you, and working to become better because you want to look better.

Further, all mastery lists are developed by people

just like us

, who have the same struggle with the psychological aspect of learning vs. mastery.

That said, I am proud of my label. Go figure!

It represents a certain amount of work, dedication, attention to detail and perseverence to me. I have no idea what it represents to anyone else. That doesn't matter to me-I just am happy to sew, sometimes even sew well.

------
my blog: http://kf-biblioblog.blogspot.com/
Stylish 60- http://www.pinterest.com/maresea/style-evolution/
Printable Version
* Advertising and soliciting is strictly prohibited on PatternReview.com. If you find a post which is not in agreement with our Terms and Conditions, please click on the Report Post button to report it.
Online Class
Pattern Work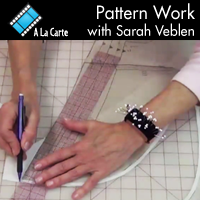 Online Class
Restyling with Exposed Zippers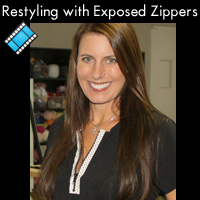 Vogue Patterns 1395

by: jewelea
Review
J Stern Designs Khaki Pants Pattern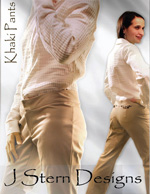 Pattern Details
Jamie Christina Sunny Day Dress and Skirt Pattern (JC308SD)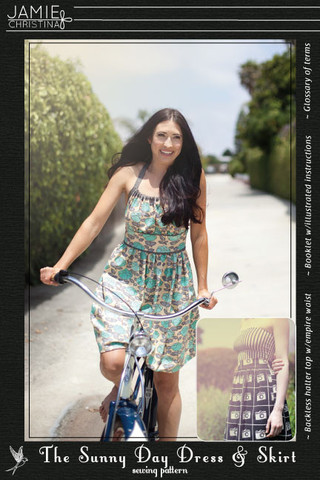 Pattern Details
By Hand London Elisalex Dress

by: rosiewedne...
Review