Does anyone have tips, advice, or suggestions on applying ready-made iron-on appliques?
I bought
this
to embellish a linen Renaissance gown I'm making. It arrived today, and it's beautiful! It's going to save me a gazillion hours of hand embroidery I am perfectly cable of doing myself.
Here's a better shot from the etsy listing: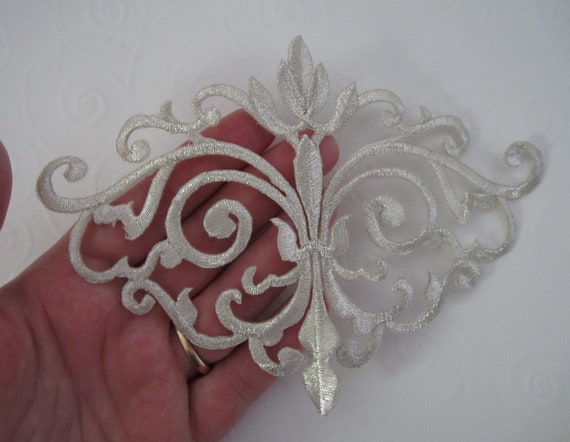 It is a little wrinkled from shipping, but I'm hoping a couple days under a heavy book will sort most of that out, and the iron will do the rest. It's supposedly iron-on and washable/dry-cleanable (I will probably hand wash/line dry the gown, but it may occasionally be steamed in the dryer). I've kind of worked with these before--but only quickly tacked on to kids' fleece capes or something. Not a
committment
. It cost a fair enough amount, was the only one she had, and is pretty enough that I'd like to get it right. :)
No instructions came with it, but my instinct is to hand tack it down to the linen,
then
press it on to secure it more firmly (as if it were fusible interfacing), and then probably tack it down a little more (metal-thread appliques were actually fairly common in the Renaissance, so a few strategic hand-stitches are in order!). Does this sound about right?
Anything else I should know?
Thanks!!
ETA to clarify that I know the difference between
ironing
and
pressing!
-- Edited on
7/10/13 5:57 PM
--
------
~Gem in the prairie