LDT2011


Intermediate
UNITED KINGDOM
Member since 11/18/11
Posts: 747



Date: 7/30/13 9:20 AM

I want to get myself a sewing machine for when I don't handsew (like if I'm low on time or I really can't face doing lots of buttonholes). As I'm not going to use it a lot I want something fairly cheap that I don't have to have an argument with adjusting the tension etc.
I've been looking at the singer standard 1507
It looks like it would do what I wanted. And I'm willing to spend up to £100 as I only spent I think it was £40 on my last one (janome mini sew). Which I've now lost patience with. Its far too limited and the bobbin has stopped winding properly. Just ends up in a mess.

So is it worth buying it? Is there an alternative?
-- Edited on 7/30/13 9:45 AM --

------
'The purpose of most fashion is to be ostentatiously non-functional.'

Mufffet


Intermediate
Vermont USA
Member since 8/14/05
Posts: 10947





1 member likes this.



Date: 7/30/13 10:40 AM

See what you can get in a Janome...you should be able to get a mechanical at or near your price range. Then your bobbins will all work on your mini as well!

Here is a link in UK Janome:

J series

------
"Be kind whenever possible. It is always possible."
--Dalai Lama

I have sewing machines

PattiAnnJ


Advanced
USA
Member since 12/3/06
Posts: 7383





1 member likes this.



Date: 7/30/13 11:57 AM

I bought this model a few years ago just to see why so many people were "dissing" the brand.

It is a super little machine. The first thing I did was to sit down with the machine and manual and go from cover to cover testing each feature of the machine.

Then, I put in a jeans needle and hemmed a pair of jeans. No hesitation at all.

Next, I did a sample of straight stitching with the 1507, a Bernina, a Babylock and an Elna. I knew which line was which machine because I wrote it down, but no one else could tell the difference because there wasn't any.

Go for it!

------
"Improvise, adapt and overcome." - Clint Eastwood/Heartbreak Ridge

beauturbo

Advanced
California USA
Member since 5/2/09
Posts: 3436



Date: 7/30/13 3:57 PM

I think value for money, is sort of a marketing and advertising term, so not sure what that really means, or probably means different things to different people. But for the same amount of very little money or even maybe less, that you would pay for that brand new inexpenisve Singer 1507, you really could just go get (at a thrift store, garage sale, add in the paper) a way much older used, and once really expensive and still real nice machine, that has straight stitch and zig zag in it, something like maybe a Singer 401, Pfaff 130, elna SU, Necchi BU or something like that. I have all those kinds of machines and actually I think most times paid about half of the price of the brand new Singer 1507 for them and they probably would just even feel way better to sew on, and be much more reliable, have no hidden thread paths at all, everything tesnsion wise just very exposed and since they all have straight stitch and zig zag they would also suffice.

I don't ever sew most or all of my clothes by hand so it's kind of hard for me to even be able to imagine doing that, but I am a excellent hand sewer and embroiderer, when I choose to take the time to do that, and do choose to hand finish off parts of garments I machine sew sometimes and often as in just doing hand sewn finishes and hems in something if that would be better than machine there, and I would for sure get one of those the ones I mentioned if only wanting to spend that amount of money, over a new one for the same amount of money. So that actually would be kind of what I would consider value for money there, just for me even. But different people like different things too.

So that's always another good alternative too.


-- Edited on 7/30/13 4:12 PM --

LDT2011


Intermediate
UNITED KINGDOM
Member since 11/18/11
Posts: 747



Date: 7/31/13 5:15 AM

Thanks for the feedback. I'm not a fan of second hand. I do have access to my mum's sewing machine its an old 'jones' (looks like this one). Weighs a ton so I can't lift it to the table on my own, you also need a degree to figure out how to thread and adjust it. And it only does a straight stitch. :o

I also liked the look of Janome 2050 but that I'd have to order online rather than being able to pick up in person.

-- Edited on 7/31/13 5:30 AM --

------
'The purpose of most fashion is to be ostentatiously non-functional.'

bestgrammy


Oregon USA
Member since 8/29/06
Posts: 3556





Date: 7/31/13 9:23 AM

Would you have to pay shipping on the 2050 to receive it? And... if you didn't like it or if there was a problem with it, what is the return policy? Would you also have to pay shipping to return it?

That's not to say that the 2050 would have a problem...but there is always a possibility with any machine at any price. From its online description it's a light duty sewing machine...yet that may be fine for what you need to sew.

Actually both the Singer and the Janome are light duty models...but the Janome has more stitches which may make it more versatile and although a small full size...it's considered a full size sm...while the Singer is a smaller 3/4 size sm. It does help to have more room to work in.
-- Edited on 7/31/13 10:01 AM --
Printable Version
* Advertising and soliciting is strictly prohibited on PatternReview.com. If you find a post which is not in agreement with our Terms and Conditions, please click on the Report Post button to report it.
Restyling with Exposed Zippers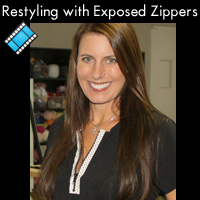 Beginners Guide to Dyeing Fabrics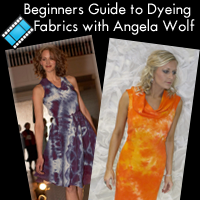 New Look 6433

by: LOST_kitty...
Review
Sewing Workshop Hong Kong Vest Pattern

Buy Now
Islander Sewing Systems Jacket Express Pattern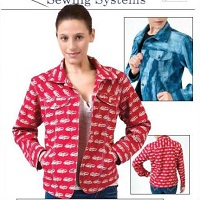 Buy Now
Vogue Patterns 1033 OOP

by: cleverclog...
Review