Handshake


Advanced
UNITED KINGDOM
Member since 7/19/13
Posts: 385



Date: 8/26/13 1:44 PM

If this question is in the wrong place, sorry, but I have not been here very long.

Re: these contests. As an example, a jacket-making contest.

Where does one send the jacket, and how long does it take to get it back?





marec


Intermediate
Member since 5/11/08
Posts: 4423





Date: 8/26/13 2:42 PM

We just enter photographs and a review. HTH, marec

------
my blog: http://kf-biblioblog.blogspot.com/
Sewing through my pattern stash-145
completed.

Handshake


Advanced
UNITED KINGDOM
Member since 7/19/13
Posts: 385





Date: 8/26/13 3:43 PM

Quote: marec
We just enter photographs and a review. HTH, marec


The actual jacket (for instance) is not examined in real life?

Forgive me for this thought, but in that case how to you know that it hasn't been put together with a staple gun and glue? Or that the interior is a complete rat's nest, held together with pins?

These thoughts occurred to me today as I complete another jacket, all my own work, with painstaking attention to detail on hidden parts of the tailoring (such as herringbone stitch on one part) all hidden by the lining..........

How to the contest judges know what has gone into the construction if they only have finished photographs to go by?


kkkkaty


Intermediate
Utah USA
Member since 12/7/05
Posts: 2661





Date: 8/26/13 5:00 PM

hmmm. those are good questions. Most of the judging is done by members to the site, so it wouldn't be possible to inspect each project. Appearance is everything, I guess

------
Viking Lily 545
Viking Ruby
Bernina Activa 210
Brother 1034d


ConnieBJ


Advanced
Ontario Canada
Member since 12/31/03
Posts: 2356
Contest Committee

1 member likes this.




Date: 8/26/13 5:06 PM

Our contests aren't put together for the "professional sewist" who sends garments out to shows. So no, when voting is done- and the contests are all peer voted, anyone who is a PR member can vote- the only things that are "judged" are what can be seen from the photo or the description.
These contests are offered to encourage people to sew, to get them to think outside the box, and as another way for us all to showcase our abilities. Some people enter many contests, some one or two a year, and others pass on the contests altogether.
I encourage you to join a contest to see how they run!
Kudo's on the fine finishing job you do on your tailoring! There are members of all skill levels here, and we would love to see some more of your work!
-- Edited on 8/26/13 5:07 PM --

------
Connie Bontje

http://www.couturesmith.com
Twitter: Couturesmith
Facebook: Connie Bontje
Desperately trying to keep ahead of my pattern, fabric and dressform collection!

Baja Susana


Advanced
MEXICO
Member since 7/13/08
Posts: 771





1 member likes this.



Date: 8/26/13 5:15 PM

Hola Handshake,
As Ashford said, we are mainly hobby sewists. I look forward to contests because they force me to complete projects. And you will find the comradery to be rich and deep and the differing opinions to be lively. There is a real sense of community here. I have made some very good friends on PR.
The entire site is on the honor system. If someone can live with themselves by duping their peers with staples and glue, well they have to look themselves in the mirror every morning.
As the contests progress, many of us post our in-progress photos to seek advice, brag about a success, and to encourage others.
If you decide to join a contest, take photos along the way and show off the fine work that you do.
The mini-wardrobe is a lot of fun and one of my favorites.


------
Baja Susana
www.susansewsdaily.blogspot.com
Sewing on the beach, what could be better?


Handshake


Advanced
UNITED KINGDOM
Member since 7/19/13
Posts: 385





1 member likes this.



Date: 8/26/13 5:38 PM

Quote: ConnieBJ
Our contests aren't put together for the "professional sewist" who sends garments out to shows. So no, when voting is done- and the contests are all peer voted, anyone who is a PR member can vote- the only things that are "judged" are what can be seen from the photo or the description.

These contests are offered to encourage people to sew, to get them to think outside the box, and as another way for us all to showcase our abilities. Some people enter many contests, some one or two a year, and others pass on the contests altogether.

I encourage you to join a contest to see how they run!

Kudo's on the fine finishing job you do on your tailoring! There are members of all skill levels here, and we would love to see some more of your work!
-- Edited on 8/26/13 5:07 PM --


Hi Connie

This is all new to me - contests for sewing. I had no idea that people send garments out to shows, I don't think that happens in UK, but if it does, someone will tell me.

I put the above question to a non-sewing man (who is, frankly, speechless at the amount of trouble I go to in sewing jackets, and the hours of work in construction which are all hidden inside, to try to make the jacket as good as possible. I'm not aiming for perfect, I'm aiming for as good as possible, for me) and his response was as follows: why bother with a staple gun and glue, go for CGI to win photo-only contests. !

This jacket will be finished within days, Connie, and I'll put up a review by the end of the week. I will show photographs of interior work too - that which is not hidden by the lining; you'll have to take my word on the number of HOURS of work which have been put into trying to make the fit as good as possible with engineering-think and fabricated solutions all made from flat cloth and interfacings of different weights, working on concave surfaces upside down and inside out to try to make sense of a possible solution to a recent problem; try 3D architecture in your head and hands with a needle and thread. Just saying.......
goosegreen


Advanced
New South Wales Australia
Member since 1/9/05
Posts: 2421





1 member likes this.



Date: 8/28/13 2:46 AM

Quote: kkkkaty
Appearance is everything, I guess


Yep...it's all down to the photos IMO. If your photo is good, then you will attract more votes.

I came second in the One Pattern Many Looks contest with 2 unfinished hems!


-- Edited on 8/28/13 2:46 AM --

------
Alison in suburbia - Sydney Australia
My sewing blog: http://nosilasews.blogspot.com/

Keeper of the flock - Janome MC8000, Janome MC4900QC, Elna Elina 40, Husqvarna Rose, Singer 201K, Elna Contessa, Janome My Excel 18W, Janome 634D & 534D overlockers, Janome Coverpro 1000CPX.

LDT2011


Intermediate
UNITED KINGDOM
Member since 11/18/11
Posts: 762





Date: 8/28/13 6:50 AM


Do you have a blog...as someone just venturing into the world of jackets and tailoring I find it a bit intimidating. Would love to see a jacket construction from start to finish. I find a lot of bloggers leave out sections of the construction to just show a few key bits.
Particularly interested in the 'hidden' stuff. As a handsewer (trying to get to grips with having to use the machine to finish projects on time) I like the little touches.
Do you machine stitch your buttonholes or hand sew...or are they bound buttonholes?
-- Edited on 8/28/13 6:51 AM --

------
'The purpose of most fashion is to be ostentatiously non-functional.'
Printable Version
* Advertising and soliciting is strictly prohibited on PatternReview.com. If you find a post which is not in agreement with our Terms and Conditions, please click on the Report Post button to report it.
Online Class
Beginners Guide to Sewing Jackets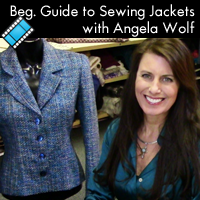 Online Class
10 Clever Techniques To Help You Sew Like a Pro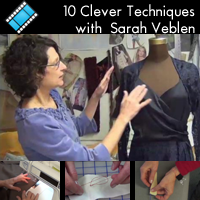 New Look 6571

by: Sheila457
Review
Newport Tote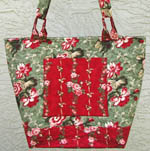 More Info
Christine Jonson BaseWear Two - Straight Skirt, Taper Skirt, & Top with Options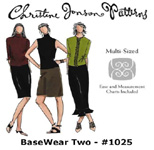 More Info
Simplicity 1716

by: Willowwear...
Review