Longblades

Intermediate
CANADA
Member since 7/28/11
Posts: 169



Date: 8/26/13 9:11 PM

Sorry, I can't find my original thread on my small neck problem but in it several answered that I should not try to alter the neckline to fit my 13" neck on a size 16 pattern but rather try a FBA on a pattern that fits my neck, or size 10 in the big four.

I dug out McCalls 8017 which is no longer in print but was reviewed at the link. I made it about 10 years ago in the 14 and the neck and shoulder width was too big. So I copied the pattern, altered the size 12 and I don't think it's going to work. This dress already has a side bust dart and one waistline dart in the bodice.

Altering by 1.5 " for the full bust made the side bust dart just over 4" wide at the side seam. I've always read 2.5 " is a good maximum width for that dart so I transferred part of it to another vertical waistline dart in the bodice and made that 1 1/8" like the already existing one. But my side bust dart is still three inches wide. That's before sewing it.

And, I really don't need another vertical dart because the rest of me needs the extra 1.5" (times 2 for both sides) that the FBA imparted to the rest of the dress. Well I guess I could add 1.5 to the width of each side at the back but then I don't want to alter the shoulder width there away from the size 12. And I don't want the armscye any bigger either.

I can't do this, can I. Can I?
-- Edited on 8/26/13 9:13 PM --

diane s


Intermediate
Oregon USA
Member since 8/24/02
Posts: 4781

1 member likes this.




Date: 8/26/13 11:28 PM

I have very narrow shoulders and a full bust. My actual measurements are close to a 16.
I start with a 10 in the neck and shoulders, about an inch down the side seam, I taper out to a 14. Then I do the fba. Mine is anywhere from 1/2 to 1".
I usually have to do a broad back too.
(sometimes the bust is taking from the back)
That keeps the dart under control, and the shoulders narrow and gives me the width I need.

------
My grandmother taught me to sew when I was 10, and I've been sewing ever since.

tinflutterby

Advanced
California USA
Member since 8/9/11
Posts: 284



Date: 8/27/13 1:18 AM

This link might give you a new idea. Unfortunately the text is in french but the pictures are great. You wouldn't want the dart to go to the center front obviously so in the 4th set of pictures close the dart to center front and allow the others to open including the one to the side seam which is marked but not cut. You would need to sew the side dart and possibly end up with a deeper waist dart but it looks like it preserves the neck/shoulder size while increasing the bust. This alteration created a slightly ruched front which I know is not what you have need of but like I said the extra could just as easily go to the side. You mentioned that you need the extra farther down which you can get by truing the center front seam. I think it will end up with a curve. Your grain line would follow the center front whatever all this did to what is printed on the pattern. HTH.
-- Edited on 8/27/13 1:20 AM --

Longblades

Intermediate
CANADA
Member since 7/28/11
Posts: 169





In reply to tinflutterby <<



Date: 8/27/13 9:50 AM

I have that link. I actually posted it here last week and asked for comments on it. That looks like it will increase the high bust but from a size 12 in McCalls I might need a wee bit extra there too. And I am tall enough that I'll have to lower the waistline so it might work all right. In the FBA I did fiddle around with I was surprised the waist line only dropped 1/4 inch.

One thing I've found in the FBA that most people seem to use, the one that slashes to the armscye instead of the shoulder, is the where you slash to on the armscye seems to vary a great deal and makes a big difference to the shape of the armscye. One instruction said to be sure to slash to the centre of the armscye and that is higher than most I've seen. One said to go close to the side seam. The higher one seems to preserve the shape of the armscye best, when doing such a drastic FBA as I am.

goodworks1


Advanced
Illinois USA
Member since 7/19/03
Posts: 3717





In reply to Longblades <<



Date: 8/28/13 10:12 AM

Quote: Longblades
Altering by 1.5 " for the full bust made the side bust dart just over 4" wide at the side seam. I've always read 2.5 " is a good maximum width for that dart so I transferred part of it to another vertical waistline dart in the bodice and made that 1 1/8" like the already existing one. But my side bust dart is still three inches wide. That's before sewing it.

And, I really don't need another vertical dart because the rest of me needs the extra 1.5" (times 2 for both sides) that the FBA imparted to the rest of the dress. Well I guess I could add 1.5 to the width of each side at the back but then I don't want to alter the shoulder width there away from the size 12. And I don't want the armscye any bigger either.
I can't do this, can I. Can I?


First of all, I don't see any reason to add a vertical dart if you don't need it. Take advantage of that extra width you've gained in the waistline area! (This works best if you need the extra space in the front of your body. See below if you need it in the back)

Second, I think the optimal size of the side bust dart depends a lot on the shape of your body. If you need a larger dart and it lies smoothly on your body once it's sewn and pressed, then just trim the folds to 1/2" or so when you are done.

Now if you are sewing a large high-contrast plaid fabric, you'll end up with some crazy lines, but I guess that could be fun too! :D

Edited to add: if you need extra space in the back, then either add it at the side seams (which will give extra width at the side of your body) or cut a vertical line from the hip-dart area (where there would be one IF the pattern had one) up to the neckline seam and spread the bottom of the pattern an inch or whatever you need at the waist/hips. It will hardly change the top circumference, will not affect the shoulders/armscye at all and should give the extra back space you need.
-- Edited on 8/28/13 10:17 AM --

------
blog: goodworks1.wordpress.com

Printable Version
* Advertising and soliciting is strictly prohibited on PatternReview.com. If you find a post which is not in agreement with our Terms and Conditions, please click on the Report Post button to report it.
Clone Your Favorite Garment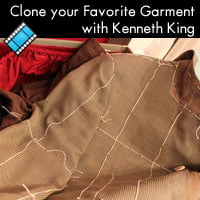 10 Clever Techniques To Help You Sew Like a Pro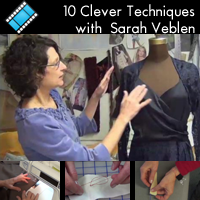 Butterick 5497

by: Lori V
Review
Sew Liberated Clara Dress Pattern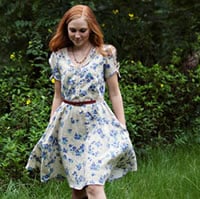 Buy Now
J Stern Designs Misses Jeans Pattern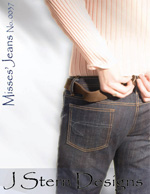 Buy Now
No Pattern Used Mini-Wardrobe

by: LonestarLa...
Review