I agree with JaquiB that you wil have to frankenpattern it.
First, you garment photo: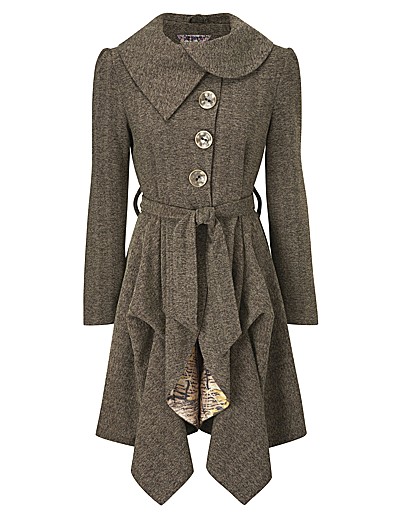 I am prettysure there is a jacket pattern with EXACTLY that collar, maybe even a McCall's wardrober? But I will have to check at home.
My suggestion is to add a circle skirt to a jacket pattern with a waist seam. But you don't round the edges as for a real circle skirt, you leave at least the front points. And you have to pick them up like on those wedding dress skirts.
Don't forget to do a toile/muslin in a cheap fabric of similar weight!
------
Morphology: Petite at 1m53 (5'), Burda size altered 19 or altered 38, Big 4 size 10 or 12 depending on ease;
Alterations: Petite, Narrow Shoulders, Slim Arms, Narrow waist, Increase Back Crotch Depth. Considering: Forward Neck/Rounded Upper Back, Slight Swayback;
Style: Feminine, Colorful, Fitted, Clean lines;
Favorite Garment type: Dress;
Favorite Colors: Purple, Navy, Brown, Shocking Pink, Coral, Aqua;
Favorite Fibers, Weaves or Patterns: Cotton, Linen, Cotton Silk blend, Seersucker, Swiss Dot, Lawn, Denim, Stripes, Chevron, Window pane Plaid, Bias;
Blog : http://fashionmate.blogspot.com
Pinterest : http://pinterest.com/lakaribane/