Margasweet


Advanced Beginner
Member since 2/15/05
Posts: 808

1 member likes this.




Date: 9/3/13 3:47 PM

Please help! I'm getting overwhelmed and confused about the best way to plan a minimal but functional wardrobe. It's a 3 week trip but we will have washing machines available. Planning on just carry-on. I'm 55, slightly chunky, sore feet.

My thoughts so far:
7 pairs underwear, 3 bras, 4 thin socks
1-2 tank tops (black, ??)
2 T-shirts (black, ??)
thin long-sleeved T shirt (gray)
long-sleeved T shirt w/ diagonal hemline (black, gray, green, purple etc.)
1 white gauze long-sleeved button-up shirt
black sleeveless knit dress (small cowl at neck) (knee length)
1 pair blue jeans
1 pair black trousers
black knee-length flared skirt
leaf green cardigan sweater
black drapey topper (waist-length)
black & gray rain parka
pewter Mary-Janes
black sneakers
black pumps? sandals?
silver-toned jewelry

Too much black? I wish the dress were a few inches longer, but haven't found anything better yet. Debating about buying some black tulle and sewing it onto the hem to extend it a bit. Is the white shirt too stark? I was hoping for all shirts able to be layered, but just can't seem to pull that off. I do have some other options and have time to do a bit more shopping, thought it would be best to ask for opinions & help.


------
2007 fabric in: 7 1/2 yards; sewn: 7 yds
2008 fabric in, 23 yards; sewn 20 yds; given away 6 yds
2009 fabric in 41 1/4 yds, sewn 29 yds, given away 22 1/2 yds
2010 fabric in 91 1/2 yds, sewn 27 yds, given away 1 1/2 yds;
2011 fabric in: 55 yd.; sewn: 21 yd; given away: 20 yd
2012 fabric in: 60 1/4 yd., sewn 25 1/4 yds, given away 16 yds, thrown away 3 yds scraps; UFOs completed: 7
2013 fabric in: 28 yds; sewn: 25.7 yds.; given away: 5 1/2 yd.s; projects 8, UFOs 4

2014 fabric in: 34.5 yd
2014 fabric sewn: 8 1/2 yd
2014 fabric given away: 8 1/2 yd
2014 projects completed: striped maxi skirt
2014 projects started:
2014 UFOs completed: 8 (5 small gift bags, pieced & quilted table runner, maxi dress, silk infinity scarf)


Elona


Advanced
Member since 8/24/02
Posts: 8341





In reply to Margasweet <<



Date: 9/3/13 4:33 PM

In Europe, you can never wear too much black. Seriously. The colors you have chosen are pretty and tasteful, but you will see a LOT of black over there.

When we go to Europe, we usually spend three months, staying either in nice B&Bs or mid-to higher range hotels, and often dining in good restaurants.

This is what I took on our last trip (based on black and red):
Wear one pair of jeans and pack another.
2 pairs of good microfiber/supplex yoga pants in black. These dry quickly in spite of being substantial.
1 black silk knit long sleeved top.
1 red 3/4 sleeve top.
2 black background striped, long-sleeve knit tops, one w/red stripes, one w/white.
One very nice long black cashmere cardigan. This is my 'coat.'
One extremely light rain parka, the kind that folds into its own pocket, but I almost never use it, preferring an umbrella.
Two Pashmina scarves about 24" X 80." They are functional, adding another layer of warmth both over tee shirts and the cashmere cardi, and are ornamental, too. All European women and most men wear scarves.

I take no skirts and no dresses, and in 20 years have never felt the need for these garments.

For shoes, in the kind of weather you are likely to encounter at that time, I bring one pair of black Wolky Kite sandals, which are wonderfully comfortable for my sorry feet. They make cobblestones disappear. I also pack one pair of Mephisto Mary Janes (which over there cost about half the price here). If the weather turns nasty, I buy a pair of Mephisto boots, because shoe-shopping in Europe is one of life's treats.

If I need more clothes, I buy them there, because that also is tons of fun. They have different and very interesting garments in Europe.
-- Edited on 9/3/13 4:50 PM --

LauraTS


Advanced Beginner
CA USA
Member since 7/10/06
Posts: 2171



Date: 9/3/13 7:37 PM

I was in the UK and Germany earlier this summer, and saw a lot of black in London (like usual) but not so much black on the continent. That said, your capsule wardrobe sounds like a great start. Especially if you have access to laundry that is probably plenty of clothes. I agree with Elona, you could probably get away without a skirt or dress but they can be a nice change from wearing the same practical pants every day. I'm torn about jeans for travel - they take up a lot of room and don't dry easily, but they are so nice to have around.

------
I've moved! Visit my new sewing blog at http://chiralcraft.wordpress.com

Do you sew from KnipMode? Join us at http://groups.yahoo.com/group/knipmode_english/


sewsally


Intermediate
WA USA
Member since 8/18/02
Posts: 1321

2 members like this.




Date: 9/4/13 1:12 PM

I wouldn't bring any jeans. Too heavy.


mmcp

Advanced Beginner
MD USA
Member since 5/31/09
Posts: 259



2 members like this.




Date: 9/4/13 6:27 PM

Caveat: I come from a family of ruthless packers, and my usual rule of thumb is to lay out all the clothes and then remove a third. Inevitably, I still come home thinking there was something else I could have done without!

In October it will be getting a bit cooler, and you didn't mention taking any tights--would you wear the skirt/dress with socks? I'd go with two pairs of pants, period--one a dressier pair (still washable). The microfiber that Marcy Tilton sells is great for those. I would skip the white gauze shirt--I'd be really surprised if it was very warm, and you might be able to lose the drapey topper too. I always travel with one or two long-sleeved WinterSilks undershirts, they provide an extra layer for cool evenings with no bulk or weight, crush to nothing in the suitcase, and dry really really fast. And think about whether you might want to shop while you're over there. I always take an extra (LARGE) lightweight tote that folds up flat, but that you can use during the day, and in a pinch, carry on for your return flight and check the "carry on." Sounds like a spectacular itinerary, you will surely have a wonderful time.

Karla Kizer


Advanced
Member since 4/8/02
Posts: 7622

2 members like this.




Date: 9/4/13 8:01 PM

My sister sorts through her underwear, takes the ones that are on their last legs, and tosses them as she uses them. She also packs the thinnest, cheapest washcloths she can find, since European hotels often don't supply them; she throws those away as she moves from hotel to hotel.

------
"Never try to teach a pig to sing; it wastes your time and it annoys the pig." -Robert Heinlein and Ann's father. Thanks for the reminder, Ann.

Where are we going, and what am I doing in this handbasket?

Matthew 25:40 (New International Version)
The King will reply, 'I tell you the truth, whatever you did for one of the least of these brothers of mine, you did for me.'





chriseen


Intermediate
VA USA
Member since 10/24/06
Posts: 65



Date: 9/4/13 8:40 PM

Sometimes it's helpful to me to assemble the major items and do a practice pack well in advance. I tend to take too much. Even a suitcase with wheels can get heavy.

Those are all great suggestions.

moushka


Intermediate
ON CANADA
Member since 4/8/02
Posts: 646





In reply to Margasweet <<

1 member likes this.



Date: 9/4/13 9:31 PM

I'm with Elona: you can't beat black for Europe. That said, it's not a great colour for me so I do pack a couple of coloured pashminas/scarves. You can go anywhere in dressy black pants, a silk tee and a nice jacket, except maybe to an audience with the pope. A classic blazer or Chanel style jacket is also always in style - again, in black or a colour+black tweed. If you know the trip is going to be casual, you could replace the jacket with a second cardigan.

You will probably feel overdressed in a skirt or dress unless you usually wear them. If you take the dress and/or skirt you will need tights or pantyhose, which aren't very travel-friendly. If you must take a shirt, make it a classic washable no-iron white tailored shirt with long sleeves. Take one fabulous pair of earrings and one great necklace to dress up your basic tees. I'd take more socks (7 or 8 pairs) and one more bra. Unless you love wearing the pumps, the Mary-Janes and sneakers will do, along with a really good pair of walking shoes. Sore feet will ruin your trip faster than feeling bored with your wardrobe!

Don't take brand new shoes, in fact, if you can help it, don't take new clothes, period. They make you a target for pickpockets. Don't let your DH carry cash or his wallet in his pockets and wear your purse in bandolier style, tucked under your arm. Put what money you need for the day in your purse and the rest in a money belt. If you will be in a train station or metro, be extra careful. Pickpockets often work in pairs, and they move fast; it's impossible to catch them in a crowded train or subway car that has started to move! Familiarize yourself with the look and feel of Euros before you go. Marcy Tilton travels to France twice a year and has extensive information on what she packs on her website, marcytilton (dot) com which might help, too. Have a great trip.

Sewnforever

Member since 11/26/08
Posts: 37

2 members like this.




Date: 9/5/13 5:20 AM

I recently canvassed opinion for what I should pack for an October trip to the States and received very helpful advice so it's nice to able to offer help in return.

As others have observed, black is the turn to colour in many places, and I have noticed that in these cities, most people seems to change from summer to autumnal layers come September as they return to work from the summer holidays. From the top layer down I would take a 3/4 length light coat/mac as Europe can begin to get chilly in October especially in the evenings although it should still be warm during the day. 1 smart jacket that goes with either jeans or black trousers - both of which you can wear as you board the plane then remove, Your selection of tops sound good and would inject colour but may be bulky and heavier than necessary - perhaps consider investigating a brand like Wolford who make a huge range ideal for travel as they are much lighter than t shirts, don't crease, take up very little space, plus are easy to wash in the bathroom and dry overnight.
Comfortable shoes are a must as these cities have so much to see and are VERY hard on the feet - if you stick to jeans and trousers you eliminate the need for dressy shoes which you won't wear that much and therefore don't pay their way which saves masses of space. I have never been turned away from a top end restaurant in any of the cities you are visiting for wearing smart jeans with a jacket or stylish top with good accessories. The Italians are very into their accessories and a beautiful scarf/pashmina would be ideal. Regarding undies, I now take just 2 pairs of laser cut seamless Sloggi's (far from my first choice style wise), but wash and dry overnight and no worries about VPL under any trouser. I would take three pairs of invisible trainer socks as they sometimes take longer to dry.
For longer trips, I also endorse the idea of take old things/half spent toiletries and throw as I go. I always remind myself as I wonder about tucking some extra item into the case that I can always buy something locally if I need to.
Enjoy your trip.
-- Edited on 9/5/13 5:25 AM --

Margasweet


Advanced Beginner
Member since 2/15/05
Posts: 808



Date: 9/5/13 2:49 PM

THANK YOU for all the wonderful suggestions! I had totally forgotten about silk long johns and cotton leggings, so they are now added to my wardrobe collection. I wore the black dress yesterday (funeral) and it is just a bit too short to be comfortable. I do want to bring a dress, I wear them often and in hot weather they are the most comfortable. I have a brown Eileen Fisher tank dress that I'll try in the wardrobe... The white gauze shirt is out.

Please keep sending suggestions! Are sandals OK to wear? I have better luck finding comfortable sandals as opposed to shoes.

------
2007 fabric in: 7 1/2 yards; sewn: 7 yds
2008 fabric in, 23 yards; sewn 20 yds; given away 6 yds
2009 fabric in 41 1/4 yds, sewn 29 yds, given away 22 1/2 yds
2010 fabric in 91 1/2 yds, sewn 27 yds, given away 1 1/2 yds;
2011 fabric in: 55 yd.; sewn: 21 yd; given away: 20 yd
2012 fabric in: 60 1/4 yd., sewn 25 1/4 yds, given away 16 yds, thrown away 3 yds scraps; UFOs completed: 7
2013 fabric in: 28 yds; sewn: 25.7 yds.; given away: 5 1/2 yd.s; projects 8, UFOs 4

2014 fabric in: 34.5 yd
2014 fabric sewn: 8 1/2 yd
2014 fabric given away: 8 1/2 yd
2014 projects completed: striped maxi skirt
2014 projects started:
2014 UFOs completed: 8 (5 small gift bags, pieced & quilted table runner, maxi dress, silk infinity scarf)

Printable Version
* Advertising and soliciting is strictly prohibited on PatternReview.com. If you find a post which is not in agreement with our Terms and Conditions, please click on the Report Post button to report it.
Fun with Fitting - PANTS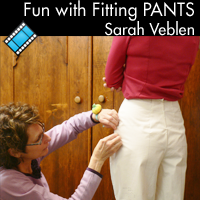 Put it on the Bias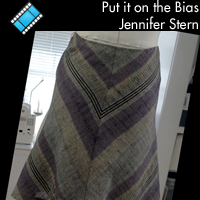 Other FREE Fabric Fishy Purse

by: Oceanpeg
Review
Jamie Christina Pretty Ditty Apron Pattern (JC303PD)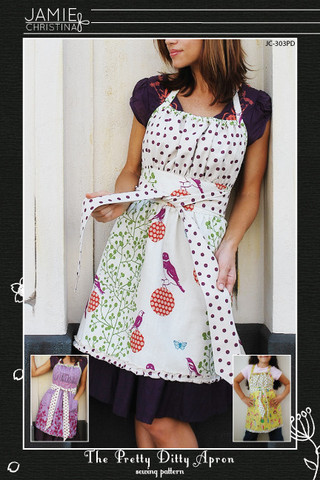 Buy Now
Victoria Jones Collection Misses' Traditional Muumuu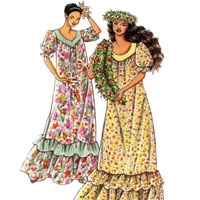 Buy Now
McCall's 6578

by: kristinlal...
Review