mishuus

SWITZERLAND
Member since 6/12/12
Posts: 3
Skill: Intermediate



Date: 9/8/13 1:38 PM

hello everyone

I'd like to ask around, as I'm seriously considering abandoning my sewing machine and serger for an experiment in hand sewing.
I own a sewing machine and a serger, but have found that my lifestyle means I rarely tackle larger projects. I am very busy all day, I work, have a child and am working on a master thesis. My sewing usually comes in spurts and I feel rather stressed out by seeing the machines uncovered, stuff everywhere, tools scattered in space I'd rather be using for something else and constrained to space which separates me from the rest of my family, especially my partner in the evenings. So, if I sew something I sew it up all at once and it usually ends up a bit sloppy. I need to find a more zen like approach, something that I can tie in with family life in the evenings.
Hence my idea to start hand sewing garments (not stretch fabrics, although if it's possible why not). Does it make sense to hand sew garments that would get worn often? Children's garments even (my son is 10)...
I have ordered Claire B. Shaeffer's Couture Sewing Techniques, but I wonder if it makes sense to apply couture techniques to everyday wear.
I'd love to hear what you all think!

Thank you very much and autumnal greetings from Switzerland.
Barbara

beauturbo

California USA
Member since 5/2/09
Posts: 5411
Skill: Advanced



Date: 9/8/13 4:08 PM

I don't think I would ever want to hand sew all my garments as it would take me so very much time and I would have so many less of them. But, if you feel things not working out for you time and sort of "zen wise" in using the sewing machine and serger, then I would just do more hand sewing for a while and see how you feel about it. If hand sewing construction seams though, I would throw in a back stitch into there, every few straight stitches at least, to make it a bit stronger.

I have multiple sewing machines, embroidery machines, overlocker ect., and even though I don't sew garments all up by hand, I still will sometimes do a lot of final finishing on them by hand sometimes, such as hand done hems, hand basting, hand applied trim and such, just because no matter how good you are with that stuff by machine, it can be done better and more controllable by hand sometimes.

For me, it kind of depends on what garment it is though, and how expensive the materials in it was, and how much for how long, I even think I might be wearing it. The more important it is to me, and just if the garment lends it's self to it, the more likely I will be putting some hand stitching into it, rather than doing it more all by machine.

Things like a nice hand done hem or hand rolled hem on some silk, can always be a whole lot better than some machine or serger overlocking there sometimes.

Done right, that kind of thing is not "loving hands at home" or Becky home-ecky" in any kind of negative way at all, does not look bad at all, looks great instead, and instead I would just consider that more hand couture sewing. Nothing wrong with that at all.

I think a lot of people do their construction seams by machine, and maybe then just choose to finish of some stuff by hand though, then you got sort of the best of both even. That kind of thing, (or hand embellishment on it) lends it's self to being really portable and you could take it with you on a plane, train or even while sitting waiting in some office someplace and get a lot done on it that way too. I don't see why you could not sew a whole garment by hand that way either, just that it would be a lot slower

Most times when I do more hand work, I do that while watching a movie or video at the same time, just since I can get two things done at the same time, just as good that way and makes it a bit less boring for me. Multi-tasking that way is not very reflective to inner thoughts or meditation though, but if you were doing it all by it's self instead, without that other visual distraction, maybe it would be better for more that kind of thing?

Kwaaked

Member since 9/25/12
Posts: 1405
Skill: Beginner



Date: 9/8/13 4:17 PM

I hand sew aprons, so I know they hold up, although I wouldn't do it for kid's clothing, but that's me.

As to applying couture work to everyday garments, we all do some of it when we make our own clothing anyway.

Now, I wouldn't do it, but I'm lazy. I also tend to save all my handwork in a basket, so I finish garments later (sometimes much later) when I can do it sitting still, outside or just not wanting to be in the sewing corner.

BriarRose


Wyoming USA
Member since 10/30/10
Posts: 2874
Skill: Intermediate

3 members like this.




Date: 9/8/13 4:38 PM

I look forward to hand sewing parts of my garments exactly because of the Zen thing. If there is no reason to get the garment done ASAP and you enjoy the process why not hand sew the whole thing? Once upon a time that was the way all clothes were sewn.

------
I've quit fighting my inner demons. We're on the same side now.

It's just fabric; we can out-think it.

Trinity.


Massachusetts USA
Member since 10/9/05
Posts: 1389
Skill: Advanced
Body Type:


1 member likes this.




Date: 9/8/13 5:22 PM

I say, go for it!

I absolutely, positively used to hate hand sewing. Still do sometimes.

But since I've started a hand sewn patchwork quilt top, I've gained a new appreciation for it. I can gather up my squares (it's a nine-patch -- no bias or curved seams for me yet, LOL), spool of thread, needles and clippers into one small work bag and take my project with me wherever I have to go.

I'll never stitch at 13 stitches to the inch like the Amish, but I am very proud of the stitching in my quilt blocks. I've got 12 blocks done, only 24 to go :o)

Now, admittedly, I've never hand sewn a garment, but the principle is the same, I should think. And I hope if you decide to do that you write us a review with lots of pics of your handiwork -- including the insides!!

------
Trinity

I probably have too many sewing machines, but how am I supposed to resist when they're either free by the side of the road or people give them to me?

http://thimblesthreadsandneedles.blogspot.com/

RMJ


California USA
Member since 12/14/06
Posts: 705
Skill: Intermediate

2 members like this.




Date: 9/8/13 5:34 PM

Alabama Chanin garments are made of knit and completely hand sewn. Shae has written several books.

Kiawe


Member since 9/30/12
Posts: 52
Skill: Advanced Beginner

1 member likes this.




Date: 9/8/13 6:08 PM

I used to hand sew my dresses when I was a teenager. They held up. And if a seam does come apart, it's easy to fix.

marymary86


Georgia USA
Member since 7/20/08
Posts: 3946
Skill: Intermediate

1 member likes this.




Date: 9/8/13 7:03 PM

Hand picked zippers stay in and they can be located at stress points (doing the back of a dress for example).

I think buying a great piece of silk and hand rolling the hems would be a fun project too (especially if hand sewing calm you down as it does me).

What kind of project did you have in mind? You've got me wanting to start one!

------
Mary




stirwatersblue


Kansas USA
Member since 12/13/08
Posts: 5367
Skill: Intermediate
Body Type:




4 members like this.




Date: 9/8/13 8:23 PM

Not to be snarky, but how do you think they made children's clothing before they invented the sewing machine? I don't think kids in the past were any less hard on their clothes, and the processes of laundry have CERTAINLY gotten *far* more gentle since the advent of the machine.

If you've ever had to unpick a hand-sewn seam in linen, you will never doubt the sturdiness again. And it's easy enough to throw in a backstitch here and there for extra security.

I love handwork, and I'm finding that for me it's often faster for me to do something by hand than it is to figure out how to do it by machine. It's not without its little headaches, though. One, you will want *spectacular* lighting. Two, don't skimp on needles--I like mine short and sharp (the stitches go quicker and a short needle is easier to manipulate in tight spaces). Three, and probably most important, stock up on thimbles and band-aids. The thimble goes on the middle finger of your dominant hand--the one you'll use to push the needle through layers of heavy fabric. If you forget your thimble and stab the eye-end of the needle into that finger, it will take forever to recover & you'll just keep doing it over and over again.

I like a leather thimble that covers the whole fingertip, but experiment until you find the one that's most comfortable for you.

***

The other part of your post addressed your sewing space--having all your stuff organized yet accessible, and also working nearby your family. There is a wonderful thread in the Sewing Spaces forum called "Pictures from those with no dedicated sewing space," that you might find helpful--lots of tips and inspiration for those of us who, for whatever reason, end up sewing in the spaces we share with the rest of the family. It's pinned at the top of the forum. There's also a newer thread called "Questions about sewing in a small space" that might be helpful, too.

Good luck! This is supposed to be fun, so feel free to switch up whatever you need to for sewing to be relaxing and enjoyable for you!

------
~Gem in the prairie

mishuus

SWITZERLAND
Member since 6/12/12
Posts: 3
Skill: Intermediate



Date: 9/9/13 2:24 AM

Wow, I'm blown away by all the responses, thank you

All of you make valid points, and as I was mending the mister's work trousers in front of the TV last night (all dark fabrics of course) I came across a few things I need to address in order to be able to do it properly:

- funnily enough someone mentioned light! Yes, it was a total bugger sewing with a dark thread on dark fabric under a regular living room lamp. Either I'll have to get a dedicated craft lamp, or move to a better existing light source within the room, as I don't want to end up ruining my eyes even more. I ended up using the mister's headlamp which he uses when he goes running in the dark haha!

- posture: I'm definitely not used to hand sewing on a couch and ended up feeling rather stiff and hunched up. I'm putting it down to not being used to hand sewing anymore and thus being very tense, as I regularly knit on the couch and can do so without any problems.

- thimbles: I have always had issues with thimbles. I own regular steel ones and a silicone one. Both make my finger sweat and come away after a while, so I never use them when mending. I have never seen leather ones, will definitely look for them, as I don't think I get away without using one.

- needles: I own several packs of several types and lengths of needles, but am pretty clueless as to which are the best for which job! Hoping the Shaeffer book will give me a lot of useful info on the right tools.

Projects I have in mind include tops/blouses for me to start with, after that possibly skirts and dresses, also for me, mainly of cotton or other similarly light fabrics. I have a few baby trousers with knit cuffs lined up for nieces and nephews, but since they will be in the crawling stage pretty soon I'll probably end up using my machine for that (pretty simple projects anyway, I can do those on a Sunday afternoon). I do realize once upon a time mothers made their kids' clothes by hand

I just assumed that they spent A LOT more time mending than women did after the advent of the sewing machine

My father grew up in Austria, one of 8 children, and I know that he spent most of his childhood in "Lederhosen" shorts - I always thought there was more to it than tradition, I've never heard of leather shorts having to be mended heh.

I have seen Alabama Channing's stuff, it seems to be all over the internet and I know a lot of knitters on Ravelry are into her things. I'm not a big fan, but it's purely down to my own taste, I'm more into Colette Patterns and other similar styles and not so much into big contrast stitches and tie dye fabric. I briefly considered getting one of her books to see how she works with knit fabrics, but then decided to go with Shaeffer's more classic approach, just so I can get the foundation skills first. We did learn to sew by hand at school, and I remember a lot of the basics, but the focus was definitely on mending by hand and sewing garments on the machine.

Clearly I need to investigate this hand sewing thing further, I am not very knowledgeable on the history of sewn garment production, but am intrigued by all your comments. 13 stitches to an inch is incredible, I doubt a seam like that would come apart any quicker than a machine sewn piece of clothing! If you have any recommendations on books on this topic, please share!
Printable Version
* Advertising and soliciting is strictly prohibited on PatternReview.com. If you find a post which is not in agreement with our Terms and Conditions, please click on the Report Post button to report it.
Online Class
Serging Ahead with your 5 Thread Serger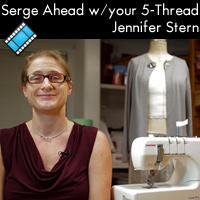 Online Class
Create a Jacket Muslin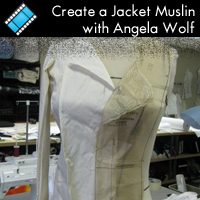 Butterick B4976

by: Sheila457
Review
Burda 8121

by: popo
Review
Pamela's Patterns The Versatile Twin Set Pattern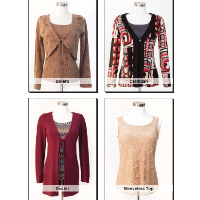 Pattern Details
Fit For Art Tabula Rasa Tee and Tunic
Pattern Details