Orianna2000

USA
Member since 1/4/10
Posts: 32
Skill: Advanced



Date: 9/13/13 4:38 PM

I've had a Singer Stylist (#7258) for about two years, now. I absolutely love it, except for one little thing. It will not zigzag properly! Anytime I try a plain zigzag stitch, the fabric tunnels, forming a wrinkle that runs straight down the middle of the zigzag. It does not do this with buttonholes or overlock stitches, just the regular zigzag stitch. Now, I rarely use a zigzag, but there are times when it would be nice. My favorite method of gathering is to zigzag over a length of crochet thread, but lately, I've been forced to gather using other (less efficient) techniques.

At first, I thought it sounded like a tension issue. The machine has auto-tension, but I tried adjusting the tension manually. Didn't help a bit. Since it can do an overlock stitch without problem, I tried zigzagging with the overlock foot, thinking that might make a difference . . . nope! Still wrinkles.

Several of my sewing students have bought the Singer Stylist and they all have the same issue with zigzagging, so it appears to be a universal problem. Does anyone know what's causing it? Any suggestions or workarounds? Is it a common Singer issue? Or is it just the Stylist? I'd like to buy a second (backup) machine, but if all Singers have trouble with zigzagging, I'll need to consider a different brand.

bestgrammy


Oregon USA
Member since 8/29/06
Posts: 3575



In reply to Orianna2000

1 member likes this.



Date: 9/13/13 6:37 PM

Is this Singer the only sewing machine you've had that tunneled with zig zag?

My Janome sms and Kenmore (by Janome) do that and I've heard of others as well.

Tunneling is more pronounced on light weight fabric or single layer fabric and with wide zig zags which is why buttonholes don't have that problem...the zig zags are very narrow and normally on at least two layers of fabric...maybe even with some interfacing between.

Gathers bunch fabric together...so the tunneling/wrinkles would not be noticeable...or am I missing something?

It's not the overlock foot that prevents tunneling...it's how the overlock stitch is of itself that breaks up pull on the fabric. The
multi-stitch zig zag also does not tunnel.

I've used strips of copy paper under fabric to give enough body to prevent tunneling. Sometimes tissue paper is recommended yet I've found that to be too flimsy. On the other hand...copy paper that's too sturdy is hard to tear away. Light weight copy paper tears away well and is cheaper than tear away stabilizer.



beauturbo

California USA
Member since 5/2/09
Posts: 5551
Skill: Advanced



In reply to Orianna2000

1 member likes this.



Date: 9/13/13 7:20 PM

I think all machines when used with pretty thin and slippery fabric might tend to tunnel on a wide and open zip zag sometimes or even often. Some more than others. And of course your actual fabric has a lot to do with it too. When that happens though, some things make a difference sometimes, and that is even without putting any stabilizer behind your fabric. One is to loosen up your top tension, just since more thread going into each stitch when it zig zags that way, is the less likely to srinch up and pull and tunnel some fabric up. Other thing is to use the smallest and sharpest needle that is good for thread and fabric. So that would not be some universal one, size 14 or 16 at all, on some woven cotton, in that case a smaller thinner sharp (not universal) size 11 or 12 needle would be better.

So I don't think it's a common Singer by brand name sewing kind of issue at all, just a common, rather universal kind of sewing issue on sewing machines actually. Also even if you have loosened up your top tension, if you are actually a sewing teacher, you should have zero problems taking a bobbin case out of the machine, and even loosing up the lower tension too, any time you might want, as that is just something all sewing teachers should know how to do, I would think. If you have never done that, on any machine and really never heard of that before, time to figure it out, probably. Right is tighter and left is looser.

Also my guess is if you were doing a 3 point zig zag, with 3 needle drops in each zig and zag then that would not happen, or even a less wide zig zag under maybe same circumstances and fabric maybe, just like maybe not happening with lots of the other wide stitches or fake overlock stitches, just since less pulling factors going on even, if space between needle drops is smaller and not larger on something more likely to pull or tunnel up. Of course that won't work for sewing over a cord and pulling it later, as would be stitching into the cord too.

That would not bother me a whole bunch on some fabrics though for sewing over a cord, as if sewing over a cord, and going to be pulling it later, it is going to tunnel then anyways, while doing even that to it, so I'm not sure what the difference would be later?

Even though I think it's kind of normal to have some tunneling going on when sewing some lightweight fabric with a wide zig zag, some other things could make that happen even more than normal though.

Things like having some needle scratches and dings on your stitch plate or hook maybe, or even bobbin case. As maybe more likely to catch the thread there, on a longer free-er pass of thread than one with more stitch drops closer together in them and not even as wide. As a sewing teacher, it might not be a bad idea to learn about those kind of things either probably, as that kind of thing would come in very handy for you in teaching sewing too I would think.

So I think it's not brand wise at all. I think machine by machine wise, instead it is sometimes a bit, some can sometimes stitch a wider needle swing with more push and pull factors going on at the same time, on some stitches possibly with a little more or less tunneling going on when that happens though, but some of that is more "sewing technique" than just the machine too often. I also think sometimes a expensive machine is made more expensively than a not so much one, but tunneling when sewing a wide and long stitch length zig zag can actually happen on lots of fabrics on lots of my machines, and I consider that kind of normal there even.

PattiAnnJ


Ohio USA
Member since 12/3/06
Posts: 9220
Skill: Advanced

2 members like this.




Date: 9/13/13 10:52 PM

You might be able to avoid this if the machine had the option to decrease the presser foot pressure.

Try using a walking foot for the zig zag stitching.

------
OLD CHINESE PROVERB: I HEAR & I FORGET; I SEE & I REMEMBER; I DO & I UNDERSTAND.


Marie367

Ohio USA
Member since 5/28/11
Posts: 5762
Skill: Intermediate



In reply to Orianna2000

3 members like this.



Date: 9/13/13 11:08 PM

I have Kenmores and Janomes and don't have this problem. A lighter foot pressure solves alot of wierd problems I have but I don't know if you can adjust that or not. You said you tried to loosen tension which would have been my first guess. Have you tried lengthening the stitch a little and maybe a more narrow zigzag? You could also try a stabilizer between the fabric and feeddogs. I have used tissue paper for this-it is cheap and tears away easily.

Orianna2000

USA
Member since 1/4/10
Posts: 32
Skill: Advanced



In reply to bestgrammy

Date: 9/14/13 10:47 AM

My old machine (an entry-level Brother) did not have any trouble zigzagging. I'm using the same kinds of fabric/thread/needles. The main difference between the machines is that the Singer is computerized and the Brother was not. Plus, the Singer is a more expensive model.

I was able to adjust the bobbin tension with my previous machine, but the Singer Stylist has a top drop-in bobbin and, according to my research, the tension screw is not accessible.

My main concern is that the crochet thread might fall into the wrinkle/tunnel, since it's pretty deep. I like this gathering method precisely because it creates neat, even, tiny gathers, but if there is a tunnel, and especially if the crochet thread gets lodged in the tunnel, it might affect how delicate the gathers are. It also might thicken the seam allowance, since there is a wrinkle or tuck running the length of the ruffle's top edge.

It's possible the default zigzag width is too wide, so I will try narrowing it to see if that makes a difference. If that doesn't work, I'll try stabilizer. Thanks for the suggestions!

bestgrammy


Oregon USA
Member since 8/29/06
Posts: 3575



In reply to Orianna2000

Date: 9/14/13 3:33 PM

Quote: Orianna2000
I was able to adjust the bobbin tension with my previous machine, but the Singer Stylist has a top drop-in bobbin and, according to my research, the tension screw is not accessible.

The online pdf manual for your 7258 on page 28 states that the bobbin tension is factory set so you do not need to adjust it.

With that qualifier in the 7258 manual I personally can not advise you to adjust the bobbin case tension because if something went awry then I don't want to be responsible.

Now...with that said...a drop-in bobbin case's tension screw is accessible...easily...and there are loads of info on the internet.

Here's a video with good info...although most of its demo is shown with a vertical/front load bobbin case...she does show the tension screw on a drop in bobbin near the end at about the 4:47 point. That model bobbin case has a green tension screw...probably because the sm is a Pfaff...but most are not colored...the fact to remember is to only adjust the flat head screw or as some call it a slotted head screw..but NOT the phillips head screw.

Video

-- Edited on

9/14/13 4:38 PM

--

beauturbo

California USA
Member since 5/2/09
Posts: 5551
Skill: Advanced



In reply to Orianna2000

Date: 9/14/13 3:43 PM

You can adjust the bobbin case screw in all machines, it does not matter if a drop in bobbin or a front loader at all.

On yours, look at page 70 in your instruction manual, where they show you how to take you bobbin case out often, to clean out all the lint and fuzz in there. In the photo there of the hand holding the bobbin case out of the machine, the finger on it, is right in front of the shown tension screw you turn there to do that. So it has a tension screw, just like the other bobbin case, that you already know how to do it with. If you ever decide to do that though, I would do it, with it out of the machine and held over a towel or a bowl or something as it is really short, and if drops out onto the floor can get lost real easy. Right is tighter and left is looser, and most times even just 1/8 or 1/4 of a turn gives a pretty noticeable difference.

I just think you should know how to do it, so you know how that works when you need to know that, if ever, not saying yours needs it right now or ever at all. I think yours is just in the right place right now, if all other stitches stitch good and you just get some tunneling on a wide open zig zag on some fabric, just because I don't think that is all that unusual at all. But, at least now you know where it is, and how it works just in case you need to know ever. It does not matter if the machine is computerized or not there, as your bobbin case is not at all.

My guess is the more narrow the zig zag on any fabric the less likely it would be to tunnel if no stabilizer under it there. Forget about the default, just put your zig zag at whatever width works best for you when doing anything. The default does not mean much at all, just that some place had to be a default for something. You get to choose the right width for anything instead.

I have done gathering over a cord, but if I want to do really precise gathering on some very thin flexible fabric, and control it the very best there, I still really do run two basting lines a bit apart from each other, and and just pull the threads, and then use my fingers to put it all where I want. To me, having that extra line of basting and the gathers held in both and being less slippery that way, works nice. But just two different ways to do something.

Different machines are different though, and just because you could stitch the same wide zig zag on same fabric on another machine, with maybe not as much tunneling going on there, does not mean it might always be the same on even another one.
-- Edited on 9/14/13 3:54 PM --

I just think if you got a whole bunch of sewing students and they all have the same machine, probably the more you know about the machine the better.
-- Edited on 9/14/13 3:56 PM --

bestgrammy


Oregon USA
Member since 8/29/06
Posts: 3575



In reply to Orianna2000

Date: 9/14/13 5:57 PM

Page 78 shows how to use the gathering foot that is an included accessory with you sewing machine. I recall you said crochet thread was your favorite way to gather...but has the gathering foot method been tired?

Orianna2000

USA
Member since 1/4/10
Posts: 32
Skill: Advanced



In reply to bestgrammy

2 members like this.



Date: 9/14/13 8:29 PM

I will look into how to access the tension on the top drop-in bobbin. Since the manual said it was factory set and didn't need adjustment, I assumed we weren't supposed to mess with it or it would void the warranty. I'd also read that they were difficult (sometimes impossible) to access, so I didn't look further into the idea. Good to know it can be done!

I have tried the gathering foot, but never got it to work properly. I don't know if it was a combination of the wrong fabric/thread, or if I was doing something wrong, but I've tried several times, on different machines, and never achieved a proper ruffle. The ruffler foot attachment, on the other hand, works great, but it's more complicated, since you have to calculate how many pleats per inch it's going to make, in order to figure out how long to make your ruffle. It's not my preferred method of gathering.

I was helping a student with her new Stylist today, so we experimented with the zigzagging. Sure enough, a narrower width was the key! The default width is 5. At 4, it still tunnels a little, but it worked perfectly at 3. It's a bit narrower than I typically zigzag with, but still workable. I'm thrilled to have the problem solved!
Printable Version
* Advertising and soliciting is strictly prohibited on PatternReview.com. If you find a post which is not in agreement with our Terms and Conditions, please click on the Report Post button to report it.
Online Class
Perfectly Fitted Shirt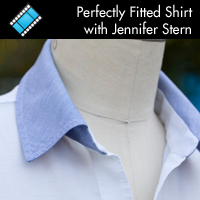 Online Class
Pattern Work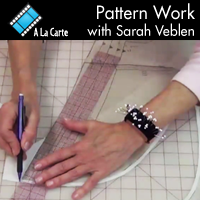 BurdaStyle Magazine 04-2008-116

by: yummymummy...
Review
BurdaStyle Magazine 12-2013-122

by: Kbenco
Review
You Sew Girl Small Tote Pattern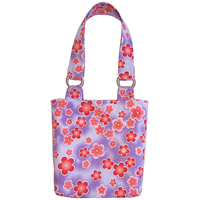 Pattern Details
Petite Plus 203 Pattern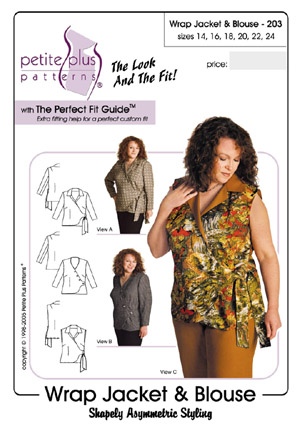 Pattern Details