MacMorrighan

Member since 12/22/12
Posts: 75
Skill: Beginner



Date: 9/15/13 2:03 PM

I had a fabulous time at our local Hancock Fabric store--which seemed much more geared towards Sewists than Hobbyists. And, after searching for months I found the fabric I require (though the bolt on hand isn't as utterly BLACK as I'd prefer[!], the Hancock website doesn't seem to carry a selection that is a darker shade of black). Our Joanne's by contrast, carried nothing with a poly-rayon blend.

But, I digress...

On the drive home I had mentioned to Mom (I forget how it came up) that the grain must be straightened before the pattern is laid out by making a small snip and pulling a thread that would cause a natural cut line. Mom was in a state of almost disbelief, and informed me that she's never done that once in all the years that she's sewn items! Then, I remembered that when I studied sewing in Home Ec. during Jr. High School we hadn't been instructed to do this, either. Moreover, on the sewing programs on PBS they never mention this practice! If it is as important as al of my sewing books by Vogue, Better Homes & Gardens, etc. insist that it is, than one might imagine that it would behoove these educational programs at the very least to spend a few seconds demonstrating it or discussing it. After all, I know that in the editing process, many educational reality shows (particular paranormal shows) have pre-recorded clips that are inserted so the cast does not have to explain the same thing over and over again. So, I am just curious about how important is really is, and why so few people practice it or even bother mentioning it if it is as vital as my books have insisted?

More specifically, however, I will be sewing a garment using more than 10 yards of ponteroma knit fabric which is 72% polyester, 24% rayon, and 4% lycra. It says that it is to be hand-washed ONLY! Is there an easier way to prepare this fabric by way of removing the shrinkage other than washing and drying it?

Also, considering that my finished garment (the Butterick cloak pattern #4050) is rather large, does anyone have any advise on what I ought to use to lay it on to dry? I'm only worried that if it takes too long to dry it might develop mildew or some other aroma...

CathrynR


New Hampshire USA
Member since 6/26/08
Posts: 811
Skill: Intermediate

1 member likes this.




Date: 9/15/13 4:53 PM

The process you are describing is not grain straightening, but making the fabric thread perfect, which is the first step in grain straightening. Grain straightening ensures (if the pattern pieces are also laid out and cut correctly) that the garment will fit the body correctly, hang/drape attractively without twisting and turning the seamlines. Of course it is possible to get an ok garment without doing this, sometimes, but I never take that chance, I put too much work in all my garments to have it unwearable because of omitting this preliminary step. But each sewer must decide for her/himself, and maybe will not decide to do this until they have spent hours on creating a garment only to find that it is unwearable because it does not look good because it hangs lopsided, or does not fit comfortably because it twists and turns on the body. Polyester does not need to be preshrunk, but rayon does. With that much polyester and so little rayon...again it is up to you whether you feel it should be prewashed. Sometimes a fabric can be preshrunk by steaming as with a steam iron that produces a lot of steam or by a clothes steamer.

AnneM


Contest Committee
Member since 7/30/02
Posts: 7478
Skill: Intermediate

3 members like this.




Date: 9/15/13 5:12 PM

Well, my 2 cents (which is only worth about that):

Straightening the grain - if the grain is not straight, this does matter. And pulling a thread helps you know the exact grainline. But not sure how applicable it is for a knit! I do not always straighten the grain, although it depends on the garment I am making & on if the fabric seems off-grain.

laying out the fabric straight - you certainly want to lay out the fabric so that the grain is straight. Pulling a thread can be kind of fun. But it won't work with a knit (it only applies to wovens). And even for a woven it is not usually necessary, since you can often see the grainline. Unless your garment is going to be inspected closely, or you are particularly uncertain of the grainline, or you just enjoy doing it, it is not required. (That being said, it certainly won't hurt. I just did it this afternoon on a pair of flannel pants I am making, believe it or not.) For a knit, I follow (or try to follow) the ribs.

- your pattern is designed for a woven, not a knit. Is ponteroma a ponte knit? In that case it is probably plenty stable for your cloak.

- I'm not fond of hand washing, particularly large fabrics. Polyester / rayon / lycra is NOT a fabric I would be inclined to hand wash. I tend to ignore the recommendation and machine wash it. Now, I am NOT recommending you do that. But if you are adverse to hand washing, I am recommending that you take a swatch (at least 4 inches by 4 inches, larger if you can spare it), measure what you cut exactly, and machine wash it. Then you can see what the change is - shrinkage, change in texture, change in sheen.

- For drying, putting it on a towel & flipping it over would probably work. If it is stable enough, putting it on a (high) clothesline or draping it over a drying rack might work, but the latter might make a crease line.

------
With a great wardrobe that's still in the flat-fabric stage.

rmusic1


Member since 7/3/10
Posts: 1209
Skill: Advanced Beginner
Body Type:




Date: 9/15/13 5:15 PM

I must be lucky then as I have never (apart from when making a sloper) checked the grain of anything I've made. I'd be curious to find out if it's dependent on the fabric vendor.

Virtually all the fabric I've bought has come from one of two local shops. I don't choose synthetic fabrics so its either wool, silk or cotton.

I have learned (reluctantly) to pre wash/pre steam and press fabric. I resent the time it takes but consider it worth the investment. I dont know if this, along with ensuring the selvages are completely lined up and I've patted and smoothened the fabric flat helps at all.

Hopefully some more experienced PR members can contribute a more technical explanation.

tlmck3


Illinois USA
Member since 7/11/05
Posts: 3783
Skill: Advanced Beginner



Date: 9/15/13 5:15 PM

With that high percentage of polyester, it shouldn't take so long to dry that it would develop an unpleasant smell. I would drape it over the shower curtain rod so that the weight is equally distributed on both ends of the fabric. You'll have to fold it and probably have to turn it over half way through drying so the underside can dry, too.

I can't imagine a 10 yard piece of ponte di roma fitting in an average washing machine. Is it possible to cut it into two 5 yard pieces or would that destroy your fabric layout? A five yard piece would be easier to drape over the shower curtain rod and would dry more quickly because you wouldn't need to layer it into so many folds.

For the finished garment, I would also dry it folded over the shower curtain rod and turn it over when the exposed side dries.

------
I am going for a level of perfection that is only mine... Most of the pleasure is in getting that last little piece perfect...Inspiration is for amateurs. The rest of us just keep showing up and doing the work.

Chuck Close, painter, printmaker, photographer

Hope has two lovely daughters: Anger and Courage

St. Augustine


Vivienne


Member since 6/29/04
Posts: 1316
Skill: Intermediate
Body Type:




In reply to MacMorrighan

Date: 9/15/13 5:17 PM

That riiippp is a great feeling! It is only useful on woven so you won't be able to use this technique on your new ponte.

I learned it in home ec in 1983 - and my teacher commented modern weaving methods typically make this step unnecessary but it is good to know just in case. I did just use it last night!

I'd suggest cutting a 10x10cm swatch (or thereabouts and trace) and toss the swatch in the wash next time you do laundry.

If it comes through to your satisfaction, feel free to wash and dry the yardage. With that much fabric, you'll likely need to open the dryer a couple of times so it doesn't form a mass/lump and not tumble properly.

OR if there is not shrinkage atvall upon laundering, I would consider simply sewing it up. (I never do this)

Good luck!

------
Cheap fabrics, like cheap shoes, are a false economy.


stirwatersblue


Kansas USA
Member since 12/13/08
Posts: 5366
Skill: Intermediate
Body Type:


7 members like this.




Date: 9/16/13 0:49 AM

FWIW, half of my clothes are ponte knit, and I never hand wash any of it. I am really a rebel when it comes to fabric care (I wash all kinds of things "They" say not to). If that was MY ponte, it probably never would have occurred to me that it couldn't be washed, and I'd have done it straightaway, without even testing it. (shrug) Since you read the official guidelines, it's probably worth it to do a test--but I would be extraordinarily surprised if anything happened to it.

...And if it can't stand up to machine washing, that's a pretty poor quality ponte knit, IMO. I don't care what the care instructions say--a well-made polyester doubleknit does not need to be handwashed. That's silly.

------
~Gem in the prairie

TGWGWS

Texas USA
Member since 8/15/08
Posts: 409
Skill: Advanced
Body Type:




Date: 9/16/13 1:51 AM

I always pull a thread and straighten my woven fabrics. I preshrink all my fabrics that are washable including the zipper...and dry clean or steam those fabrics that are not washable (which are few and far between...I hate dry cleaning and the pollution it causes).

------
Tina
------
I do not weep at the world I am too busy sharpening my oyster knife.
zora neal hurston

Viking Rose
Elna 945
Brother PE-770

lamstu


CHINA
Member since 8/17/04
Posts: 40
Skill: Advanced

1 member likes this.




Date: 9/16/13 2:32 AM

I always pre-wash fabric in the washing machine in cold water, as this is how I would launder the finished garment. Washing removes any finishes, dirt, bugs, odors that might be present, as well as taking care of shrinkage and color bleeding out.

For such a long piece of ponte knit, I would drape it over a large drying rack, with as little hanging down as possible. My concern about hanging it over the shower curtain rod is that the weight might distort the and pull the fabric out of shape.

As far as pulling the thread on a woven - this is the best way to ensure a perfectly straight edge. Tearing will go straight down the line, but it often distorts the edge. I find that many fabrics are wound really tightly on the bolt, which can distort the grain too. The pre-washing step helps to relax the fabric in this case too. Good luck!

------
lamstu

woole bully


Member since 8/9/06
Posts: 102
Skill: Intermediate



Date: 9/16/13 8:17 AM

ahem.....i took a 4-H sewing class with my instructor using the bishop method of sewing. she said before she learned about straightening the grain of fabric (as so many have previously stated) she would just cut away any fabric that did not match up at the end of the seam! my husband and children are all familiar with helping me pull the fabric to straighten the grain. it is VERY important to do with wovens and those of us who do not do it will not have a satisfactory end garment. regarding your knit...i agree with others that say if it cannot withstand a washing machine/dryer i won't sew it. all my fabric gets washed/dried like any of my other clothes. i do not use a dry cleaner or dry flat anything other than a knit sweater. i have about 10 yards of a wool knit i bought at hancocks. i have thrown it into the washer/dryer several times to shrink it FIRST. this way i know that when the garment is finally made it will withstand this treatment. a ponte knit is very stable and if you wash/dry it prior to making it i think it will be okay. good luck!

------
be yourself; everyone else is already taken: oscar wilde
Printable Version
* Advertising and soliciting is strictly prohibited on PatternReview.com. If you find a post which is not in agreement with our Terms and Conditions, please click on the Report Post button to report it.
Online Class
Sewing with Slippery & Drapey Fabrics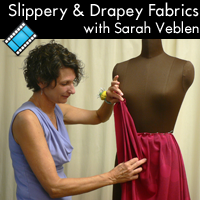 Online Class
Beginners Guide to Sewing Jackets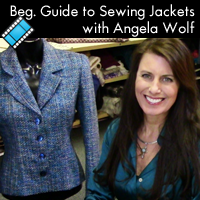 BurdaStyle Magazine 04-2010-114

by: Maree P
Review
Pamela's Patterns Perfect Tank Top Pattern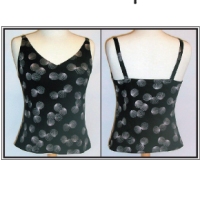 Pattern Details
THE MOULAGE - A CD book by Kenneth King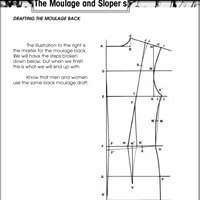 Pattern Details
Simplicity 1806

by: Merrycontr...
Review