quiltingwolf


Member since 12/15/02
Posts: 7400
Skill: Intermediate

2 members like this.




Date: 9/25/13 3:01 PM

For those of you that take classes, I have only taken one and couldn't complete as my sis was sick. How experienced do you expect your quilter teacher's to be? I raise this as I know of a class being taught by a quilter much younger with only a few year's experience basically teaching someone's else's technique not sure with their blessing or not. I wouldn't mind this as long as said quilt teacher was respectful of age difference.The respect for elders has really gone out the window these days. That being said I might have trouble relating to someone doing something for 2 years against my 30 years. The reason I think of this is something I saw on FB and my daughter was passed over for a promotion I feel was her age, too young, All the store asst managers are 35 or older. I know also back in the day before age discrimination laws were made (although they are useless) you had to be 25 to work at Joann's. I know cos I tried to get a job there and was told that. I know as we women of a certain age this will come up again and again and all the people providing us services are going to be younger. But do you think we automatically think women who are younger are more immature with less life experience, and do we become somewhat arrogant in the aging process just by having more life experience? I'm not asking about males as it's a whole different mind set.

-- Edited on

9/25/13 3:01 PM

--

-- Edited on

9/25/13 3:03 PM

--

------
quiltingwolf.blogspot.com

PattiAnnJ


Ohio USA
Member since 12/3/06
Posts: 9022
Skill: Advanced

1 member likes this.




Date: 9/25/13 3:14 PM

You know of this about the teacher, but have you actually sat in her class?

She may have been the only one available (or who applied) to teach the class and is perfectly capable.

------
"Improvise, adapt and overcome." - Clint Eastwood/Heartbreak Ridge

"Isnít it a shame in todayís world you canít tell the truth. If you tell the truth youíre abrasive. If you lie youíre charming." - Bob Huggins/College Basketball Coach

quiltingwolf


Member since 12/15/02
Posts: 7400
Skill: Intermediate



In reply to PattiAnnJ

Date: 9/25/13 3:32 PM

nevermind

-- Edited on

9/25/13 3:34 PM

--

------
quiltingwolf.blogspot.com

Julkane


Pennsylvania USA
Member since 9/14/07
Posts: 702
Skill: Intermediate

1 member likes this.




Date: 9/25/13 4:25 PM

Honestly I don't really think about the teacher's age. As long as I learn something I am pretty much happy. Mostly I take classes to learn a technique that I haven't tried yet. Plus I love the social aspect of a class so I am pretty easy to please. However I do not recall taking a sewing class from a young teacher so I do not have experience of a youger teacher to comment on.

------
Elna Excellence 740, Pfaff Quilt expression 4.0, Janome 300E, Brother 8500D, Babylock Ellageo, Janome 900CPX CoverPro, Brother 5234 Project Runway Serger, Singer Treadle, Singer 66, Singer 99

http://juliannasjourney.blogspot.com/

Cat n Bull


North Carolina USA
Member since 2/17/06
Posts: 5521

1 member likes this.




Date: 9/25/13 4:36 PM

I WOULD have a problem with paying for a class from a teacher with only 2 years experience. 2 years is basically no experience at all!

However, like Jul said, I go for the social aspect , so as long as I am interested in what the class is making, I might just ignore the teacher's lack of experience.

The class I took didn't 'teach' me anything, but I knew from the pattern we were using not to expect to learn anything new. It was still LOTS of fun!

But do you think we automatically think women who are younger are more immature with less life experience, and do we become somewhat arrogant in the aging process just by having more life experience?

OH YES! I can be a cranky b.... with the yungins sometimes.

-- Edited on

9/25/13 4:38 PM

--

------
Cathryn

lelliebunny


Member since 12/24/12
Posts: 1145
Skill: Intermediate

5 members like this.




Date: 9/25/13 5:00 PM

i don't think that having a short amount of time implies lack of qualification, and i don't think that having years of experience is always a benefit either. perhaps look at it in terms of passion. is the teacher passionate?

i can speak from personal experience when i say that it is incredibly frustrating to be constantly underestimated because of the amount of time that i have been sewing, and i also get frustrated when i am looked down upon because i am in the under age 40 group. so, i get a lot of shocked looks when people see what i've done.

you may be doing yourself a disservice if you write off an instructor before you take one of her classes.

ask to see samples of something that the teacher made, or voice your concern about the instructor's experience level to a manager. if the class is awful, talk to that same manager and see if you can get your money back.

even better, see if they are looking for instructors and see about teaching a class. you might be the inspiration that the next great quilter is looking for!

------
it doesn't matter what type of sewing you do. you are sewing, and sewing is good.

aslinnd


New South Wales Australia
Member since 5/28/07
Posts: 1388
Skill: Advanced Beginner

2 members like this.




Date: 9/25/13 5:35 PM

Age is no indicator, respect needs to be earned. I took a embroidery class years ago it was clear was going to be a disaster the woman clearly not young was a moron. It happens. By the third session class was cancelled and money refunded.

The sampler class I took was great not always my style, some of the views to me a bit old fashioned but - your their to learn, you pay to master a technique or a process, sometimes to quilt with like minded people, not to posture or be catered to. Age doesn't matter if the instructor has the ability to articulate the technique, communicate with everyone, and the commitment at a minimum to provide the learning experience people have paid for then age is irrelevant.

Addierecoy


Member since 5/30/13
Posts: 729
Skill: Intermediate

4 members like this.




Date: 9/25/13 8:30 PM

When I was 24, I was (and I guess still am) an expert on a particular weaving technique. My expertise came from studying with some very experienced folks, who not only taught me what they knew, but taught me how to explore and refine my niche. They also encouraged me to teach, gave me lots of support, and even attended my classes.

I never had a problem with anyone thinking I was too young to teach. They were just glad somebody knew about this and was willing to share.

I'm not a serious quilter, and don't think I'll ever teach within the craft. But I do see younger people coming up that are meeting with lots of resistance. That's sad. Sometimes the very lack of experience can lead to new ways of doing things, or completely new techniques.

This particular woman, who knows? I do know that teaching itself is a talent, maybe she has it. If she does, 2 years may be plenty of experience.

I'm still a weaver, and I still take classes. Most of the teachers are now much younger than me, they aren't as "qualified" as me, but they usually have something to teach me. I encourage them, as I was encouraged. I ain't going to live forever.

Julkane


Pennsylvania USA
Member since 9/14/07
Posts: 702
Skill: Intermediate



In reply to Cat n Bull

3 members like this.



Date: 9/25/13 8:32 PM

Cat, I think you are right when you say we become arrogant as we age. But along with that I do believe I have become way more tolerant of others. I do however wish when I come back in my next life that I retain the wisdom and understanding it has taken me years to acquire. I look back on those who mentored me when I was younger and wonder what they saw in me because I know it took me awhile to grow up. When I get impatient with the younger generation I remind myself that I was once young, foolish and immature.

------
Elna Excellence 740, Pfaff Quilt expression 4.0, Janome 300E, Brother 8500D, Babylock Ellageo, Janome 900CPX CoverPro, Brother 5234 Project Runway Serger, Singer Treadle, Singer 66, Singer 99

http://juliannasjourney.blogspot.com/

Warbler


Member since 4/15/07
Posts: 4387
Skill: Advanced



In reply to quiltingwolf

2 members like this.



Date: 9/25/13 9:00 PM

I have a great appreciation and respect for young people. I find that with youth comes adaptability, flexibly and quick to learn. There is a young woman half my age at work, she is a go get 'r, very ambitious and adaptable. Set her to a challenging task and she will find a solution that others had not considered. While it is true that the more experienced staff can deal with more complex situations, I think that everyone has something to contribute based on their life station. No one should be judged by it either. I expect all the staff work with to work as a team and that every person is as important as the next, and that each of us has skills that compliment the team. I also think that everyone deserves chances and opportunities to prove themselves in a non competitive way. Even the least experienced has to start somewhere. Why not place them in a situation where they can rise.

So if a young person on my team wants to take on a project that maybe just outside her sphere of experience; the only thing I want them to demonstrate is the capacity to prepare and present a organized product that exemplifies the standard set for all staff regardless of their years of experience. If you set the bar and that individual has the desire... there can be no limit to what they can achieve.

So to put this back into quilting terms. Take the class, enjoy learning something new. Keep an open mind because we can always learn even from the very young.

------
Janome MC6600 Bernina 240 Juki MO735 Singer 201-2 Singer 221-1
Printable Version
* Advertising and soliciting is strictly prohibited on PatternReview.com. If you find a post which is not in agreement with our Terms and Conditions, please click on the Report Post button to report it.
Online Class
Bust Adjustments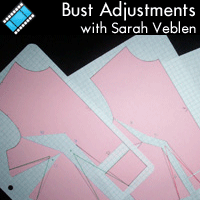 Online Class
Put it on the Bias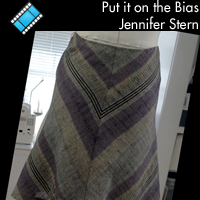 Children's Corner 30

by: marymary86
Review
You Sew Girl SEWING CLASS 1 - Shopping Bag Pattern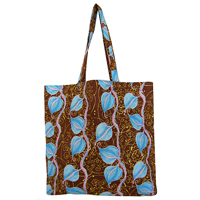 Pattern Details
Islander Sewing Systems Every Bodies Shirt (1X-4X)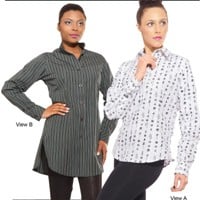 Pattern Details
McCall's 6796

by: Pattycraft...
Review