Carrie-Jane


Intermediate
UNITED KINGDOM
Member since 12/9/06
Posts: 1147
Login to reply to this post

Date: 9/30/13 7:36 AM

My parents came home yesterday with a gold coloured Singer 98K from my Aunt and Uncles. The thread was bunching up snd it wasn't sewing well.

My folks have seen me clean up and fix several Singer 201's and brought it for me to fix up for my Aunt.

After a clean and degrease, oil up, slight adjustment in the tension it now sews really nicely.

What I had to look up was on the bobbin winding there is the lack of a lower tension dial on the machine bed. After a bit of googling is seems this machine does not have one and you use your finger to guide the thread to wind across the bobbin.
As the machine only came with one badly wound bobbin which I cleaned up and I've put some more with the machine, I guess my Aunt does not have the nack of doing it yet. I'm not sure if one can be fitted or I can give some training on how to master this.

I was wondering if anyone out there has one of these little machines too?

Its similar in size and bobbin layout to a Singer 99K.


------
My machines; Bernina 135S, Elna 2300, Bernina Serger 800DL.
http://fenullapolkadot.blogspot.com
Carrie-Jane


Intermediate
UNITED KINGDOM
Member since 12/9/06
Posts: 1147
Login to reply to this post

Date: 9/30/13 8:06 AM

Photo below of the 98K.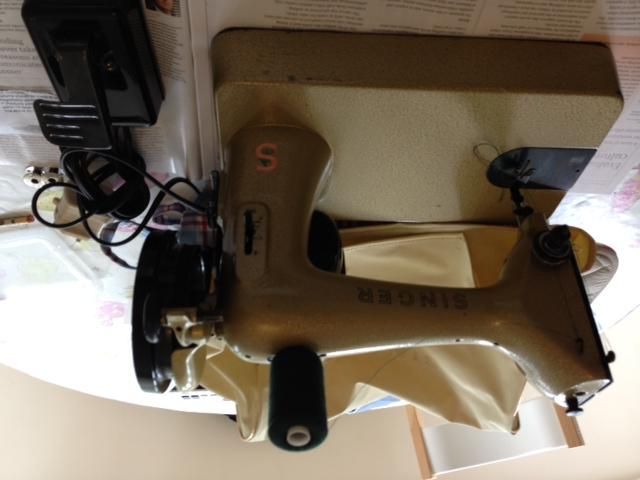 ------
My machines; Bernina 135S, Elna 2300, Bernina Serger 800DL.
http://fenullapolkadot.blogspot.com
beauturbo


Advanced
CA USA
Member since 5/2/09
Posts: 2815
Login to reply to this post

In reply to Carrie-Jane <<



Date: 9/30/13 5:43 PM

I have 99 and 66's but not that 98. But I think you are correct in that you are really just supposed to use your thumb and index finger on the bobbin winding thread, while winding it there as your own make shift spring loaded tensioner there. Just since of course they give you none:)


If you used nothing, and not even your fingers in the mix, you probably would still get the bobbin wound, but it might be kind of loose and loopy.

Obvious it just was not the most expensive of Singer's back then, compared to some other class 66 machines, like even all the 201's, 66's, 99's and even those really stripped down Singer 99's that they even called Sewhandy's instead. So if you even want to remember where your top thread tension dail is set at if you move it later, since I think no #'s on that either, you might have to put a nail polish dot on it there to mark a place too, which if your Aunt does not know how to sew, might not be a bad idea, to do for her even, just since I think you could even probably turn the top tension dail around a couple times and not know where you where before there, either maybe.