heathergwo

Advanced Beginner
California USA
Member since 11/14/11
Posts: 958



Date: 10/1/13 12:30 PM

I apologize if this is a repeat, I searched back through the boards and couldn't find anything similar, although I'm sure I've seen something like it.

I would like to catalog my fabric stash on a spreadsheet or computer program like Evernote.

Before I start this task, I only want to do it once, so I want to ask all of you out there what categories did you include in your catalog?

For example, I'm thinking
-type of fabric
-base color
-description
-width
-length
-picture

I'm wondering what else might be useful information to have.

THANKS!

------
Brother Innovis 1250D
Babylock Enlighten
Singer Curvy 8763
Brother 1034D
Janome 385.19606
Brother 2340CV

dmh1


Intermediate
North Carolina USA
Member since 1/13/13
Posts: 1002





In reply to heathergwo <<



Date: 10/1/13 12:37 PM

I use OneNote for both patterns and fabrics. For fabrics I have columns for:

Date Obtained
Description
Fiber Content
Care
Price/yd
Yardage
Width
Notes
Swatch (I take a screen clipping or add a photo)

For patterns:

Brand
Pattern #/Name
Size(s)
Description
Fabric Type
Notes
Line Drawing
Pic

I get most of the pattern info online.












------
Michelle

SM: Janome DC2013 & Singer Futura Quintet
Serger: Janome Magnolia 7034D
Coverstitch: Singer 14T968DC

AnneM


Intermediate
Member since 7/30/02
Posts: 7143
Contest Committee



Date: 10/1/13 1:21 PM

I think it's been a while since there has been a thread on this topic. The more recent ones have focused on organizing the actual stashes.

I have my lists in a spreadsheet. For my fabric listing, I have:

# - an entry number. This just allows me to easily match photo to fabric. Initially I just counted up. Then I decided later that they should be grouped. For example: 1 to 1000 for fashion fabric, 1001 to 2000 for lining, 2001 to 2000 for muslin, 3001 to 4000 for quilting. Or whatever. Make the groups big.

fabric - the type of fabric or weave. jersey, brocade, windblock, etc.

fiber - cotton, silk, polyester, RPL, etc. You might want an associated comment field where you can put the percentages, when known (eg, 5% lycra).

Color

grade - I just added this one recently. On a scale of 1 to 5, with 1 being best, how would I grade the quality of this fabric? Or how much do I like it? 1 is very high quality, such as a nice 4-ply silk. 5 is questionable even for muslins.

sample? - yes/no. Have I put a swatch in my swatch pile. I actually don't do this much any more.

washed? - yes/no. is it pre-washed?

picture? - yes/no. do I have a photo of the fabric on my computer for reference?

location - I have my fabric bins identified by letter.

knit or woven (or stretch)

Description - where I describe the fabric in a way that I can recognize. "Mulberry rayon jersey, nice drape" "tan w/ pinstripe, wool/lycra/10% nylon"

width (inches)

yards

date purchased

price / yrd

total cost (just # of yards time price per yard). Not necessary but kind of interesting.

source (where I got the fabric - usually the store name)

target use - skirt, dress, whatever

pattern - if I have a particular pattern in mind, I will put the pattern number here (eg, S1234 would be Simplicity pattern 1234).


For my patterns, my system is probably not as thorough. There, I have:
Company
pattern Number
Size Range
smallest size
largest size
year purchased
comment field
category (co-ordinates, top, mens, etc)
description
knits (y/n)
wovens (y/n)
stretch (y/n)

I include the smallest & largest sizes separately in case I want to sew something for someone else; I can then filter my patterns based on the sizes. I will usually enter an equivalent number for patterns that have a S, M, L sizing.

If you frequently have more than one copy of a pattern in order to cover size ranges, you could either put a separate entry number and then list each pattern separately, or just put a column that says "multiple" so you know the size range listed requires more than one pattern.

On my computer, I have a picture of each pattern, as well as the yardage required information (which I generally save from the websites). Someday, if I decide to devote the time required, I might put in yardage requirements for the various patterns. That is rather difficult for wardrobe patterns, though, and would require multiple columns.


------
With a great wardrobe that's still in the flat-fabric stage.

ConnieBJ


Advanced
Ontario Canada
Member since 12/31/03
Posts: 2364
Contest Committee

2 members like this.




Date: 10/1/13 1:25 PM

I use Bento. Mind you, people who know me and my sewing roll their eyes.."yeah, yeah-Bento is your life"!

One important thing to remember is simplicity. If you need to enter too much, then it may not get done.

I do
-photo of the fabric
-photo of the bolt end, or any info that came with online purchased fabric
-price per metre
-yardage
-type- knit, woven, stretch woven, other
-Content - lycra, cotton, wool, denim
-Where purchased and date purchased
-I've debate doing Location- but I tend to move things around a bit so that isn't as pertinent to me.




------
Connie Bontje

http://www.couturesmith.com
Twitter: Couturesmith
Facebook: Connie Bontje
Desperately trying to keep ahead of my pattern, fabric and dressform collection!

MrsCharisma


Intermediate
Minnesota USA
Member since 2/1/13
Posts: 3456

1 member likes this.




Date: 10/1/13 4:55 PM

I'm a minimalist...

I include:
photo
fabric content
care instructions
where it was purchased
price (it's still fun to see how much a project cost me)
width
yardage

------
Nakisha
www.sewcraftychemist.blogspot.com
Singer Talent 3321 | Brother 1034D

My Big 4 Sizing: Medium | Tops 14/16 | Pants 18 | Skirts 16/18.

My Measurements: 36 HB | 38.5 FB | 34 W | 44 Hip



SandiMacD


Intermediate
Florida USA
Member since 2/8/09
Posts: 2564



Date: 10/2/13 7:56 AM

I have tried specific Apps. Tried an Evernote notebook. Also tried an online photo site that syncs to my phone. Also tried a Pinterest one.
I have not found a perfect App for my needs.
Truthfully, things in Evernote gets buried- I use it for lots of information. I am finding it better to use on projects I am doing rather than plain inventory of stash.
I love my photos. I took photos of sections and of specific fabrics and patterns. I have an Eye Fi card that gets auto uploaded to my site. On my site I describe the stash in each photo and sort them in albums (galleries). It gets auto synced to my iTouch/iPad mini.
Pinterest is nice to collect inspirations for how I can use what I have or what I would need to buy. I am not quite into it as much as I could be.
So back to Evernote- I can drag or copy a photo into it or use it to make a shopping list of needed notions.
So start with pictures of your fabric stash and see if it works better to write the caption online or to drag the photo and write the caption in Evernote.

------
sewing brings joy and meaning to my life...

SandiMacD


Intermediate
Florida USA
Member since 2/8/09
Posts: 2564



Date: 10/2/13 8:15 AM

Oh, I am haphazard in what I put in the photo caption to describe it. I began with everything I could think of and now just do type and function.

I don't address quality. I have only 2 qualities- what I would wear (or make to give) and muslin. Others go out the door.

I don't address Price- I keep my email receipts in my computer and can get them later if I need to.

I don't address prewash- everything I buy goes in the washer/dryer before I photograph it!

I dont address yardage- I buy 2 yd min so enough for any pattern. After I use it, I do mark the yardage left (usually 1/2 or so left) and put it in a ziplock.

Type- I only buy natural fabrics so I have very few categories- just knit or woven and then cotton, silk, wool, etc. They each have their own album. I don't photograph linings, notions, interfacing, felt, etc.

Function- I only buy when I have a clue of what I will make so I usually include how I plan to use it in the photo caption.




------
sewing brings joy and meaning to my life...

Julkane


Intermediate
Pennsylvania USA
Member since 9/14/07
Posts: 702





In reply to heathergwo <<

6 members like this.



Date: 10/2/13 8:23 AM

All I can say is 'Really". Oh my all of you impress me and maybe this should be my cold winter days project! My idea of cataloging is putting all the same color in the same drawer.

------
Elna Excellence 740, Pfaff Quilt expression 4.0, Janome 300E, Brother 8500D, Babylock Ellageo, Janome 900CPX CoverPro, Brother 5234 Project Runway Serger, Singer Treadle, Singer 66, Singer 99

http://juliannasjourney.blogspot.com/

naupaka

Advanced Beginner
California USA
Member since 10/5/12
Posts: 17



Date: 10/2/13 8:56 AM

For those of you who have tried using apps for this, what did you think? Where did they fall short, and what have you found particularly useful?

For my own fabric stash, I'm currently using a spreadsheet similar to what AnneM describes, though less detailed. It would be nice to find a more portable solution.

dmh1


Intermediate
North Carolina USA
Member since 1/13/13
Posts: 1002





Date: 10/2/13 9:05 AM

I have the OneNote app on my iphone that syncs to my PC OneNote files (only the sewing notebook is set to sync, which saves time). Not the most elegant solution, but I've got everything available when I need it.

------
Michelle

SM: Janome DC2013 & Singer Futura Quintet
Serger: Janome Magnolia 7034D
Coverstitch: Singer 14T968DC
Printable Version
* Advertising and soliciting is strictly prohibited on PatternReview.com. If you find a post which is not in agreement with our Terms and Conditions, please click on the Report Post button to report it.
Sewing with Slippery & Drapey Fabrics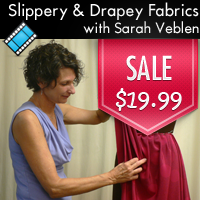 Blueprints to Blue Jeans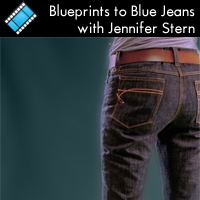 Kwik Sew 3177

by: MadeByMeg
Review
Simplicity 1666

by: ashleyjewe...
Review
Sew Chic Pendleton Dress Pattern (ln8002)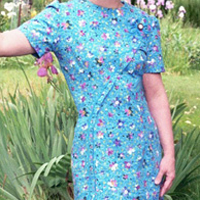 Buy Now
Veronica Pocketbook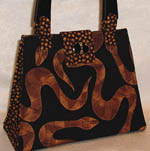 Buy Now