aprilla

Beginner
Member since 6/2/12
Posts: 367



Date: 10/3/13 8:00 PM

I've been kindly offered 'shopping' in Frederick by someone who will be there for work for a week in November. He is not at all interested in sewing so, to take advantage of the offer, I'd like to make it as easy as possible! I won't be asking for fabrics or anything that is too much 'personal choice'... but some hard for me to get notions and supplies would be great, my local shopping is very curtain style and I'm more interested in sewing garments and little bits for the house.

Google tells me there is a Joanne's there, but I wonder if any PR members can tell me of or even recommend other places???

I haven't made up a real list yet but Woolly Nylon (PolyYarn?) will probably be on it as I can't get it locally in the west of Ireland and shipping charges have put me off a purchase so far. How many and what colours yet to be decided.

And maybe some Fray Check as I use lots of this and it'll get me past those P&P charges - does Fray Check come in larger than 22.5ml bottles?? that's all my source has.

And I'm considering some wash away stabiliser, again I can't find it here, but how much to get for experimenting, I don't know how it's sold...

And what else.....???
Any advice, suggestions and recommendations are very welcome cause I'm getting a bit boggled LOL


HanPanda


Intermediate
USA
Member since 4/27/08
Posts: 1274



Date: 10/4/13 7:23 AM

I am not sure what youre looking for--advive on what to buy or stores in the area? Depending on how far he can travel, there is a Hancock fabric a bit south on 270 near Rockville (which may be where the JA is?) along with a quilting store in Rockville (next to a thrift store called Life4Animals, not sute how else to describe it) and I think there is a G St Fabrics out that way a little bit. G St has some awesome notions in terms of trims, buttons, clasps, and buckles.

------
2015 In: 16.5 yards
2015 Sewn: 19.5 yards
2014 In: 99.75 yards
2014 Sewn: 80.5 yards

I'll try anything once :)

Please excuse my typos...sometimes it is harder to go back and edit on mobile than it is worth!

aprilla

Beginner
Member since 6/2/12
Posts: 367



Date: 10/4/13 8:23 AM

I've just been offered this so really it's about what shops are there and then I can see if they have web sites to find out what sort of supplies and notions are in those stores. I think LOL My shopping experiences so far are limited so I haven't even much of a clue what's out there...

He'll be driving, yippee, so I'll see if I can locate the Hancock and G St Fabrics... google didn't show me them so thanks!

I'd love to do the trims, buttons etc but I doubt he'd like the responsibility unless I can tell him exactly what and how many LOL .... oh! I want to go!!!!!


sewsally


Intermediate
Washington USA
Member since 8/18/02
Posts: 1355



Date: 10/4/13 9:58 AM

Just buy this stuff on line. Nice of him to offer though.


aprilla

Beginner
Member since 6/2/12
Posts: 367





Date: 10/4/13 12:22 PM

Sewsally, I do buy online mostly, where I have no other option. But being in Ireland the P&P charges (and sometimes taxes) greatly increase the costs for me. As a beginner it's making the experimental bits, or just the trying out gizmos part of sewing so expensive!

To have whatever I select delivered for a 'dinner' is a great gift!!


Babe B

Intermediate
New Hampshire USA
Member since 10/4/04
Posts: 283



Date: 10/5/13 6:02 PM

There's a quilt shop called Needles and Pins in Frederick, MD, and they have a website and monthly newsletter which may give clues to what notions they have available. Also you may email them at the address on the website.

aprilla

Beginner
Member since 6/2/12
Posts: 367





Date: 10/5/13 10:03 PM

Oh thank you! I've found the website which has their address! And I've downloaded the latest newsletter, so lots to look at tomorrow

HanPanda


Intermediate
USA
Member since 4/27/08
Posts: 1274



Date: 10/6/13 7:32 AM

So I just moved and it turns out I now live pretty close to G St in Rockville. I can go take some video or photos of their notions room if you would like.

------
2015 In: 16.5 yards
2015 Sewn: 19.5 yards
2014 In: 99.75 yards
2014 Sewn: 80.5 yards

I'll try anything once :)

Please excuse my typos...sometimes it is harder to go back and edit on mobile than it is worth!

aprilla

Beginner
Member since 6/2/12
Posts: 367





Date: 10/6/13 11:57 AM

Quote: HanPanda
So I just moved and it turns out I now live pretty close to G St in Rockville. I can go take some video or photos of their notions room if you would like.


That's a lovely kind offer, thank you so much :)

This is my son's 3rd? 4th? trip to Frederick, I didn't think about sewing stuffs the last time and wasn't sewing the first couple of times. He likes going there, loves the outlet shopping and the food!

I'm still at the stage of going through the web sites for all these shops and just 'seeing' what's there, at the same time looking at my patterns and trying to match up stuff I can't get (or haven't yet found) within 40-60 miles!...

I won't take you up on your offer this time as I already have a nice list of basics, (woolly nylon, variety of fusibles/stabilisers, solvy, a little batting (so cheap there!!) and some felting tools LOL and, and .... I'll have to whittle it down) and fear going over my 'welcome' limit, both for son's sake and my pocket LOL
As you can see, it's a variety of 'toys' this time rather than serious specific sewing. I don't mind internet ordering even with the P&P if I know it's something I want and will use. This is my opportunity to try out some stuff, to have a play with! Such fun :)

But, can I ask you again maybe, if he travels again and I still haven't located more sources close to me, and need that perfect blue button (or whatever!)!? That could be fun!

aprilla

Beginner
Member since 6/2/12
Posts: 367

1 member likes this.




Date: 10/23/13 4:57 PM

Shopping is done and safely home So is DS and that makes me happy too LOL

When I discovered just how little time he had in Frederick and that his working time included an audit my list (my lovely long list) had to be whittled. He didn't want me to but I just couldn't do it to him (it was a crazy list!) Anyway I took off all that I would be able to get and might, and just left on things that I'd consider getting but probably wouldn't... experimental stuff.

So, he shopped at Joanne's ... I'm so jealous! I haven't seen the pics yet but he took some for me, and he phoned me from there to tell me it was like a big supermarket full of sewing stuff... hehe, as if I didn't know that!

So, he was able to locate the Woolly Nylon 'all by myself' but then he got stuck and had quite a wait for an assistant, but because the place was busy, which is good. Whoever assisted him was great cause she got all the items on my list, understanding just what I meant, with either/or and get this/if that. Well done and my thanks to her!

So, I got loads of Guttmann's woolly nylon, greens and browns (which I wanted) and a variety of other colours including variegated and Christmassy as a surprise :)
I got a beautiful (to me) see through Dritz French Curve, he called it my 'ruler', sheesh, but went to great care not to break it travelling. It's got armhole curves and everything on it. Will this make me sew good? hmmm hardly, but perhaps I'll look accomplished waving it around, ha! And I got some Solvy water soluble stabiliser and a variety of other fusible stuffs in small packets to try out.

And ... a needle felting tool and pad! I nearly took this off the list but left it at the bottom, stating it really was just for the curiosity, but my favourite shop assistant ever added it to the bag and I'm so glad. It's great fun (and I now understand why the P&P to get one online was so high, the pad is quite heavy)

Anyway I'm a happy camper though I really really want to go myself now! I'm off to play, and thanks so much for all your help, truly


Printable Version
* Advertising and soliciting is strictly prohibited on PatternReview.com. If you find a post which is not in agreement with our Terms and Conditions, please click on the Report Post button to report it.
Online Class
Fun with Fitting - SKIRTS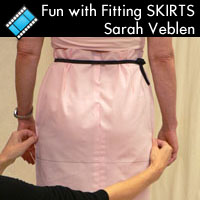 Online Class
Create a Jacket Muslin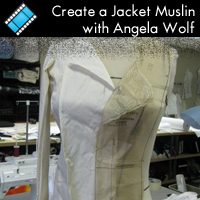 StyleArc Twiggy Dress

by: Nicola1968
Review
Victoria Jones Collection Child's Hawaiian Muumuu Dress or Nightgown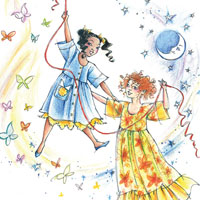 Pattern Details
Bluegingerdoll Odette Dress Paper Pattern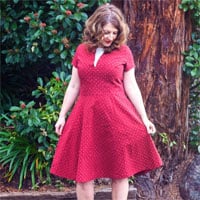 Pattern Details
McCall's 6996

by: JustineSew...
Review