Handshake


UNITED KINGDOM
Member since 7/19/13
Posts: 394
Skill: Advanced



Date: 10/11/13 11:42 AM

My husband is so pleased with the waistcoat (Review here: http://sewing.patternreview.com/review/pattern/91659 please look

) that he now wants me to make one:-

In check/tartan/plaid fabric

With welt pockets on fronts

In woollen material which should resemble Rupert the Bear's trousers

Not much pressure there then. I've never sewn with checked material and would need to study how to make the checks line up across the front; I've never done welt pockets in any fabric; and I've never sewn with wool fabric either.

I think he wants it to look like this: http://www.peterchristian.co.uk/catalog/product/gallery/id/6744/image/7286/

Yeah, right..........

I like a challenge, but not three at once.

Any helpful tips/hints/instructions on cutting check pattern fabric, please?

MaryDB


Member since 2/9/08
Posts: 775
Skill: Intermediate



In reply to Handshake

1 member likes this.



Date: 10/11/13 12:30 PM

If you use a Tattersall check like in the

picture

, you really only need to worry about lining up the center front pieces on horizontal lines, as the back is lining fabric. If you don't feel comfortable cutting folded fabric for this, cut out each piece separately.

I'd wait to cut out the welts for the pockets until I had the pocket placement set, and then cut them to match. Be sure to get extra fabric. There's no penalty for cutting extras if the first ones don't work. Luckily, they're small.

For welt pockets, I use the instructions in

Jackets for Real People

. In fact, I couldn't tell you how to do a welt pocket even though I've made several, because all I do is pop the DVD in my portable player and sew along stitch-by- stitch with Marta Alto. They come out perfectly, then I promptly forget what I've just done. It's that easy. You might practice one on scrap fabric. Did I mention to buy extra fabric?

a7yrstitch


Texas USA
Member since 4/1/08
Posts: 7388
Skill: Intermediate



In reply to Handshake

1 member likes this.



Date: 10/11/13 12:34 PM

Throwing out all my past methods to tell you how much fun I have been having in tracing patterns on plastic sheeting with Sharpie markers. I'd go at it by making a full pattern - not just cut one on fold or cut two of these type pattern - with the plastic sheeting. The advantage will be in being able to mark in reference lines for matching the pattern and being able to see through the plastic sheeting to line the reference lines up to the plaid pattern. If you don't want to do this, I can detail my other three 'old' methods. Use a sharpie color that will show up against the fabric.

Since the welt pockets are new to you, it would be easier to make them from a contrasting fabric or to set the matching fabric on a diagonal.

Determine how you wish to preshrink it. Also play with some scraps and the iron before starting, you may or may not need a pressing cloth. If the wool has loft that is defeated by pressing, experiment with pressing over a terry towel. Sadly, my climate doesn't call for many wool garments; it really is a pleasure to sew with.

Keep in mind that the seams and folds of a thicker fabric will use up just a teeny bit of the fabric to achieve the fold or seam.

Turn of Cloth

And, not for instructions on the welt, but some other thoughts,

Does turn of cloth affect welts?

-- Edited on

10/11/13 12:38 PM

--

------
I have no idea what Apple thought I was saying so be a Peach and credit anything bizarre to auto correct.

Handshake


UNITED KINGDOM
Member since 7/19/13
Posts: 394
Skill: Advanced



In reply to MaryDB

Date: 10/11/13 12:52 PM

Quote: MaryDB

If you use a Tattersall check like in the

picture

, you really only need to worry about lining up the center front pieces on horizontal lines, as the back is lining fabric. If you don't feel comfortable cutting folded fabric for this, cut out each piece separately.

I'd wait to cut out the welts for the pockets until I had the pocket placement set, and then cut them to match. Be sure to get extra fabric. There's no penalty for cutting extras if the first ones don't work. Luckily, they're small.

For welt pockets, I use the instructions in

Jackets for Real People

. In fact, I couldn't tell you how to do a welt pocket even though I've made several, because all I do is pop the DVD in my portable player and sew along stitch-by- stitch with Marta Alto. They come out perfectly, then I promptly forget what I've just done. It's that easy. You might practice one on scrap fabric. Did I mention to buy extra fabric?

Hi Mary

Thanks for the reply, and encouragement. I've got that book, Jacket-Buddy made me buy it for my second jacket, but I hadn't thought of looking in there, thanks again.

Handshake


UNITED KINGDOM
Member since 7/19/13
Posts: 394
Skill: Advanced



In reply to a7yrstitch

Date: 10/11/13 12:59 PM

Quote: a7yrstitch

Throwing out all my past methods to tell you how much fun I have been having in tracing patterns on plastic sheeting with Sharpie markers. I'd go at it by making a full pattern - not just cut one on fold or cut two of these type pattern - with the plastic sheeting. The advantage will be in being able to mark in reference lines for matching the pattern and being able to see through the plastic sheeting to line the reference lines up to the plaid pattern. If you don't want to do this, I can detail my other three 'old' methods. Use a sharpie color that will show up against the fabric.

Since the welt pockets are new to you, it would be easier to make them from a contrasting fabric or to set the matching fabric on a diagonal.

Determine how you wish to preshrink it. Also play with some scraps and the iron before starting, you may or may not need a pressing cloth. If the wool has loft that is defeated by pressing, experiment with pressing over a terry towel. Sadly, my climate doesn't call for many wool garments; it really is a pleasure to sew with.

Keep in mind that the seams and folds of a thicker fabric will use up just a teeny bit of the fabric to achieve the fold or seam.

Turn of Cloth

And, not for instructions on the welt, but some other thoughts,

Does turn of cloth affect welts?

-- Edited on

10/11/13 12:38 PM

--

Hi a7yr,

Plastic sheeting?

Preshrink?

You have to

Preshrink

wool cloth?

I'm going off this idea of his. That's the trouble with men who have no idea about sewing. Make them a nice waistcoat which fits, and they airily wave their hands and say I'd like a nice checked wool waistcoat next.........

Red Dragon


Australia
Member since 2/4/08
Posts: 902
Skill: Intermediate
Body Type:




In reply to Handshake

1 member likes this.



Date: 10/11/13 5:09 PM

Quote: Handshake
Preshrink? You have to Preshrink wool cloth?



For thick woollens I just steam the heck out of it with an iron, no prewashing.

------
Tracy, Canberra

Janome 7700QCP, Janome 4618QC, Husky S25 overlock/coverstitch

stirwatersblue


Kansas USA
Member since 12/13/08
Posts: 5320
Skill: Intermediate
Body Type:


2 members like this.




Date: 10/11/13 6:33 PM

Oh, golly--wool is EASY. Have you sewn with linen yet? This is even better. It just does everything you ask it to, and then offers to clean up after. :)

I don't sew with it a *ton,* because I find it to be fussy to *wear,* (my life involves a lot of mud, and I like to be able to scrub the heck out of things & dry them in the dryer). But SEWING with wool is an absolute joy.

Pre-shrinking is easy-peasy, too. I do it in my dryer, with a wet towel. If you have one of those fancy modern steam dryers, even better! Find an old towel that's not too fluffy/linty, and get it all the way wet (not dripping, but not wrung out, either). Then just toss it in the dryer with your wool yardage on HIGH for, oh, anywhere from 30-45 minutes. Whisk the fabric out straight away afterward (before it can wrinkle).

Sometimes this process can change the hand of the wool just slightly--usually it will make it softer and a wee bit fluffier. I doubt your DH will notice.

Have fun!

------
~Gem in the prairie

a7yrstitch


Texas USA
Member since 4/1/08
Posts: 7388
Skill: Intermediate

2 members like this.




Date: 10/11/13 9:15 PM

Ohhhh maaaannnnn, I'm going to feel like a schmuck if I've discouraged you.

I only mentioned the preshrinking so you wouldn't have any unpleasant surprises.

And here is something showing the clear plastic sheeting - plastic dropcloths - plastic tablecloths. You'll see how easy it would be to draw your reference line(s) for matching.

Pattern Tracing Options

(Thank you tingtingmama)

Hope you will rethink this. It doesn't need to be rushed. Hubbie still wears something I made for him in 1978 and something else from about 1982. My uncle still wears the wool Christmas vest his mother made for him at least 45 years ago - I'll have to ask him about the exact year.

Wool really is wonderful to work with. And plaids are fun.

Okay, this is exactly how I did it before I discovered plastic dropcloths. Truly, it is no more, probably less, daunting than trying to line up a knit fabric. Wool behaves so nicely and Rupert's pant's fabric is an easy plaid pattern to work with.

Matching Plaids, Step by Step

(Thank you Sewaholic)

( irenethread )

-- Edited on

10/12/13 12:49 PM

--

------
I have no idea what Apple thought I was saying so be a Peach and credit anything bizarre to auto correct.

a7yrstitch


Texas USA
Member since 4/1/08
Posts: 7388
Skill: Intermediate



Date: 10/11/13 9:38 PM

Pockets

How do you like the effect of the bias welt on this pocket?

Plaid Pockets (Thank you, Sewing Lawyer)

Single welt plaid pocket on the bias.

Pendleton Plaid Anise

(Thank you, Really Handmade)

Best wishes

-- Edited on

10/11/13 9:56 PM

--

------
I have no idea what Apple thought I was saying so be a Peach and credit anything bizarre to auto correct.

NVK


Georgia USA
Member since 2/12/09
Posts: 42
Skill: Intermediate
Body Type:


1 member likes this.




Date: 10/12/13 8:47 AM

Welt pockets can be tricky or easy. I use the following video method and it works great with plaids. You can easily match the plaids.

Welt video

You can see the vest I made using this method.

Vest with welt pockets
Printable Version
* Advertising and soliciting is strictly prohibited on PatternReview.com. If you find a post which is not in agreement with our Terms and Conditions, please click on the Report Post button to report it.
Online Class
Beginners Guide to Sewing Jackets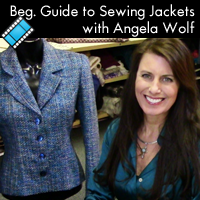 Online Class
Perfectly Fitted Shirt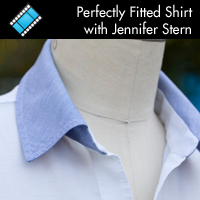 McCall's 6395

by: prttynpnk
Review
Kwik Sew 3729

by: Jill A. Jo...
Review
You Sew Girl 75mm Purse Frame Purse Pattern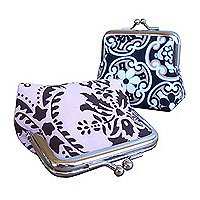 Pattern Details
Lolita Patterns Sugar Plum Pattern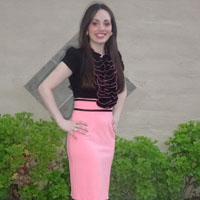 Pattern Details