Handshake


UNITED KINGDOM
Member since 7/19/13
Posts: 403
Skill: Advanced

1 member likes this.




Date: 10/14/13 4:00 PM

If this is in the wrong place, sorry!

I'm beginning to wonder how many other people abandon a sewing project part way through. I read this website a LOT, but have only come across one, so far.

Earlier in the year I started a Thing (unspecified), got half way in, then abandoned it because the fabric was all wrong, it was just too floppy/something weird about it. I liked it, but it didn't like me/my pattern.

In the last week, feeling really pleased with myself, I exhumed the castaway half-sewn pieces and cut another Thing. I was really looking forward to posting final photos and a pattern review. Today, however,

same result. I like the fabric, it doesn't like me. Second abandon.

Maybe that fabric has bad karma?

Please write about your abandoned sewing projects, I'd really like to read them, right now. Thanks!

heathergwo

California USA
Member since 11/14/11
Posts: 958
Skill: Advanced Beginner

3 members like this.




Date: 10/14/13 4:07 PM

I think I've only abandoned one or two projects in the past.

First was a coat. I actually still have it saved, all the pieces and everything in a bag in the closet, waiting for when I become REALLY good at sewing to see if I can salvage it.

Second was a purse... I can't remember now if I messed up the directions or it was just too complicated, so I said "screw it" and threw it in the trash.

For me, even if I know I'm not going to be able to wear it (I have probably 3-4), I will still finish it, just to complete it and "check it off". Now what I need to do is actually THROW AWAY those 3-4 pieces that are really bad, but for some reason still hanging in my closet!

------
Brother Innovis 1250D
Babylock Enlighten
Singer Curvy 8763
Brother 1034D
Janome 385.19606
Brother 2340CV

KensingtonCrab

South Carolina USA
Member since 2/13/09
Posts: 990
Skill: Advanced Beginner



In reply to Handshake

Date: 10/14/13 4:35 PM

I thought there was a specific thread for a UFO sew along. There were a few of us needing motivation to complete our projects. I finally ditched some UFOs that just weren't working. I do have a cute top I'm making and it is 99% done. It just needs those little thread loops to go around buttons. All I have to do is run a chain with the serger and attach. This has been sitting around since spring time. I also cut out a pair of khaki shorts and they sat forever and I finally ditched those because I ended up buying a pair of khaki shorts--which turned out huge and I had to return so now I regret ditching the cut out shorts....TNT pattern

------
Carpe diem!

Judy Kski


Florida USA
Member since 10/26/08
Posts: 2118
Skill: Intermediate
Body Type:




In reply to Handshake

2 members like this.



Date: 10/14/13 5:43 PM

I have a running list of UFO's that I plan to eventually get to. Each time I go through the box I keep them in, I whittle away one or two from the "collection". During the UFO Contest in July, I actually completed one of those

UFO's.

I didn't win the contest, but I was very satisfied after finally completing that particular UFO. It was a gift for my sister and meant a lot to her when she received it. I realize it wasn't a garment, but a lot of work had gone into the cross stitching for that bookmark and I wanted to see it through to completion.

Trust your intuition. If it's not working for you, it's probably a good idea to toss it. If you think there is any possibility that at some future date you may feel like working on it again, keep it.

-- Edited on

10/15/13 11:53 AM

--

------
Judy

Handshake


UNITED KINGDOM
Member since 7/19/13
Posts: 403
Skill: Advanced



In reply to heathergwo

1 member likes this.



Date: 10/14/13 5:53 PM

Quote: heathergwo

I think I've only abandoned one or two projects in the past.

First was a coat. I actually still have it saved, all the pieces and everything in a bag in the closet, waiting for when I become REALLY good at sewing to see if I can salvage it.

Second was a purse... I can't remember now if I messed up the directions or it was just too complicated, so I said "screw it" and threw it in the trash.

For me, even if I know I'm not going to be able to wear it (I have probably 3-4), I will still finish it, just to complete it and "check it off". Now what I need to do is actually THROW AWAY those 3-4 pieces that are really bad, but for some reason still hanging in my closet!

I know the feeling, Heather, so much work has gone into it that you don't like to throw it away.

Purse? Is that handbag in UK English? (Purse is a small object for keeping coins, here.)

If you finish those 3-4 things, just to complete them, isn't that precious time wasted when you could have been sewing things you like and will (hopefully) fit?

THROW AWAY!

Handshake


UNITED KINGDOM
Member since 7/19/13
Posts: 403
Skill: Advanced



In reply to KensingtonCrab

Date: 10/14/13 5:54 PM

Quote: KensingtonCrab

I thought there was a specific thread for a UFO sew along. There were a few of us needing motivation to complete our projects. I finally ditched some UFOs that just weren't working. I do have a cute top I'm making and it is 99% done. It just needs those little thread loops to go around buttons. All I have to do is run a chain with the serger and attach. This has been sitting around since spring time. I also cut out a pair of khaki shorts and they sat forever and I finally ditched those because I ended up buying a pair of khaki shorts--which turned out huge and I had to return so now I regret ditching the cut out shorts....TNT pattern

I'm sorry, Kensington, I was unaware of UFO as a term here.

Handshake


UNITED KINGDOM
Member since 7/19/13
Posts: 403
Skill: Advanced



In reply to Judy Kski

Date: 10/14/13 5:58 PM

Quote: Judy Kski

I have a running list of UFO's that I plan to eventually get to. Each time I go through the box I keep them in, I whittle away one or two from the "collection". During the UFO Contest in July, I actually completed one of those

UFO's.

I didn't win the contest, but I was very satisfied after finally completing that particular UFO. It was a gift for my sister and meant a lot to her when she received it. I realize it wasn't a garment, but a lot of work had gone into the cross stitching for that bookmark and I wan't to see it through to completion.

Trust your intuition. If it's not working for you, it's probably a good idea to toss it. If you think there is any possibility that at some future date you may feel like working on it again, keep it.

I'm sorry, Judy, I was unaware of the term UFO here. I just wanted a chat about frustrating work on abandoned projects (and all that time spent in careful sewing, only to abandon 2-3 days later). I'm trying really hard to think of positive things to think about it, hoping I have learned something new along the way.

(Such as, did you

really

think that pattern would suit you, just because you liked the picture on the packet? A mistake I have made now more than once..........)

DonnaH


Texas USA
Member since 10/1/03
Posts: 2416
Skill: Intermediate

2 members like this.




Date: 10/14/13 6:09 PM

UFO = UnFinished Object! So that is what you are talking about!

I have some that are older than some people here (early 90s), and others that I started on last year, or even earlier this year. I'm not always sure why I stop. Sometimes I just get more interested in something else; sometimes I move on to something else because the 2nd thing is for a gift (aka - there's a deadline); or I'm just working on too many things at once, and now it's our of season.

I don't usually abandon things because they don't suit me. The closest to that is I have occasionally purchased fabric for multiple versions of a pattern, and when the first one isn't as amazing as I expected, I'll put the fabric aside to use for something else in the future.

Hang on to that floppy fabric - and use it for something that calls for floppiness. Read the back of your pattern (the suggested fabrics) - and if the fabric you used is one they suggest, it may be the pattern not the fabric.

KensingtonCrab

South Carolina USA
Member since 2/13/09
Posts: 990
Skill: Advanced Beginner



In reply to Handshake

Date: 10/14/13 6:33 PM

I'm so sorry, Handshake! UFO is an unfinished object. If you enter 'UFOs' in the search field for the message board, there's several threads that pop up and might be fun for you to read.

And yes, I too, have made things because I liked the pic on the pattern front. These were patterns I searched high and low because I had to have and

the finished item was awful. But I saved the fabric and made doll clothes right away.

-- Edited on

10/14/13 6:39 PM

--

------
Carpe diem!

AdaH


Iowa USA
Member since 11/21/09
Posts: 2508
Skill: Intermediate



Date: 10/14/13 6:35 PM

I think that anyone who sews has UFO's, perhaps even inevitable.

I will stop sewing a project for some of the same reasons Donna gave. The melding of pattern, fabric and my skill don't match.

Sometimes if I leave a UFO long enough I can resurrect it.

------
Ada

Printable Version
* Advertising and soliciting is strictly prohibited on PatternReview.com. If you find a post which is not in agreement with our Terms and Conditions, please click on the Report Post button to report it.
Online Class
Bust Adjustments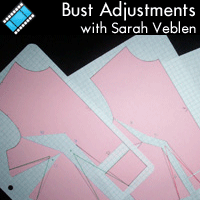 Online Class
Beginners Guide to Dyeing Fabrics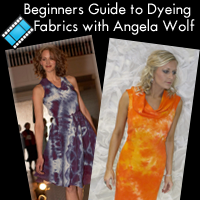 No Pattern Used No Pattern Used

by: Al Johnson
Review
McCall's 5430

by: freddievon...
Review
Sewn Square One Skirt Smarts Pattern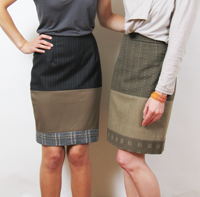 Pattern Details
SewBaby One Piece Reversible Sundress Pattern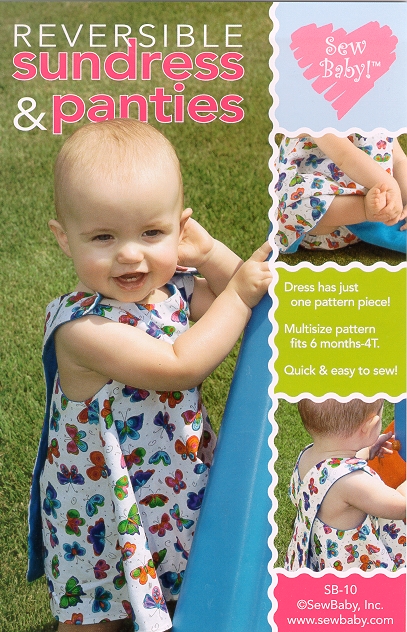 Pattern Details