stirwatersblue


Intermediate
Kansas USA
Member since 12/13/08
Posts: 3588



Date: 11/11/13 4:38 PM

Ok, another dyscalculia question!

I want to make B5954, view D (the green cowl tunic). My measurements fall exactly in the Large size range, but previous reviewers have noted that there is no ease at the bust, so I'd like to do a mockup first. My "real" fabric is a lovely lightweight charcoal ponte, kind of a dead ringer for the fabric on the model (except for color), and it has just the right amount of stretch, per the pattern envelope stretchiness guide.

In my stash, however, I have yards and yards and yards of something that was supposedly French terry, but is ridiculously stretchy, thanks to some Lycra content, apparently. It's too lightweight and stretchy for anything I would make with French terry (which I don't think of as being stretchy at all), but I think it could work OK for something that calls for a little moderate stretch like B5954. It is a fair bit stretchier than the charcoal ponte, though. So... I know this, but I'm not sure how that's going to affect my sense of the fit. If it feels too tight, does that mean I might want a little more ease in my not-as-stretchy knit?

...And on a related (but possibly important) note, I don't usually like any spandex in my tops, because I feel like I can't move in them. I realize that's completely counterintuitive, but they always feel like they're strangling me (I feel this way about bias-cut woven tops, too). So even a well-fitting knit top with spandex automatically feels too small when I wear it, unless there's tons of ease.

...So does THAT mean that if it feels too snug, in that spandexy way, that the size is probably OK?

Or should I just make the d@mn thing and find out by doing?

Help!
Thanks!!


-- Edited on 11/11/13 4:40 PM --

------
~Gem in the prairie

simplystitches

Intermediate
Member since 2/12/06
Posts: 1669





1 member likes this.



Date: 11/11/13 6:04 PM

First I'll give you a bit of history so this all makes sense, eventually.

I've been working with knit's almost exclusively for about 10 years so I'll pass along what I learned in that time. You can learn from my mistakes! First it's a bad idea, imho, to use a knit that's so drastically different than the final fabric. There is absolutely no way to judge the fit. In a stretchier knit it's going to feel much looser than it will in a firmer knit and ponte is definitely a firmer knit. It's actually what is referred to as a stable knit which means you could almost (almost) use it for a woven pattern with the same fit as a woven.

Another way to look at it is in the stretchier knit it may feel like it's plenty loose enough (for your ease preference) so you cut it in a ponte figuring you have more than enough ease and you won't! Trust me.

My knit TNT's that I usually make with a 40-50% stretch fabric get at least a minimum of 1/2" (sometimes more) added to all the ss when I do them in a ponte.

All that said I have that pattern but haven't gotten to it yet. My biggest concern would be the fit across the upper back and possibly the sleeves being too tight in a ponte. Trace the pattern and make the sa's 1" for the cb seam, ss and sleeves. Then you can baste the seams at 1" and check the fit.

As for the spandex blends feeling like they strangle you I have a saying that serves me well.

"The firmer the knit, the tighter the fit."

Spandex blends are definitely a firmer knit. With my TNT's, again, I work with an additional 1/2" added to the ss. That gets me to my comfort level in ease in a knit.

I think learning how the stretch affects the final fit is one of the hardest things to learn when sewing with knits. That fact alone gave me many, many wadders the first few years I was sewing with them.


Phew, long enough response?

Debbie




diane s


Intermediate
Oregon USA
Member since 8/24/02
Posts: 4960



Subject: Knit mockup fabric stretchier than real fabric Date: 11/11/13 7:00 PM


If you go ahead and make the muslin out of the stretchy knit and it fits just right, then you will know the other knit will be too tight. But if it comes out voluminous, it will be hard to tell about the correct size.
It can also help to know what % stretch the pattern calls for, and what % stretch the knit you want to use has.

------
My grandmother taught me to sew when I was 10, and I've been sewing ever since.

stirwatersblue


Intermediate
Kansas USA
Member since 12/13/08
Posts: 3588



Date: 11/11/13 8:00 PM

Thanks, both of you! Although I'm a knit-sewing novice, they are practically all that I wear (and I have a fair-sized stash that I'm sort of afraid of LOL), so I do have a good handle on knits, from a wearing and shopping perspective. :)

Ok, some more info: B5954 calls for "lightweight two-way stretch knits: cotton, cotton jersey." That seems kind of vague, plus I don't really think of cotton jersey as a "stretch knit..."? Also (not to argue with the pattern envelope LOL!), this doesn't really look like cotton jersey to me:


(I actually have some cotton jersey in my stash and pulled it out as a potential mockup fabric, and... it just doesn't seem right for this. There's very little stretch to it at all, and no recovery.)

Anyway. I pulled the so-called "French terry" out of my stash and compared it to the Stretchiness Gauge on the pattern envelope, and both fabrics (the stretch Fr. terry and the lightweight ponte) actually stretch the exact same amount, precisely what's called for by the gauge! But because of its Lycra content, the "French terry" *feels* stretchier. Is that possible?

So I have two "identically stretchy" fabrics... but one of them has Lycra and the other doesn't. Now what?


-- Edited on 11/11/13 8:01 PM --

------
~Gem in the prairie

a7yrstitch


Intermediate
Texas USA
Member since 4/1/08
Posts: 6132





Date: 11/11/13 8:00 PM

If you have yards and yards of fabric, how about making a cropped version without the cowl? Rough it out as a muslin or use it as a bed jacket.



------
I have no idea what Apple thought I was saying so be a Peach and credit anything bizarre to auto correct.

simplystitches

Intermediate
Member since 2/12/06
Posts: 1669





Date: 11/11/13 8:08 PM

Fold the fabric on the cross grain and stretch it against a ruler, using a four inch length, just to double check that they have the same stretch. As long as they're the same you should be fine. I'd do as a7yrstitch suggests and do a mockup of the upper body to the waist with the terry. The lower is loose enough it won't matter.



Quote:
But because of its Lycra content, the "French terry" *feels* stretchier. Is that possible?



Yes. The lycra is precisely the reason. It gives snap to the knit.

Debbie
simplystitches

Intermediate
Member since 2/12/06
Posts: 1669

1 member likes this.




Date: 11/11/13 8:25 PM

I just checked the stretch gauge on my pattern and it's asking 4" to stretch to 6". That's a 50% stretch factor which is a pretty stretchy knit imho. Ponte's are usually only about 25% stretch so I'd be sure the two fabric have the same stretch as the gauge otherwise you may need to add to the cb and ss for you level of comfort and ease in a knit.

Debbie

Nancy K


Advanced
New York USA
Member since 12/28/04
Posts: 8410





In reply to simplystitches <<



Date: 11/11/13 8:37 PM

I couldn't agree more. I just made a top from my tnt knit top and the fabric had quite a bit of lycra and I ended up using up my extra sas. I made up a stable sweater knit a few years ago that ended up being a wadder because I didn't add to that extra to my tnt pattern. The inch sas was not enough to get enough ease. I learned my lessons too with wadders over the year.

------
www.nancyksews.blogspot.com

simplystitches

Intermediate
Member since 2/12/06
Posts: 1669





Date: 11/11/13 10:13 PM

That stinks, doesn't it?

Luckily I've had enough of them that I know when and how much to add for certain fabrics. They are fewer and farther between now.

Debbie
Printable Version
* Advertising and soliciting is strictly prohibited on PatternReview.com. If you find a post which is not in agreement with our Terms and Conditions, please click on the Report Post button to report it.
Fun with Fitting - PANTS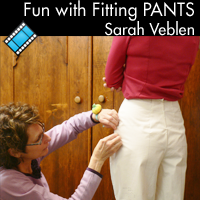 Fun with Fitting - BODICE w Darts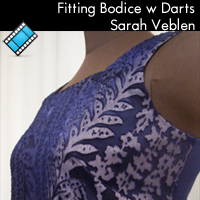 StyleArc Nina cardigan

by: Lazylinche...
Review
New Look 6100

by: ak21
Review
Christine Jonson BaseWear Two - Straight Skirt, Taper Skirt, & Top with Options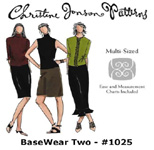 Buy Now
Sew Liberated Esme Top Pattern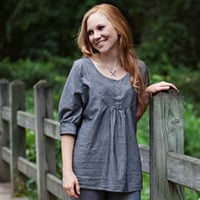 Buy Now