Aroura

Oregon USA
Member since 7/30/09
Posts: 1505
Skill: Intermediate



Date: 11/14/13 11:58 PM

Cocktail Outfit Contest
December 1-31

Hello PR community! I'm Aroura, and I'll be your contest manager for this wonderful contest, Cocktail Outfit.
I look forward to seeing all of the amazing, creative, and gorgeous outfits I know this contest will inspire in you all!

Whether you will be ringing in 2014 at a swanky affair, going to the theater for a holiday show, cutting loose with colleagues at the annual office party or just enjoy dressing up in something special for the holidays, it is the time of year where a new cocktail outfit is just the ticket.

For this contest, sew a cocktail outfit for a man or woman.

Contestants are encouraged to venture outside of their comfort zones or stretch their skills in this contest: use that piece of special fabric that is �too good to cut�, try some couture techniques like a hand picked zipper, go the extra mile with trim or top stitching� Make your cocktail outfit special!

The rules for this contest:
1) Sew an outfit that could be worn for a cocktail party or similarly dressy occasion
2) For this contest, an �outfit� can be one or multiple garments, but it must contain a top and bottom garment piece or portion that is not an accessory. For example: A cocktail dress, an elegant pant or skirt ensemble (ie: bottoms plus a top and/or topper) or trousers and a dress shirt and/or vest would all count. However, a skirt and scarf or pants and a tie would not.
3) Using a RTW or previously sewn garment to supplement the outfit is permitted, for example a skirt and topper made for the contest worn with a RTW shell OR trousers and vest made for the contest worn with a RTW shirt. However, sewing a skirt to go with a RTW top and topper or sewing trousers to go with a previously sewn shirt and tie would NOT qualify for this contest.
4) A picture of the final garment(s) is required for voting.
5) You must identify any supplemental pieces that were not sewn for the contest so that voters know what the contest pieces are.


General Rules for all Contests
All reviews must be entered for submission by 11:59 PM Eastern Time on the last day of the contest. It is suggested to start your review as a Work In Progress (private or public) so that you can get any bugs ironed out prior to the deadline.
2. Patterns MAY be muslined prior to the start of this contest however; fabric for contest garment may NOT be cut prior to the start of the contest. Fabric may be pretreated before the start of the contest.
3. Items intended for sale, or for which you were or will be paid to make, do not qualify for any contest, but items made for charity are welcome.
4. Unless otherwise stated in the rules, all reviews written for a contest entry must include a picture of the entry, preferably on a live model.
5. Interpretation of rules is subject to the discretion of the contest manager and the contest committee.

Contest Eligibility: ***Rule #1 is changed for 2013
1. Any member of Pattern Review, either paying (FoPR) or non-paying, who is a registered member on the site before the contest begins is eligible to enter.
2. Any member of Pattern Review, either paying (FoPR) or non-paying, who's been a registered member on the site for 90 days prior to the end of a contest is eligible to vote in a contest.
3. Any member who's won first place in a contest on Pattern Review that ended in the previous four-month period is ineligible to win another contest (during that four-month period).

The first, second and third place winners will be decided by member vote. Prizes will be awarded to the first and second place winners.

Prizes for the contest

Sponsored by





1st Prize: $150 towards any custom label purchase.
2nd Prize: $75 towards any custom label purchase.

Voting guidelines:

Each member can vote on up to five entries.

Voting will begin 2 days after contest closes and will close 7 days after voting starts.

Because of the high quality of the garments we're seeing entered in PR Contests, we're setting forth some guidelines that may help you choose when voting. Consider how well the entry fulfills each of the following criteria in order to narrow down your votes:
1. Does the garment clearly reflect the pattern's line drawing?
2. How well does the garment fit the criteria stated in the contest rules? How well does it fit the spirit of the rules?
3. Are the construction methods, including but not limited to seam finishes, lining techniques, etc, well suited to the design? To the fabric?
4. Is the fabric choice well suited to the design? Are the lining and interfacing choices appropriate?
5. Is the review complete and well written?
6. Taking into account the stated ability level of the entrant, how well does the garment fit?
7. Creative points. You may choose to give extra credit here for an entry that reflects additional creativity (embellishment, fabric choice, etc.) while staying within the nature of the original pattern.
8. Complexity of the project. Relate this to the skill level of the participant. If a participant is a beginner then a princess seam may get the same complexity level as an underarm gusset gets for an advanced sewer. This is purely subjective, but a complex garment might garner more points than a simple one if a tie-breaker is needed.

-- Edited on 12/4/13 11:52 AM --
------
Sewing is more than my hobby, it is my art.
My new Blog: http://itssewcreative.blogspot.com/
Aroura

Oregon USA
Member since 7/30/09
Posts: 1505
Skill: Intermediate



Date: 11/14/13 11:59 PM

This post is reserved for answering any contest questions, and posting helpful and inspiring links. I will keep it updated as we go along!

Q:Does the entry have to be an item I've sewn?
A: Yes.

Q: What about one that I've embellished, or knitted?
A: No, the rules are very clear that the item(s) must be sewn.

Q:Does it have to have a line drawing?
A: No

Q: What about those patterns that are self-drafted?
A: Self drafted patterns are fine.

Q: Does it have to have specific seam finishes? Does it have to have lining and interfacing?
A: No to all of those things.

Q: Can a gown qualify for this contest?
A: As long as it is sufficiently "dressy", absolutely!

Join the Contest Here!
-- Edited on 11/16/13 0:06 AM --
-- Edited on 11/17/13 2:30 AM --
-- Edited on 12/9/13 5:59 PM --

------
Sewing is more than my hobby, it is my art.
My new Blog: http://itssewcreative.blogspot.com/
marec

Arizona USA
Member since 5/11/08
Posts: 5315
Skill: Intermediate
Body Type:




Date: 11/15/13 10:27 AM

How fun! I would love to join this challenge, if I can find the time. I have a few dressy patterns and I know I would surprise everyone if I posted a photo of myself 'glammed up'.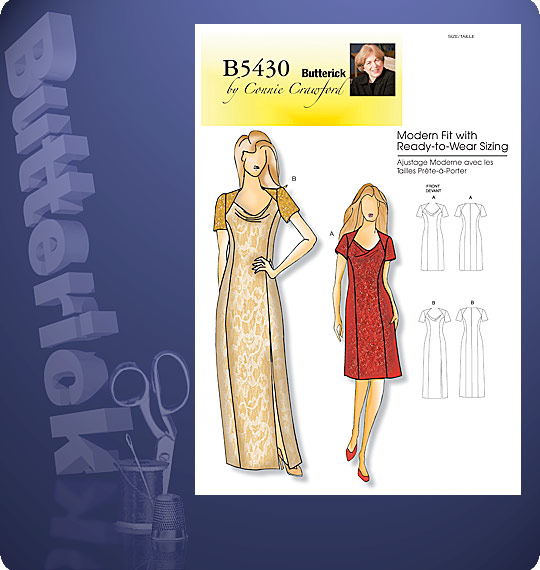 B5761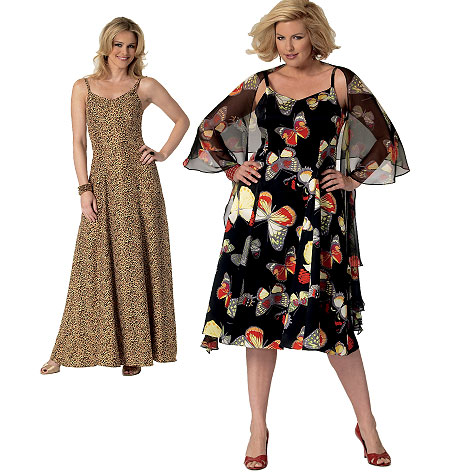 B5749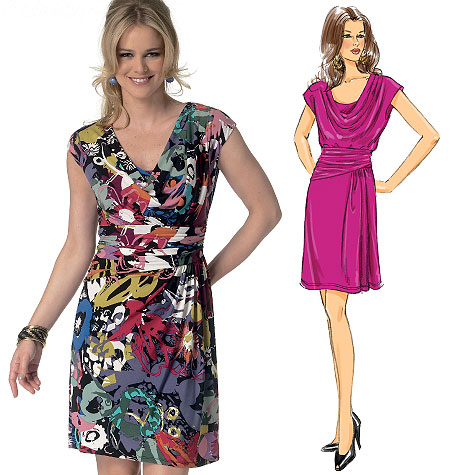 ------
my blog: http://kf-biblioblog.blogspot.com/
Stylish 60- http://www.pinterest.com/maresea/style-evolution/
ClioBklyn

Contest Committee
New York USA
Member since 1/23/08
Posts: 231
Skill: Intermediate
2 members like this.




Date: 11/15/13 11:57 AM

Gah! I think I am going to have to reconsider my year end sewing plans and sew along! I have a New Year's Eve wedding anniversary to look forward to... D'oh! I get distracted by shiny things so easily!

------
Happy sewing!
Clio

www.fivemuses.blogspot.com